7 must-have for Mobile Apps to Stay on Top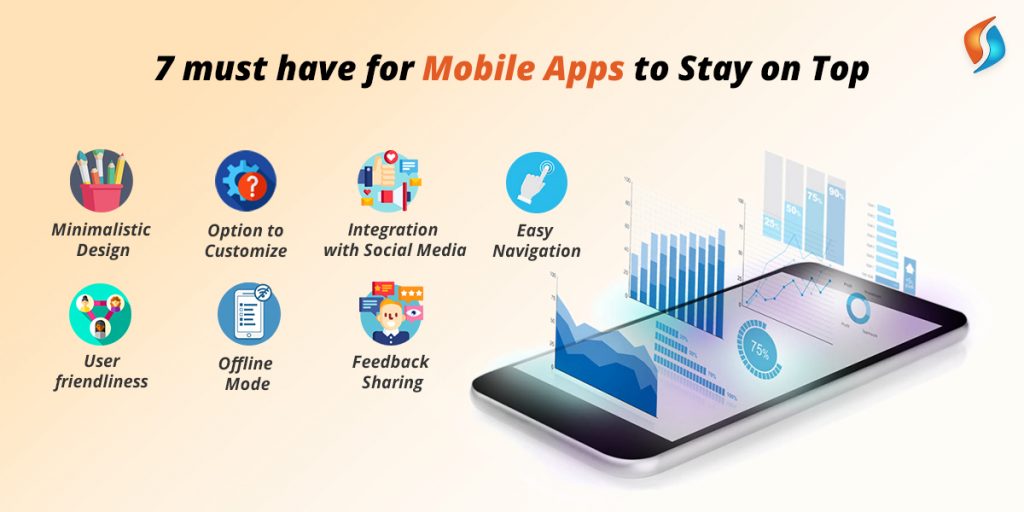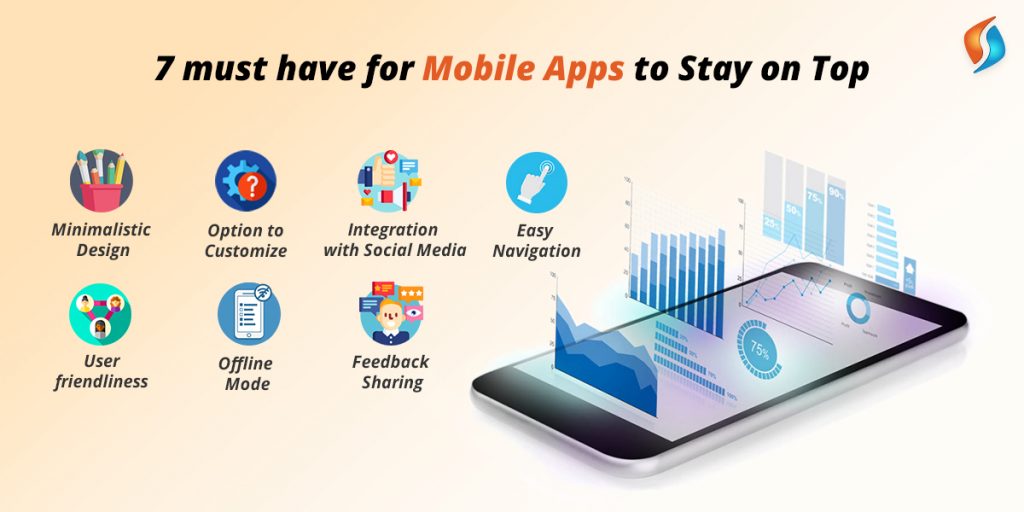 Having a mobile app has become more of a need for a business than a luxury. A small reflection of this comes from Gartner's prediction that mobile apps will lead to revenue of $77 billion for businesses. However, it takes a killer strategy for mobile app development services to develop a mobile app that gets attention from the users and becomes a success.
In today's post, we are going to talk about a few of the simple things you need to consider when developing a mobile app so that it stays on top.
Key Points: Mobile App Development Services
1. Minimalistic Design
You have a limited space to deal with when working on a mobile screen, as compared to a computer screen. Therefore, throwing in a host of features can do the app more damage than good.
Not only will it make the app cluttered and confusing, but it will also put a negative impact on the most important parameter for an app's success – the user experience.
This is the reason you need to focus on keeping the app minimalist.
2. Option to Customize
Every individual has their special needs. And, having an app they can customize according to those needs is something we all love to. Therefore, your mobile app development services must give customization options in the app like changing the color and layout of the app or the font size and shape as well.
This can prove to be a great way to garner good attention in the market.
3. Integration with Social Media
There are billions of users from all over the world using various social media channels. This is the reason social media has emerged as the lifeline on which businesses thrive these days.
Good mobile development services, therefore, must not forget about social media integration. Give people the option to share the experience of using your app on social media and reap great rewards from it!
4. Easy Navigation
A common man's attention span has become less than eight seconds, which is lesser than a small goldfish. You can see that with such less attention span it can be quite easy to lose your customer if you have confusing navigation in the app. Therefore, keeping it simple and straightforward is the key to good mobile app development.
Rather than making the users pass through a maze of steps, put them on a highway with minimum bumps and distractions.
5. User-friendliness
This is the most important factor that plays role in keeping the users hooked up to the app. A mobile app that's easy to use and is user-friendly is sure to make an impact out there in this highly competitive market.
Put yourself in user's shoes and see what would make you happy when using the app. Create a user persona and you will have a clear picture of what user-friendliness is in terms of your target audience.
6. Offline Mode
Though the majority of the apps require an internet connection for operation, it is not necessary that the users will have internet connectivity all time round.
This is the reason that putting the option of offline mode in the application becomes quite important. This one functionality can prove to be the difference between a successful and non-successful app.
7. Feedback Sharing
Most important of all, you need to give users something using which they can share their experience and views of using the app. This is where having a feedback system in place becomes a great idea. As the people who are using the app will be able to share their experience with you, it will give you an opportunity to learn from those experiences and build a better app.
This last point sums up our list of 7 mobile app must-haves for creating a successful mobile app for your business. If you have been facing trouble with the mobile app development, wondering what feature to put and what to leave, then considering these points will prove to be a blessing to optimize your app store.
Conclusion
Are you looking for a company that can take care of your mobile app development needs? If that's the case, then Signity Solutions, one of the top mobile app development companies is just the right place for you to be at. Think of mobile app development outsourcing to India and hire our IT outsourcing services for world-class mobile app development services and reap out the benefits from our top-notch mobile app development solutions.
Contact us at info@signitysolutions.com and we will be able to assist you in all your mobile app development endeavors.