Advantages of Cloud Services in Long Run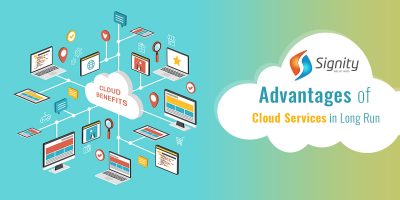 One of the remarkable developments that took place in the computing world is undoubtedly the rise of cloud computing services. But after more than twenty years of its operations, business world seems not convinced to implement cloud-based services. It is despite the apparent benefits that come with it in terms of efficiency, cost and profits than traditional operations could ever promise. A report has revealed that cloud-based services implementation shoots up the growth rate in revenue by 53 %. And that is the clear indication of how advantageous these cloud services are.
Cloud Computing Services: Understanding the Scenario
It is astonishing to know that 69% of business institutions have already implemented cloud computing services. And yet, there are businesses who show hesitancy when it comes to implementing cloud-based services. Cloud technology has really revolutionized the business conduct and what better reason there could be for you – as a business owner if you have not already implemented cloud – to lay your hands on the cloud-based services and decide yourself whether it is good or bad.
With the popularity of the internet, data consumption has skyrocketed. It means businesses and other organizations could no longer rely on traditional office-based computer servers because the data consumption is enormous and could not be handled efficiently by those servers. For businesses that is indeed a big problem.
The solution comes through cloud computing services. What it does is, instead of keeping that data on the computer server, the data remains accessible from the cloud. An employee working in the business can get everything he would want to know directly from the cloud right on his smartphone from anywhere in the world and anytime, without having to be in the office. Salesforce integration is one fine example, it allows employees access to the customer data which they can share, study and engage with from the comfort of their home with just a click of a finger.
Even then not every business organization has shown a keen interest in the deployment of cloud-based services. They show hesitancy when it comes to the cloud as if it were something strange. If you belong to this category of the business owners, maybe knowing the cloud computing services advantages, in the long run, could convince you to change your mind. So, let`s take a look at many advantages that come with cloud services.
Advantages: Cloud Computing Services
1. Less Expenditure
If implementation cost is acting as a deterrent for you to not apply cloud computing in your business then I must tell you, you need to give it a second thought. At least, you need to see it from the perspective of the advantages it gives you, the time it saves you and expenditure it reduces, then the implementation cost would mean nothing to you. Furthermore, you will have to pay according to the features you want to add to your cloud, the space you need for data storage. It goes long way in reducing the cost and offering you greater returns on what you spend.
2. Mobile Access
One of the best advantages of the cloud is that enterprise mobility solutions come along with it. Anyone in your business can access the data available on your cloud server. That is a remarkable development, especially from the point of view of the report that has revealed that global smartphone usage has crossed the mark of 2.6-billion. Without any doubt, the smartphone has emerged as a great way to ensure connectivity and for proper utilization of it; the cloud technology is the must-have. Suppose your employee had a busy day or is stuck somewhere in the traffic jam, he can yet establish a connection with your clients and stay updated even if virtually out of the office. Even your freelance staff can enjoy the flexibility and dynamism as if working in the office.
3. Enhanced Security
Well, many times business owners are not convinced to use cloud technology because of the issue of security. They feel storing everything on the cloud server could make the data vulnerable to cybercrime. But the truth is that a separate team is assigned the task of continuously monitoring the cloud security. There have been the occasions when the data was stolen from the computer servers used in organizations. That way cloud security is a lot more robust. A report has shown that 94% of business organizations have witnessed an increase in data security after deploying cloud service. Unauthorized users cannot access your highly encrypted data on the cloud.
4. Business Insights
Whenever a transaction takes place between customers and your business, or whenever customers interact with your business, they leave behind important data which can be transformed into actionable business insights. And cloud servers come with embedded data analytics tools that help you track down the user-generated data efficiently. After analyzing that data useful business insights can be generated that go a long way to increase the revenue and expanding your business. Especially when you have a small business, employing cloud CRM solutions can reap you significant advancement in your business.
5. Team Work
Nothing impacts the business profitability and sustenance more than teamwork and collaboration does. To make your employees work as a team can benefit your business in a lot many ways. Cloud CRM does exactly that. It allows your employees access and freedom to view client and business information, even share that with your other employees. Such flexibility in hardly possible with traditional computer-based servers.
Hiring the apt Cloud Service Providers
There are many advantages of cloud computing services in the long run. It is the must-have technology for every business organization. It is sustainable, updates automatically without human intervention, and prevents loss of data as cloud server is disaster-proof. If I have succeeded in convincing you about implanting the service cloud in your business organization, then you need Signity Solutions, to help you do so.
Consider outsourcing to India and join hands with one of the leading cloud computing companies in India for better implementation of cloud-based services today.