Steps for Smart Custom Software Development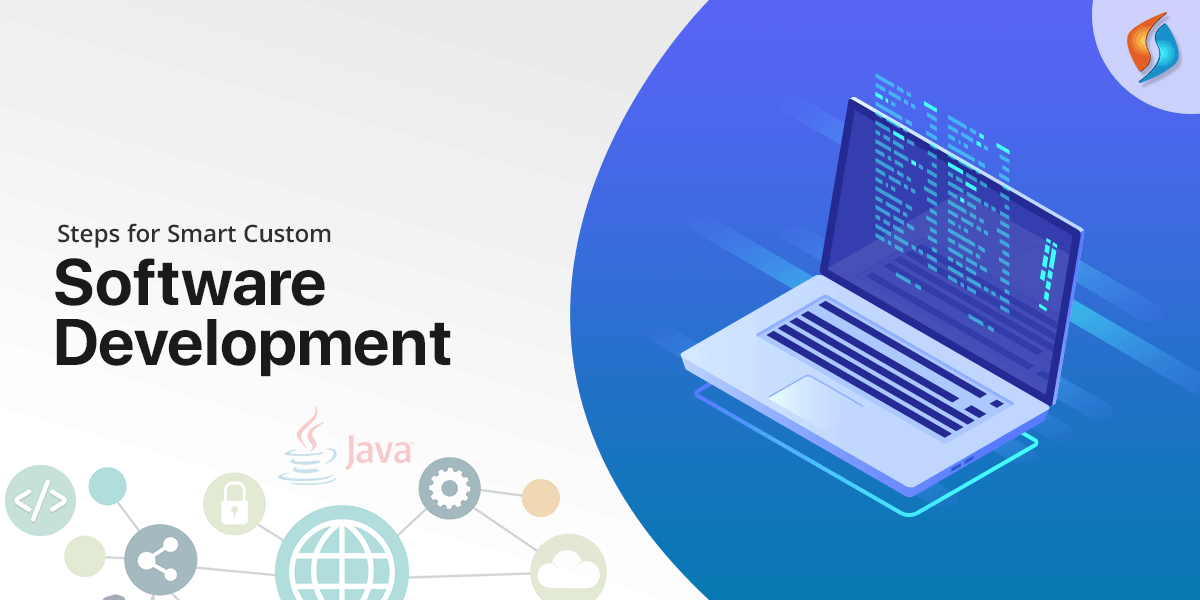 Custom software development is designing a manufactured software adapted for a specific company. Its purpose is to maintain the security and integrity of company secrets. As well as catering applications for a selected group of users within an organization. The creation of this software for an organization is under proper legal license. It is not tendered legal if they're found to be re-sold. The benefit of custom software is that it provides features that manufactured software doesn't.
Need for Custom Software Development Services
You design a software application to increase productivity or address an internal need. The promise of increased efficiency offsets the cost of it. At times the company plans an out-of-the-box concept. One which is not achievable by standard software available in the market. With increased demand for financial independence, many start-ups have been set up. Almost everyone needs custom software. This has given rise to custom website development companies. These companies offer expert custom web development services.
The risks associated with custom software vary per the user. The purchasing company must introspect their needs, market strategy, and various goals-oriented points. The contract should incorporate the way they want the end product to reach out to the public. The company might feel that the software must fill more boxes than planned. It must order the developer to change it as per the needs, which is entirely justified at the consumer end. Though it might result in extra load on finances as more development needs time and effort. It is at these points that the web development companies come into action. But they also need prior time-period and available infrastructure to develop custom software.
Custom Software Development Solutions
First, chalk out the necessary points to develop software. Then appoint a suitable company to create a software application. At times even big brands fail to follow the global standards for web development. In such situations, local start-ups deserve a chance. At times they turn out to be gold or else it will be a lesson and experience for them and the employer as well.
The new start-up might also charge lesser than standard companies. As mentioned above, they might work efficiently and deliver better quality. Budget factor needs consideration while picking custom web, software or mobile app development services. But at the end quality always wins over quantity.
Steps involved in smart custom software development
There are specific steps to follow while looking to develop efficient custom software.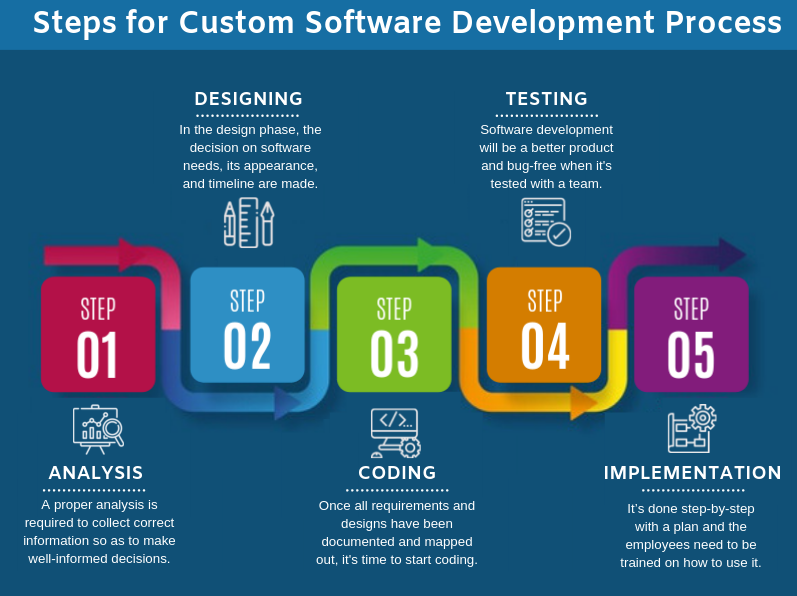 Analysis-
Any businessman thinks about the profits its products and services will fetch. It is his right to earn a dime while giving out his heart and soul to a task. But this economic mind fails while choosing an asset for the company. As it might be a little expensive, but it will fetch profit in the long run. Likewise, the software requires various designs and codes. But it will become useless if the software fails to cater to the needs of the business. In this regard, big data analytics solutions will help meet the purpose by providing you with the correct information so as to make well-informed decisions.
Ø Shortcomings:
The essential market research and business background are not done.
There isn't any word for success, whether the product will hit success or not.
The developer is unaware of the spectrum of jobs that are achievable with the software.
Designing-
If it's finally decided that there is a need for custom software, it's time to get into the action. In the design phase, the decision on software needs, its appearance, and timeline are made.
Ø Shortcomings:
Higher expectations and lower output of work.
Ignoring the experienced group or team leader before taking important final design decisions.
Communication gap among colleagues.
Coding-
Once all requirements and designs have been documented and mapped out, it's time to start coding. Before the actual coding starts, a lot of planning and market research takes place. During this phase, the coding is divided among various stages so that one person doesn't feel all load of work piling up. Going step by step gives proper time for preparation and in-time de-bugging for avoiding errors at a later stage. Also, you may decide to outsource programming services to somewhere more profitable place, like in India.
Ø Shortcomings:
There is no method to check the progress of work.
No contact of the employer with the developer during development.
Testing-
Whether it's a pen or an airplane, everything must go through several tests before the unveiling. Same is the case with software and hardware. Software development will be a better product and bug-free when it's tested with a team. This helps with identification of glitches. Then, there's a final testing phase before implementation of the software. At this stage, beta testers test the product and give feedback.
Ø Shortcomings:
The operating team is not involved in beta testing, or there might be no testing phase.
The testing is not even considered or done at last, when it's too late.
Implementation-
Implementation of custom software development solution is the last step, but not the least. It's done step-by-step with a plan, but we need to keep something in mind that the employees need to be trained on how to use it. It can be released later after final beta testing.
Ø Shortcomings:
There's no training after the implementation of the software program..
No workshops on further updates for the application once the company has released it.
To Conclude
If someone is outsourcing their software development program, it is not only advisable, but also necessary to stay in constant contact with the team. Many people try holding conferences initially, but they fail to give their time later due to work issues, which should not happen at any cost.
Are you seeking services of a custom web development company? At Signity Solutions, we offer our expert services for your requirements. Our team has plenty of experience in providing custom web development services. Get in touch with us now and let us handle your requirements. Contact us now.
You may also like: 10 Things to Consider When Outsourcing Software Development