5 Must Ask Questions While Building a Job Portal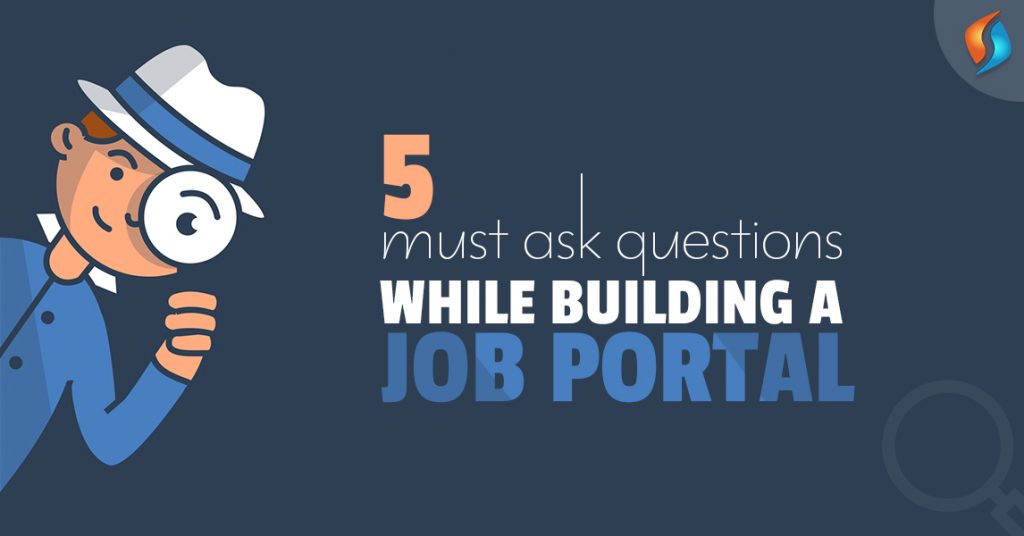 Since hiring is an avoidable activity for every organization, they are always on the lookout for ways that maximize results and minimize the investment.
After all, the businesses need to justify their every cent spending in the right direction. Through online job portal development, finding and providing jobs is not only quicker but is even more effective, for both the employer and the job seeker.
The online job portal development service has made the recruitment process so easier than the best available jobs are now a single click away.

In simple words, an online job portal should have the ability to join recruiters and job seekers to complete their goals and requirements. But building the right job portal is not easy.
Here are five must-ask questions before the job portal development service.
Features that should be there for an excellent user experience
How important is social media integration?
How can we establish a global reach?
Should the job portal be free or paid?
How to identify and capture relevant talent?
1. What all features should be there for an excellent user experience
On the applicant side
Aspirants do not like filling up lengthy forms. Therefore, it is essential to verify the variety of options the software provides to capture applicant information with minimal friction.
On the recruiter side
While on the recruiter side, unstructured information will be a big issue. So the advanced filter search option can help in achieving ease of using structured data collection. Thus, the implementation of search technologies plays a vital role.
Along with this
CV Creation Options:
Your job portal solution should offer multiple means of CV posting such as direct upload, import from popular job sites and CV building within the portal.
Intuitive Job Search:
After CV creation, your portal should enable applicants to search for jobs using intuitive filters based on keywords, job descriptions, location, and job roles.
Application Flow:
This solution is a reward solution for job seekers. It gives them the facility to submit their profile for selected jobs without additional processes promptly.
2. How important is social media integration?
For recruiters, it is essential to be where their job seekers are. Integrating social media allows users to share jobs on leading social media platforms like Facebook, Twitter, LinkedIn, and Google +. Promote it through digital marketing services and establish a voice for your job board. Post frequently, but make sure those posts are relevant. Post a mix of jobs, career content, and information about the role.
3. How can we establish a global reach?
Nowadays, all sites go for optimization on mobile, making your online job portal mobile-friendly through state-of-art technology can create a great user experience. Using services of custom website development company with responsive design will help improve Google Page Ranking.
4. Should the job portal be free or paid?
Most of the job seekers don't pay to the job portals, as most of them are fresher and they are not financially secure. But at the same time, experienced candidates pay as they need quality services of the recruitment portal. Even, top companies pay the portals, if the organization needs a qualified candidate.
5. How to identify and capture relevant talent?
No matter how well placed or specific your job ads are, there is a high chance that you will end up with irrelevant CVs. Therefore, having a job portal website development with a strong filtration system can save a lot of time for recruiters allowing them to focus on good candidates who can be quickly advanced to the next phase of the hiring cycle. So here are some features that can secure more talented profiles –
Auto Screening:
Filtering out irrelevant candidates based on criteria set by the recruiter. This is possible by adding profiles to a separate folder that does not distort the primary talent pool.
Powerful CV Search:
Having the option to filter CVs through Keyword Search can be critical to finding relevant talent when databases grow large
Tests:
Psychometric tests can help ensure that the candidate is a good fit for the organization's work culture and has the necessary skills to excel in the role.
If you are looking for job portal development well equipped with the right tools for posting and job search, you can get in touch with our IT outsourcing services will work with you to find your best solution.