Planning to Create a Job Search Portal, Don't Miss Any of These Features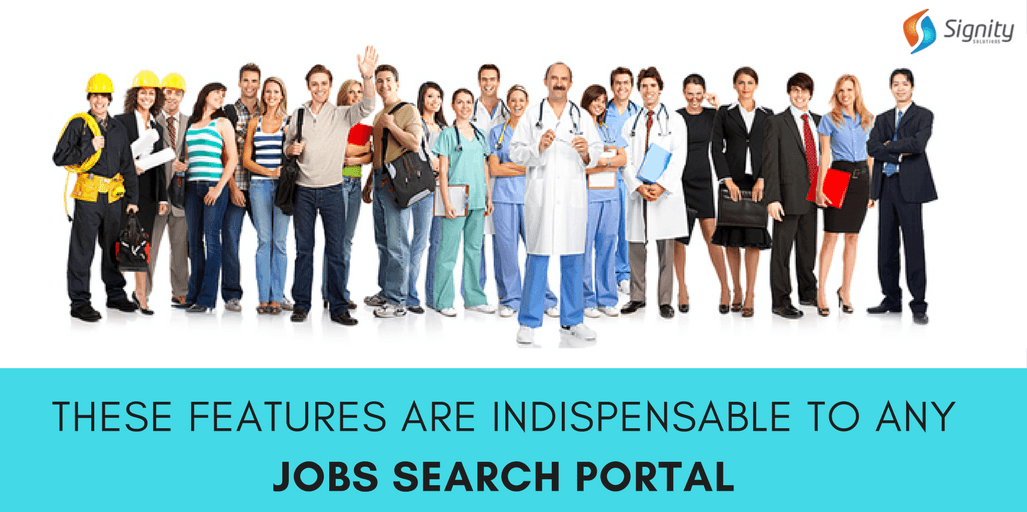 If you ask, 'what dominated the year 2020?' It won't be wrong to say it was job layoffs, the not-hiring policy of companies, and rising unemployment.
Teva, a pharmaceutical company, released in a single stint 3,300 of its 6,430 employees, so did the Uber. New hiring was not encouraging either with only 20% new recruitment taking place.
No doubt that 60% of the major firms escaped any layoffs, but that did not add to the employment as these companies retained their original staff. Is this the perfect time to get job portal development services? Well, let's find out here.
It is because data generated during October-December 2019, shows a 24% increase in the hiring process of companies and hope is high the increasing trend would continue in 2019 as well.
Keeping this data in mind and the fact that offline recruitment is now the thing of the past, online job search portals only become indispensable.
With both employers and job-seekers looking for new recruitment and jobs respectively, job portal development services provide a necessary bridge between the two.
In fact, the internet-based recruitment portals are rapidly growing and taking the center stage in the hiring process as more companies close out offline recruitment and go for e-recruitment.
The NASSCOM study even revealed that jobs were major drivers of new users to the internet. With whopping 18 million resumes already doing rounds of various online job portals.
On these job portals, job seekers apply for jobs without wasting any time. They make hassle-free recruitment possible as users send resumes to various companies in seconds without having to ramble around offices.
In short, it won`t be wrong to say that demand for more job search portals would only increase as technology advances.
In that case, if you too are planning to create a perfect job portal, we recommend you strictly include these features in your job portal.
So, let`s discuss what makes a perfect job search portal;
Job Portal Features:
1. International Search
A perfect job search portal has an 'International Search' option as it allows Job Seekers freedom to search and apply for jobs available not only in his/her own country but anywhere in the world.
2. Home Page
It has an all-encompassing user-specific Home Page, containing resume posting and resume editing option, step-by-step user guide, and job search button all in one place.
Hence, job portal website development embedded with such a feature makes it easy for Job Seekers to post resumes on jobs of their choices.
3. Additional Search
Additional Search' is a key feature of the Perfect Job Search Portal. It provides area-specific job search results, for example, Middle East, United States, or anywhere in the world. Additional Search makes Job Portal smarter.
4. Keywords
Searching by Keywords renders job search a lot easier. It allows the user to search area-specific, skill-specific, or knowledge specific keywords and he/she gets results accordingly. Further filter down can show the city or state-specific job search results.
5. Part-Time and Full-Time Jobs
Perfect job portal does not confuse between part-time and full-time jobs. It filters results based on users' choices, either part-time or full-time. Someone might want to apply for a full-time job while others for part-time.
6. Tools Section
It has an advanced Tools Section containing widgets of remarkable advantages like email alerts, trends, and notifications.
Through these tools, users are alerted via emails and notifications when their resumes get accepted, or an interview is fixed by the employer. They get to know about trends in popular jobs, highest paying jobs, or other information pertaining to a particular job.
Using a strong AI-based bot can also assist the user in getting the desired results. One may hire a chatbot development company to make the website even more useful.
7. Job Alerts
It sends alerts to users whenever new jobs are being posted. If this feature is not available on your online job portal development process, it would lose its purpose then.
8. User Interface
The peculiarity of all perfect job search portals is easy User Interface. The way the job search website is designed is crucial to its popularity and utility. Easy and well-crafted web layout and user interface enhance its efficiency. Here custom web development solutions would help meet the objectives.
9. Registration
It has a simple procedure for the registration process. In fact, easier the registration process the better it would be for your Job Search Portal.
10. Social Media
The job search portals have embedded social media connections like LinkedIn, Facebook, etc. It helps users to get noticed by companies and employers and increases their visibility online.
There is no doubt about Job Search Portals becoming platforms for all e-recruitment in the near future. After all, it renders the complex process simple and hassle-free.
11. Video Resume Upload:
If you offer a facility to allow job seekers to add their video resumes, it will help them to explain their credentials in the most specific manner possible. If you are planning a job portal, giving subscribers an opportunity to upload their video resumes won't be a bad idea indeed.
Bottom Line
If you are planning to create your own highly functional Job Search Portal, then Signity Solutions can help you in job portal development services.
Having built more than 20 high-performing leading recruitment and job portals for diverse global clients, Signity certainly is your go-to partner for a comprehensive and cutting-edge technology solution for Job Search Portals. Just drop a line at sales@signitysolutions.com and you'll hear back right away.