4 Steps to Create a Job Portal Website to Stay Ahead of your Competition
Want to create a robust job portal website? This blog outlines easy steps to create a brilliant job portal where you can seamlessly connect job seekers and employers, streamline applications, and provide a comprehensive platform for career advancement.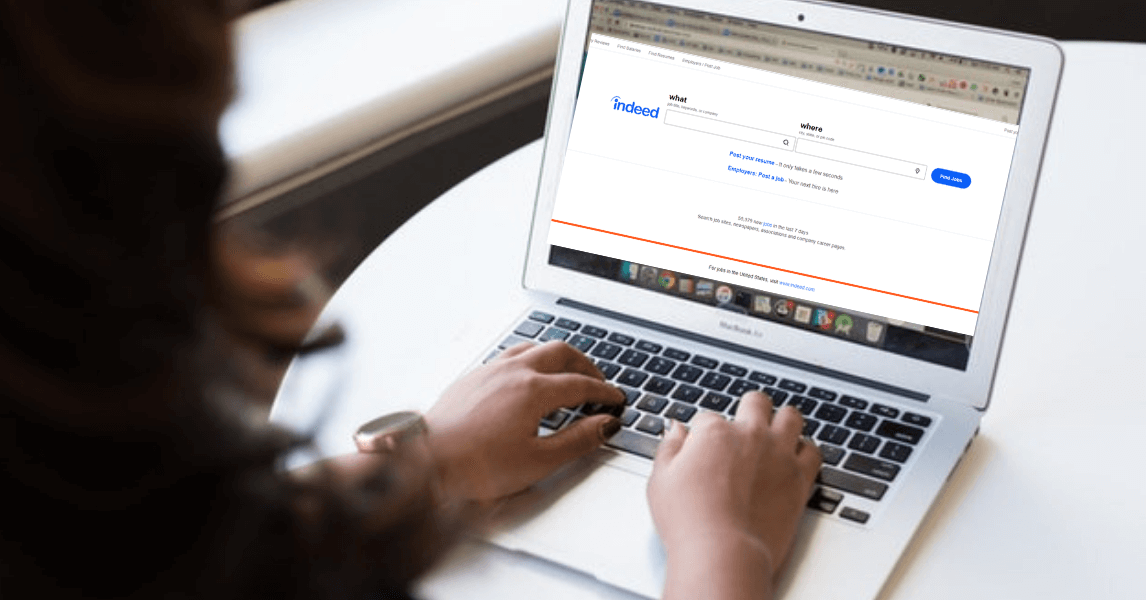 Each year, millions of college pass-outs who don't get selected in the campus placements start searching for jobs with so much at stake.
Some aspirants opt for the conventional walk-ins, whereas, some opt for an online search.
As we all know, walk-ins can be really tiresome with issues like communication mismatch, timing issues, and getting physical tiresome.
Applying for a job online is always the best way as it eliminates all the hassle involved with walk-ins as applying as with it you are only a click away from a new offer letter.
Kudos to online job portals that have been proving to be a successful tool to ease up the irksome recruitment processes for both the employers and employees.
By searching online, you don't have to travel from office to office or read newspapers daily for job openings. With a stack of job websites and app options, finding and getting a suitable job has become much easier than ever before.
The skill that matters most
In recent years, the job sector in India has observed a big boost as the corporate sectors are utilizing new methods and technologies to make it easier for them to judge a candidate based on skill sets and job position, experience, etc.
Amidst fierce competition between various job portals in India, there is still hope for a new job portal to make an impact, but only if they have something new to offer that could make it, even more, easier for the job seekers to get exactly what they are looking for.
Who is leading the job portal arena?
All the leading job portals have been making new strategies to attract the employee and employer. Currently "Indeed.com," NYC Jobs Board" and "CareerBuilder" are the leading job portals as far as traffic, recruitment rate, and candidate database.
One thing is common among these portals that they are constantly expanding their database and focusing more on skills rather than the numbers, which is why they have been able to produce a list of quality candidates with the maximum amount of details.
But, How do I start a job portal website or create one? Or Investing in a job portal website is beneficial or not? How does the job portal development process work? Well, I know you must be having these thoughts in mind about your idea. Don't I this blog have answers for all your queries. So, let's start one by one;
Job portal website = Great startup idea!
The comfort and ease that the job portal website offers have helped in not just changing a concentrated market but have also become the reason behind the spiking interest coming in from entrepreneurs looking for a startup.
The ripple effect of this demand has been entrepreneurs looking for answers to questions like job search app development cost, future benefits, how to market the app, etc.
So, how can you make your own job portal website like this?
Take a quick look
Here's a quick look at the amazing job portal that you'll have after following this guide!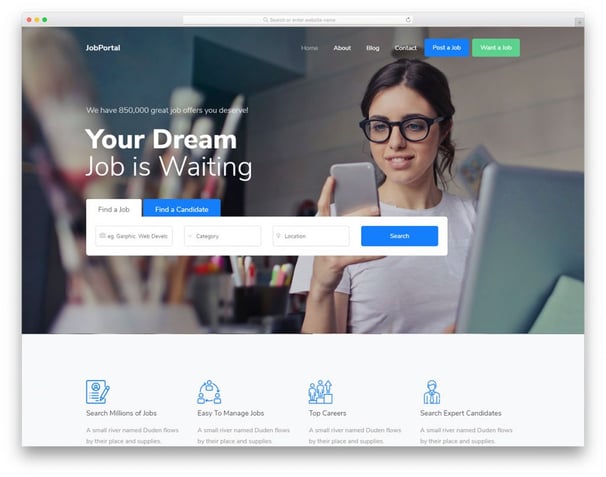 Looks amazing, right?
There is a ton of functionality included that you can't see that will allow you to make a fully functional job portal website.
How to create a job portal website like this. For now, let's get into the actual steps required to build the job portal;
There are 4 major steps to creating a job portal website;
Discover your niche
Wisely choose the job portal website development source and software
Always keep an eye on the market trends
Have a sound marketing strategy
Let's start with the steps one by one!
4 Steps to create a job portal website
If you want to have a competitive website, but are in a dilemma as to how to get started, follow these steps:
1. Discover your niche
Mainly, the job portals go with their comfort zone and stick with the niche that they are familiar with or where they have got some experience.
Moreover, it has been observed that the job portals targeting specific industries such as hotels, casinos, etc. turned out to be successful.
So, it's a good option to go for a specific niche. But, what should you do if you are uncertain of your niche as there are more chances of failure in the general niche because of high competition in the form of giants like LinkedIn, Indeed, etc.?
2. Wisely choose the job portal website development source and software
Go for a job portal development service. This is because a job portal website development is very complex and requires a lot of functionality. So, a job portal website development team is a must who can tackle this complexity.
The custom website development company will guide you on how you can build a functionality loaded and professional-looking job portal website.
After deciding a niche, go for the software platform for your job portal. You'll have options in the form of SAAS (software as a service) and open-source software like WordPress, Joomla, or Magento. Remember, your choice hugely depends on your budget and technical skills.
3. Always keep an eye on the market trends
Even if you are gaining revenue by following a specific niche, it's important to get updated with the latest trends and market demands.
For example, a few years ago, it became extremely popular among young, tech-savvy professionals to work remotely. Luckily, 'We Work Remotely' grabbed the opportunity to list jobs related to this niche. And soon after, became the leading job portal in this niche.
So, it's good to go for specific niches but be ready to grab the opportunity when it comes your way. You can also follow various tools to make it easier for you to analyze these kinds of new trends, such as Google Trends, Google Planner, etc.
4. Have a sound marketing strategy
It's not that difficult to launch an online job portal; the actual difficult part is how you have done the marketing.
Given below are a few steps that can be followed when creating your marketing strategy:
SEO:
A good SEO ranking of your website is the best way to get noticed and draw high-quality candidates. Though organic SEO is a slow process, the long-term results are surely fruitful.
Google AdWords:
It is an expensive but effective way to draw the target audience. If you are looking for quick results, you can opt for this option.
Social Media:
It is probably the most popular and organic way to connect to the target audience as candidates are usually active on social media. Moreover, if your content is good, it will get shared, which will increase your reach.
Blogging:
Content marketing is one of the most popular promotional tools, simply because it's free. So, hire a professional blogger and post a stack of blogs to register your job portal's presence on the internet.
Lucrative benefits involved with an online job portal website
You may not have an idea; how profitable it can turn out to run your own job portal website. It has numerous benefits.
Below are some of the most popular job portal monetization techniques:
Constant earning: If your job portal gets hit, you can earn revenue via business owners and job-seekers to post and respond to listings, or via advertisements. For instance
A source for connectivity: It's a luxury to run an online job portal as it a good way to keep an eye on your potential contacts.
If you start getting a good amount of job postings, you'll always be aware of what network to follow, which won't waste your time and resources.
Boost your status: After all the initial hard work, when your target audience will start using your site in search of reputable job listings, you'll obviously form a reputation of a credible resource.
Resume access: You can charge recruiters for getting access to a database containing resumes of hundreds of job seekers.
Premium feature: With this feature, you charge the recruiters for advanced features. For instance, you can charge recruiters in return for giving them access to a limited number of resumes, space for ads.
Conclusion
So, these are a few steps that can hugely guide you to develop a professional website. It's for sure that if you will be able to utilize the right web development solutions and execute your plans correctly, you are bound to earn a lot.
Before launching your job portal website, do thorough research, and follow all the guidelines to avoid any repercussions.
Now that you are well aware of the steps to follow that will take you to a perfect online job portal website. Just choose your preferred features, the right web development partner, and get started with your new online job portal website right away!
If you need any assistance, Signity Solutions can help you in job portal development services. Having built more than 20 high-performing leading recruitment and job portals for diverse global clients, Signity certainly is your go-to partner for a comprehensive and cutting-edge technology solution for Job Search Portals.
Just drop a line at sales@signitysolutions.com and you'll hear back right away.