Top 5 Cloud ERP Solutions for your Business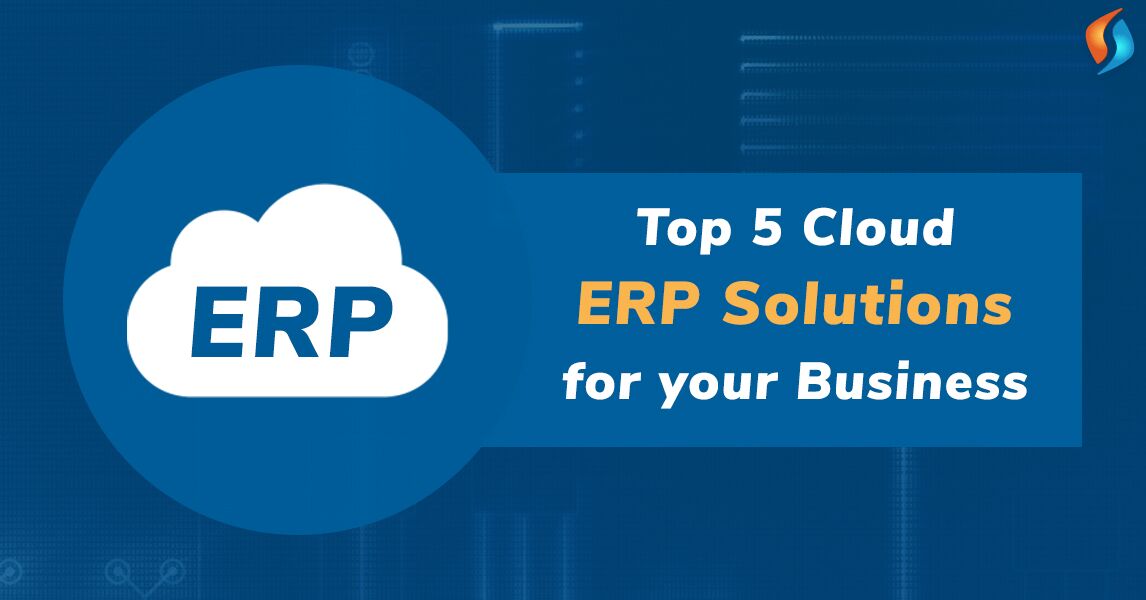 You might consider operating your growing organization without ERP software, but if you are willing to experience a positive change in business and see statistical overall growth, it is important to take the necessary steps in order to see the benefits.
So, does investing and implementing ERP software in your existing system worth your time and money? Well, we say yes, because by integrating this software solution comes major benefits that you don't want to miss out on.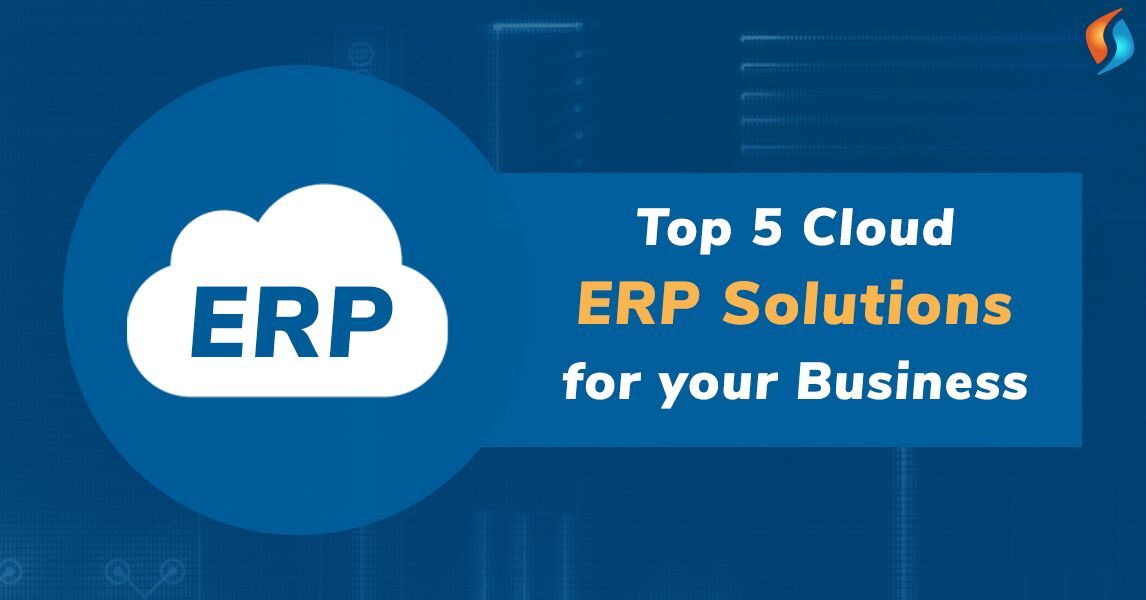 Cloud ERP can help in monitoring the various processes of the business on a centralized system. But various factors need consideration for implementing the Cloud ERP. Some important factors are mentioned below.
Implementing Cloud ERP Solutions: Important Factors
Product quality
Production levels
Systematic Analytical Approach
Business Intelligence
Process Monitoring, and
Greater Mobility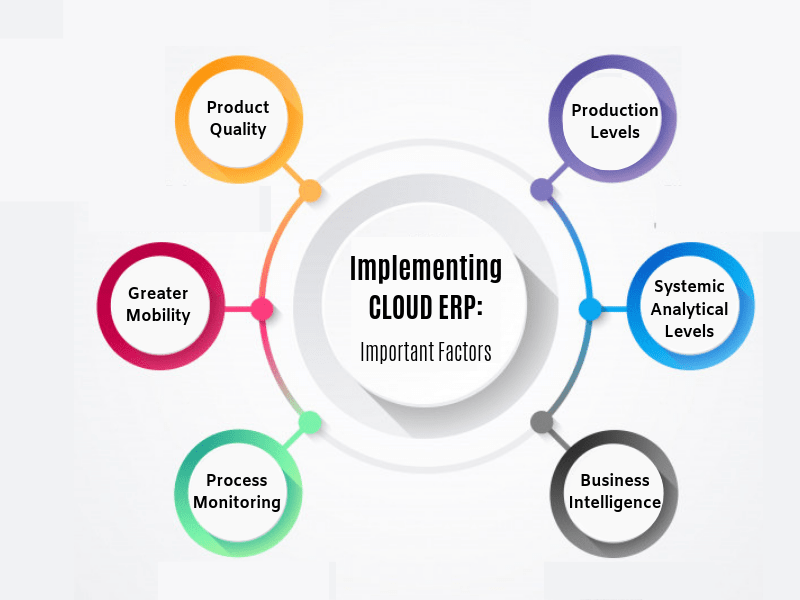 These factors need careful consideration before implementing an ERP software application. Additionally, there have been some interesting observations by an independent research organization: -
By 2020, the enterprise mobility management services will see almost 35% of product-specific ERP service.
The cloud ERP market will rise to a total worth of $29.84 billion by the end of 2021.
Top 5 Cloud ERP Solutions
At the present time, the business environment has become way much complex. It is thereby no longer possible to manage all operations. Obviously, this necessitates the employment of Cloud ERP solutions. However, there are plenty of options available in the market. Due to which there is confusion about the best option. Likewise, below are the leading players in the Cloud ERP market:
1. IQMS
The IQMS has earned a lot of recognition for its service in the Cloud-ERP solution. And its USP is wider applicability to a large number of industries. It is thus a market leader in providing solutions to the following sectors,
Automobile industries
Aerospace technologies
Defense sector
Packaging
Pharmaceutical industries, etc.
The best thing about IQMS is its wide global presence as it has a robust presence across USA and Europe. And this allows it to offer customized services for different business requirements. It uses its Oracle database for providing ERP solutions for the following activities: –
Accounting
CRM
Quality Control
Inventory Monitoring
Reporting
Production Planning
Shipping and
Supply Management
2. Acumatica
It is a Cloud-based ERP system for small, medium or recently formed companies. Small or new companies have to focus on a lot of aspects. This includes manufacturing, sales, accounts, and customer relations. And all these functions are easily manageable with Acumatica. It focuses on offering specific solutions for various activities undertaken by the firm. The basic service provides a multi-user SaaS service. It can be shared with partners involved in the organization which is under the supervision of Acumatica. It is based on Microsoft Azure OS and SQL Azure for quality service delivery. And the Azure software is famous for its personalization and customizable interface. This makes it a perfect working software for the Acumatica as it adapts itself as per the company's need and size.
Moreover, Acumatica rolls out updates for its firmware periodically. It also updates the entire user-interface experience. Since last one year, Acumatica has improved its enterprise mobility solutions. It is now also offering mobile ERP solutions to offer flexibility to the users.

3. Microsoft Dynamics AX

Microsoft is one of the largest software and hardware companies in the world which offers Cloud ERP solutions through Dynamics AX. It has a fresh user interface which runs on Microsoft Azure. Moreover, we are also aware of Microsoft's reputation, which has never compromised in delivering quality services. Correspondingly, Microsoft offers professional ERP solutions for distribution, retailing and professional services. Now with Microsoft Dynamics AX, the enterprise resource planning has become much easier. Because of Dynamics AX, Management can now focus on more important functions. In effect, there is a continuous inflow of relevant information for informed decision making which makes the decision-making process much more efficient.
Customers using Dynamics AX find the user interface easy and flexible as it meets their requirements irrespective of various infrastructure involved. However, while it is an effective Cloud ERP solution, it has certain drawbacks too. It is because there is a limited scope of personalization for overseas operations. Furthermore, there is no feature to add quick notes, and you cannot include third-party apps. This impedes the potential of increasing productivity due to lack of necessary features.
4. Plex Systems

The Plex system came into being to meet the demand from the Automobile industry in the USA as these companies were facing problems with their suppliers. Today, it is one of the most reputed Cloud service providers globally. Nowadays, it boasts of efficient marketing, sales team, and innovative product development team. Their expertise has grown in various areas such as: -
Automotive manufacturing
Food Processing Industries
Aerospace technologies
Defense sector.
It has a core customer base of manufacturers. And its efficiency can be seen through its high renewal rate every year. The core expertise of Plex Systems includes various important decisions in a business enterprise. Also, it helps in monitoring and controlling the entire workforce. Moreover, it also provides an excellent infrastructure to track and schedule the delivery of products.
5. NetSuite
NetSuite is one of the veterans in the Cloud ERP market. It has helped a variety of companies with its enterprise mobility management services. NetSuite provides an active development infrastructure with regular software updates. And this provides it with a distinct edge over its contemporaries. Therefore, NetSuite, despite its age, continues to attract more customers. This is due to its two-tier ERP technology at a small budget. Some of its noteworthy features being: -
An updated user interface which feels fresh to use
The better scope of customization
Easy availability of the web-enabled device
Help on e-commerce sites
Easy inventory searches.
Custom solutions for retail, fashion, internet services and wholesale industry.
But it also has certain limitations. Like, NetSuite lacks the option of consumer interaction. Thus, the inventory management system cannot establish a connection between different branches. Also, its enterprise mobility solutions have come up with a sluggish mobile app where the user experience is not satisfactory.
Suggested Read: 5 Trends for 2019 that will shape the future of ERP Solutions.
Wrap Up
As we discussed, these are five of the best Cloud-based ERP systems at present. Now, are you also looking for a suitable Cloud ERP? Or do you need help in implementing your Cloud ERP? Then you need not to look beyond Signity Solutions, as we are a leading name in the Enterprise software development services in India. And it is because, with our experience, we can handle any need for enterprise mobile application development in India. So contact our IT outsourcing services team today. And avail the comprehensive benefits of Cloud ERP solutions.