How Corporate Learning Mobile Apps Can Enhance Your Business Growth?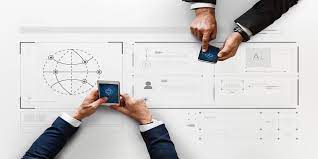 If you ask Google for the definition of "Economy" - the state of a region in terms of production and consumption of goods and services." In this age of, when consumption is not limited to goods and services, the economy is taking a new avatar in the form of Knowledge Economy. It is a system of supply and demand for intellectual capital. Although intellectual capital does not find a place in the account books of enterprises but ultimately, a business is close to nothing without its people and their cognition.
This realization has forced businesses to think about becoming learning organizations. According to Peter Senge, a learning organization is one where people are continuously learning to get the desired results in rapidly changing situations. And the question is how you can make the availability of learning resources portable, accessible, flexible, measurable and personalized for your employees to make them continuous learners? As they say "there's an app for that."
Take a look at the following image.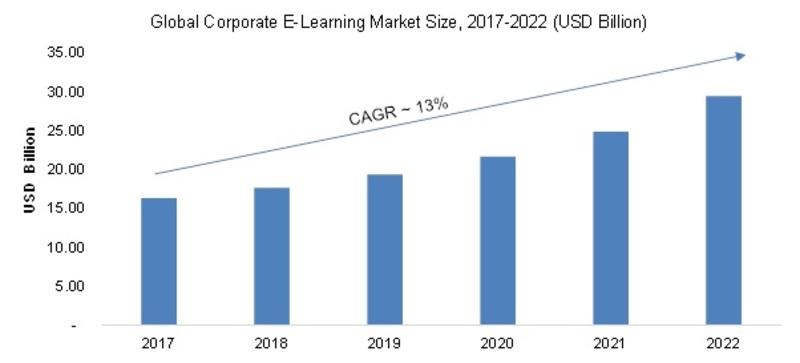 (Image Source: Market Research Future)
The above image clearly shows the increasing growth trend of Global Corporate E-Learning Market Size. Learning Mobile apps can also be considered as one of the segments of e-learning which is also called m-learning. It is not difficult to understand that the role of enterprise mobility solutions in corporate learning is going to be critical in the coming years as hinted by the positive slope of the above graph.
Key Benefits of m-Learning in Business
To understand how exactly a Learning Mobile App helps an enterprise, let us discuss some key benefits of mlearning in business:
Accessibility of Learning Resources
The businesses today are breaking geographical boundaries, time constraints and cultural conventions. In such an environment, learning mobile apps help in the delivery of training to more employees in a shorter span of time. Consider a construction company where the engineers cannot leave the sites. For them to attend the training programs at the headquarters is very difficult. The sales team of any venture finds it very hard to spare time for face-to-face learning sessions. Since, they are mostly on the field selling products and services.
However, in cases like these, a readily available mobile app based learning system will help your employees. For example, India's largest construction company L&T uses an app called ATLNext to provide "Any Time Learning (ATL)" to all its employees working in remote and metro cities across the country.
Control of Process
One of the most important features of training provided through electronic mediums is control of trainee over content and process of learning. A personalized approach towards learning provides your employees with a chance to learn at their own pace. They can choose what they want to learn and complete the course alongside their work.
Moreover, this helps your business by increasing the engagement of your employees. Increased engagement leads to increased retention. It is said, the cost of a new hire is almost 6 times the cost of an employee who left the job and being replaced. Therefore, companies must think about giving control of training to their employees through mobile apps.
Reduction of Costs
Imagine the major cost areas of traditional training methods, which include the cost of the venue, food, accommodation of trainees, per head or per hour charges of instructor and training resources like notepads, pens, etc. These costs can be reduced by using a mobile app for your business. Development of a mobile app is a one-time investment which provides you a platform to share online training content. The apps can also be easily designed and updated with the help of hired mobile app development agency. This prevents a lot of repetitive costs which your business incurs through conventional training. Companies like Dow, Cisco and IBM have saved millions by cutting their training costs using eLearning as well as mLearning. (Source: elearninglearning.com)
Integration of systems
Continuous learning is no more treated as a special quality of an employee. It has become a necessity for organizations. Hence, companies also motivate their employees to exploit all the available learning resources and establish a competitive advantage. But it has been a great challenge to link the training and performance of employees for a long time. With the modern LMSs and mobile apps, it has become easy to track the performance of your employees in the online training sessions. And then integrate it with your performance measurement systems. It establishes fair and transparent correlations between learning as well as rewards.
Blended Learning
If you think that learning through mobile apps will eliminate the face-to-face interaction between the trainer and trainee, then you are unaware of the concept of blended learning. Blended learning is a hybrid of online and offline training minimizing the negative effects of each. The trainees attend training sessions online provided by a live instructor at a standard time. Fast speed of internet and high-resolution displays in smartphones have made it possible for the mobile apps to build a virtual classroom online.
Here is the infographic: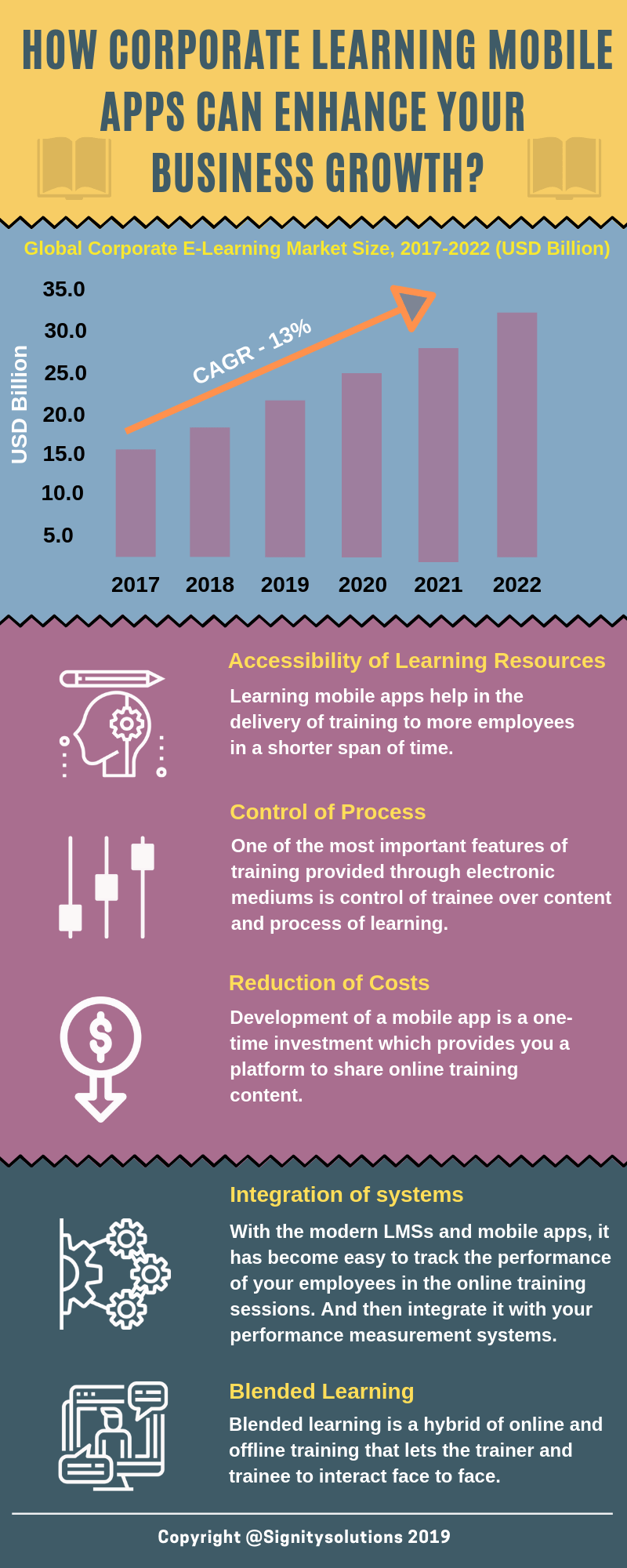 Conclusion
The growth of eLearning at the start of this piece, the future of eLearning and mLearning looks very bright. Some companies are not sure about online learning as the programs can be too complicated or require a hands-on approach. These issues hamper the growth. And can only be overcome with the introduction of AI, AR and VR in the learning industry. Thus, making mLearning an easier and convenient way to approach online training for both employee and employer.
However, with the rise in global demand, mobility solution providers in India have found a new business unit in the form of mLearning apps. India itself provides one of the largest markets to the online learning platforms. The increasing number of millennials in the workforce who are comfortable in using mobile apps as well as affordable internet data packs, are providing Indian mLearning industry a push towards the sky.