Link Building: The Ins & Outs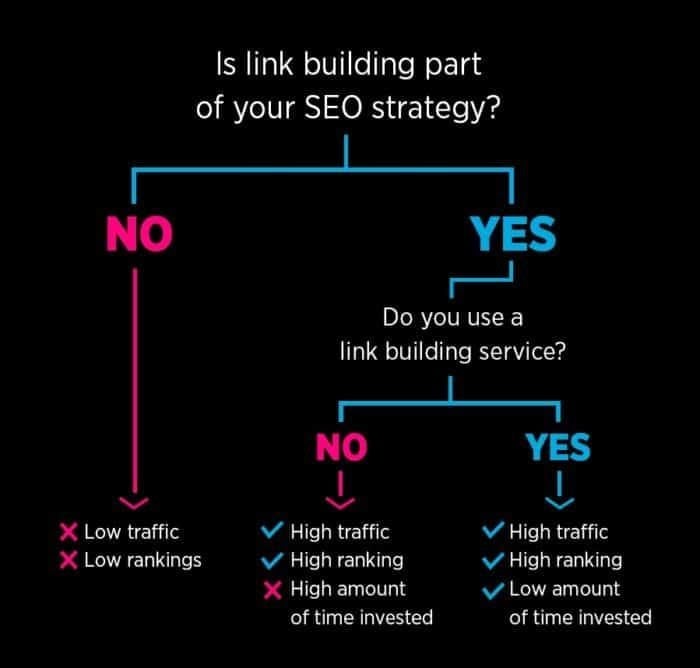 Link building is always an interesting topic of conversation.
Everyone has a different opinion when it comes to link building strategies.
For some people, link building must be avoided at all costs and for others, it is the ultimate solution to get traffic and rank highly in the SERPs.
Realistically speaking, link building is the final piece of the puzzle in order to have a successful and prosperous website (and I'm going to explain why later on in this post).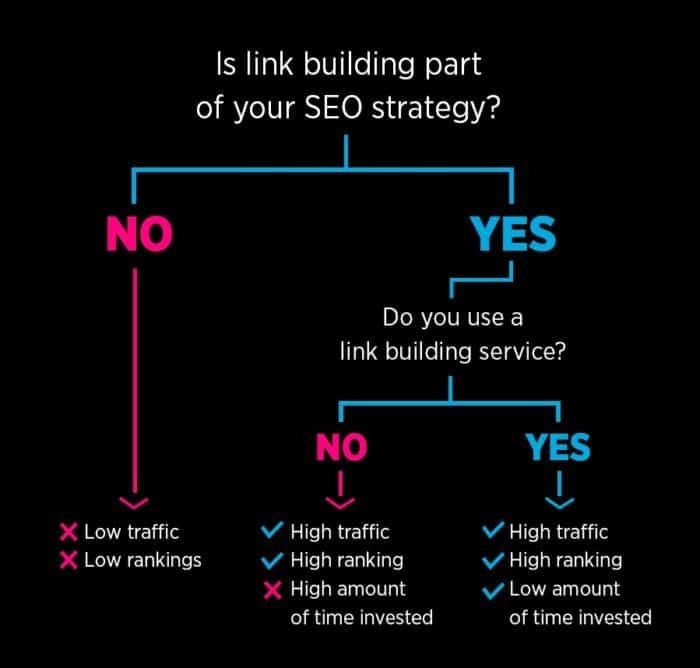 But as with most strategies, there is a right way and a wrong way to build links.
And trust me, it's essential to be aware of that. Because bad links can get you penalized by Google itself!
And nobody wants that!
So pay attention, because I'm going to show you what link building is and how to build high-quality links that move the needle for your business.
What Is Link Building?
Link building is the process of getting a link placed on another website that points back to your own site.
These links act like "votes" for your site.
And the more votes you get, the better you rank- in theory.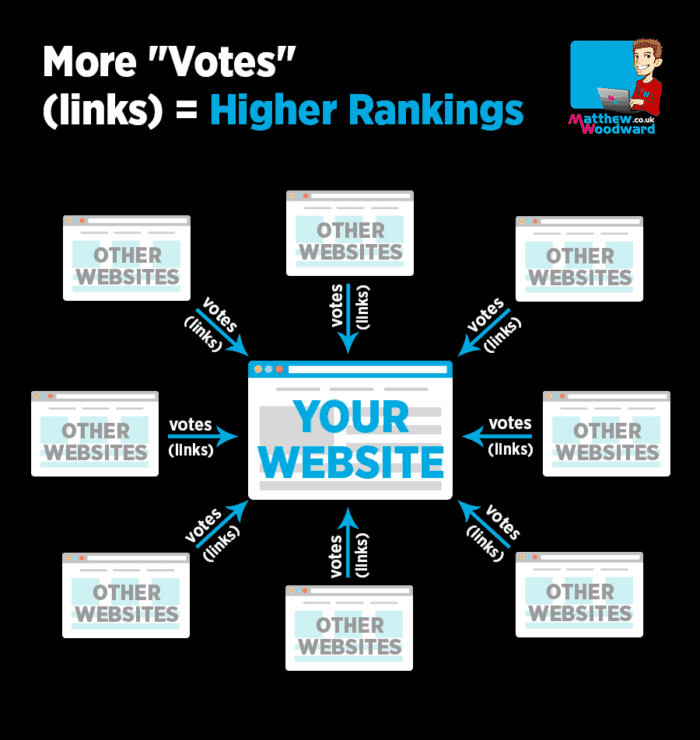 Indeed, it shows Google that your site is trustworthy and valuable to your visitors.
Why?
Well, because links work as endorsements.
Google supposes that if your site didn't have great content, no-one would want to link to it.
So the fact that people want to connect their site to yours is a positive signal for Google.
But, here is a catch: quantity is NOT the only thing to consider. It used to be, but not anymore!
For the past 10 years, Google has made it clear that quality will overpower quantity.
This means that people cannot cheat with poor/junkie links anymore.
The key is relevancy & authority.
In other words, if you get a link from, let's say The New York Times, it would worth a lot more than a link from your neighbour's website.
Make sense?
Now, you might wonder: 'What are the best ways to build high-quality links?'
And that's a good question!
There are so many link building strategies that it can be overwhelming, especially for newbies that don't really know how or where to start.
This is why I'm going to explain the options available to build links.
And eventually, show you my three favorite link building strategies, so keep reading.
In House Vs Outsourcing Link building
When it comes to link building, there are two options available:
In-House
In-house means that your company has its own dedicated link building team.
Outsourcing is when you hire a link-building service to take care of the hard work for you.
There is no right answer but there are some things you need to be aware of:
In-House Link Building
What's important is to choose the solution that fits your business.
Let me explain:
Some people make the mistake of thinking that link building is easy, but...it's not.
To put an efficient link building strategy together, you need:
Skills

Motivation

Knowledge

Patience
...And money!
A common misconception is that in-house link building doesn't cost but, if you are doing it right, then that's wrong.
The time you spend building your links is not free and that before you start paying the publishing fees.
Plus, the more your site grows, the harder it gets to keep up with the link building.
At some point, you would need to hire other people to do the job and, having a full-time team working… costing you money in wages and training.
But, there is a massive advantage with in-house link building: it gives you total control over the process.
This means that you can;
choose the strategies you want to implement

pick the sources you want links from

elaborate a budget according to your needs
So, for all these reasons, it is worth considering in-house link building.
Outsourcing
For those who feel that link building is too much hard work, the best solution is to outsource it.
No shame in that at all!
It's safer to hire professionals that will deliver high-quality links that boost your rankings than trying to build links yourself, without much experience or enough time to dedicate and end up with bad-quality links that will do more harm than good.
The thing is, finding a good service can be really challenging, there are so many shady characters out there selling 'high-quality links' that in actual fact will give you no benefit whatsoever.
So, here are some factors you need to pay attention to when it comes to hiring a link building service:
Watch Out For The Price

: You usually get what you pay for. So if you want to go for a cheap service, don't be surprised if the quality is not there. Building good links costs money.
Avoid Services That Share Site Lists:

Being able to see the sites they have available to buy a link from can be appealing, but it's not.
It puts you at risk.
If you can see this list, you can guarantee Google can too. So buying links from sites that advertise this fact… isn't going to end well.
Avoid Services That Build Links From Site With Zero Traffic:

You want to ensure that you are buying links that have organic traffic.
Organic traffic is a signal that Google trusts this site and this will contribute to the value of the link.
Avoid Services That Build Link From Sites With "Write For Us" Pages:

Google devalues links coming from these sites.
Plus, it's more than likely that the site is heavily abused by other link builders, therefore putting you at a much higher risk.
Pay Attention To Quality Control:

A good quality control from a link building service is essential. The service needs to check that all their links are high-quality before they deliver them to you.
Now you are armed with this knowledge, let's take a closer look at link building strategies.
Link Building Strategies
For those who choose to build links internally, it's time to pay close attention because I'm going to show you three efficient ways to build high-quality links to your website.
Guest Posting
The first strategy you are going to learn about is guest blogging.
You probably have heard of it. It's one of the most popular and effective link building strategies.
How does it work?
Step 1: Prospect and outreach high DR websites in your niche
Step 2: Negotiate topics & publishing fees
Step 3: Create a unique piece of quality content
Step 4: Include your link in the content ensuring it is placed naturally
Step 5: Get your content published on the website
And that's it. Pretty simple!
Some sites would ask you for publishing fees (as mentioned above).
Others may even offer to write a post and include your link inside.
So, be careful when you are negotiating. The conditions of the publication need to be discussed in advance to avoid "surprises".
Testimonial Links
Now, let's speak about testimonial link building.
This strategy is often overlooked, even ignored by many but... that's a mistake.
Testimonials link building is one of the most effective ways to get high-quality links.
The idea behind this is to reach out and offer positive testimonials for products and/or services you're using.
If your feedback is good enough, it will get published by the company, with a link to your website.
There are many advantages to this strategy:
It's free and easy to do

You choose the sites you want links from

It helps you build relationships in your niche
For me that's enough to take this strategy seriously, don't you think?
Resource Pages
If you are looking for an affordable and straightforward link-building strategy…
...this technique is for you!
Resource page link building consists of getting yourself featured on another influencer or blogger's "resource" page, this could be your brand/service or perhaps a specific article you have.
But, how do you find opportunities?
Well, let me give you some tips!
When it comes to looking for influencers in your niche that have a resource page, you should search on Google for:
[Your niche] + "resources"

Inurl:[your niche] + resources
The results will show you all the sites that could be a match.
Once you get a good list of sites, you need to pitch the website owner.
If they accept your proposal, you would be added to the resource page with a link pointing back to your website.
Wrapping Up
By now, if I have done my job correctly, you will understand the ins & outs of link building.
With my advice, you should also be able to select a good link building service that would give you high-quality backlinks to move your pages up the search results.
And if you have decided to give it a go and start building your own links, my three easy-to-implement strategies are enough to get you started.