Must-Have Features to Make Your E-commerce Store App Development Successful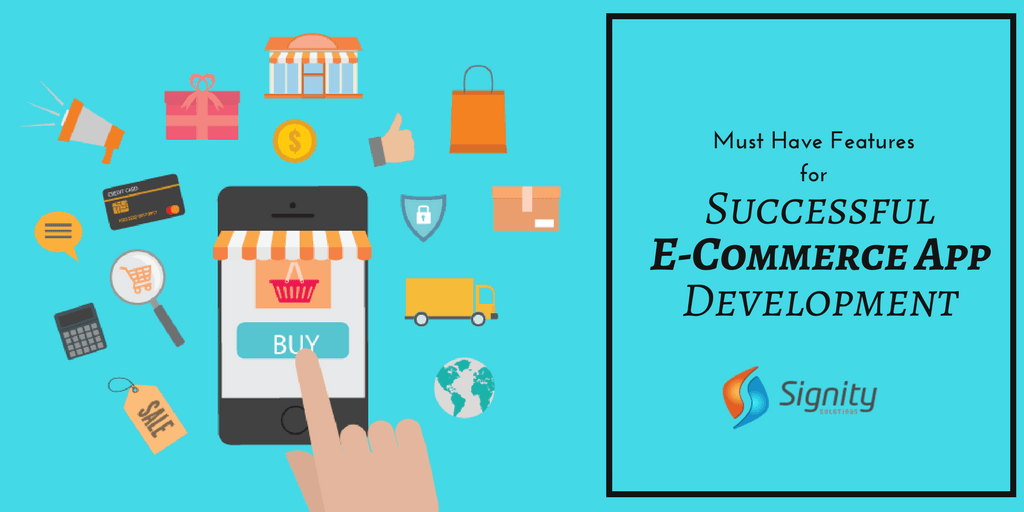 In the words of Thomas Hessun, the VP and principal analyst at Forrester Research, mobiles are not only emerging as a digital hub but are also bridging the gap between physical worlds. Hence, apart from affecting your digital operations, mobile is entirely going to change how your business functions. This holds so true. With 50% of all e-commerce transactions being done by mobiles, it is quite evident how it can make or break your business. Furthermore, the statistics of Smart insight show how mobile apps consume 89% of customer's mobile media time. Going by these figures and statistics, it won't be wrong to say that mobile apps have become imperative for the success of an e-commerce business.
However, developing an app is not a sure short way to succeed unless it is accompanied by right strategies, best features, and seamless experience. There are certain must-have features that you need to incorporate for making your E-commerce mobile app development successful. Let's have a look at some of these features which can be critical for your app's success.
Push Notifications: Push notifications are a vital feature of any mobile app. It allows you to send alluring, personalized messages to your customers. Unlike emails, push notifications can be reached directly to your target customer without ending up in their spam box, saving you on a considerable amount of time and money. Visually appealing notifications with full graphics is a great way of connecting with customers and reminding them about your exclusive deals and offer straight at their fingertips.
Location-based technology: It is a smart way of targeting customers by putting place data and user behavior together. It can lead to an exceptional and seamless user experience. In this context, location-based technology such as Beacon can be used. It works in tandem with mobile apps and sends messages, push notifications when the customer is in its close proximity. It also allows the apps to do proper customer segmentation, facilitates accurate indoor location positioning, sends relevant and custom-made messages to users and collects extensive user intelligence.
Augmented reality: It is one of the coolest features that your E-commerce mobile app can have. Imagine having the ability to bridge the gap between reality and your mobile app by placing virtual objects in the real world and real time. Augmented reality definitely is a dynamic and interactive feature which has the potential to make your mobile app an instant hit midst users. It lets you provide your customers with the option of going beyond reality and check out clothes, jewelry, furniture etc through 3D images incorporated by mobile device's camera and software within the comforts of their home without actually having to move.
Click-to-call: Being able to contact or call you with just a click is a mobile app feature loved by customers. According to a study done by Google mobile movement, an approx of 61% mobile users call after doing a local business search. Nectafy adds up to these statistics and says that 88% of mobile users, who search for an e-commerce business, call within 24 hours. Hence, allowing your users to call you directly through click-to-call button will certainly work wonders for the success of your e-commerce business.
Mobile cloud computing: Incorporating mobile cloud computing within your app allows you to do all kinds of data transfer without being connected to a physical link. Apart from offering low-cost app development, real-time updates and scalability, it also helps in integrating data analytics which gives you a deep insight regarding customer's buyer behavior and preferences. In addition, it allows your app to run on various operating systems thereby enhancing your audience base extensively.
Artificial intelligence: You can enhance your customer's experience by incorporating artificial intelligence in your e-commerce app development. According to the prediction done by Gartner, apps with artificial intelligence are going to trend in 2017. So, putting your step forward in it will be a smart way of retaining customers and increasing revenues. Integrating AI algorithms into your products, not only appeals customers but, also significantly enhances customer engagement. Furthermore, you can make your customer's each app session seamless by analyzing their user trends and personalizing it with relevant content through artificial intelligence.
The above-mentioned features can certainly help you build a well equipped and properly configured mobile app for your e-commerce business and give you a competitive advantage and ample ROI in this volatile market of e-commerce.
Wish to dive into the world of app development and build a world-class app for your business? You're at the right place then. We at Signity Solutions work extensively towards providing our clients with the best apps, keeping in mind their vision, mission, and goal. For any queries, feel free to contact here. We will help you out instantly.