Why Zoho and Salesforce Are Trending in 2020
Customer Relationship Management was initially started to improve customer service. But now, it relates to the entire business strategy. CRM works like "Magic," it is a single repository that boosts sales, marketing, and customer support activities while streamlining the whole process, policy, and people in a single platform.
But the real trick to the Magic is to find the right CRM tool for your business. Then only it will help you develop long-term relationships with your customers, which in turn will help you identify their requirements and provide them with personalized services.
Business Done The CRM Way
The kind of approach a business follows that helps them interact with their customers describes their customer relationship management strategy. CRM involves collecting customer's data, analyzing their history, providing them a better experience, and overall building better relationships to ultimately drive sales.
CRM has proven to be the largest software market and companies have recognized it as the best technological asset.
The ease with which CRM integrates with other applications has helped implementers to cover every aspect of their business cycle with a greater ROI and reduced costs.
---
"CRM software is now the biggest software market in the world and the growth isn't slowing down. In fact, CRM is now expected to reach more than $80 billion in revenues by 2025."
---
Dynamics of CRM
Who needs a CRM?
SMBs looking for a platform to store information or big enterprises wanting to manage their customer interactions and focus on improving customer satisfaction; all require a CRM software.
OR
An organization wanting to know how many customers they won or lost?

Businesses that want to check the accuracy of their data.

Companies wanting to connect with their customers.

Any organization that wants to ensure a personalized connection with their customers.

Any organization that wants to bring together their teams.
Benefits of using a CRM
Increased Automation

A Single Repository

Streamlined Operations Strategy

Cloud-based

Cost Cutting

Team Collaboration

Data-Driven Processes

Uncomplicated Sales Process

Contextual Communication
Related Read: How CRM is Helping SMBs in Leveraging Their Growth?
Choosing the right CRM - Zoho and Salesforce, the top performers
There are plenty of CRM companies, but out of those, there are two that stand out from the others because of their exceptional features.
Two of them are;
Let's discuss Zoho and Salesforce CRM's features and benefits in detail:
About Salesforce CRM
Salesforce CRM helps you in closing more deals faster from anywhere and anytime. It helps businesses of all sizes to boost their sales, automate their processes, make data-driven decisions, magnifying the business's growth.
---
Cloud-based revenue will likely make up almost 50% of the projected $31 billion CRM sector. - ZDNet
---
Salesforce CRM offers:
Lead Management

Content Management

Sales Management

Workflow Rules & Automation

Mobile Application

Reports & Dashboard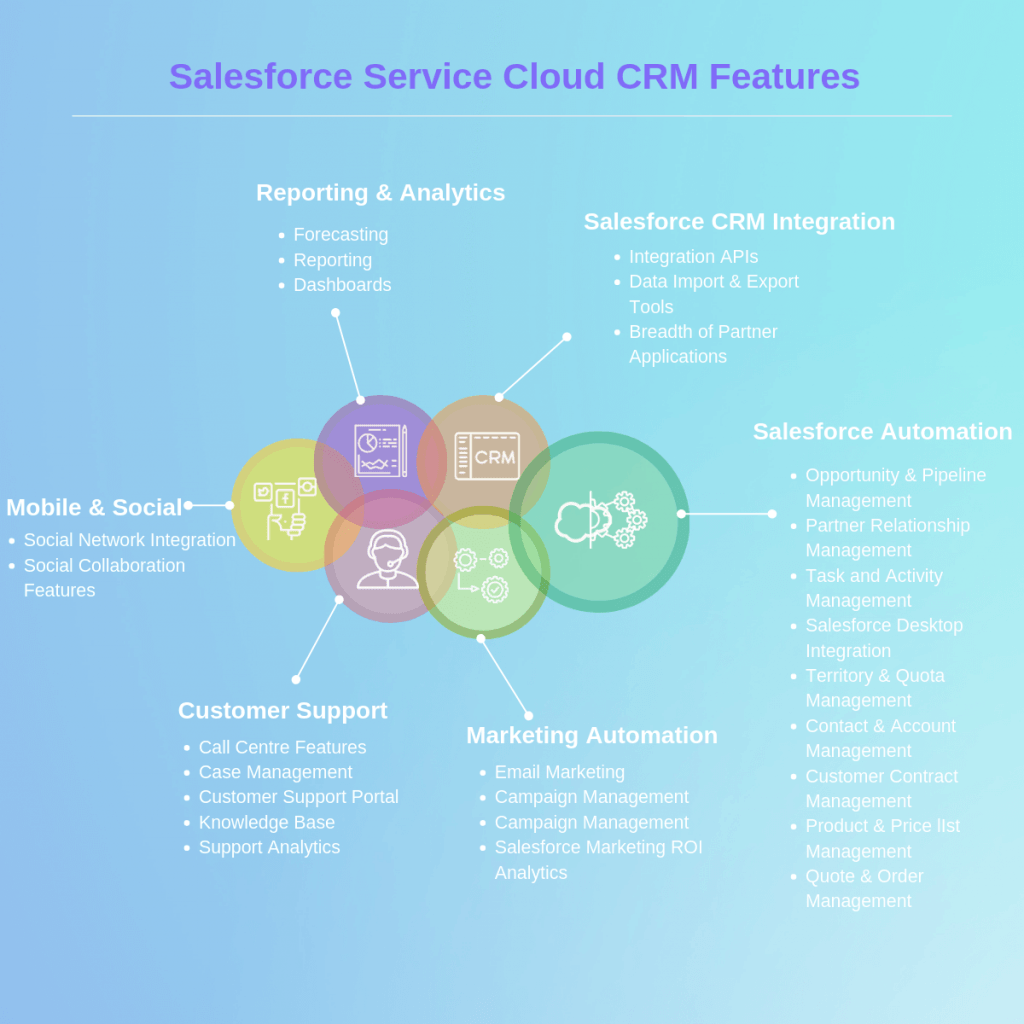 ---
65% of sales reps who have adopted mobile CRM have achieved their sales quotas. While only 22% of reps using non-mobile CRM have reached the same targets. - Research by Innoppl Technologies
---
Benefits of Salesforce CRM
1. Salesforce helps in closing more deals
Salesforce gives you great insights through their Opportunity feature. Moreover, it gives a 360-degree view of the customer - their activity history, communication, discussion, social mentions. And its Sales Collaboration module helps track deals and find competitive information. Similarly, its sales Performance Management sets metrics based on the goals and magnify the winning performance of sales reps.
2. Boost leads
Salesforce helps in tracking leads, automate the process of generating leads, and create campaigns. While the Sales Data, and Partner Management apps, Marketing Automation, and Lead Management provide a systematic pipeline from lead to conversion.
3. Boosts Productivity
Mobile applications make the software mobile as well. Tracking call logs, replying to hot leads, and work opportunities all in real-time. Its visual workflow lets you drag-and-drop the business processes faster and enhances the team's productivity.
4. Deeper Insights
Get real-time views of your sales team's conversion helping you create adaptive weekly forecasts. Leverage the reports and dashboard features to gather and analyze data.
About Zoho CRM
Zoho helps in getting more leads, drive-in more sales, and grow business faster that can be personalized for your business.
Zoho CRM offers:
Lead Management

Contact Management

Sales Pipeline Management

Purchase Control

Customizable Dashboard

Integration With Popular Application
---
60% of surveyed respondents plan to increase their email marketing budgets, as email's consistently highly-rated ROI – a $40 return on every $1 spent. - Strongview
---
Zoho CRM benefits
1. Automates sales operations
Zoho automates daily sales activities, nurture website visitors into the hot lead, and imports prospects from third party sources. Most of the sales operations can also be customized in Zoho to meet the specific needs and can be accessed with a single click.
2. Access to data in real-time
Zoho's Opportunity Tracking solution sees where your customer is in the sales cycle, what is the deal's size, their contact information, and competitor profile to help you craft more fitting messages. It also lets you recognize and target inactive leads with historical data to realign your customer messaging.
3. Leveraging social media
Most of the customers that you get on your website are through social media channels; this is why it is important that you link your CRM with your social channels. Zoho not only helps to track your customer's behaviors but also categorizes them as leads and contacts. Moreover, it helps you to connect with them and send them invitations to give your product/ services a look.
4. Zoho software mobility
Zoho CRM services have a dedicated mobile application for iOS as well as Android that helps stay in control of the customer while on the go.
CRM implementation process
Now after checking out Zoho and Salesforce features and benefits, now when you have decided on your CRM system. It is time to implement it correctly. Below are some steps that will help you leverage your CRM system to the fullest.
1. Mapping out your sales process and inculcating in the sales team
This should include working on:
How will your potential customers get to your CRM system

What happens with those prospects when they get into your CRM

Steps that your sales reps should follow, once a lead is assigned

What will happen when sales reps close a deal
2. Train your staff on CRM
This should include working on:
Making your team understand, why you are

implementing CRM

Making them aware of the time-saving

benefits of the CRM

system

Make them understand the value of the customer life cycle

Restructuring employee compensation.
3. Using Automation for repetitive tasks
This should include asking questions like:
Can actions that are performed on every lead can be automated?

What specific tasks should be automatically assigned?
Conclusion:
If you are still struggling with your sales and marketing processes contact us. As a Zoho and Salesforce consultants for more than a decade, Signity Solutions can help you implement and recognize the correct CRM solution for your business.
We can also help you with your sales, marketing, support in a single system. Signity helps businesses of all sizes build excellent customer relationships, sales pipeline management, marketing automation, analytics, and more. Get in touch with our experts to know more.