12 RPA Use Cases In The Real World [Updated 2023]
Discover the real-world power of robotic process automation (RPA) across industries like customer service, finance, HR, telecom, retail, healthcare, IT, manufacturing, and more. Explore the benefits and practical applications of RPA in this insightful blog post.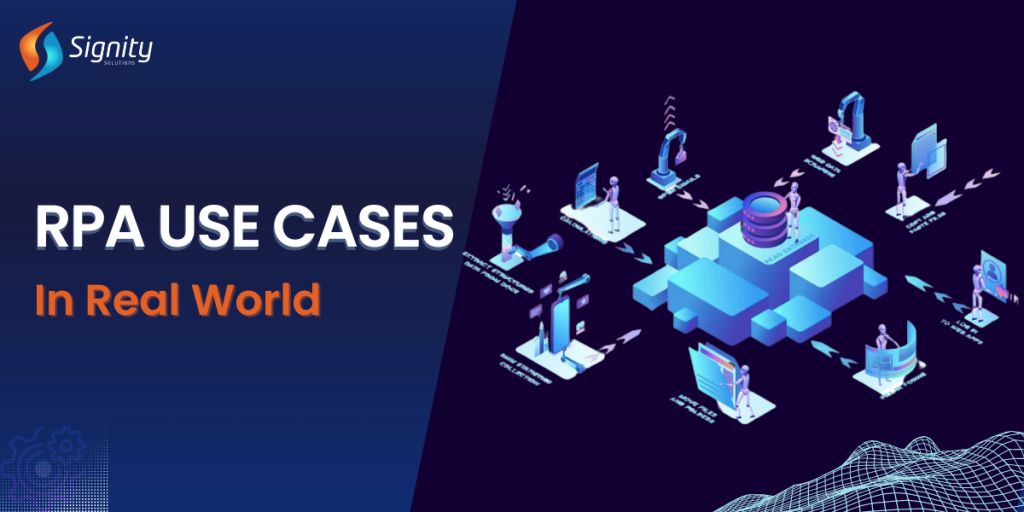 Robotic process automation brings out a lot of benefits in different industry niches as it supports high-frequency manual, repetitive, rules-based processes, which are critical for an appropriate service. So, below are some of the real-world examples of RPA use cases that industry leaders are leveraging.
1. RPA Use Cases in Customer Service
RPA can be used to automate many tasks in customer service or support desks. These can include incident management, user administration, billing queries, updating records, and a lot more.
Real-Life Use Case Example:
A European IT Managed Service Provider was running support services for their client. The company had to handle a large number of calls, approximately 15,000 calls a month, spending a lot of time in the 1st line of the support team.
Because of the complexity of the system, the average the executive spent was about 6 minutes, as the system was inefficient and slow and, in return, provided a poor customer experience.
How RPA Helped?
With the RPA solution, the organization has a team of Virtual Workforce that is able to complete the tasks in less than 50 seconds, which means an 83% reduction in execution time.
RPA not only handles tedious tasks but also helps in elevating the level of services that can help save time and money. RPA bots are capable of handling rule-based functions the way humans are unable to.
Related Read: How Robotic Process Automation Is Leveling Up Customer Satisfaction
Benefits of RPA Implementation in Customer Service:
It provides a more seamless experience for the customer
With a near 0% error rate
The customer can call in and have updated notes and contact information right off the bat.
The service agents have an easier time relaying information and responding to the customer's needs
Their efficiency leads to taking more care of customers in a shorter amount of time and ensuring a better quality experience.
Industry-specific Data:
As per research from SSON Analytics, here are the top users of RPA technologies:
2. RPA Use Cases in Finance & Accounting
RPA helps in bridging the gap between different applications present in the legacy system. Even though there are many system implementation software, such as SAP and Oracle but they fall short in processing and integrating micro-level tasks.
Real-Life Use Case Example:
A lot of Canadian banks, for example, have been eagerly adopting RPA technology with success.
Royal Bank of Canada, the largest financial institution in Canada is using smart chatbots for more than a year to improve customer service.
Also, the Guardian Group has also embraced RPA technology in its processes and has seen early success in its journey. The technology has enabled them to calculate, copy, paste, access, or use existing business rules to handle, use, and feed data into the core enterprise application.
Other Processes of RPA Use Cases in Financial Services Can Include: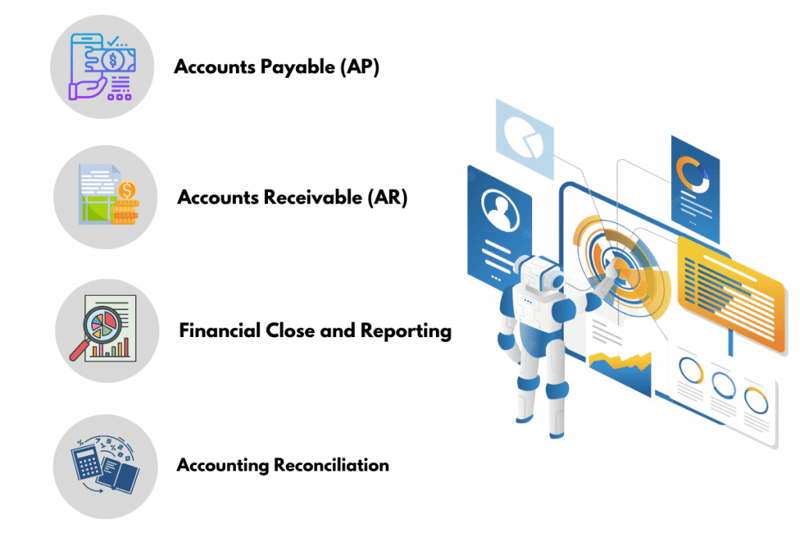 RPA bots can transfer inbound invoices from PDFs, internal spreadsheets, and web applications. Also, an RPA bot can place a duplicate PDF on an internal server, and this makes it useful in order to ensure regulatory compliance and can reduce up to 60% of vendor invoice processing cycle times.
Bots are capable of faster and more accurate maintenance of customer master files and credit approvals. The same goes for AR cash receipts and orders and their processing. Also, late notices can be sent by email more quickly with the minimum hassle that naturally comes with last-minute updates.
Financial Close and Reporting
This is the core of inter-departmental, multisystem processing. Drafting tax entry data from various business units is a boring and monotonous task. This is why it is better to have a robot mitigate it with the system for error-proof entries in the processes.
Accounting Reconciliation
Accounting data calls for reconciliation taken from a variety of sources, such as Excel sheets or customer invoices. With automation, you can process and download the data into the desired format and validate the data for any exceptions.
#Case Study: Telecloud save 750+ man-hours per month in accounting with RPA bots

Do you also want to implement Robotic Process Automation in accounts or finance operations? Connect with our RPA experts today.
Benefits of RPA Implementation in Finance:
Non-invasive application
Customizable workflow
Major lifting
Speedy installations
Reduce errors in work
Nonstop performance
3. RPA Use Cases in Human Resources
65% of HR professionals see Robotic Process Automation as an operating model play, enabling the introduction of a digital workforce. RPA has a lot of potential that can revolutionize the entire HR industry, bringing in a ton of efficiency and a faster return on investment.
RPA can be used to reduce the majority of the repetitive tasks that consume the time of the full-time equivalents (FTEs).
Also, creating agile companies has long been a goal of business leaders, with 92% wanting to bring employees closer to their customers, increase the spread of innovation, and improve employee empowerment and engagement. RPA can be a powerful enabler to these objectives," suggests Deloitte.
Real-Life Use Cases Example:
UiPath's own HR Automation Story
At UiPath, the People Operations Team automated aspects of the onboarding process for new employees. The paperwork was previously being filled out manually by one person, taking up much of the individual's time that could have been spent on more valuable work.
This is the type of work no one wants to spend time on daily. CHROs know that an HR department wants to offer a digital and easy experience. "The task was replete with copy-paste activities.
Furthermore, the new Bot also completed the onboarding paperwork in one-sixth of the time, allowing HRs to focus more of their time on Corporate Social Responsibility, attracting talent and initiatives, enhancing a company's reputation, and increasing employee retention.

Benefits of RPA Implementation in HR:
RPA can help automate Sick leave, and vacation time requests
Expense and reimbursement processes
Onboarding and offboarding processes
Applicant sourcing
Responses to frequently asked questions from job candidates or employees with the help of chatbots
Many more processes where data entry and other repetitive processes are central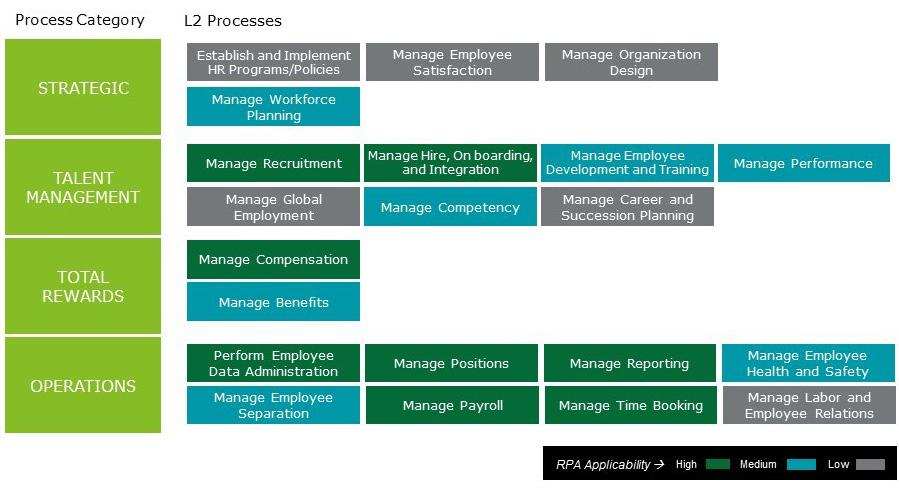 Source: Deloitte
4. RPA in Telecom
The Telecom industry is all set to take advantage of Robotic Process Automation applications. Implementing RPA in telecom will help them overcome chronic issues that ail them and will not only help them improve their business operations but also give them a competitive edge.
One of the most essential priorities for telecom operatives is the ever-increasing customer expectations and how to manage the experience positively.
Customer is the central focus of the telecom service providers.
According to a recent report the RPA market until 2024, during which period, telecom and IT appear to be leading the automation trend in business processes, with a phenomenal growth rate (CAGR) of 60%.
Robotic Process Automation can play a pivotal role in driving transformation across the telecom industry, bringing greater efficiency to telecommunications functions – from supply chain and operations to enterprise management and customer care. Here are some benefits of implementing RPA in telecom.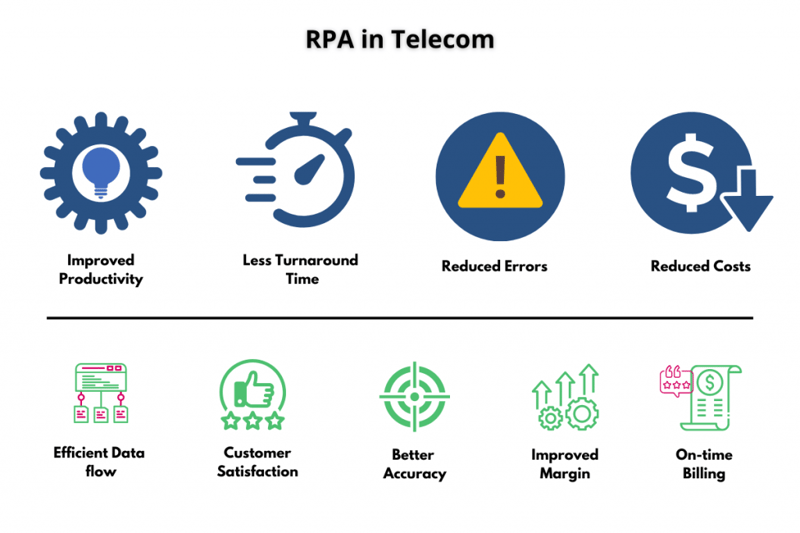 Processes of RPA Use Case in Telecom Can Include:
1. Customer Onboarding and Offboarding Management
By automating onboarding and offboarding processes, companies can maintain a clear view of all customers and their information. It becomes easy to add customers automatically when a new one joins and also easy to remove them automatically when they leave.
2. Network Management
RPA automate some simple process in the event, incident, and diagnosis management areas, thereby allowing the employee to handle the tricky stuff.
3. Applying Credit/Discount on the Account
Configured intelligence by the virtual enterprise workforce to automate swivel chair applications involving the manual transfer of transaction data for efficient decision-making when it comes to credits and discounts.
In addition, attain the highest compliance and security with checks for fraudulent activities, checking IMEI in different applications, blacklisted number checks, etc.
Temporarily lockdown accounts showing fraudulent activity or even cancel them permanently to safeguard your organization's interests.
4. Billing
RPA can automate the process to maintain billing records of customers, invoicing, and reconciliation across its multiple channels and departments. It allows for performing these tasks on time without any errors.
5. RPA Use Cases in Retail Industry
Retail includes labor-intensive, continuous operational and analytics activities. RPA bots can help retail companies without state-of-the-art systems to bridge the gaps in their systems and automate their process.
Global retail corporations need to arrange SKU (Stock Keeping Unit) data from multiple markets to be able to look beyond numbers to insights like "What is our shaving cream market share in Eastern Europe?".
Traditionally, these tasks required employees to match SKUs to categories in complex spreadsheets manually.
Since this is a task that does not directly impact customers, fault tolerance is not very high and RPA bots can be used to automate the process, saving thousands of hours of work.
6. RPA Use Cases in Healthcare Industry
Are you trying to reduce costs but improve patient care? Then, RPA is the way to do it.
Indeed! The healthcare industry faces increasing pressures from costs, high volumes, and stringent regulations. However, RPA holds many promises for the healthcare industry to create a better experience for both patients and providers. By automating time-consuming administrative tasks, robotic process automation (RPA) empowers healthcare providers to deliver high-quality patient care at reduced costs.
Many Perks of RPA in Healthcare:
Admission Process
Enhanced regulatory compliance
Easy & smart monitoring
Improved accuracy as human errors are reduced
Decreased operational costs
Fast appointment turnout
Better employee satisfaction
Improved Customer Satisfaction
Faster Turnouts
Reconciliation from multiple systems & laser-like efficiency
Reduce operational cost
Enhanced Analytics for operations
Advance Governance
7. RPA in IT Operations
From employee onboarding, due diligence, payroll processing, and task tracking to CRM updating, leveraging RPA in IT operations can benefit by automating highly repetitive tasks. Additionally, it helps in saving costs and time.
8. RPA in Manufacturing
The biggest benefit for manufacturers utilizing RPA is its ability to reduce the need for manual labor, which is an expensive commodity. Businesses can redirect their employees to other critical tasks like product development & marketing rather than back-office functions. Manufacturing companies are continuously looking for solutions that could help streamline business processes and focus on innovation at an equal rate.
Benefits of RPA in Manufacturing Industries:
Robotic Process Automation (RPA) has brought tremendous opportunities for the manufacturing industry to gain efficiency, optimize daily operations, and drastically reduce redundant activities.
It helps automate mundane and repetitive back-office tasks that are typically done by humans supported by little or no technology.
RPA can be integrated with existing applications on the existing infrastructure, resulting in very low implementation and operational costs.
Moreover, it lowers labor costs by eliminating the requirement of the human workforce for repetitive tasks. RPA also helps in clearly defining different employee roles and responsibilities, hence leading to enhanced visibility across an organization.
9. RPA in Data Validation
Data validation can be a time-consuming task for manual labor. However, this is an integral part of your day-to-day business operations to ensure that data is valid and appropriate.
There are A majority of data validation controls present in databases. However, due to its simple programmability, scalability, and easy integration, RPA automation is more suitable than other technologies for data validation tasks.
10. RPA Use in Reporting
All organizations require reporting to gain clear insights about their finances, growth, workforce, and clients. However, generating monthly or yearly performance reports is monotonous and time-consuming; 51% of report-generation departments deliver the same data multiple times, and 50% of managers are dissatisfied with the delivery speed.
RPA bots help in automating reporting processes as they:
Assemble the data from many sources
Based on the information gathered, compile and distribute reports.
Update data in other systems (such as CRM) as per the reports.
These reports can help teams and management to understand the progress and use data-driven forecasts to make sound decisions for their business.
11. Automated Testing
Robotic Process Automation tools evolved from testing tools that can mimic user behavior & interactions. Although tests can be built into the software, it is essential to test from the user's point of view. If manually performed, these tests can be very time-consuming, but automated testing with RPA can be smooth and quick.
RPA tools are used to automate common test scenarios, and these tests are carried out after each version to ensure that no new bugs have been introduced in the code. RPA tools help facilitate testing and improve software quality.
12. Product Update
Businesses can automate product updates to instantly inform their customer base of any improvements or new features to their product line. In addition, automating product updates saves businesses the expense of hiring someone to inform customers from time to time.

Conclusion
The list above illustrates some of the business processes that, if passed on to robots, can help companies to work more efficiently while at the same time reducing operating costs.
The RPA use cases in different processes sketch an assistant profile that promises to lead toward reaching your business targets. The use of RPA illustrates a humanistic, person-centered approach to doing business, where people really matter.