RPA in Finance and Accounting: Benefits & Use Cases Explained
Explore how RPA accelerates finance and accounting processes, from faster billing to fraud detection, optimizing reporting & cost savings. RPA empowers finance and accounting professionals to make informed decisions and drive continuous process improvement.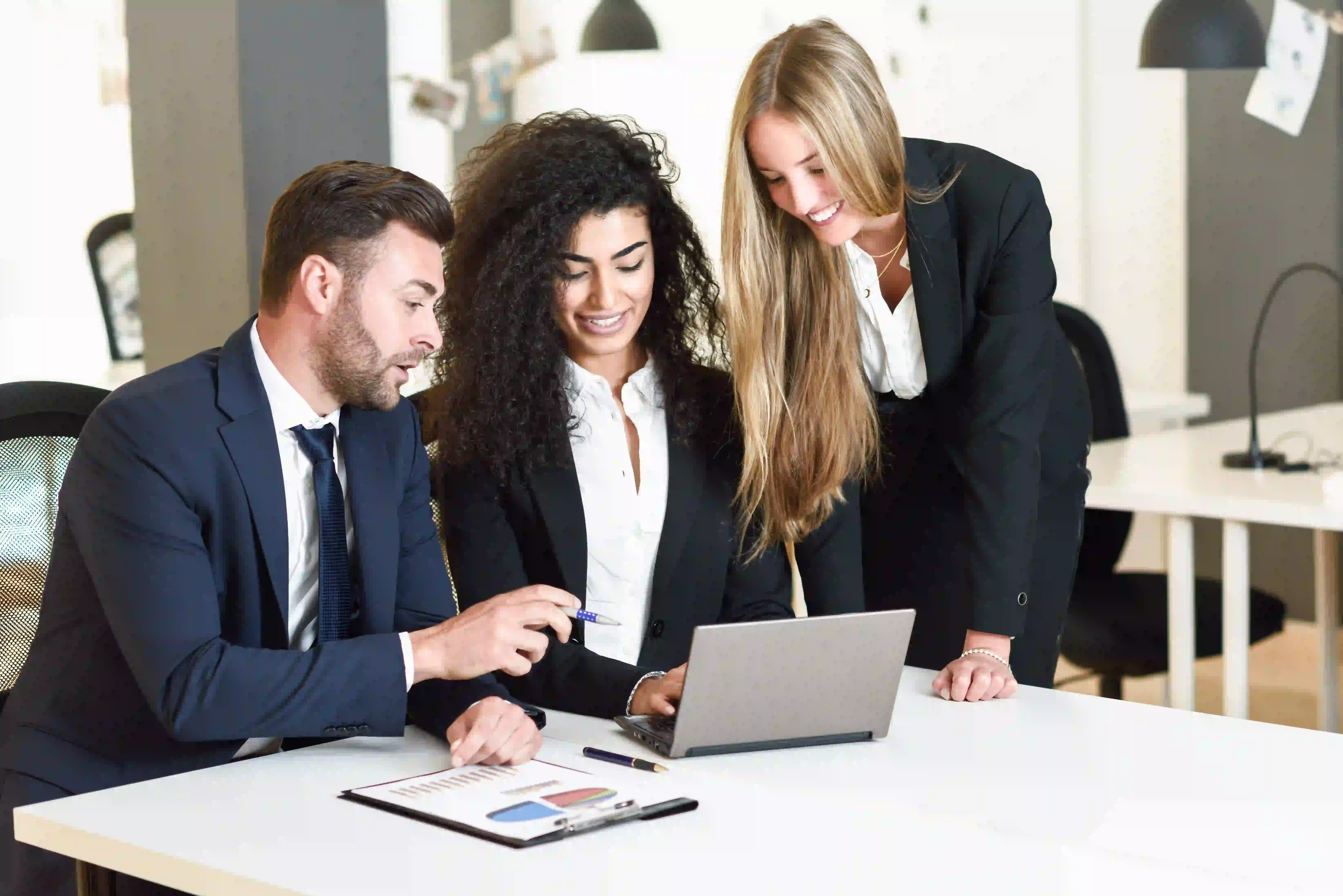 Let's face it; our businesses are overburdened with mundane tasks, so we are lacking behind on the game to reach the top! However, RPA in finance and accounting can be the hidden force driving your business on the path of automation & efficiency!
Robotic process automation or RPA is one of the most disruptive technologies of this era. Organizations with outdated legacy systems seek automation for the digital transformation of their business processes.
But how does RPA work in finance?
RPA uses bots to execute complex business processes using the same interfaces people use. It streamlines financial processes and manages lengthy calculations, forms, invoices and workflows.

In this blog post, we will dive into the world of RPA in finance and accounting, exploring its diverse applications and the significant benefits it brings to the table.
RPA in finance and accounting drives business automation and efficiency.
RPA is a disruptive technology for transforming legacy systems.
It automates financial audits and accelerates tasks in accounts receivable and payable.
RPA works with existing infrastructure, applications, and systems.
It streamlines processes like faster billing, fraud detection, and invoice processing.
RPA optimizes scalability, efficiency, and competitive advantage.
It enables innovation in data analysis and addresses compliance issues.
Implementation involves identifying processes, consolidating data, defining processes, and testing.
Additionally, we will discuss real-world RPA use cases and shed light on the evolving role of RPA in shaping the future of finance and accounting practices.
What is RPA in Finance and Accounting?
Robotic Process Automation employs intelligent software robots (bots) that identify and mimic human interactions with core legacy systems and other desktop applications to execute processes.
One of the most exciting areas where RPA demonstrates its transformative power is within finance and accounting. In these critical domains, RPA enables organizations to optimize their financial processes and revolutionize accounting practices.
It encompasses a range of applications tailored to meet specific needs, from automating the audit of financial statements to accelerating the completion of tasks in accounts receivable and payable.
How is RPA Different From Other IT Solutions?
Simply put, it does not need new infrastructure to work. RPA creates a bot to use your existing infrastructure, IT solutions, apps, and other digital systems efficiently and effectively for completing repetitive tasks. It makes this technology more pocket-friendly as well as easy to implement.

Applications of RPA in Finance and Accounting?
The financial and accounting industry involves many transactional processes that follow the same pattern - mundane, repetitive, and time-sensitive. On top of that, these processes are data-sensitive, and a slight clerical error could result in substantial losses.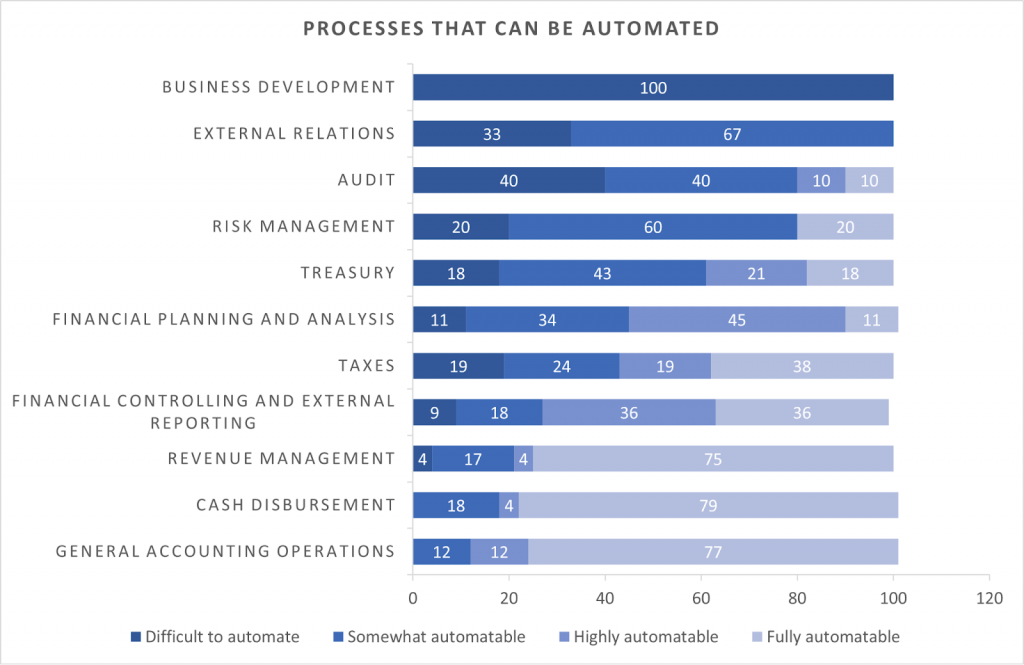 Although automation has affected multiple business processes, many financial tasks have remained manual. The lack of appropriate resources, solutions & organizational uneasiness of placing sensitive functions in the hands of robots is the most significant setback for introducing RPA in finance.
RPA use cases in finance & accounting have developed manifold over recent years. The proper implementation of RPA in finance results in cost savings, improved employee productivity & efficient business processes.
Let's explore some of the most common use cases of RPA in finance operations and accounting, considering the advantages offered by automation.
What are the Use-Cases of RPA in Finance?
A recent study by Deloitte even suggests that 52.8% of professionals seek to improve and enhance business operations by leveraging automation and analytics in the accounting processes.
1. Faster billing with RPA in accounts receivable
Accounts receivable is the right fit for RPA. Since the traditional process is repetitive, rules-based, and requires consistency and accuracy, RPA offers you various benefits, such as billing your customers faster and more efficiently.
As a result, businesses would maximize revenue, save time, and receive payments more quickly.
2. Improved fraud detection with RPA
With the implementation of RPA, fraud detection becomes more accessible, and the frequency of fraudulent activities also decreases. In addition, by notifying all the stakeholders of the relevant changes at business or regulatory levels, RPA ensures that no risk slips through the crack.
Related Read: Fraud Detection Automation Using RPA
3. Optimization of financial reporting
According to a report by Gartner, human error with finance functions produce about 25,000 hours of rework which costs about $878,000 per year.
RPA helps remove these human inconsistencies and enables you to deliver accurate results while consistently ensuring data compilation.
4. Lowering monthly payroll costs
With Robotic process automation in finance, businesses can ensure that payroll submissions are 100 per cent accurate, delivered promptly, and fully compliant. In addition, RPA bots process the payroll functions according to the organizational rules assisting in lowering payroll costs.
5. Invoice processing
Automating invoice processing is another good use case of RPA in finance. Finance teams process a considerable volume of manual paper-based invoices each month. Issues in different invoice formats, quality of images, and other languages result in errors & pose challenges to efficient invoice processing.
With RPA in finance, data can be extracted easily for procurement management.
Wondering how to become a forerunner that constantly assists along a growth-oriented path? Here's an

in-depth guide on Financial Automation for CFOs
What are the Use-Cases of RPA in Accounting Payable?
Account Payable is a critical part of the day-to-day functions of any financial institution. However, being repetitive and time-consuming, AP is the perfect candidate for RPA automation.
Despite the repetitive nature of RPA, most financial leaders are timid about implementing it in AP. Thanks to the popular myth of RPA inefficiency in dealing with unstructured data and non-structured invoices.
However, this hurdle can be easily overcome if you implement RPA in accounts payable operations with Natural Language Processing and other AI tools & ML technologies.
Here are 3 Use Cases for RPA in Account Payable Processes
1. Procure to pay
RPA streamlines the collection of vendor invoices and automatically assigns these to the workers based on a pre-established set of rules.
Implementing bots against FTEs radically reduces the manual hand-offs and eliminates mistakes by double-checking for vendor invoices and payments.
2. Order to cash
RPA bots log their audit trails, facilitating a thorough analysis of sales quotes, product orders, etc.
Leverage this data to optimize customers' credits, track orders and invoices, and process payments.
3. Record to report
With intelligent RPA bots, you can eliminate manual work and mimic human interactions to record journal entries. In addition, intelligent RPA bots mimic human interactions with legacy systems and help reconcile accounts, collaborate, and manage transactions. All that while maintaining a detailed audit record for regulatory purposes.
What are the Benefits of RPA in Finance and Accounting?
The new-age organizations are under incredible stress to optimize costs, generate higher ROI, and boost productivity. The challenges are associated with scarce resources, lack of skills, and increased operational costs. All these factors, if anything, have paved the way for the successful adoption of Robotic Process Automation.
RPA delivers umpteen benefits regarding finance automation that allow CFOs and other financial professionals to evolve and act following the economic sphere's variables.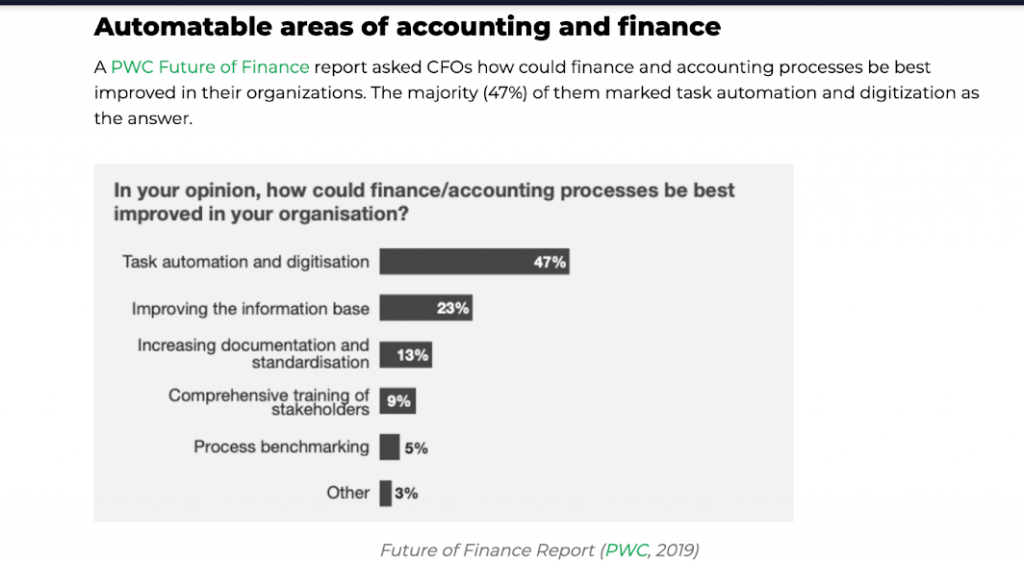 Source
Here are a few key benefits of RPA implementation in finance and accounting:
1. Scalability
RPA bots are scalable and can be called forward to manage high data volumes and answer a massive influx of queries in record times.
Gone are when businesses had to bear high labour costs when demand/workload spikes. In today's time, with insightful guidance and a reliable RPA service provider, you can automate F&A processes in a few weeks.
2. Efficiency
Finance and Accounting involve long strings of numbers and repetitive, rule-based transactional processes. Upon successful implementation of RPA, financial institutions can accelerate these transactions while enjoying increased efficiency and reliability of data with minimal errors.
3. Competitive advantage
Since the corporate culture is dynamic and ever-so-changing, one can't stress the importance of having a competitive edge enough. A slight variation in costs or innovation dictates whether the company would benefit from lasting success or struggle to keep its operation running.
4. Innovation in data
The financial and accounting industry can benefit from RPA implementation as it offers more profound insights into business operations via an intelligent amalgamation of legacy and new data. In addition, the peculiar combination of data in one system purveys better reporting and insights for business growth.
5. Address compliance issues
Humans can be dead-serious regarding work, but making mistakes is part of being a human. Numbers are essential to Finance, and even if a single digit goes wrong- an entire system could go haywire. That's not the case with RPA bots; they run according to established rules, deliver higher quality, and substantiate financial success.
Well, those were some expected benefits of RPA in finance operations and accounting.
However, if we were to focus solely on the accounting aspect of the business, in that case, Account Payable (AP) and Account Receivable (AR) are two critical elements to the finance and functioning of any corporation.
That said, let's dig a little deeper and understand the implications of RPA for accounts payable. And how it translates to business success.
How to Implement RPA in Finance & Accounting?
RPA is the door to automation in finance and accounting. RPA offers brilliant financial automation solutions that can work straight out of the box and start providing ROI almost immediately.
To start your RPA implementation journey in finance, you must follow these steps:
1. Identify the processes
Identify all the manual processes that your organization is spending time on. Next, list all the repetitive, manual & high-volume functions based on their complexity.

2. Document Requirements



When considering the processes mentioned above, it is important to take an objective view and identify any areas where improvements can reduce waste. Make note of these improvements and document the steps involved, as well as the relevant parties involved. This documentation will help ensure that everyone is on board when RPA is deployed.
3. Prepare the data
RPA relies on the structured data that makes the processes executable. Therefore, consolidating your data at a centralized location makes it easier to process.
4. Define the process
Define the process and its intended end goal. Then, design the process by marking stop goals and reviewing the progress at each step.
5. Start with testing
Before deploying RPA on a broad scale, you may want to start with a minor testing procedure. With the test, you would be able to realize if your goals and processes are aligned.
Wrapping Up
It's no secret that investing early in RPA gives your business a competitive edge by transforming the Finance and Accounting processes.
Do you want to know the best RPA provider for fintech? Here's our top list, you must check out - RPA Service Providers in the USA
With a decade of experience and hundreds of RPA solutions delivered, Signity Solutions is among the industry-leading RPA service providers.
So, if you have any queries regarding the RPA implementation process, its benefits, and how it will work for your business, just drop us an email at sales@signitysolutions.com.
Frequently Asked
Questions
Have a question in mind? We are here to answer.
How can RPA be used in accounting and finance?

RPA bots help in creating balance sheets and income statements. They can improve financial planning and forecasting by using historical data and relevant information in documents.
What are some examples of RPA in finance and accounting?

Here are some examples of what RPA can do in finance & accounts:
Vendor verification and setup.
Purchase order entries.
Vendor invoice processing.
Preparing and/or performing payments.
Cross-checking invoices with purchase orders.