Your Guide to Successful RPA Implementation Journey in 2023
This is a step-by-step guide to successful RPA implementation in 2023. Let's explore the benefits of RPA, use cases in various industries, challenges faced during implementation, and tips for selecting the right RPA vendor.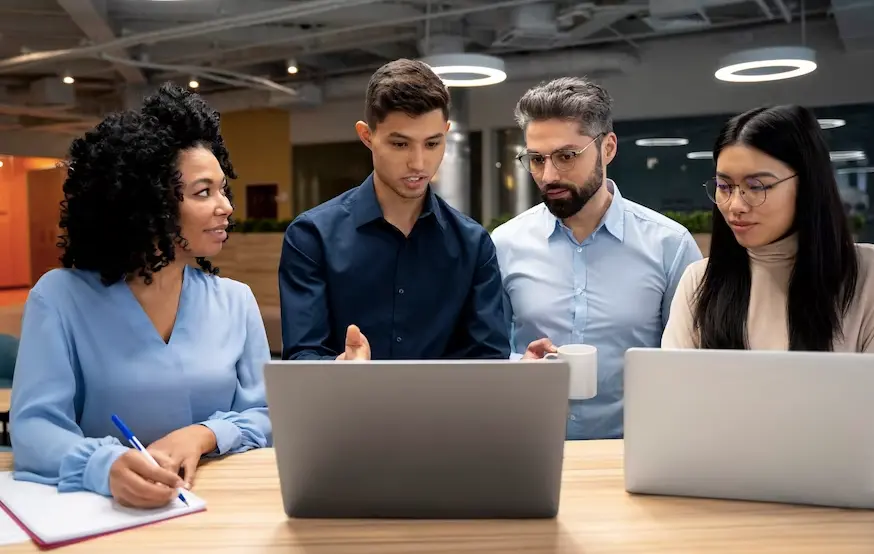 Businesses these days are burdened with mundane, repetitive tasks that take up the majority of their time, and resources and are still not fruitful. Robotic process automation can help organizations automate these processes & help them increase productivity.
This comprehensive step-by-step guide will empower you to successfully implement RPA and revolutionize the way you work:
Streamline Efficiency
Boost Productivity
Unleash the Power of Data
Seamless Implementation
Achieve Rapid ROI
From multiplying staff productivity to the utilization of information efficiently, Robotic process automation is helping enterprises automate almost every task.
Deloitte's third annual RPA survey states almost 53% of companies have already begun the "RPA journey." Also, RPA will soon achieve global adoption in the next 5 years.
But an organization can reap the benefits of robotics only when the RPA implementation & planning is done in the right way, and to guide you for the successful RPA implementation, we have sorted this step-by-step RPA implementation guide for you all!
What is RPA?
Robotic process automation (RPA) is an automation solution that uses artificial intelligence (AI) and machine learning (ML) capabilities to handle high-volume, repeatable tasks performed by humans.
A successful RPA implementation automates repetitive tasks, helping your organization increase efficiency.
Want to know more about RPA? Check this blog here "Everything You Need to Know About Robotic Process Automation."
According to a study by Global Newswire, the global robotic process automation market is projected to reach USD 23.9 billion by 2030 and is poised to grow at a compound annual growth rate (CAGR) of 27.7% from 2021 to 2030.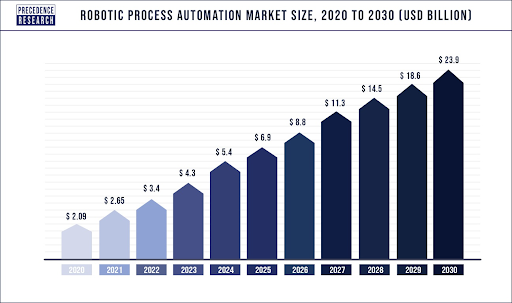 Where is RPA Used? Great Use Cases Across Industries
Herein, we will shed light on some of the amazing RPA use cases in the automation world. Let's see!
RPA Use Case in Telecom Industry
Automation for consultancy, IT processes
Examples of RPA in HR
RPA Retail examples
RPA use cases in Healthcare
RPA examples in Logistics
Using RPA in Manufacturing
Use cases of RPA in the Telecom Industry
Some of the amazing use cases of RPA can be witnessed in the telecommunication domain.
As we already know, operators manually generate reports of connectivity problems depending on the severity and submit them to management. Here, RPA can automate repetitive tasks and save on employee hours.
In the telecommunication industry, companies need to perform account verification for users with postpaid accounts. Earlier this was done manually, but with RPA efforts and time can be saved exponentially.
This is one of the best use cases of Robotics Process Automation. In the process of customer number porting, RPA plays a significant role by automating voluminous repetitive task without any hassle.
Also Read: How we Help Our Client "Telecloud" expedite productivity and save time.
RPA Uses Cases in Information Technology Industry
Undoubtedly, the tech sector has seen the greatest impact of RPA.
This is something inescapable - "Automation testing" in the IT sector. Often, manual testing takes time and involves many tricks. So, with RPA common scripts are automated, which runs after each update. This ensures bugs are identified and resolved faster compared to manual testing.
RPA easily automates the process of installing tools in the system and saves man hours significantly.
Developers set up the environment in which they write code, a painstaking and repetitive task. Once again, RPA comes as an ideal choice for automating the initial configuration and setting the environment on each system, as the process is the same.
RPA in HR
HR performs some of the most onerous tasks in an organization. Here's how RPA is used to automate HR process:
RPA bots allow you to automate payroll by extracting data from timesheets and calculating payroll at the end of each month. They have the potential to collect accurate payrolls and calculate salaries in seconds.
Often, the onboarding process includes interviews and documentation. Here, RPA let you automate these processes for faster processing.
RPA Use Cases in Supply Management and Logistics
As you already know, the logistics industry relies heavily on paperwork and BOMs. But, use cases of RPA in the logistics industry and Warehouse Management will change your perception to solve traditional challenges.
Here's how you can also expedite your process.
RPA bots fetch data from letters, memos, and notes that are related with a shipment and updates the shipment schedule based on the collected data. Eventually, this cuts time by almost 50% and ensures faster delivery.
Managing regular delivery updates is an uphill task. Don't worry, RPA easily automates update delivery progress and also offers stage completion notifications.
RPA integrates bots that track where the shipment is and notifies the system when it reaches the destination. This minimizes the time taken manually to update the delivery progress
RPA Use Cases in Retail
Retail is a consumer-driven business domain. That's why the industry's rapidly evolving nature is forcing businesses to save on their time and simultaneously improve efficiency.
RPA bots give data on crucial elements and alerts the system to a scarcity or overflow.
Returning a product needs lots of processing and formalities. Besides, RPA bots allow you to validate purchase records and accelerate the complete return process.
RPA bot can extract SKU data to assist companies categorize products and determine their market share in different regions. Of course, this saves your team's countless hours of work.
Expectations from Robotic Process Automation
One of the most frequently asked questions while implementing RPA is the expectations, and how will it scale in the future with advanced robotics.
RPA is already helping businesses in data management, revenue generation, improving process performance, and much more.
Moving forward, businesses can implement RPA & meet their expectations, which are:
No-code RPA: Facilitating development with no-code RPA solutions would help businesses simplify their processes even further, especially in no-code development environments.
Utilizing process mining to auto-extract process knowledge from RPA solutions can help businesses simplify the RPA implementation process.
Expanding bots to have more extensive capabilities to function well in RPA marketplaces enables developers to submit their code easily.
Open-source RPA: Since RPA is expanding exponentially, the demand for transparent RPA with open source is also increasing.
Understanding Business Challenges in RPA Implementation
Before starting on the RPA implementation journey, organizations must assess their challenges and how RPA will be beneficial for their organization.
Businesses face various challenges in RPA implementation that range from organizational and technological to financial and regulatory challenges: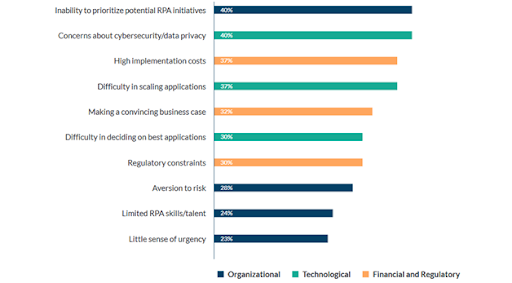 1. Organizational Challenges
Technological advancement of such a scale requires organizations to buckle up and prioritize RPA initiatives. However, limited resources, lack of the right skills, and lack of sense of urgency are some of the barriers that enterprises need to overcome to implement RPA successfully.
2. Technological Challenges
Implementing an enterprise-wide digital workforce requires the right tools, skills, and technology.
40% of the organizations implementing RPA faced cybersecurity and data privacy concerns. Implementing RPA means granting access to all your legacy data systems to RPA bots, and in such case scenarios, there is a fear of data mishandling.
Apart from data privacy risks, difficulty in scaling applications is a real challenge. For example, only 3% of organizations have scaled their digital workforce, according to the Deloitte Global RPA Survey.
3. Financial & Regulatory Challenges
For RPA implementation, the total cost of ownership (TCO) poses a great risk. This is because software costs such as OS costs, bot licenses, and hardware costs for machines, servers, and databases are high.
Ensuring regulatory compliance is another aspect that must be considered while RPA development. Businesses and IT teams should collaborate and actively provide business updates to the RPA support team to update scripts in the production environment.
In order to counter these challenges, businesses should make decisions based on individual and organization-specific requirements such as RPA's implementation timeline and functional requirements.
A proactive enterprise-wide discussion about the expected results would allow organizations to make the most of the RPA and its benefits.

Apart from understanding and mitigating the challenges, the stepwise approach to RPA implementation, as discussed in the next section, is also beneficial for the proper implementation of RPA steps.
7 Step Process for Successful RPA Implementation
A well-prepared implementation approach helps you to take full advantage of the technology. The Final RPA Implementation Journey involves the below-mentioned steps: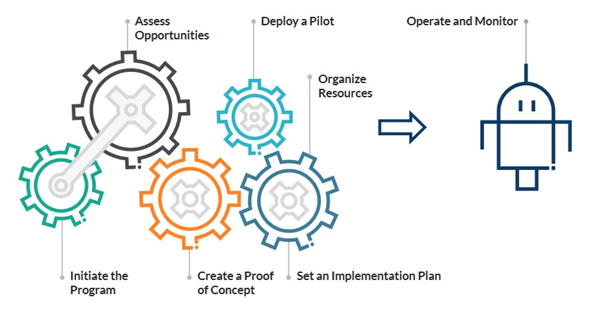 Step 1: Program Initiation
A clear RPA business plan is a cornerstone of successful deployment. The program initiation phase helps an organization understand the feasibility and advantage of an RPA solution.
Step 2: Assessing Potential Opportunities
The organization's initial process assessment is essential to attain the best results. Make sure the focus is on:
Input and output volume
Process variability
Value unlocked via automation
Volume and process variability should remain in equilibrium, directly affecting cost benefits. In addition, enterprises should consider data security, cybersecurity, and scalability during an evaluation for the implementation of RPA steps.
Step 3: Developing Proof of Concept
After process selection, enterprises should experiment with robotic process automation tools and technologies to understand their work.
Aim at the key elements of the process and not the complete initiative. Cross-check if the bot has the caliber to work and deliver the best results. This will help create an effective proof of the complete concept and ensure the efforts don't go in vain.
Step 4: Deploy a Pilot
Once you attain conceptual proof, run the pilot. Implementing this step for RPA implementation further reduces bot deployment inefficiencies.
Deploying a pilot helps you understand if you are investing in the right software.
To ensure that, measure the bot's performance vs. manual process. Then, keep running the traditional process against the bot. This process helps in proving its actual worth.
Step 5: Resource Organization
Before pilot production, companies organize cross-functional project teams and resources. The responsibilities must be well-defined to ensure business goals are in sync. A successful strategy includes a plan where businesses should consider employees' suggestions and potential impacts, and training programs are welcomed.
Step 6. Setting up of an Implementation Plan
A comprehensive implementation plan with a detailed strategy is the need of the hour. A complete team of business analysts, project managers, operating staff, and RPA developers is necessary for the streamlined implementation of RPA. You also have to consider maintenance costs and additional software development costs.
Step 7: Operate and Monitor
When bots are up and running, don't forget to analyze their performance. Ensure they are not overloaded. Operational benefits and greater productivity are worth considering.
If you are feeling overwhelmed with the above-mentioned stepwise RPA implementation journey, here's a quick checklist to help you to simplify the process further:
Start with 'simple to automate' processes and list out processes to automate.
Perform a feasibility assessment & make sure existing processes are efficient.
Consider app scalability and AI support & prepare for advanced robotics.
Conduct an audit trail & addressing data privacy risks.
Analyze the cost-friendliness of RPA applications.
Follow a Comprehensive Team Approach.
Selecting the Right RPA Vendor for your RPA Implementation
The RPA implementation needs are different for different organizations, and to fulfill them, you need RPA vendors who can understand these needs and offer you customized solutions.
Here's a list of parameters you should consider while selecting a vendor for the RPA to avoid any bottlenecks in the implementation:
Cost and time required to deploy the bots
Ability to deliver bots that can handle financial complexities
Provisions for encrypting the data and ensuring their privacy and confidentiality
Presence of audit trail feature, which records the transactions made by the bot
The RPA bot supplied by the vendor should be non-intrusive and well-equipped to adapt to the change in technologies.
Along with the organizational credentials, the technical skills of the vendors should be verified.

Top 6 Benefits of Successful RPA Implementation
The global robotic process automation market size was valued at USD 1.89 billion in 2021 and is projected to expand at a compound annual growth rate (CAGR) of 38.2% from 2022 to 2030.
The benefits of adopting the RPA systems range from boosting productivity, improving employee engagement, accelerating time to market, and generating more revenue. Successful RPA implementation can generate operational and strategic advantages.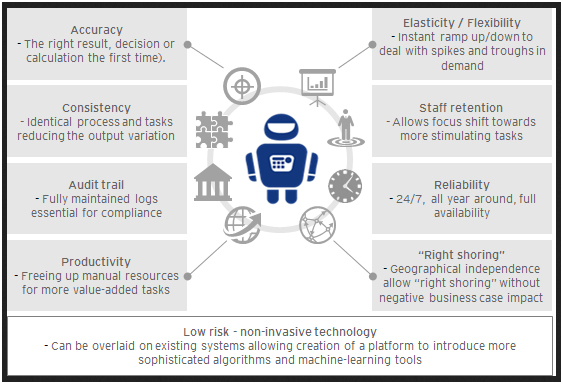 Source: Medium
When various tasks have to be differently processed, which adds costs as well as complexity, especially for large enterprises. But the benefits offered by RPA make this technology worth every penny:
1. RPA Gives Accuracy
Human error results in the loss of billions of dollars annually. Do you remember the simple typo that caused the stock market to plunge 1000 points and wipe out $1.1 trillion in 2010?
To achieve the highest level of efficiency, it is important to eliminate errors. The average benchmark for data entry errors ranges from 2 to 5%. This risk is significantly elevated with tedious and repetitive tasks that induce boredom.
2. Productivity Enhancement
RPA never takes leaves or never goes on a vacation. They keep working tirelessly, round the clock, with consistency and efficiency.
The productive gains of RPA are real as well as measurable. According to a new study from the Information Services Group (ISG), a leading global technology research and advisory firm, RPA enables companies to execute processes 5-10 times faster with approx 37% fewer resources.
3. Time and Labor Saving
As per The National Association of Software and Services Companies, RPA reduces up to 35-65% in labor costs and delivers a return on investment (ROI) in as few as six months.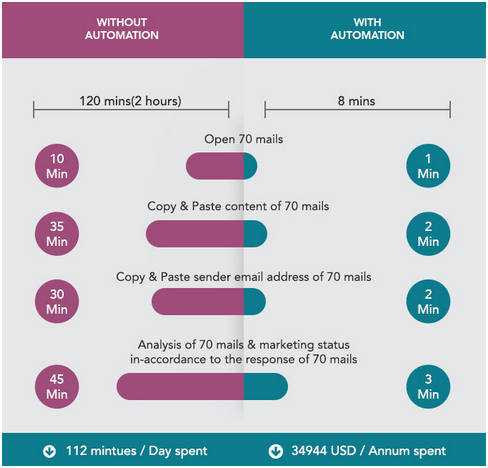 Source: Medium (Graphical Representation of Time Saving)
4. Scalability
The robotic workforce can be as large or as small as per your requirement. The new bots can be deployed quickly, and that too at a minimum cost.
Whenever there is peak business activity like a new product launch, RPA can handle the improved transaction volume. This means there is no need to hire new staff and train them.
5. Improvement of Service Level
Businesses that deploy RPA to handle routine tasks can refocus their employees on creative, strategic work and deliver better customer service.
An intelligent way to integrate it into business operations is to allow the bots to work efficiently on tasks.
For example, you can improve service levels by automating tasks during customer interaction, reducing time to resolution, and decreasing customer frustration.
6. Flexibility & Adaptability
RPA is compatible with any software system. It mimics human action without coding changes, making it flexible and adaptable to virtually any business. ERP, CRM, and industry-specific applications are the best candidates for RPA.
List of Challenges for Implementing RPA
For a successful RPA implementation, it's crucial to make a list of potential red flags and prepare a strategy to address these challenges effortlessly. For a ballpark idea, here are some of the key challenges businesses face during RPA implementation:
Deluded expectations of RPA
Working with an inexperienced RPA partner
Deficit of skilled team members
Inability to calculate ROI
Identifying the wrong process for RPA integration
Technical and operational concerns
Lack of support from the RPA vendor
Getting short of end-to-end process automation
Not following best practices
Culture shock
Post-implementation adoption
Cost of Implementing RPA
As of 2020, 53% of respondents have started their RPA journey and a further 19% plan to adopt RPA in the coming two years.
Notably, improved compliance and unparalleled quality topped the list of benefits reported by RPA forerunners. At the same time, 59% of enterprises witnessed a significant RPA-related cost reduction, with the median payback period for RPA projects spanning less than a year.
However, merely 3% of companies accomplish scaling their digital workforce, whereas up to 50% of RPA projects fail.
Often, the robotic process automation cost for a single software varies from $5,000 to $15,000, and who knows, businesses might end up spending millions of dollars to achieve company-wide automation.
So, what are the key factors behind the presumably high robotic process automation cost?
Primarily, what does your company or organization do to unfurl RPA's full potential without breaking the bank?
Here's the answer!
RPA vendor pricing
The number and complexity of RPA bot that sheath RPA deployment
The cost of third-party RPA integrations
Initial process analysis, RPA consultation, and engineering costs
Maintenance, support and RPA scaling costs
Now, you have an in-depth understanding of what RPA is and how much it costs, it's crucially important to skip some mistakes to ensure RPA implementation gives long-lasting outcomes.
Common RPA Mistakes To Avoid
Be aware of these RPA mistakes that can lead to failure.
Choosing the Wrong Processes to Automate
Often, the common mistake is to imply RPA to processes that are non-standardized, exceptionally complex, and have over 40% exceptions. These processes need human assistance and are inconsistent with their workforce requirements.
Therefore, RPA is an ideal choice for processes which are less complex and more time-consuming.
What Needs To Be Done…
It is crucial to carefully analyze your business processes to get the best return on your investment made in RPA. Plus, you need to do proper research to calculate the success of automating a business process.
Unrealistic Expectations and Deadlines
Another common mistake people usually make while implementing RPA is - they expect instant results after investment. So, defining unrealistic goals can give you a thought of failure. Hence, it's essential to set an approach with realistic outcomes.
What Needs To Be Done…
Before having a proof of concept, you need to determine how automation can help you manage your business challenges. Besides, you need to pen down your business priorities to ensure RPA is integrated first into the one that matters the most.
Notably, give dedicated time to craft realistic goals and place them accordingly.
Poorly Designed Processes
Often, organizations fail to get the right input from the teams. Some strictly focus on technical hiccups, however, RPA implementation is not merely about a technology project. You need to remember that it's primarily a business initiative that affects the complete business.
Moreover, other businesses keep them directed in other directions, letting the IT team behind for the planning and implementation process. This shortcoming act as a challenge in implementing the technical expertise in data security, the present IT infrastructure, and more.
What Needs To Be Done…
While building your RPA team, it's crucial to keep a balance between the technical and non-tech aspects. Adhering to ideas and thoughts from both sides are important to craft a thoughtful and simple design that contributes to your organization's wider business goals and long-term digital transformation vision.
Defining Roles and Responsibilities
Humans and bots need to collaborate on compositions for a successful RPA deployment. A common RPA mistake overlooked by most companies is the cliche that bots can investigate everything.
Whereas, the factual truth is that robots are designed to automate tasks and free up time. Plus, it's equally important to ensure that the right person is available for maintenance tasks and troubleshooting any unexpected problems.
What Needs To Be Done…
Since RPA is the new buzzword, businesses don't have a flowchart that outlines roles and responsibilities to accomplish new objectives with automation. Therefore, make sure you define roles and responsibilities to skip any challenges in your RPA project.
Key Takeaway
Big names like AT&T, Gamestop, and Verizon, have already adopted the RPA system, and soon, there will be more joining the league. RPA would be implemented across a number of operations in the organization including processes that are customer-focused. They will be fit to deal with the data-intensive tasks error-free, sparing the sector significant time and liberating individuals to aim at high-value work.
You can successfully implement RPA when you have the right team with you. Minimize efforts, enhance client satisfaction, and boost revenue. For this, you have to test the waters and ensure every step you take is scrutinized.

Still on the fence and thinking whether or not you should bot-o-mate your business tasks? Take the help of the best RPA consultants to get the competitive edge required to get ahead in your industry.
Frequently Asked Questions
Have a question in mind? We are here to answer.
What is the RPA Process?

RPA bot implementation is a long process of operational and cultural change in your organization that will empower your workforce to be more productive.
Is RPA Easy to Implement?

If the right strategies are placed, with the help of the right RPA vendors, you can quickly implement RPA in your organization.
Which is the Best Tool for RPA Implementation?

Where can RPA be Implemented?

How do you Implement an RPA Bot?

Successful RPA implementation requires the right techniques and tools. But implementing it in the right way requires you to understand the challenges and the key practices the same.
If you want to read more about the challenges, and the key techniques, we have mentioned the information above.
What makes RPA Successful?

Finding the processes in your business that could benefit from RPA is the first step toward a successful RPA implementation.
A step-by-step RPA guide for successful RPA implementation is listed here.
What makes a Good RPA Project?

Projects with high transaction volumes are implemented frequently and involve plenty of manual work are good RPA projects.
What are the Benefits of RPA Implementation?

A few benefits of RPA are:
Boost Productivity
Improve Efficiency to Generate Savings
Hit Accuracy Goals
Reliable Consistency
Better Business Data Security
Produce Data for Important Analytics
Better Customer Service Experience
Read the benefits of RPA in detail with our informative blog on the top benefits of RPA.
Why do Businesses Need RPA?

RPA reduces human errors, primarily associated with repetitive tasks. Furthermore, RPA also helps in reducing staffing costs while increasing productivity and efficiency.