Automating Invoice Processing with RPA - A Game Changer
Invoice processing is a complex and time-consuming process that can be difficult to streamline. However, robotic process automation (RPA) can be a valuable tool for businesses that are looking to improve their invoice processing efficiency.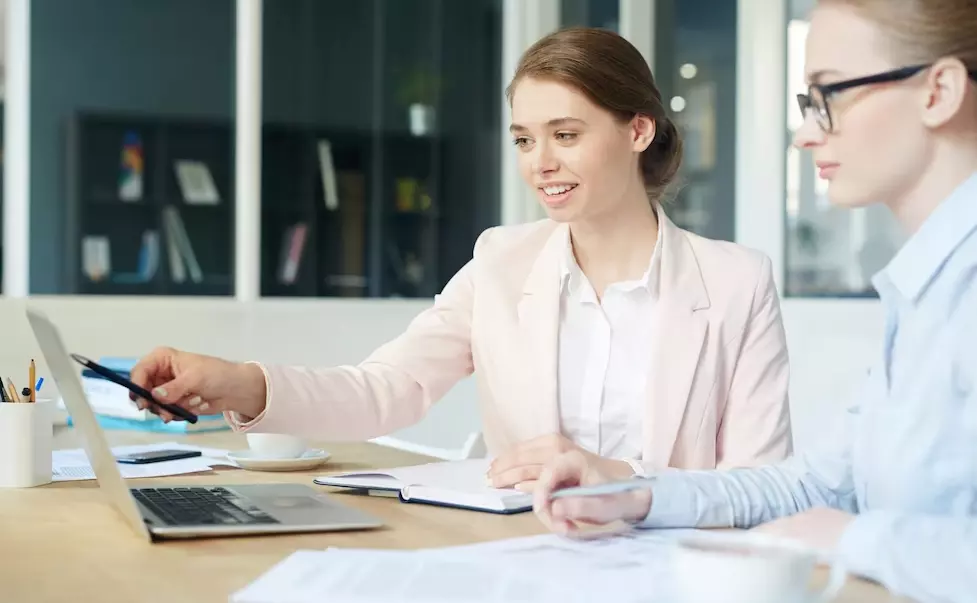 Are you looking to add automated invoice processing to your arsenal of tools? Maybe for your business or personal use, whatever it is - it's always a good idea to have an in-depth understanding of the investment made.
To your surprise, 81% of digital enterprises using digital payables platforms witnessed 81% lower processing costs and 73% faster processing cycle time.
And the good news isn't just about money.
The advantages of automating routine tasks like invoice processing also emerge to quality and efficiency. After all, RPA (Robotic Processing Automation) of any basic task improves quality, accuracy and compliance by more than 90% and productivity by 86%.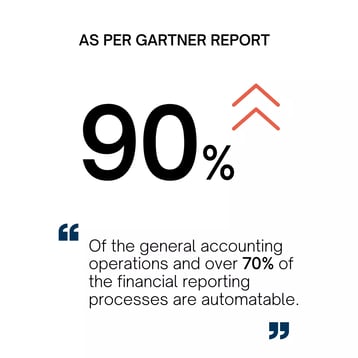 Moreover, 78% of companies who are already leveraging the benefits of invoice automation expect to maximize their investments in the next three years.
Though these are all promising numbers, most companies don't know how to ride this bandwagon. We've sketched this article on relevant experience working with clients who look to reengineer their invoice processing, but still sit on the fence.
If somehow you are doing things the old way, it's time to catch up with time and adapt to RPA. Explore everything about RPA and how industries are leveraging its benefits.
We'll cover:
The steps are taken to automate invoice processing workflow
The features and challenges of invoice automation
The key consideration for successful RPA implementation
The key trends in RPA finance
So let's swoop in!
Challenges in the Account Payable Process
When it's all about billing processes, the most common challenges are related to the nature of the processes and the time.
Simple categorization may seem like this:
Repetitive Manual Tasks and High Scope of Error
Downloading invoice attachments from emails, reading them, and then filling up the data into the enterprise resource planning system. Besides taking your employees' precious time in this repetitive time, the nature of the activities brings additional fatigue and stress for them.
Service Level Agreement Breach
Several approvals related to invoice processing often lead to the complete slowing of the billing cycle and penalties.
Invoice processing consumes more time because of the manual approvals and activities that are interdependent on several organizational roles and responsibilities. Besides, it can bring dissatisfaction with service quality.
Invoice to Payment Mismatches
Invoice mismatching is a significant activity in accounts payable. But, conventional approaches to these vital tasks may cost time, effort, and human resources, accompanied by inconsistencies and errors.
Here, we'll explore the capabilities of Robotics Process Automation for optimizing invoicing workflow.
What is Invoice Processing With RPA?
Invoice processing + RPA = "Invoice Processing Automation".
Invoice processing automation is used by businesses to optimize AP (Account Payable) processes. It sheath everything from scanning and extracting invoice data, to seamlessly inputting data into an ERP or accounts payable system.
The outcome is the potential to complete payments within minutes.
Furthermore, automated invoice processing helps address crucial challenges in manual AP processing. You can see from the below statistics, the complexity of managing account payables increased exceptionally during the COVID-19 times.

Undoubtedly, businesses and organizations actively adopt numerous invoicing automation tools, especially RPA (Robotics Process Automation), during and after epidemic time.
"RPA in Invoice Automating" is a trusted solution for rule-based process automation that uses the user interface and can run on any software like ERP systems or web applications. Besides, compared to other technology like BPM (Business Process Management), RPA offers financial and operational advantages faster that going easy on the pocket.
Businesses integrate RPA to bring automation to the following areas of finance operations:
Account Payable: It includes extracting invoice data, vendor validation and vendor invoice processing.
Account Receivable: This includes customer data setup, management, monitoring customers' credit status, and generating and distributing invoices.
Financial Reporting: This is about producing balance sheets, profit and loss reports, regulatory reports and income statements.
Intercompany Reconciliation: Reconciliation means extracting and verifying data from files, exception handling and monitoring, and validating journal entries.
There's more RPA can do!
Robotics process automation transforms finance operations functions in the middle- and back-office operations.
#Checklist to consider when adopting RPA for invoice automation:
The requirement for high-level precision and consistency.
Highly dependent on data manipulations, data entry and generating reports.
Need to collect information from several sources and systems.
Repetitive and manual nature of numerous processes that can be easily automated.
The need to adhere to strict regulatory requirements.
Notably, considering the automation purpose and complexity of the process, RPA can be used solely or can be easily amalgamated with technologies like AI (Artificial Intelligence), NLP (Natural Language Processing), Machine Learning, and IDP (Intelligent Document Processing).
In simple terms, every combination offers unique benefits, but first and foremost, invoicing automation allows employees to dedicate time and effort to crucial tasks, bringing more value to the company.
The next question is…
How RPA Automates Invoicing Process?
Let's see!
To automate invoice processing, an RPA will typically take the following steps:
Step 1: Identify Invoices
The first step to automate invoice processing is to train the RPA bots to identify these invoices, whether that's through a dedicated vendor portal, EDI (Electronic Data Interchange), emails or all of them.
Step 2: Extract Relevant Data
After identifying an invoice, the RPA bots scan it and organize data to copy it precisely into other apps and systems like accounting software or ERP. Besides, data recognition often needs AI elements, like NLP or computer vision, for advanced cognitive capabilities that let bots identify and classify key data regardless of the invoice format.
Step 3: Match Invoice with PO (Purchase Order) and Documents
RPA bots easily compare line items between invoices and related account payable documents, like purchase orders (PO) or goods receipts. Furthermore, they verify the information on both ends and even notify vendors of any mismatch.
Step 4: Invoice Approval
RPA bots navigate invoices to the appropriate managers for approval and remind them when payment deadlines approach. Besides, they can even process payments following approvals. Considering the routine payments, they can even manage the complete process without permission.
Step 5: Payments to ERPs
Once the invoice is approved and paid, RPA bots seamlessly post the payments to your ERPs - ensuring precise data and a well-defined audit log and process.
Surprisingly, the adoption of automation in invoicing grows significantly year to year. Presently, about 52% of companies automate their account payable processes.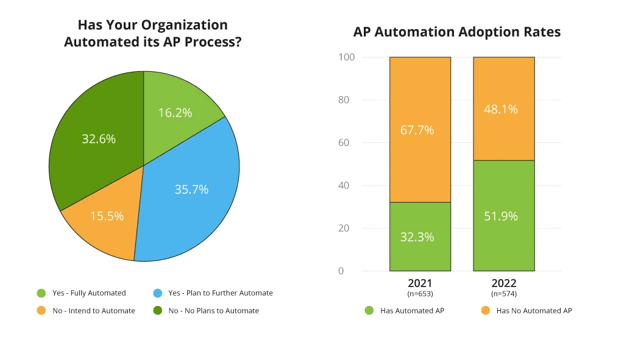 Considering the trend, you must be wondering what benefits automating invoice processing bring.
Here's the answer!
Benefits of Automating Invoice Processing
RPA offers several cross-industry benefits. Especially when it comes to invoicing, it offers the following advantages:
Often, invoices are cross-matched to the point of sale (POs) and shipping addresses.
But, RPA helps minimize errors that happen because of missing or inaccurate information. For example, automating accounts payable and receivable with robotic process automation reduces the time for identifying and rectifying data discrepancies.
It's time to abide goodbye to paper!
Searching and extracting required data consumes time and effort. With RPA, there is no need to collect and archive paper records; the process also speeds up.
Robotic Process Automation ensures round-the-clock service availability, giving non-stop performance and efficiently minimizing peak-time queues.
Moreover, it allows companies to provide enhanced customer services, handhold a competitive advantage with better customer experience and higher customer satisfaction, and also actively scale operations.
Compliance is No More a Concern
RPA services are programmed to address all compliance rules and audit regulations. Besides, they offer access to complete maintained logs, with every step of the process recorded for quick audit.
Also, in case of any standards and regulations updates, RPA bots can be easily programmed to comply with up-to-date regulations, ensuring financial reporting meets compliance.
Companies who integrate RPA services expect a substantial Return On Investment.
After all, savings made by integrating RPA justify the implementation costs. Minimizing employees' manual efforts, decreasing invoice processing time and adding capabilities to scale business operations seamlessly outweigh the implementation costs.
Automating invoice processing speeds up invoice data, exporting it into the respective other systems, matching it with PO and approving the final payments.
Minimized Fraud and Risks
As invoice and check exposure are minimized with built-in verification, the uncertainty of fraud is reduced significantly. Also, RPA eliminates human errors in manual invoice verification, improving early fraud detection effectiveness.
All in all, under the umbrella of invoice process automation, organizations speed up approval cycles, minimize invoice processing costs, improve auditing and reporting precision, and so on.
This is why automation has been curated as one of the key drivers in the technological and operational upgrades of financial units across industries.
Without a doubt, RPA invoice process automation helps businesses accomplish flawless accuracy, improve customer experience, and leverage other advantages from automation. And, successful implementation of RPA funnels to in-depth business analysis of specific business goals, and crafting a solution that streamlines achieving them.
Also Read: Most common use cases of RPA in finance and accounting.
Here are two amazing use cases of RPA for invoicing from our stack.
The RPA-based Invoice Automation Process Implementation Use-Cases
#Case 1: Advanced Invoice Process Automation with AI and IDP (Intelligent Document Processing)
In a handful of scenarios, more than standard RPA integration is needed to automate invoicing.
Considering the workflow, a solution may need an additional technology stack like Intelligent Document Processing for extracting invoice data from different documents and Artificial Intelligence to process information precisely from different sources in the same format.
For one of our clients, managing invoices was a daunting workflow. Employees received invoices through emails in different formats, which were further classified and then processed according to internal standards. Here, our developed Intelligent Automation solution for clients addressed their biggest challenge, while retaining accuracy.
The RPA bot constantly checks the email for incoming invoices.
It extracts new invoices and collects them into a database.
The collected invoices are directed into a queue for recognition by the Document Understanding algorithm. Further, the files are classified according to the file type and the number of invoices it has.
Next, a notification is sent to the user for verifying the data. In this, the user can validate the amount and category through a user-friendly interface, plus can make changes and corrections in the invoice category, if needed.
After approving the request, a bot either enter data into the ERP and performs tax imputation or vice versa.
Lastly, a bot assigns barcodes to every invoice entered.
Tech-Stack Used - UiPath, Data Service, Action Center - for request approval, Document Understanding.
Outcome:
The invoicing process is 90% automated.
Employees are responsible for data verification and making amendments.
Data recognition accuracy improved to 90%.
#Case 2: Standard RPA Solution for an IT Service Provider
The IT company has an in-house time tracking system in which each employee reports the time invested in each project. Precisely, an hour is a unit used to calculate payments, client invoices, and resource salaries.
Our developed RPA solution performs the following steps:
All resources invested are classified based on projects, indexes and costs to calculate the payment.
At month's end, the RPA bot automatically exports data for each project.
RPA bot generates invoices for every project for different clients, including all the services.
Each employee gets notified for request approval.
After approval, the bot uploads information into the respective ERP system and sends an invoice to the client.
Tech-Stack Used: Standard RPA Automation (UiPath)
Outcome:
The invoicing process is 98% automated
Minim human-error
To put it simply, invoice processing automation is inescapable in any sphere. Though some may be improvised solely with RPA automation, others may need IA or Hyper Automation (RPA is amalgamated with AI, ML, and other cognitive technologies).
How Do We Help?
Hopefully, this article has shed light on invoice process automation and its benefits for your business. After all, in a growing competitive environment accompanied by rising interest in the digital revolution, the quicker businesses handhold automated invoicing, the faster they grow and stay afloat.
At Signity, our experience in RPA invoice automation services for enterprises across industries empowers businesses of any scale with an advanced level of automation, with up-to-date RPA, AI, and machine learning technologies for intelligent document processing and data management.
If all you want is exceptional operational efficiency for your invoice processing routine to add value to your business growth, get started quickly!
Frequently Asked Questions
Have a question in mind? We are here to answer.
What is invoice processing automation?

Invoice processing automation is using software to process invoices for accounts payable automatically. Automating invoice processing helps businesses save time and money, improve accuracy, and reduce the risk of fraud.
How does RPA help in automating invoice processing?

Robotic Process Automation (RPA) is a technology that uses software robots to automate repetitive, rule-based tasks. For example, RPA in invoice processing automates verifying the accuracy of the data and approves the invoices for payment. Besides, improve accuracy and reduce human errors by automating the process and eliminating the need for human intervention.
How can RPA reduce errors in invoice processing?

Robotic Process Automation (RPA) can reduce errors in invoice processing in many ways:
RPA can automate the process of extracting data from invoices. This can help to reduce the risk of human errors, such as mistyping or misreading data.
RPA can be used to verify the accuracy of invoice data. This can be done by comparing the data on the invoice to the data in the company's records.
RPA can be used to approve invoices for payment
Can RPA handle large volumes of invoices?

Yes, RPA can manage large volumes of invoices. RPA bots can be used to automate the process of extracting data from invoices, validating the accuracy of the data, and approving invoices for payment. This eventually saves businesses a significant amount of time and money and can also help improve accuracy and compliance.
What security measures should be considered when implementing RPA for invoice processing?

Here are some security measures that should be paid attention to while integrating RPA for invoice processing:
Use strong passwords and authentication methods.
Establish two-factor authentication (2FA).
Encrypt data.
Keep Track of activity.
Back up data regularly.