Top 11 Benefits of RPA Implementation in Business Processes
Unleash the power of RPA in business: optimize resources, cut costs, improve communication, boost engagement, accelerate services, gain insights, empower your workforce, scale efficiently, enhance security, go paperless, and streamline customer data. Revolutionize your business with RPA!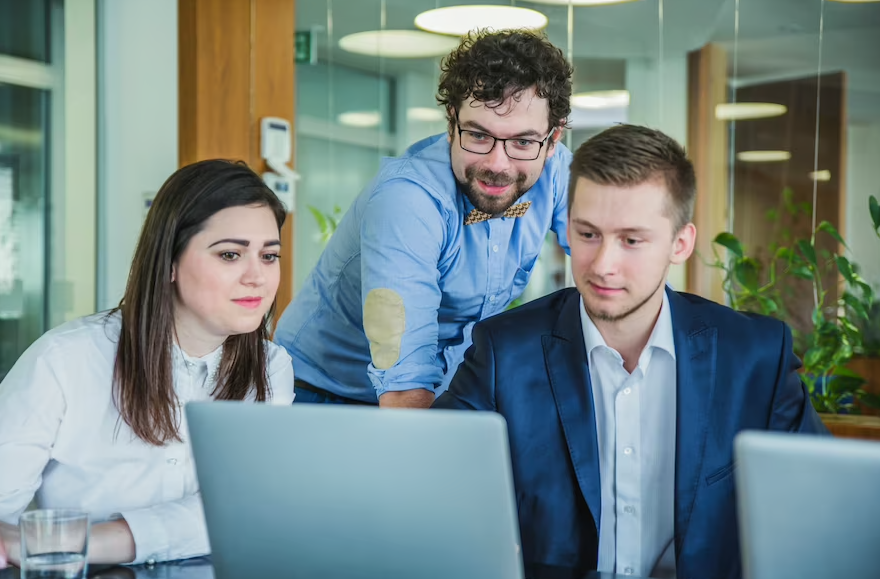 The world of business has undergone a significant facelift over the last few years. And, all thanks to Artificial Intelligence and its trends. AI has changed the way we do business. Now, it is possible for us to become more productive by replacing time-consuming processes and complicated choices with quick and informed decisions.
Robotic Process Automation is an artificial intelligence trend that has helped many businesses grow in their domain.
The benefits of RPA in business are spectacular. This is the reason why it is one of the most emerging AI trends of 2023.
How Does RPA in Business Help?
RPA had made abrupt changes from when it first came into existence. From automating mundane tasks and needing limited or no human involvement, businesses can;
Companies can direct their workforce to more critical tasks that require human intelligence & decision making
Save expenses by replacing human potential with a robot,
Improves productivity as robots do more work in less time,
Reduce or zero error,
Leading to a more productive organization overall.
So, here in this blog, we will shed light on the benefits of RPA in business. But, before you leverage the benefits of RPA, the first step to benefitting from RPA is identifying where the solution can be leveraged.
Assessing Process Usefulness for Automation
Numerous marks must be paid attention to evaluate processes for RPA automation. These gauging criteria consist of both - enablers and prerequisites.
The prerequisites for assessing process usefulness for RPA automation are as follows:
Rule-based - The process should be definable with clear rules, not grounded on intuition. Though many processes live up to these prerequisites, they may not be necessarily profitable from an automation perspective.
Entirely digital - Where a robot cannot manage paper or other physical objects.
The following attributes are metrics of good processes to integrate RPA:
Volume and Time:

Either there is a high volume of cases, a large amount of time spent on every case, or both.

Repetitiveness

- High level of repetitiousness, whether carried out on demand or in batches.

Consistency:

The minimal differentiation between each case going through the process.

Compliance:

When a high level of compliance is required for stringent control and logging.

Quality:

Concerns with quality because of human errors.

Time

: Whether there is a binding timeline or a necessity to carry out the process round the clock.

Ho-hum:

If there is a cutback in employee satisfaction from carrying out the process manually.
💡 Tip: The more of these attributes, the higher the probability that the processes fit RPA automation correctly.
Benefits RPA Brings to Corporate Functions
1. Accelerated Productivity Gains
1 bot replaces, on average 4 FTEs (Full-Time Equivalent)
RPA bots cost approximately 50% to 90% less than onshore employees
Quicker deployment cycle giving ROI in 3-6 months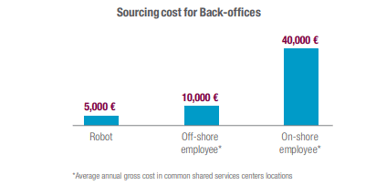 When it's all about back office operations in corporate functions, a constantly pursued objective is productivity improvement. And here, RPA offers a new productivity lever, mounting on lean initiatives and off-shoring.
"Robots allow a more accessible labor arbitrage as they imitate human actions on a desktop interface."
2. Improved Compliance
Automated control steps maximize compliance
Traceability minimizes the risk of human errors and keeps consistency safe
Systematic documentation of audit trail
In industries with exigent regulations, RPA comes with a gimmick to manage evolving requirements for primarily two reasons.
Firstly, transactions are recorded, and steps are systematically employed, which prevents manual errors and offers complete transparency to auditors. Secondly, the risk and compliance unit can use RPA to implement reconciliation and automate daily routine controls, minimizing the workload produced by everyday tasks.
3. Enhanced Employee and Customer Satisfaction
Time generated to focus on customer satisfaction
Voluminous and repetitive tasks are delegated to robots
Motivates employees to do more value-added tasks
RPA offers employees time to invest in more prudently stimulating activities since tiresome tasks like formatting or copy-pasting data files are delegated to robots. In addition, the robots can efficiently execute rule-based tasks, providing employees the time to work on value-added tasks needing cognitive and soft skills, like advising customers. Moreover, if companies keep track of Employee Net Promoter Score, they will notice how it improves eventually.
Benefits of RPA in Businesses
Ever since its debut, Robotic Process Automation has re-engineered the business wheel. Listed below are 11 exceptional benefits of RPA in business processes, explained in detail.
Optimized Use of Resources
Reduced costs and operational risks
Improved communication
Improved employee engagement & better customer experience
Faster services
Analytics and Insights to improve business processes
Empowering the workforce
Easily scale up or scale down processes
Enhanced enterprise security
Reduced paper use
Handle customer's data easily
1. Optimized Use of Resources
Eliminating the risk of errors is crucial if we want to achieve maximum efficiency in a business. However, ensuring that it becomes impossible when we dispose of human resources to perform tedious jobs. They often get bored and make silly mistakes while carrying out repetitive and complex tasks. This leads to a great waste of time and money.
But with the help of RPA, we can prevent all this from happening. We can use RPA to automate complex tasks and assign human resources the jobs that are worthy of their time and effort. This can take business productivity to a whole new level.
2. Reduced Costs and Operational Risks
Since RPA lets you efficiently perform complex tasks with the minimum chances of error, the AI trend can help you reduce operational risks to a major extent. Not only this, but we also need a lesser amount of human resources to get the jobs done. This also brings the costs down and proves to be a gamechanger for your business. We can really aim for cost-effectiveness with the help of RPA.
3. Improved Communication
Effective communication is the key if we want to grow as a business. There are times when people really fail to understand what a business really does. Even the blogs, websites, and documentation are not of any help – and this often leads to disaster.
RPA can help you by effectively carrying out communication with the audience. With the help of RPA, we can figure out our audience and make changes in all the documentation accordingly.
We can even save the efforts of employees to manually make changes every time we make new updates in the processes. This way, consumers can remain up-to-date all the time without much effort from the end of businesses.
4. Improved Employee Engagement & Better Customer Experience
Employee engagement and customer experience are the two most important aspects of your business. Your business certainly can't thrive without them. It's after when employees are engaged, they can give their hundred percent and ensure a high-quality customer experience.
Through necessary activities like data retrieval, planning, and implementation of necessary steps, RPA solutions ensure that employees are engaged right from the beginning and pay special attention to the customer experience.
Not only this, but RPA solutions can also improve the customer experience of artificial intelligence. This ultimately helps in offering the best services to customers and helping businesses grow.

5. Faster Services
Robotic Process Automation uses bots to handle the queries of users and artificial intelligence algorithms to handle their concerns.
Also, the automation part ensures that the tasks that human resources were going to perform in days can be performed in just a few hours without any error. This also eliminates the need for supervising a task or making changes later. Hence, the RPA trend can help our businesses provide faster services to clients and increase customer satisfaction.
6. Analytics and Insights to Improve Business Processes
Analytics and insights play a crucial role in improving the processes of a business. Robotic Process Automation (RPA) has certain tools that let you store data that you can analyze later to see where you stand in the market and how you can improve.
This way, RPA helps businesses see right through data and get actionable insights that can help them grow and become more productive, that too with minimal error rate. Collecting this data would've been difficult, if not impossible for humans. So, with the help of the RPA solution, we get access to insights that lead to better decision-making.
7. Empowering the Workforce
RPA solution not just helps in the optimized use of resources as we mentioned earlier in this blog, it also increases employee satisfaction. Studies have shown that employees are more satisfied when they are assigned meaningful and worthy jobs instead of tedious and boring tasks.
This also drives them to perform better and put the best efforts into their tasks. Another benefit of increased employee satisfaction is that employees don't need to switch jobs if they are satisfied with their job. This ultimately makes businesses more productive and helps them grow.
8. Easily Scale Up or Scale Down Processes
Another big business benefit of the RPA solution is that it lets you make changes in your business operations according to the user demand.
For example, We can increase or decrease resources or the size of business processes according to user demand. This ensures optimized resource use and more productivity as we are able to concentrate on processes that are going to get us the maximum results. In case, you want to check some successful RPA use cases, you can click here.
Also, there is less amount of risk involved because we are not investing resources in processes where we think we are not getting a fair amount of traffic.
9. Enhanced Enterprise Security
Yet another big benefit of Robotic Process Automation is that we can integrate it into multiple applications to enhance business security. These integrations will ensure that the apps of your clients are not modified, enhanced, or compromised in any way.
Even the risk of unauthorized access will be reduced to a minimum due to smart AI algorithms and the improved security infrastructure. It will change the way businesses work – making them more secure and more capable to counter cyber security threats.
10. Reduced Paper Use
RPA helps to decrease e-waste and it's one of the top business benefits of RPA. It is providing a digital world in which you can communicate via the digital medium without harming our environment, as there is no use for paper.
Robotic Process Automation also reduces output variability. Duplicity is one of the reasons to get a fallacious output. Artificial Intelligence application along with Robotic Process Automation deals with output variability. Also, automation helps to save and secure data into many forms. You don't have to keep track of data as it supports the cloud for storage.
11. Handle Customers' Data Easily
One major benefit of RPA is that it removes points that volatiles various terms of enterprise companies. It enhances the experience of users virtually and removes the pain points. If we talk about traditional culture in a record book, it is not easy to find particular information in a short time span. But with the use of Robotic Process Automation tools, it is quite easy to perform this type of task, and even much more complex tasks.
Implementing RPA requires in-depth knowledge of its technology and expertise in bots integration. When you hire a professional consulting company, here are some of the benefits you can expect: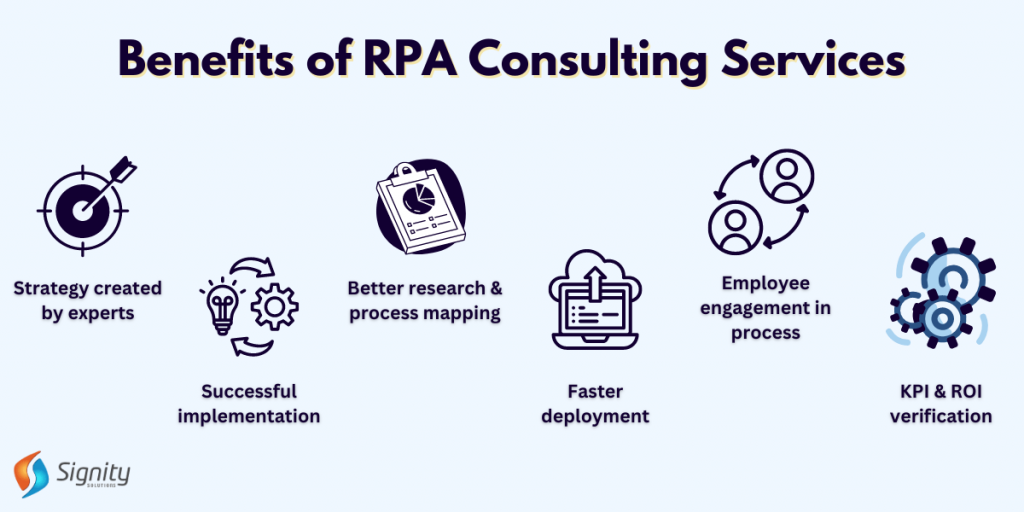 Let's Put It All Together
The benefits of RPA in business are incredible. It can revolutionize the way we do business and make it a hundred times more productive.
However, implementing RPA in business is not as easy as it seems. Without proper planning, it can be difficult for businesses to achieve the results they desire.
Most of the time businesses only focus on internal policies, processes, and business operations. They think that they can achieve more productivity just by automating these processes, and while doing so, they completely miss the bigger picture.
We just have to avoid making the same mistake and plan the RPA solutions carefully so that we can make the best possible use of the trend. And for this, you will need expert guidance.
At Signity Solutions, we have been providing the best robotic process automation solutions to improve your business processes for a while. Hence, you can surely benefit from our expertise. So, contact us and we will help you in the best way possible.