How to Enhance Business Process Performance by Extending RPA?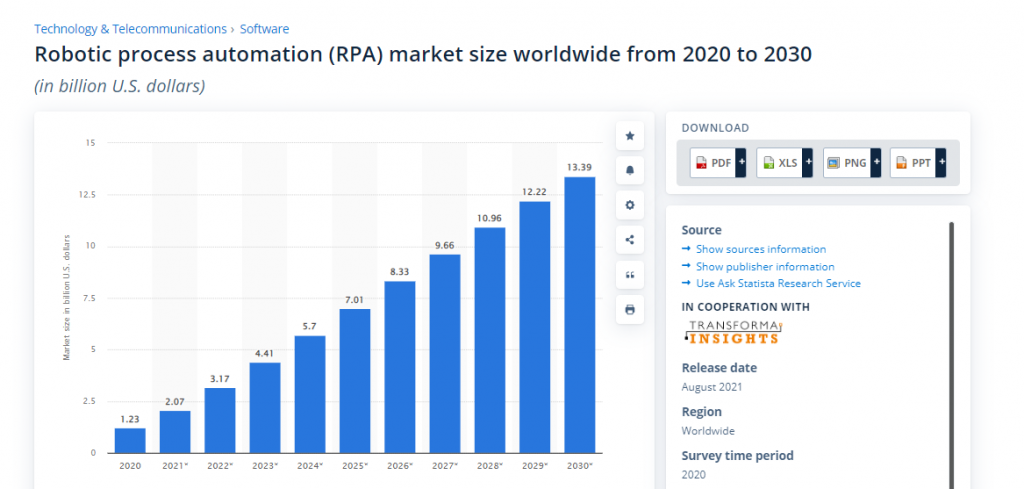 The past few years witnessed a promising effect of RPA on the business sector with overwhelmingly positive feedback. The number of use cases for RPA is increasing rapidly, and most organizations see RPA as a viable option for enhancing their business performance.
But why?
For starters, RPA is a software technology that is easy to use to automate high-volume repetitive tasks. With robotic process automation, software robots can learn, mimic, and allows users to create bots by imitating human actions to automate these tasks.
To further understand how RPA is helping enterprises enhance their business performance, keep reading this blog!
What are the Business Benefits of RPA?
Robotic Process Automation is an effective tool that helps the organization grow if used wisely.
According to a

report by Everest Group

,

Robotic Process Automation can reduce up to 65% of the operational cost with its potential to register data at the transactional level.
Growing leaps and bounds from when it first came into existence, RPA offers your organization the opportunity to expand.
By automating mundane & repetitive tasks, businesses can;
Direct their workforce towards more critical tasks that require decision-making and human intelligence,

Save costs by replacing human potential with machine

Minimizing human errors

Improve the overall efficiency & productivity of the organization.
Owing to the benefits provided by RPA in improving the business processes, a steep rise in RPA market size is witnessed, which is further anticipated to grow manifolds in upcoming years.
The graph below for the RPA market size worldwide from 2020 to 2030 represents the same:
RPA has a lot of benefits to offer that can help improve the productivity of organizations, be it in the Financial, Service, Insurance, Healthcare, or any other industry.
Here, we have listed a few benefits of RPA in improving business process performance;
1. Cost Saving
One of the biggest advantages of RPA automation is that it significantly saves a lot of costs. When a business process is automated, it functions faster, and its performance is error-free, implying it works at a much lower cost.
So, the organization receives a greater output for fewer inputs, which results in a better bottom line.
2. Accuracy
Even the most careful human can make mistakes. So, to perform routine tasks flawlessly, RPA is a solution that could lower errors while providing the best quality and higher satisfaction rates.
3. Reduce time in performing tasks
Even if it is a mere minute, a robot can reduce the downtime of a process to a few seconds.
And if we multiply dozens of tasks with a single Robotic Process Automation solution, it will save a lot of time.
4. Insights and analytics
Learning from previous insights can help a business make better decisions for the future. Robotic process automation can gather, organize, analyze, track, report, monitor, and even store valuable data in the database.
This stored information can then be utilized to improve the current operations and even correct the errors in the processes.
Effect of RPA on Business: How is it Improving Business Processes?
Big brands like Capgemini, Accenture, Deloitte, and many more are using RPA in their regular processes. The growing benefits of RPA implementation can be witnessed in various sectors, that are:
Technology-media communications

Financial Services

Energy-utilities

Healthcare

Manufacturing-distribution

Consumer products-retail
These industries leverage the benefits of RPA, such as reliability, accuracy, and consistency, that overall increase productivity. So, the top applications of RPA are:
1. Sales
Sales are crucial in every business type, irrespective of the niche.
RPA can handle all the operational and sales activities that might involve invoice preparation, data replication, inventory, customer payment, error-free sales operations, or delivery management.
2. Procurement Process
Organizations have realized that the procurement team spends most of their time on administrative tasks. RPA solutions can help take up administrative tasks to free the procurement to focus on other activities.
It minimizes manual intervention, develops a strong audit trail for the future, reduces human efforts, and enables them to focus on other strategic initiatives and access human intelligence whenever required.
3. Data Extraction
Data entry is a tedious process. But by using RPA in data entry processes, companies can help save a lot of trouble. With RPA integration bots, businesses can minimize the requirement of manual data entries and hence reduce errors.
RPA bots are trained to read the different contexts, and texts to perform better data extraction operations.
4. Data Management
Data management involves RPA solutions that allow companies to collect data from any source with any specific structure. Data management consists of a number of tasks in which data is collected and processed.
RPA can be applied to data repositories, making tasks normalization, data cleansing,, or updating metadata more efficient. These tasks are unique and repetitive, which is an ideal situation for RPA.
5. Inventory Planning
Robotic process automation is important in manufacturing and every major supply chain management process that the industry has to offer. Most open-source RPA solutions manage specific processes, people, and systems that form an integral part of the supply chain. Tracking and dealing with deadstock, avoiding or limiting the risk of stockouts, and increasing visibility in the supply chain are some of the use-cases of RPA in inventory management.
How will you Improve Business Performance with RPA?
Looking out for internal policies, processes and people is important while implementing RPA in the enterprise. Business executives usually look for operations that can be automated and are beneficial for the organization.
While implementing RPA in business processes, you should gather metrics relevant to each process by finding answers to the following questions:
Which applications consume the most time and effort?

What is the majority of time spent completing each task?

Which activities are important for business operations and create tangible results?
So, how can you initiate it in your business processes?
Get insight into the business processes that you want to automate.

Learn about Applications of RPA.

Retrospect about the process you want to automate but ensure that your business doesn't suffer while automating the tasks.

Gain experience using RPA tools like UiPath or UiPath Go, IBM's Blue Prism, EdgeVerve, and Automation Anywhere.
While internal factors play a vital role in RPA implementation, businesses should keep in mind conducting external research to partner with the best RPA service providers.
RPA 2.0 for Amplifying Business Performance
With the rise of artificial intelligence, Roberts can now reason its incoming inputs. They don't blindly follow the algorithm anymore, but they can learn the patterns and improvise the output according to the circumstances or the changes in the input.
This is the emergence of RPA 2.0.
Machine learning, deep learning, and reinforcement learning help provide robustness in robotic process automation systems. This way, you can program your automation solution wisely to handle your repetitive task at your organization.
The emergence and implementation of RPA 2.0 will truly be the equivalent of the Mobile Revolution. And that's only a small part of what RPA will be offering the commercial space.
Frequently Asked Questions (FAQs)
Qn 1: How is RPA performance measured?
Here are the 7 key metrics that you should track for RPA performance monitoring:
Total Automated Process:

sum of all the automated processes you have in production that make up your bot portfolio.

Velocity:

Average time it takes for an automated process to execute

Accuracy: how often the automated process is executed with errors.

Expected Business Value: RPA metric that essentially consolidates all the other KPIs.

Break-Fix Cycles:

how many times an automated process breaks and requires maintenance.

Break-Fix Person Hours: H

ow long does it take to correct a bot that's broken?

Break Root Causes:

Understanding and tracking why bots are breaking.
Qn 2: Can RPA be used for performance testing?
Yes, different RPA solutions can be used for automating processes that also include preparing test data for performance testing.
Qn 3: How can RPA enhance business processes?
Optimized Use of Resources

Reduced costs and operational risks

Improved communication

Improved employee engagement & better customer experience

Faster services

Analytics and Insights to improve business processes

Empowering the workforce

Easily scale up or scale down processes

Enhanced enterprise security

Reduced paper use

Handle customers'' data easily
Editor's Note: This blog entry was originally published on January 31, 2020, and is updated on June 27, 2022.