Inventory Management 2.0 | AI & RPA Benefits for Supply Chain Network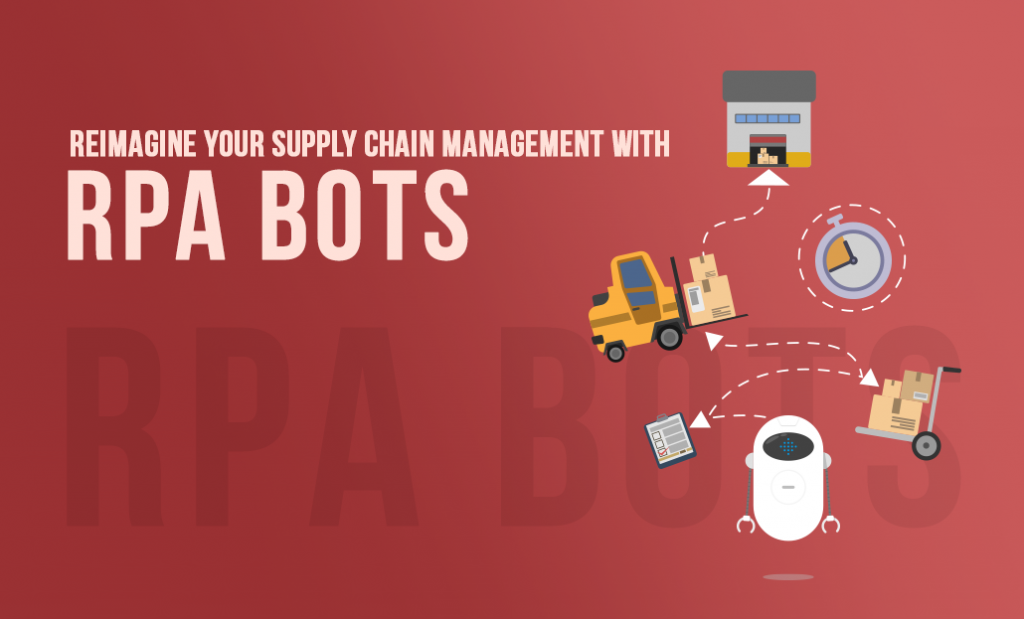 With eCommerce growing exponentially, there's an urgent need for adapting the current inventory management system and supply chain networks.
Whilst you can revamp the existing infrastructure; why spend thousands of dollars when you could achieve better results in less?
Let's talk about cost-effective inventory management automation solutions: AI and RPA.
The dawn of automation promises several benefits to businesses. Albeit that's a factual statement, a majority of people still support the popular belief that automation is taking up jobs; but we'd suggest otherwise.
RPA & AI help with automating tasks; not performing complete job profiles. Eliminating repetition creates free time for the employees to focus on high-priority tasks; thus, achieving better results in considerably less time.
Here's a report to support our claim:
According to the Information Service Group, over 72% of industries have employed Robotic Process Automation to automate mundane tasks, and streamline processes. Supply Chain and Inventory Management are no foreign to this concept.
RPA in Inventory Management: The Need for Automation
Supply chains and management are integral to the functioning of a myriad of companies- across all industries.
Take Global Retail Organizations for example; These companies have established processes and systems to deliver products from suppliers to customers, monitor inventory levels, track shipments, and a lot more.
Must Read: 5 Amazing Examples Of Robotic Process Automation In The Real World
Since all the said processes are repetitive in nature and highly dependent on the systems that run in the background- they serve as an apt model to benefit from automation technologies like RPA.
Industry Management Challenges
An unorganized and mismanaged inventory management system is no better than a bottleneck. That is to say, it obstructs the seamless flow of operations, and hinders the growth strategies in place.
The retail industry is prone to copious industry management challenges that automation seeks to solve. But before exploring RPA in inventory management use cases, let's briefly touch on the challenges:
1. Uneven Demand
Meeting with the fluctuating demands is a common issue faced by the retail industry management sector.
Wonder why?
Multiple factors, including but not limited to, product availability, fluctuations in the economy, sudden changes in tax regimes, and environmental changes affect a particular product(s) demand.
Forecasting these changes is no easy feat; and keeping an effective inventory management system is a completely different ball game.
2. Inaccurate Visibility
In a recent study, it was highlighted that inventory data is accurate for an average of 63% of the time. An excess or even a deficit can cost retail business hundreds and thousands of dollars in lost revenue.
3. Legacy Systems
Maintaining a structured inventory management system is quintessential to a business's success. Imagine creating, embedding, and managing these intricate structures using legacy systems- definitely not a viable solution.
Nonetheless, shifting to a modern, new-age, RPA automated e-commerce system seems a pretty good solution- but this introduces a new set of multiple challenges.
RPA in Inventory Management Use Cases: What to Automate & Why?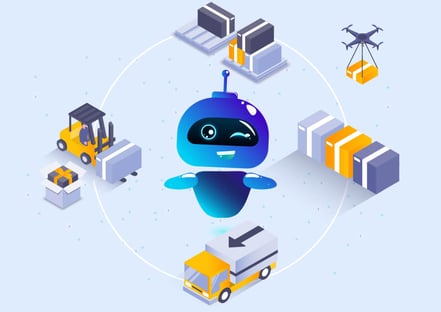 1. Eliminate Manual Administrative Tasks
Raising and processing purchase order forms a better part of the inventory management system.
Implementing RPA will help your retail business identify different inventory levels and match them with/against associated stock values.
2. Automate Replies to Proposals, Quotes, & Queries
The supply chain is composed of different individuals, engaging in a constant to-and-fro of questions, proposals, and queries. Keeping track of individual items, and responding contextually can become tiresome.
Though, this process could be easily automized using a smart combination of NLP (Natural Language Processing) and RPA.
The results: Accurate contextual responses, faster-turnarounds, and increased accuracy.
3. Identify & Automate Repetitive Processes
"RPA 'bots' leave detailed audit logs for every automated process."
What that means is that an automated process renders quite a lot of data. But that's not necessarily a negative aspect of automation.
But how?
Well, these logs offer an insight into systematically organized data and help you conduct a thorough analysis- identifying measures to promote efficiency.
4. Over-the-top Seamless Integration with Legacy Systems
The application of Robotic Process Automation is not limited to certain inventory management processes.
A well planned RPA implementation will seamlessly integrate with other legacy systems in place, automating processes across multiple software, systems, and tools.
What are the Challenges of RPA Implementation in Inventory Management?
RPA and AI, albeit promising, are still rudimentary. Implementing these technologies in your inventory management system or any other process for that matter will bring forward a few challenges.
Here's a Deloitte report that reflects upon RPA, it's advantages and implementation challenges in detail.
1. Employee Engagement
For successful RPA implementation not only in inventory management but across an organization, tt's important to take the buy-in from all your current employees.
Employees' acceptance helps with reducing resistance, scale operations, and streamline supply chain network.
2. IT Integration & Support
Though a business initiator can implement RPA with ease, it's always beneficial to include and consider the support of your IT personnel- for they can bring additional value and share valuable insights for RPA implementation.
3. Rigid Processes
There's propaganda around RPA bots that they can only learn once and not improve upon current learnings.
Though, that's a false notion. With Artificial Intelligence and Machine Learning, RPA bots can benefit from cognitive skills and improve upon current learnings in real-time.
4. Process Standardization
RPA 'bots' work best when the processes to be automatized are simple, and repetitive in nature. If a business process becomes complex, not only RPA integration gets difficult but the implementation and operational costs also go up.
Benefits of Implementing RPA in Inventory Management
There are innumerable benefits of RPA for Inventory management. Since stating all of 'em would turn this article into a guide, we've listed a few key benefits of RPA for your business' supply management system: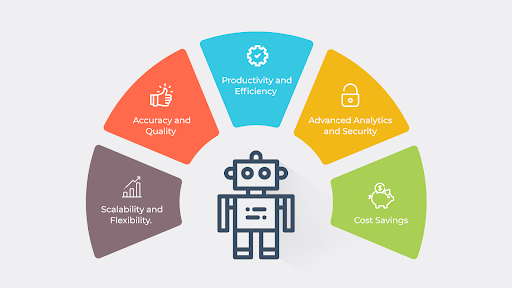 1. Email Automation
Transparent communication is indispensable to keep a supply chain up and running efficiently. RPA bots can be used to trigger emails and send automated text messages to the concerned parties every time a specified event occurs.
2. Automated Inventory Management
Inventory Management, if not the most important, is one of the crucial aspects of the supply chain network. Being aware of the current stock levels helps you prepare to meet with the fluctuating demand.
Automating your inventory management system notifies you about the current stock levels, and could even reorder your primary offerings when/if they go below a certain specified threshold level.
3. Order Processing
Supply chain networks are primarily maintained for 2 reasons: Order placements, and successful deliveries. Placing an order can be broken down into 3 essential steps:
Selecting the product
Payment Processing
Order Confirmation
Processing orders, payments, and parsing confirmation are 3 major areas that could benefit from RPA implementation. Here's how:
Using smart RPA bots, order details can be automatically ingested into the database; and upon successful payment confirmation (a specified task), an auto-generated confirmation email and text can be sent to the email provided by the concerned customer.
4. Demand & Supply Forecasting
Planning is critical to the inventory management aspect of any supply chain network. Successful planning involves collecting data from various sources, analyzing the sales trend, interpreting the data, and communicating the findings with the team.
By implementing AI & RPA in inventory management you can easily automate all these processes, and conduct a thorough analysis whilst eliminating any clerical errors.
Impact of RPA on Inventory Management & Supply Chain
The world is turning Digital, and to grab a bigger piece of the consumer pie, and fetch fruitful results, retailers need to implement RPA in Inventory management.
RPA influences supply chain management in varied ways, offering benefits such as:
Improved agility, enhanced efficiency, increased capacity, a higher level of customer satisfaction, and more.
But RPA services are not one-size-fits for all. Different retail businesses work with different capacities and, but obvious, share diverse needs.
Putting AI and RPA together, and utilizing them for the benefit of your business is an understandable challenge; what you need for successful RPA implementation is a service provider who could deliver a tailored RPA solution to your specific requirements.
That's where Signity Comes into the Picture.
Housing the industry-leading RPA developers, we deliver smart RPA services that offer promising results in comparison to traditional automation formats.
Robotic Process Automation will not only substitute for repetitive labor, but will also help with revamping the existing processes or better productivity, and efficiency.