Improving Efficiency in Accounts Payable and Receivable with RPA
The blog post highlights the benefits of using RPA in accounts payable and receivable. Learn everything about RPA in AP and AR & how to automate tasks like cash application, invoicing, and reporting.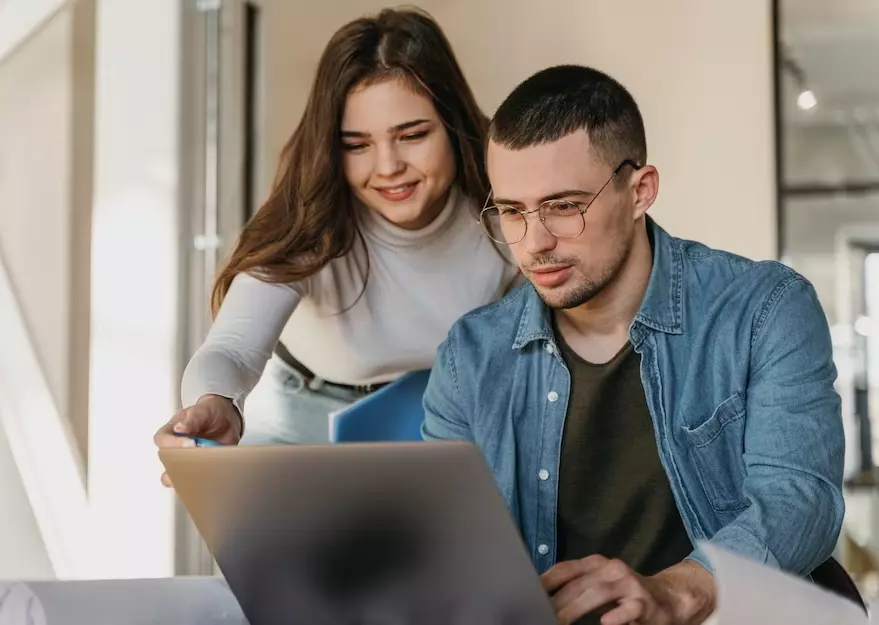 With RPA make your "to-do" list an "already-done" list.
Automation has been the buzzword for quite a long, and it has certainly made strides in its capabilities and fields in which it's implemented. Especially for businesses, Robotic Process Automation is quintessential, cannot afford to stay on the sidelines.
Undoubtedly, RPA helps organizations automate routine, low-value tasks varying from data entry to customer service allowing resources to devote their focus and attention to more intricate and valuable operations. One such function within your business is Account Receivable, consisting of collections, credit, and cash reconciliation, which needs to be made more efficient and streamlined with automation.
In this piece, we will discuss how robotic process automation in account receivable management can potentially transform your business.
Let's start!
💡 Key Takeaways
Don't be outdistanced - Find how RPA can optimize your account payable and receivable functions and help you scale your business faster.
Understand the cost-effectiveness, ease of implementation, and high ROI you can achieve by establishing RPA in accounts payable and receivable.
Understand the use cases of RPA in A/R and how you can leverage automation to pace up your team's productivity, save time, minimize errors, and cut costs.
Learn about RPA tools embedded with emerging technologies like Artificial Intelligence (AI) and Machine Learning (ML) to help businesses complete complex workflows with no human intervention.
What is RPA and How Does It Work?
Robotic Process Automation is a technology that helps execute rule-based business processes automatically.
In layman's terms…
"RPA mimics the actions that a human does to complete a task. Furthermore, the tool executes the steps in the workflow without any manual intervention."
RPA solution is integrated to execute voluminous repetitive tasks like cash reconciliation and OCR (Optical Character Recognition). Unlike conventional automation tools like macros and scripting, RPA solutions can easily interact with myriad types of apps and perform more complicated steps seamlessly.

What are Account Payable and Receivable Challenges?
Often, companies have an accounts receivable policy for when and how much to be billed and collected. But, not all businesses carry that policy efficiently. The average US business has approximately 24% of its monthly revenue in overdue invoices.
Moreover, an outstanding accounts receivable bottleneck cash flow and gushes the capital for growth opportunities, purchasing equipment, and hiring staff. And, that's just the tip of the iceberg.
An inept accounts receivable management process can bring several other unintended consequences, including:
Writing off outstanding receivables as bad debt
Skipped follow-ups on overdue invoices
Incorrect payment allocation
Errors on bills and invoices
This eventually leads to less cash flow, meaning your operations and production would need to slow down. Consequently, organizations may miss revenue targets while competitors continue to scale.
The good news is that if you can identify accounts receivable management challenges, you can overcome them too.
Here's how!
5 Top Use Cases of RPA in Accounts Receivable Management
The accounts receivable functions include numerous processes and tasks that require meticulous attention as they are often repetitive and voluminous. This makes it an attractive function for automation.
Here, RPA comes into the big picture and makes finance teams more efficient. Let's look at some of the key use cases of RPA in accounts receivable.
Use Case 1: Cash Application
Your business receives payments in several formats, consisting of checks, cash and digital payments. Often, customers pay online and share the remittance details through emails. Next, you must match the payment with the correct invoice, enter the data in your systems or accounting software, release the payment and close the invoice.
How RPA Helps in Cash Application?
OCR (Optical Character Recognition) tools use RPA technology to read and validate the checks and extract relevant information like check numbers, amounts, etc. Then, the tool automatically populates the extracted details to the relevant system like ERP or accounting software.
Besides, OCR technology extracts text data from remittance documents in PDF or image formats. Here, RPA tools make reconciliation faster and more precise. For cash applications, RPA can be integrated to aggregate remittance details from numerous sources like emails, portals and EDI files. And, with predefined rules in the solution, the payment and invoice information can be easily matched and small payments can be auto-coded.
Lastly, automated correspondence can be sent to customers in scenarios of missing remittances.
Use Case 2: Invoicing
According to the report, The State of CFO's Office: A Mid-Market Perspective 2022, sending invoices instantly is a measure that many CFOs plan to make more efficient to improve cash flow.
After all, automating some or all aspects of the invoicing process is critical to send invoices on time and boosting cash flow.
How RPA Helps in invoicing?
RPA developers automatically collect details from the purchase orders and prepare the invoice. Besides, developers ensure that the invoices are complete and all calculations are precise and right. With RPA, you can support your customers in their preferred payment format, consisting of credit and debit cards, and ACH.
Use Case 3: Accounts Receivable Reporting
Accounts receivable management is a crucial function that has a direct impact on cash flow and working capital management. It causes business leaders to keep track of AR metrics like days sales outstanding (DSO), days deduction outstanding (DDO), collection effectiveness index (CEI), and much more to make sure the company has all required capital and cash for everyday operations and future investments.
Accounts receivable teams use numerous reports to keep track of all the key metrics.
How does RPA Help in AR Reporting?
Account receivable software, including reporting and dashboard features, uses RPA technology to build standardized reports to keep track of crucial metrics, such as DSO, bad debts, etc. These automation tools extract data from numerous sources to prepare the A/R reports and allow you to share permissions on who can view and share them.
Use Case 4: Credit Management
At times, when you onboard a new customer, you have to carry out the complete process of credit management to minimize your financial risks and ensure to get paid for the products or services you offer.
Plus, the process includes collecting credit information from different credit card agencies, groups, and public financial and credit insurance bureaus, followed by capturing credit application data from online or offline forms.
Once all this is done successfully, you have to conduct credit scoring and risk assessment before onboarding customers and installing credit limits.
How RPA Helps in Credit Management?
Robotic Process Automation benefits can be leveraged in credit management to collect credit card application data by defining business rules and enabling template-based credit applications. Moreover, RPA can provide the functionality of auto-revival of credit reports from different sources.
Exceptional Benefits of Using RPA Technology in Account Payable/Receivable?
Herein, we will shed light on some of the vital benefits of using RPA for automating AR processes:
According to Gartner, RPA helps finance departments save up to ~25,000 man-hours by minimizing errors.
In addition, RPA in finance operations speeds up account payable and receivable management by mankind transfer from invoices and receipts 3x to 4x faster.
Scales Productivity and Efficiency
RPA is known to improve the productivity and efficiency of teams. It helps to increase your team's capacity by 35%-50% without adding a new employee count and also accelerates the speed of the workflow completion by 30%-50%.
RPA solutions complete tasks quickly, irrespective of the time or day, therefore improving productivity and customer experience.
RPA bots are often rule-based automation tools, as they help complete repetitive tasks without errors. According to opinov8, RPA upholds data security by 95%.
Did you know?
According to Hadoop, Companies can save between $5 trillion - $7 trillion by 2025 with RPA.
So, automating account receivables processes with RPA helps save costs by minimizing errors and labour costs through automated data entry and invoicing, improving invoice and payment processing times in manual A/R functions.
Plus, all this ensures compliance with regulations and internal policies, therefore, helping skip expensive penalties and fines.
Easy and Quick Implementation
Unlike the time taking implementation for technologies like AI and ERP, RPA tools come in handy as they can be implemented quite fast. Furthermore, simple workflows can be automated with RPA solutions in a timeframe of 2 weeks whereas complicated processes may take 2-3 months.
Finally…
It's right to say, "RPA have a positive impact on accounts payable and receivable processes, saving time and money and simultaneously improving communication with customers. So, if you are about to ride the bandwagon and streamline your account receivable processes, don't hesitate to get in touch.
We would be elated to discuss the potential benefits in more detail.
Frequently Asked
Questions
Have a question in mind? We are here to answer.
Which AP and AR processes are suitable for RPA implementation?

Many AP and AR processes are suitable for RPA implementation. Here are a few examples, invoice processing, AR collections, payments, vendor management, and reporting.
How can RPA enhance data accuracy and integrity?

RPA can enhance data accuracy and integrity by automating data entry, validating data, cleaning and enriching data, and monitoring data.
How long does it take to implement RPA in AP and AR?

The time it takes to implement RPA in AP and AR varies depending on numerous factors, like the size and complexity of the organization, the number of processes to be automated, and the level of automation desired.
What are the typical cost considerations for RPA implementation?

The typical cost considerations for RPA implementation consist of software license fees, infrastructure costs, bot development and deployment, training, maintenance and support.