RPA Tools Comparison - UiPath vs BluePrism vs Automation Anywhere
A guide to comparing RPA tools in 2023 & evaluating different solutions for their capabilities, ease of use, scalability, and cost-effectiveness. Learn how to choose the right RPA tool for specific business needs.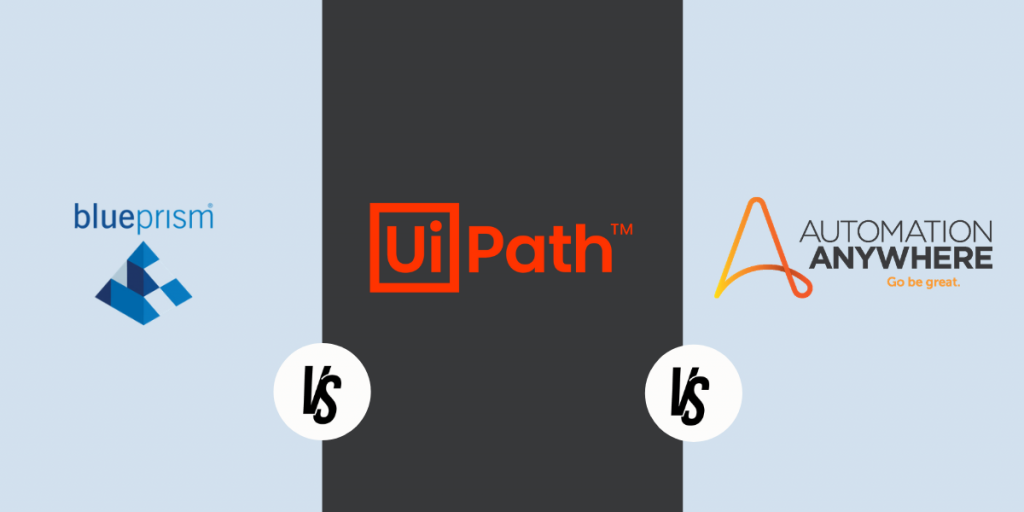 Robotic Process Automation (RPA) has revolutionized the way organizations streamline their business processes.
The RPA market is dominated by these three RPA leaders:
UiPath
Blue Prism
Automation Anywhere
These are the most popular RPA tools that enable organizations to automate complex workflows, increase efficiency, improve work productivity, and drive digital transformation.
RPA automation tools can have a significant impact on industry sectors like manufacturing, telecom, aviation, oil and gas, retail, and analytics.
Since many sectors are working towards the deployment of smart RPA automation tools in their business processes.
It is expected that the RPA market is going to reach about USD 8.75 billion by the year 2024.
The main objective of Robotic Process Automation is to let the robot do all the mundane tasks that are repetitive and documented.
Before developing any such robot, selecting the proper RPA tool is the most important thing. It can directly impact the outcome of an RPA implementation.
In our last blog, we have already discussed the benefits of RPA in business and how the company can use it to its best.
Even before RPA came into the picture, companies were using automation tools for processing tasks with simple hacks, Excel automation, and Macros. They were not scalable or reliable still they increased the productivity of employees.
Here in this blog, we will talk about the top RPA tools and the comparison between their core functionalities.
There are many organizations that offer RPA consulting services to help businesses automate their day-to-day operations.
According to a Forrester report, the best RPA tools are Automation Anywhere UiPath, BluePrism, and NICE EdgeVerve Workfusion Pega / OpenSpan in the technology category.
As per the Consegic Business Intelligence market research report:
Robotic Process Automation (RPA) Market is estimated to reach over USD 20,215.71 Million by 2030 from a value of USD 2,463.06 Million in 2022, growing at a CAGR of 30.4% from 2023 to 2030.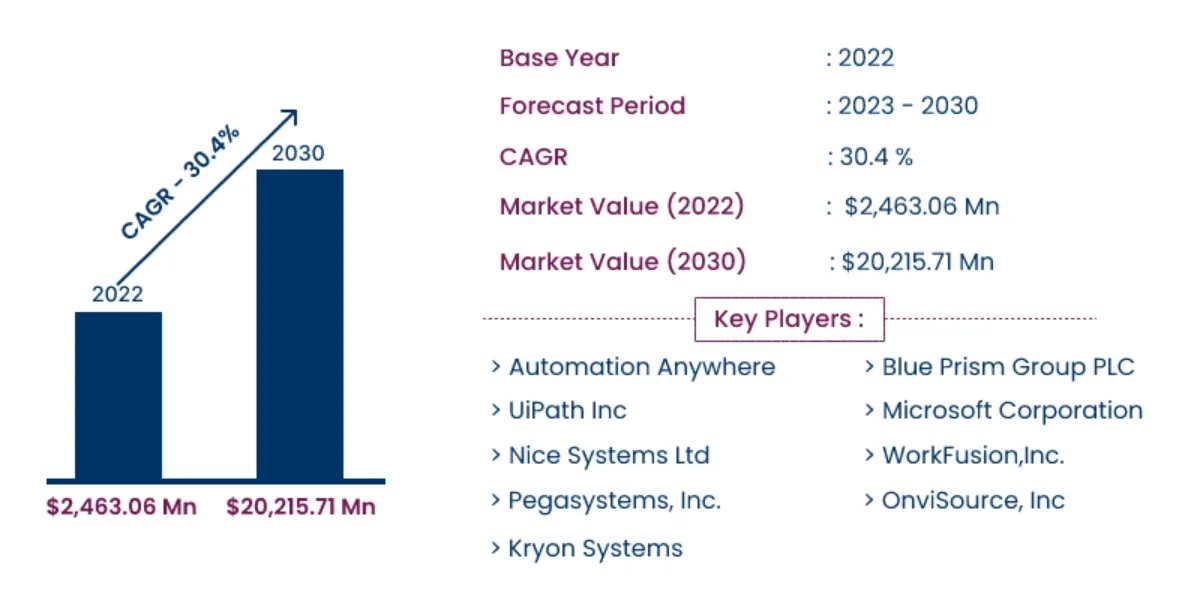 RPA Tools Comparison Matrix
In order to decide which is the best and the most suited tool according to your needs, we are comparing the top 3 RPA tools industry leaders - UiPath, Automation Anywhere, and BluePrism.
UiPath
UiPath is one of the leading RPA tools that is used on the Windows desktop for automation. The tool helps in removing human intervention by automating repetitive or redundant tasks. This RPA tool is very simple and has a drag-and-drop functionality.
"UiPath is open and collaborative. Its success, as arguably the fastest-growing enterprise software company in history, has been driven by its community of 250,000 users. They are the ones who come up with good ideas, the new technologies to look at, the new implementation partners to talk to, and so on. No other RPA vendor has this reach.", says Guy Kirkwood, UiPath's chief evangelist.

It also has a standard studio with over 300 pre-built automation components. It integrates automation with business software for simple automation and advanced development features for more experienced users.
Automation Anywhere
Automation Anywhere is an RPA tool that has a goal to offer its users scalable, secure, and resilient features.
This RPA tool was launched in 2019 with a community edition that lets you explore the tools and automate the tasks. And, also provide you with an enterprise service.
"James Dening, VP and European RPA evangelist at Automation Anywhere says, "Our recent research with Goldsmiths, University of London shows that the greatest ROI on RPA investment is achieved with simultaneous investment in people. Businesses need to understand how RPA fits within their operations, but ultimately the key to successful RPA implementation is diligent planning and management of the organisation's workforce transformation."
Automation Anywhere offers better performance as it has the ability to integrate into different platforms and also scale whenever the client wants to extend the functionality. It is meant to be used at the enterprise level and is mainly designed for solving complex issues.
Related Read: How to Implement Robotic Process Automation?
Blue Prism
Blue Prism was out in 2001 and followed a top-down approach. The tool works on a virtual workforce powered by software robots that help in automating enterprise business operations in a cost-effective and agile manner.
RPA is a software created by Blue Prism that provides an easy-to-control 'Digital Workforce' that informs, augments, supports, and assists people in the automation of rules-based mission-critical procedures and tasks. This category is now entering its next evolutionary phase — 'connected-RPA' — which promises an exciting era of collaborative technology innovation – led by digitally savvy business users – enabled by ever greater, intelligent business automation.", says Pat Geary, chief evangelist at Blue Prism.
Blue Prism is based on c-sharp, and it offers a visual designer with drag-and-drop functionalities, which is a bit similar to UiPath. Also, its visual designer has no recorder scripts or any intervention.
Robotic process automation has solutions that are helpful in engagement, especially if we talk about employee engagement.
Employee engagement is defined as survival. In businesses, employees are the faces of any organization. They take care of the businesses by providing support to customers in terms of providing solutions for technical support.
RPA Software Market Share by Revenue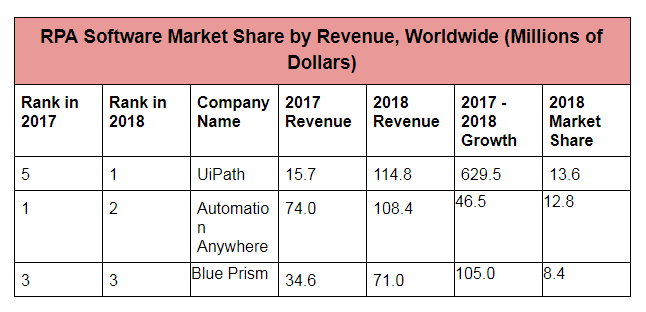 Comparing The Main Features
UiPath vs. Blue Prism vs. Automation Anywhere
1. Architecture Type:
There are two types of architecture - client-server-based architecture and web-based orchestrator.
Client-server architecture is a kind of network architecture in which each node or computer is either a client or a server.
A web-based orchestrator helps connect automated tasks into a unified workflow that is defined to attain a specific goal with permissions oversight and policy enforcement.
"Blue Prism and Automation Anywhere is a server-based architecture and UiPath is a web-based Orchestrator."
2. Robots:
Now the robots can be of two kinds that work in the front office or at the back office. The front office comprising of customer service, marketing, and websites., and the back office includes operations, such as information technology, human resources, and inventory management.
"Blue Prism can automate back-office operations and Ui-Path and automation anywhere work on both front and back-office automation."
3. Visual Designer:
A user-friendly visual designer that can help automate repetitive business processes and also eliminate human intervention.
"In this UiPath is a clear winner as it offers a user-friendly dashboard with simple drag-and-drop functionalities. And Automation Anywhere is developer-friendly and completely script-based. While Blue Prism is much easier than Automation Anywhere and is a visual designer based but not completely like UiPath."
4. Programming Skills:
UiPath doesn't require any programming language knowledge. It provides RPA functionalities in a much simpler way than any other RPA tool. Blue Prism needs a basis of programming to manage the business objects and Automation Anywhere does require a little knowledge of coding to use the activities.
5. Accessibility:
UiPath has mobile and browser accessibility, while Blue Prism and Automation Anywhere can be accessed through apps.

Source: Gartner
Guy Kirkwood from UiPath, James Dening from Automation, and Pat Geary from Blue Prism making industry understand why their product stands out.
"UiPath is open and collaborative. Its success, as arguably the fastest-growing enterprise software company in history, has been driven by its community of 250,000 users. They are the ones who come up with good ideas, new technologies to look at, new implementation partners to talk to, and so on. No other RPA vendor has this reach."
"Automation Anywhere's platform is the most intuitive to use, fastest to scale and it's secure by design. Added to this, the capabilities of our digital workers enable unparalleled automation deployment."
"What makes Blue Prism's digital workers unique is they're designed to be the most scalable, secure, controllable, intelligent, and connected — with no coding required, so they can be run by business users — through a centralized, collaborative, RPA platform.
Crucially, these digital workers also operate safely within the full governance and security of the IT department within the most demanding enterprise environments, making them easy to operate at scale."

Source: Gartner
Customer Experience

Source: Gartner
Summarizing RPA Tools Comparison - UiPath vs. Automation Anywhere vs. Blue Prism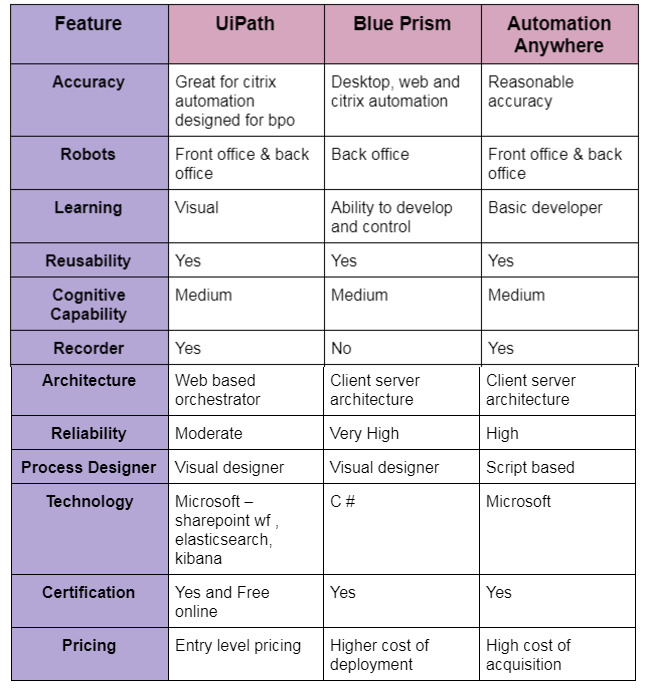 Source: Gartner
Future of RPA
According to Grandview Research RPA Industry analysis, the global RPA market size was USD 357.5 Million in 2017 and is projected to grow at a CAGR of 31.1% over the period 2018-2025. The BFSI application segment experienced the largest revenue in 2017, and it is expected to maintain the top position in the coming years. Also, the Pharma and Healthcare segment is expected to expand at 35.7% CAGR over the forecast period.
The future of RPA is bright and infinite as it is a leading-edge technology. And the global economic downturn will encourage the adoption of RPA in various industries. Automation is developing new ways forward. RPA will soon be the new and intelligent way of automation.

The functioning of RPA will run simultaneously with the development of automation code. This programming will be more useful and reusable. The usage of centralization and functionality will help enable companies to reuse code across industries and geographies.
Companies will learn a better way to standardize bots and apply them across various use cases and business processes and then across companies and industries. Once you combine and standardize the automation set into reusable and repeatable elements, everything will be unified.