5 Ways Cryptocurrency Can Change the Way Businesses Run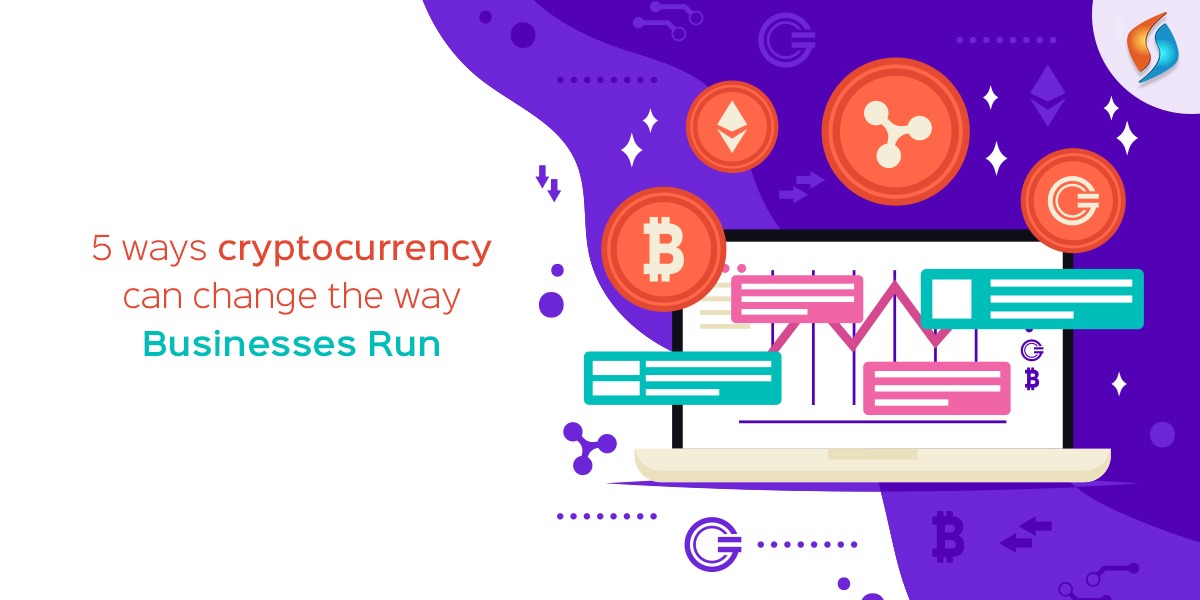 Today, cryptocurrencies are a well-known entity. In the last few years, their demand has witnessed tremendous growth. With a market cap of $425 billion, cryptocurrencies are all set to change the landscape of commerce. In reality, what's making these digital currencies popular is the technology behind it. Yes, I am talking about the Blockchain. It's a once-in-a-lifetime invention that has changed the world forever. It has given us the most significant breakthrough in financial technology. Today, the cryptocurrency wallet development has revolutionized the way we transact value. With a decentralized data system, they are ushering us into a truly digital world.
That is to say; cryptocurrencies are emerging as a market disruptor in the real sense. Bitcoin, the poster-boy of digital currencies has a valuation of $145 billion. Whereas, ethereum stands at a robust $68 billion. Look at these numbers, aren't they huge?. It's a testimony of their growing influence in the world economy. In other words, cryptocurrency wallet development holds immense potential to shape up modern businesses. Sounds interesting, doesn't it? Want to know how cryptocurrencies can change the way enterprises run? Have a look:
● Streamlined transactions
What digital currencies offer us is zero processing fee. With no middlemen involved, you do not have to pay any extra charge. The processing fee is not a minor issue. For a small businessman, it's a huge limiting factor. It can break your business model with ease. But, with cryptocurrency wallet development, you can improve your position in the market. Its proper implementation will give your business a boost in the right direction.
● Crowdfunding
With cryptocurrency development, crowdfunding has gained prominence. Often investors hesitate to invest in new concepts and products. They fear to lose their money. But, with digital currencies, they can make small investments instead of a large one. Also, for startup ventures, ICOs are becoming very popular. Based on cryptocurrency, they are emerging as an in-demand source of capital.
● Future investment
Entrepreneurs have a lot to achieve from cryptocurrencies. This digital money provides them an investment opportunity of a lifetime. Till now, private investors held the monopoly to invest in the technical field. But, with cryptocurrencies becoming popular, the scenario has changed. Now, anyone in the world can invest in new concepts and projects. Also, it will allow individuals to own their shares in high growth companies.
● Multiple payment options
When it comes to shopping, customers value for numerous payment options. Today, cryptocurrencies are gaining prominence. And for any reason if you don't want to invest in Bitcoin then its alternatives are also available such as Ledger, Nano, etc. have entered the market. Some mobile apps have also enabled payment in bitcoins. Also, with no processing fee involved, customers are willing to use digital coins for their purchases.
● Free advertising
Advertisements are critical to any business. To establish your brand and expand your customer base, content marketing is a must. The good news about cryptocurrencies is that they offer you free advertisement. For example; you can attract potential customers by providing them free bitcoins. This will help you in promoting your business. Also, you can invite users by making them aware of the ease of using digital coins.
We have the best Cryptocurrency wallet development services in India!
Given these points, cryptocurrencies are disrupting the way new businesses functions. But, these digital coins are still in their infancy. There's a lot more to see in the coming years. We at Signity Solutions have years of experience working on digital currencies. Our workforce comprises a dedicated team of IT outsourcing services. So, if you also wish to learn and use cryptocurrency wallet development, we are there to help you out. Feel free to reach us. We will revert at the earliest.