Factors Determining the Price of any Cryptocurrency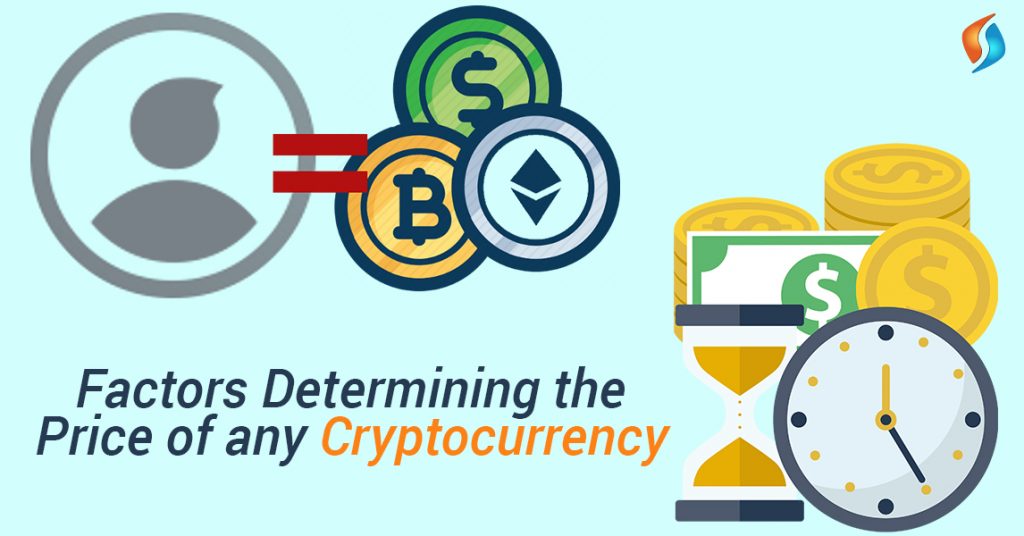 While many factors drive the price of a cryptocurrency, there are a handful of factors that are the leading causes. Investment analysts may have a preference of one factor over another, but the savvy investor understands the ecosystem from a holistic approach. And this is what reflected in the contemporary cryptocurrency development services.
Factors for the Price of any Cryptocurrency
There's the intrinsic value of the currency, the developer ecosystem, the fluctuation on an intraday basis and many more factors that need to be reviewed. There are also many macroeconomic and policy-driven factors that shift prices for any single cryptocurrency. That's why many cryptocurrency development services companies offer multiple cryptos to be added under a unique portfolio. It's always wise to hedge your investments against all market forms.
Crypto-market fluctuations
The macro-trends of crypto-markets, in general, can significantly influence the price of any single currency. This is why we've seen historical trends where dips have taken a sharp turn towards hockey-stick-like growth. The market, as a whole, impacts the value of any single currency.
The investor community also interacts with other traders to understand the demand of a currency. They use social media, messaging apps and slack communities to share insights and upcoming movements. If that currency has been in the news for any significant portion of time, then there is an uptick in the value outside of intrinsic value.
Speculation drives the single currency beyond the actual value as well. That's why we see inter-connectivity between currencies. Investors that aren't confident about Bitcoin but want to invest in crypto-markets might go for Ethereum.
ICO, launches and Industry movements
Initial Coin Offerings (ICOs) have a significant impact on the movement of any single currency. Companies hire an outsourcing team of premier blockchain consulting companies to ensure that their coins are made secure throughout the launch. Companies may also have multiple rounds of funding that are driven primarily by cryptocurrency ICOs. When there is movement around the ICO ecosystem, the value of the currency immediately goes up. There are more miners, developers, and users in that currency's ecosystem.
Not only does demand causes the currency rise, but there is also a value and a community attached to that. Today multiple startups and venture funds are into this process by raising money through ICOs and starting their off-shoot currencies. Industry movements also shape the way the demand for any single currency. There is a higher value in a cryptocurrency development services when there is demand rising for its utilities.
Areas such as financial management, identity control, data security, etc. leverage crypto-technologies that impact the value of that currency. Multiple blockchain technology solutions impact the value of any single currency in the ecosystem.
Technological advancements (Blockchain, currency, utility, etc.)
Greater technological advancements are occurring on a regular basis in Blockchain. Analysts are coining it the 4th Industrial Revolution, as Blockchain has a ubiquitous nature in its technology. Developers are aiming to create faster transactions and better security around core Blockchain functions. This has a positive effect on the price of all cryptocurrencies, especially the ones that are actively working on it.
There is also the application strength in use during the technology development. Whether or not there is a significant developer community attached to the crypto development is a critical factor. Blockchain application development companies often work directly with the platform itself and offer better apps to the marketplace.
This has a net positive effect on the currency as it increases the value overall. It also makes it a more predictable currency to bet on, if more apps are emerging that are safer to use. With a Blockchain developer working on multiple apps, a positive effect on the crypto is here to come.
The currencies themselves are also becoming more valuable, as the market lowers transaction costs and increases transparency. E.g., Ripple has reduced transaction costs to $2 now, with faster speeds on each transaction. IBM and Stellar have been working on enhancing the space for some time now. There is also significant movement visible in the open-source domain, with more companies introducing AI to improve core Blockchain.
There are various applications of technology, while companies work with the best blockchain development company they can source — companies like Signity Solutions design tech-forward solutions in the Blockchain domain.
Policy, regulation, and macro-impact
Probably the most significant impact that cryptocurrency development services can have is via policies. The crypto-market is still in its growth phase, and governments are working with developers to design better outcomes. When governments ban currencies from trading in a particular country, the whole market takes a hit. When they are more expressive in their communication, then the market doesn't dip as much as it would. Therefore, the way policy goes for scripting is as essential as much the policy itself.
Regulation is key as well. When the scrutiny of markets is more precise with an advanced set of security features, they become desirable to a larger trading community. Similarly, when more companies are involved in the space, they can increase the perceived value of the currency as well. Regulation, overall, does help in boosting the stability and value of the crypto market.
From a macroeconomic perspective, there are general trends that impact the value of the currency. If the general move is towards more digital currencies, then the pattern moves up on larger lenses. If there is a particular industry that is working on Blockchain technology solutions (high tech, finance, real estate, etc.), then the intrinsic value of the currency rises.
Additionally, if there are more significant shifts in how to use Blockchain as a platform, then the crypto-market will rise as well. With the introduction of smart apps, smart contract development and distributed data houses, there is increased attention on crypto-markets as well. Countries that have cheaper power or alternative mining houses are also going to see a rise in crypto markets emerging. This gives rise to local currencies arising that are under use in that country.
Hire the best Cryptocurrency Development Company in India!
All things considered, cryptocurrencies hold immense potential to change our global economic system. They will allow us to have complete control over our money. We at Signity Solutions, being the best cryptocurrency development company in India have years of experience providing the cryptocurrency development services. We have a dedicated team of IT outsourcing services with us. So, if you also wish to learn and use cryptocurrencies, we are happy to help you out. Feel free to reach us. We will revert at the earliest.