5 ways to manage your CRM Budget properly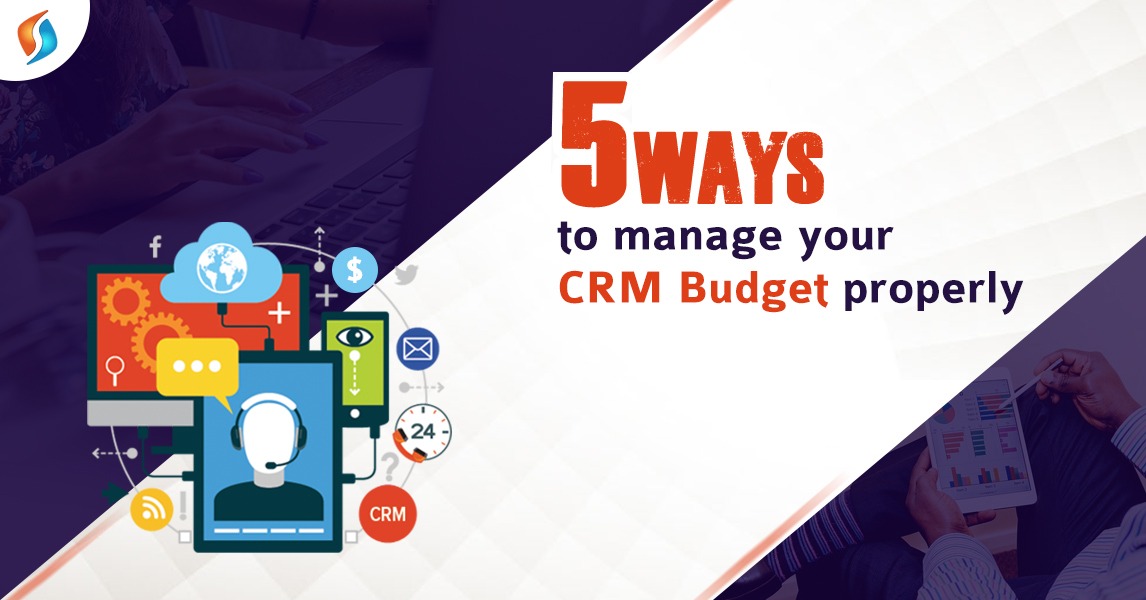 With a new year, comes a new budget for your company. So, fire up the calculators and the spreadsheets since the budget season is here. And talking about the budget, let us discuss the CRM budget goals that you have for your company. The CRM development services always fall into the big budget basket. Hence, it is essential that the strategy in use by your company is the best one. Else, you would be wasting money, right?
For those availing cloud-based CRM solutions from outside, it is essential to check if the plan is working. If it is not, then you need to upgrade or change the company offering you the services.
Not sure what CRM is?
Then you need to know all about it and add it to your company. CRM application would help you a lot. You would understand better about it with the below explanation.
To make it clear, CRM is Customer Relationship Management. It is all the various technologies, tools, techniques and strategies that corporations use. Moreover, this management system is used for acquiring and retaining the customers, while developing the customer base. In short, it is a software that companies purchase or prepare it themselves to handle customer relationships.
Thus, CRM development services make sure that all the interaction with the customers moves perfectly well. Moreover, it also takes care that communication is efficient enough to grow the profits of the company. When the customer is convinced that the products or services are great, they would then purchase it. This purchase would bring in benefits for the company. In short, this means that we can convert the customer in interaction into a lead.
Furthermore, the software has the work to collect all the data of customer from several channels. Therefore, the CRM software gathers and stores all the data of the customer. The detailed data includes personal information, overall purchase history and also the purchasing behavior pattern. This is then used to convince the customer to avail our services. These services are shown to the customers when they need it the most. This all is done through the CRM software.
Benefits: CRM development services
From the above, you know what the CRM software application is used for. To give a much better understanding, the CRM software has just one use. This is - improving the client relationship with the business using smart tools that would create a successful strategy. Contemplating the point above, we can see that the CRM definition has much more than what we can see initially.
Moreover, it should be noted that integrating this tool into your business would create a huge difference. You would be able to move ahead of your competitors. This means that you would be able to understand all the customers' needs and work on them. In short, you would find out where the customers are not satisfied and offer them with better. This would lead customers to you, and you would be able to win over the competition. Furthermore, the best thing about this software is that you would have all the data stored in the primary database. Hence, you can manage and access all data from one source only.
You can have your CRM software developed by the software development company in India. They would create unique software and manage it as well to help you gain profits. Now that we are clear with this let us get back to planning for the new year CRM budgeting. Below shared are five tips that would help you with your CRM budget planning.
Tips for CRM Software budgeting
1. Understand all about your budget process:
The very first thing that you need to do is pay proper attention to the applicable boundaries on the budget items. Moreover, you would also have to know which expenses need the Board and executive approval. Also, who and all have to be involved in it. It is always better to know everything beforehand, instead, to get a surprise in the 11th hour.
2. The Early Bird:
It is always better to start planning the budget process beforehand. By working on it now, within this year, you would be able to avoid any mistakes of the last year. Collect all the feedback from the previous year's budgeting to help the next year's process. After all, CRM is your most valuable asset.
3. Work backward:
Another thing that you need to take care of, is knowing every step that you choose. Moreover, you also need to plan for any unexpected situations that might come up as you work towards your timelines. This is possible by working backward from the deadline, you have for the budget process. A great tip is that you should prepare your budget planning project. This is in case you have to manage many moving pieces and require a lot of buy-ins before you submit.
4. Hire a Professional Agency:
If you feel that you need a professional agency to create and manage your CRM software, then hire one. It would help you in many ways, and you can concentrate on other important things. If you want your CRM software prepared, you can choose Zoho CRM integrations or the Salesforce CRM consulting services.
5. Show the ROI:
You have to be ready to build the case of your business. This would include defining the ROI metrics. Moreover, do not be afraid of asking any of the internal or external templates and examples for working on it. These would help you ensure that you are on track regarding the expectations of your organization.
Bottom Line
In the end, it is essential to stay organized and ahead of time. Many small companies find following up with customers a challenge. Hence, these companies need Zoho CRM development services. For that, it is better to connect with a Zoho CRM consultant. If you want your own software prepared, you can contact a company offering the CRM and cloud consulting. They would be able to help with the CRM strategy after which you can decide on your budget.
Signity solutions is one of the leading custom web development company in India with years of experience in CRM development services. Our team has been helping clients from all around the world with their CRM software requirements. We would love to partner with you in taking your business to new heights with our cloud CRM solutions. Get in touch with our IT outsourcing services team now and begin your CRM budget planning!