Automation In Healthcare: Challenges and Solutions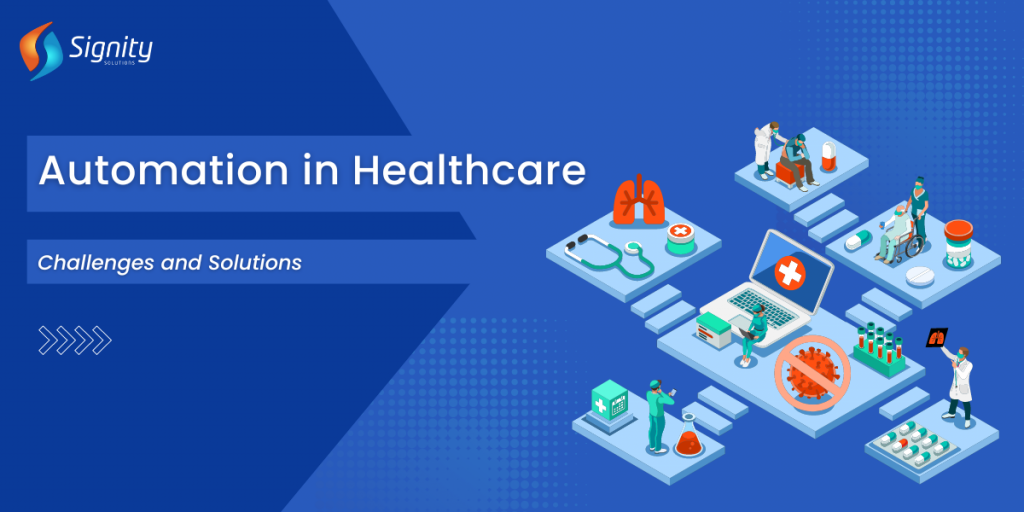 Too Many Tasks, Too Less Time - "RPA is Here To Help"!
This is the third article in a series regarding process-based opportunities in the healthcare industry. Earlier in this series, we discussed the benefits of RPA in healthcare, its use cases and the challenges faced.
Though, the challenges and opportunities are untold, like:
Alleviating burnout on the care team
Value-based care setting
Thriving in an ever-growing customer-centric market
Resolving cybersecurity threats
Improved efficiency with lower costs, and many more
Considering the issue of clinical burnout, the two top contributing elements are the numerous bureaucratic tasks people have to perform and the significant number of hours they have to invest at work to complete everything.
Though that is not only confined to clinical - the story is the same throughout the staff of healthcare organizations, whether they are a part of medical record keeping, accounting, claim management, or any other department. Automation in healthcare gives wider opportunities to use software and bots that promote efficiency in various elements of medical services.
Staff members have numerous tasks to do in a limited time because they are occupied with tedious, wasteful, and manual processes. Several improvement solutions can address this concern, but here we're uncovering how Robotic Process Automation can help.
And no, We're not suggesting you reinstate your workforce with robots!
Often, people portray robots as a machine nearly the size and shape of a human, mimicking the efforts of an automated small vehicle monitoring around and performing some specific task.
But RPA is neither of those things. Indeed, it's unseen, working inside your computer system and databases, with the potential to positively affect how efficiently and effectively people and organizations work.
5 Challenges and Solutions in Healthcare Today:
Here's An Overview Of Some Of The Major Challenges and Opportunities for Automation in Healthcare.
The Challenge: "Amplified Healthcare Consumerism"
Easy access to the internet and an instant-feedback economy have amplified healthcare consumerism, especially as consumers are constantly asked to assume greater responsibility for healthcare costs and decisions.
This shed focus on the importance of delivering value in meaningful ways to the users: an unparalleled patient care experience, compassionate staff who are reliable, timely access to appointments, services, recommendations, and better outcomes.
So, it's rightly said "Social Skills" and "Time Invested" are imperatives to address those expectations.
Solution:
Beyond permitting healthcare professionals to focus more on patient care, attended automation bots triggered by a customer service agent can uphold the patient's call centre experience by quickly analyzing relevant data and making rule-based decisions that address issues quickly.

Similarly, new patient registration takes less time as insurance coverage is validated quickly, along with other relevant data. In addition, bots can automatically produce personalized rules-based follow-up patient messages and have an appointment for clinic or home, relieving the patient and their family of administrative onus.
The Challenge: "The Integrations and Interoperability"
In the past year, CMS published Interoperability rules that provide patients in some federal programs with access to their health information on their smart devices. Also, they were provided with an ability to request that their medical records follow from one health plan to another.
While patient access to data becomes a lot easier, transferring patient information from hospital to different nursing homes or from nursing homes to primary care, still remains a CHALLENGE!
Solution:
Unquestionably, interoperability is becoming the new constant for all whole-person, value-based, and modern population health programs.
Once again, RPA comes to your rescue by overcoming the lack of data/system integration, lack of APIS, and deficit of an interoperability sandbox. Besides, achieving greater interoperability is still a goal if you are preparing for future requirements while empowering your present PHM and VBC programs. Still, the gap can be bridged with Intelligent Automation.
The Challenge: "Escalating Health Costs"
Rising high cost is now more challenging as payers use significant data insights to negotiate a shift from a conventional fee-for-service model to value-based and risk-sharing reimbursement models. And considering the new arrangements, providers come across significant pressure to maintain or maximize the quality of care while minimizing costs and growing revenues.
There is a clearly defined need for emerging technologies that can scale, analyze, and report on quality and costs.
Solution:
Intelligent automation addresses the concern of rising health costs by exploiting the monitoring and analytic potential of bots.
Robotic Process Automation bots can gather data for quality indicators by analyzing clinical notes for patient adherence, managing ordered and complete lab tests, extracting scenarios of nonadherence, managing refill frequencies, tracking providers, and the list. Furthermore, bots can be easily integrated for compliance tracking and regulatory auditing.
So, to minimize the cost, bots work wonders as they free employees of mundane, voluminous and repetitive tasks that are too fast, more precisely and around the clock. Eventually, this boosts efficiency and productivity and reduces the low-value activities costs.
Simply put, expensive human resources can be redeployed on unique human activities like problem-solving, creativity, and improving the patient care experience.
The Challenge: "The Tsunami Of Data"
Wearable sensors, Electronic Health Records (EHRs), online activities and environmental monitoring have produced behemoth data that promises new insights and predictive capabilities through advanced analytics like image recognition and optical character, Machine Learning and Natural Language Processing.
However, this data tsunami brings different and sometimes conflicting agendas, like biopharma's requirements for accessing patient data repositories for research compared to increasing regulatory requirements for strict security and personal health information (PHI).
The thing that needs to catch up is the ability to process and analyze massive data, resulting in an inability to completely leverage data to understand internal operations, address regulations, or inform business strategy. To address this alarming concern, most healthcare organizations have continued to add headcount - one of the expensive ways to perform manual, repetitive, and rule-based work.
But, the related opportunity cost is that employees need to be doing work that would be more valuable to the company and personally fulfilling.
Solution:
IPA, popularly known as Intelligent Process Automation, resolves the challenge by accessing, reading, understanding, collating, structuring and analyzing multi-channel data from internal and external sources.
As already known, software bots deliver speed, accuracy, potential and monitoring, operating 24*7*365 when required. Also, this frees up resources to offer real patient care. From a business point of view, it allows strategic end-to-end enterprise automation for efficiency and competitive advantage.
Not to forget, automation is a boon in monitoring the operation and business performance of an organization's internal processes, especially when new functions are introduced. This real-time reporting enables an organization to be more tangible, adaptable, and experimentation in today's dynamic business environment.
The "Last" Challenge:"Deficit In Healthcare Workers"
The expected shortages are because of an increasing and aging population that are predicted to live longer than before.
It's predicted that the nation's population will grow more than 10% by 2032, with those over age 65 increasing disproportionately by 48% VI. Undoubtedly, nurses make up the major segment of professionals in healthcare.
According to the US Bureau of Labor Statistics, the job growth rate for RN (Registered Nurses) through 2031 is 6%. This is as fast as the complete average for different occupations. Although, the predicted growth rate for nurse practitioners is 40%, i.e much quicker than the average.
"The increasing demand for nursing staff to care for patients with critical healthcare needs and a declining supply of nurses has contributed to the most significant nursing shortage in the U.S. The deficit is expected to intensify through 2023."
Moreover, 44% of healthcare physicians feel burned out, citing factors such as redundant and administrative tasks, paperwork and working with EHRs (Electronic Healthcare Records).
Solution:
Robotic Process Automation can help minimize healthcare employee shortages by freeing up those professionals from low-value work and allowing them to pay more attention to what motivates them to step into healthcare in the first place.
According to PwCVIII, 63% of healthcare professionals in the U.S. say their work needs a great deal of repetitive manual entry. So, establishing a Digi workforce to take on automatable tasks would enable workers to be more productive to patients and workers, motivating patients to adhere to treatment regimens.
Finally, "Healthcare Organizations Ride The Bandwagon Of Change..."
Many forerunner enterprises are adopting digital transformation to meet the challenges of traditional operating models.
But, building a flexible, profitable and sustainable healthcare enterprise in the present situation requires strategic resource planning and business process reengineering. Don't worry!

A dynamic RPA platform is a quick fix to digital transformation. Its wide array of capabilities addresses distinctive needs across healthcare enterprises, saving costs, maximizing quality and productivity, creating a bespoke level of service and greater employee job satisfaction.
So, if you are heading the way to reshape your healthcare organization, automation is your key enabler to thrive in the 21st century!