How Efficient is AWS in Small Business Deployments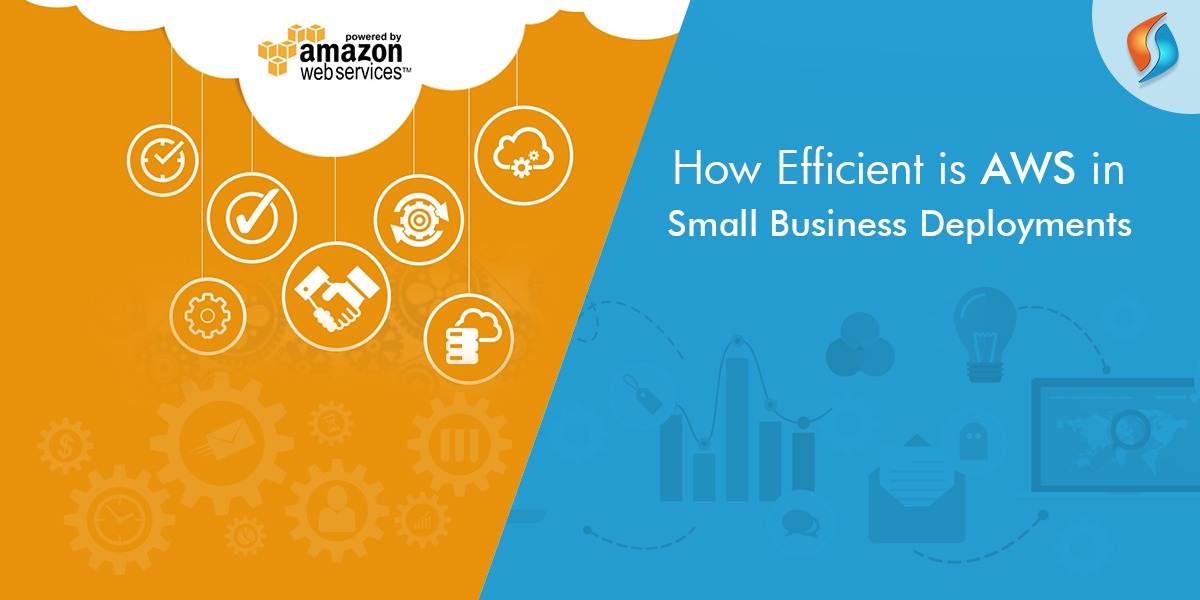 AWS, which is short for Amazon Web Services, has often been misunderstood as catering to the infrastructural demands of larger corporations. The truth of any such claim can be questioned on various grounds; best one of which is the data revealed by a study that claims by 2019 a 40% of total expenditure of $141 billion on AWS dominated public cloud would come not from big corporations but small business establishments. No doubt larger businesses, too, are using AWS web services on a grand scale to store whatever data they produce, but smaller ones, also, are not far behind either.
All those things AWS cloud services has in the offering, such as less expensive resources for computing purposes, its ability to synchronize data speedily or overall software management, are of excellent assistance to smaller and larger business corporations alike. What AWS web services can do for small businesses has emerged as the game-changer for them. It offers such institutions its platform for hosting purposes that range from primary computing process to complex networking, security enhancement to development of mobility, allocating storage capacity to database management, and remote server integration to analytics dashboard.
As a small business owner, there is nothing else you need that does not come with AWS. You may ask, are AWS web services enough for efficient deployment of a small business? Well, as a business owner what do you need? You need an app for undertaking e-commerce; you need a cloud infrastructure, a hosting platform for running web applications, storage and so on. AWS managed services offers you exactly that. It powers small businesses like yours to operate applications, run e-commerce, gives your business access to cloud wherein you can store your data, that saves you time and money because you no longer have to perform the task of monitoring your infrastructure, hosting your websites and applications, all that task would be completed by AWS cloud services itself. One thing of the significant impact that you need to consider before opting for AWS is taking stock of your needs about the infrastructure and storage allocation because it, any extravagance, would directly impact the business growth of your company, it can even go the level of destabilizing your business altogether. So your budget should determine your needs, and you need to take it seriously.
How do AWS web services work?
Small businesses ask such questions out hesitancy because of their wrong notion that for deployments of larger businesses only do we need AWS web services. But it is simple to understand how it operates. What you do, as a business owner, irrespective of whether you`re a big or a small business, you do not buy a storage for your business, or you do not opt for in-office management of your infrastructure, instead what you do is, you book a small space, according to your need, on AWS – Amazon Web Services. That makes it cost effective and more dynamic because AWS managed services are loaded with plenty of other features as provisions for marketing your business digitally, or opting for financial service as well to make your business infrastructure more robust and multifunctional.
There are many things that you cannot handle by yourself. If you`re not a big business, matter can even go out of your hand. What I talk about is maintaining the speed of your web infrastructure, ensuring its efficiency. But when you opt for amazon web services, these headaches will no longer bother you. You can concentrate on your business and leave those things to AWS web services to take care of them.
In case you want to blend AI with your web infrastructure, AWS cloud computing services are never out of tools. Its Amazon SageMaker allows app and custom web development company; software developers blend Artificial Intelligence with their apps, websites, and software in a hassle-free manner. Even though you may not be in a position to afford such a luxury but AI is the future of business. Cloud technology has pushed us more into the realm of AI, and it has become impossible to imagine a business infrastructure untouched by AI, or for that matter untouched by automation, in today`s world of ever-changing technology.
Now that keeping track of consumer behavior has become an integral part of business infrastructure, it has become a priority; you cannot be able to utilize it without having deployed AWS web services in your business organization. Whenever a customer interacts with your business through an app or website, they leave behind a lot of data which can be turned into useful business insights with the help of analytics tools. An essential requirement for such a thing to happen in your business, too, is the deployment of cloud infrastructure. It enjoys excellent flexibility the way it stores user data, and reveals same through the analytics dashboard for you to squeeze that data into a useful business insight to increase your profits, and expanding your business to new, untapped markets.
In short, Amazon web services are all about offering affordable solutions to small and larger business establishments that need a well protected, a dynamic, and cost-effective web infrastructure. As the internet has emerged as a global market, need for any business today is to go for e-commerce, which in turn demands a platform like AWS web services for successful deployment of web infrastructure of your business to undertake online operations. It allows your customers to make transactions online, buy and order products right from your online store in the form of an app or a website.
So, without any doubt, the efficiency of AWS web services in deploying a small business is right on top. You can speed up your business operations, do proper marketing of your business, you can afford to offer your customers not only a digital platform by way of an app or website but also give them an opportunity to make digital payments. You got to manage everything related to your web infrastructure through the cloud itself; you maintain its health because AWS cloud computing services continuously and automatically monitor it without your intervention, and so on. It makes the whole process appear less confusing and complicated technically, works without any time-lags irrespective of the magnitude of the traffic it has to deal with on a daily basis. Point of saying so much about AWS is to break the wrong notion that only large businesses need services of AWS, no, as a small business, you, too, can make maximum out of your business once you deploy AWS managed services in your company.
With the help of IT outsourcing services at Signity Solutions, you leap into the new potential markets to reap in its untapped benefits and strengthen your market presence globally. We are a mobility service provider of high reputation in the domain. With our AWS certified developer, see your business soar to new heights..