Custom E-commerce Platform is Better for Long-term Strategy.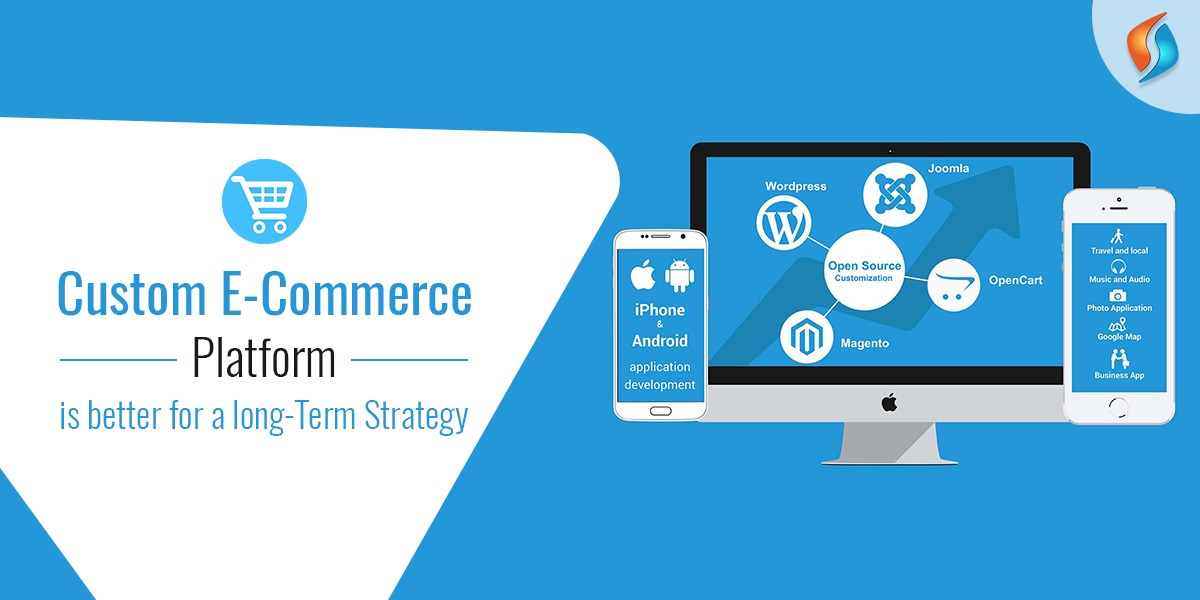 In today's modern world when technology is at our fingertips, e-commerce is developing as a great option for businesses to go online. There is a great increase in demand for online purchasing. A recent survey has revealed that 60% of people in the US are purchasing goods online. And this trend is only going to increase in the coming years. E-Commerce has completely revolutionized the way companies are doing business. Also, the concept is expanding tremendously because of the flexibility and the range of benefits it provides to the industries as well as customers. And to meet the requirements of the custom e-commerce platform, the demand for custom web development services is thus, on the rise.
Now the question is "How e-commerce business runs?" Every online store needs a platform that powers its website. The custom web development solutions help in creating a competitive online store that gives businesses an upper hand in capturing the global market with the help of internet. And the skilled and experienced e-commerce programmers and developers of a custom website development company will provide an interactive, adaptable and omnipresent stature to one's website that will be beneficial for the businesses in the long run.
Most Popular Custom eCommerce Platforms:
1. Shopify
Powering more than 5 lakh businesses and having nearly 1 million active users, Shopify is currently one of the largest and best-known e-commerce platforms. Also, it is one of the most customizable platforms as it offers a lot of flexibility. The users can thus, fully customize their online stores and manage their products and inventories.
2. BigCommerce
It is a highly customizable platform that provides user themes and templates to build one's website. As different businesses have different demands for prices and packages, BigCommerce is highly efficient in building tailor-made websites for online stores.
3. BigCartel
The aim of BigCartel is to make online selling easy for small stores. It provides a number of free themes and the add-ons do provide some flexibility to the users. Moreover, it is a coder friendly platform that gives it an edge over others in the market.
4. Magento
It is a highly popular e-commerce platform that is quite affordable too. Because Magento provides free and paid themes to its users. The free version of this platform is beneficial for small businesses. It saves them a lot of money in establishing their online stores. The Magento development companies are quite in demand nowadays because of the benefits this platform provides.
The top trends in custom web development services are definitely a thing to look out for. Let's see how these custom web development solutions of a custom web development company can be beneficial in a long-term strategy for businesses.
Advantages of Using Custom eCommerce Platforms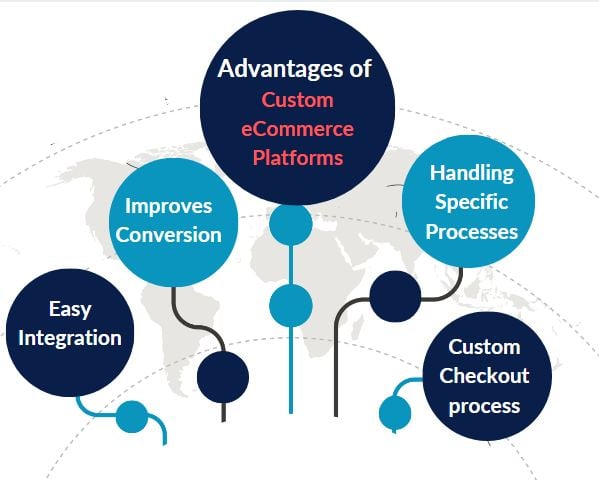 1. Improves Conversion
The custom e-commerce platforms allow companies to provide world class customer experience to their users. This leads to a loyal and increased customer base which in turn boosts a company's revenue. A customized platform provides to-the-point information of the product the users are searching for. This significantly reduces the bounce rate and increases the conversion rate.
2. Handling specific processes
There are many processes involved in online businesses that must be approached in a unique way. A good website development company will equip you with the custom e-commerce platforms. As a result, you will become capable of handling issues like checking a customer's credits before he/she makes a large purchase.
3. Easy Integration
Seamless integration between business systems and an e-commerce platform is a must for any online company. A customized platform allows for proper integration that is extremely beneficial for the digital marketing services of the company in the long run.
4. Customizable Checkout process
One of the benefits of custom e-commerce platforms is that it allows businesses to modify the checkout process according to one's business requirements. Different companies have different priorities. As some need customer specific pricing while others want to process purchase orders. The custom e-commerce platforms are a great help in such a scenario.
We provide the best custom web development services!
As can be seen, the custom e-commerce platforms are clearly one of the best options to expand your business globally in the world of internet. So, if you wish to be the big daddy in the field of e-commerce, Signity Solutions is at your service. Consider outsourcing to India and hire the best custom website development company in India. With years of experience in online marketing and a dedicated workforce, we will give our best in understanding and fulfilling your goals. Feel free to reach us here and we will revert back at the earliest.