How Custom Web Development Services Boost your Sales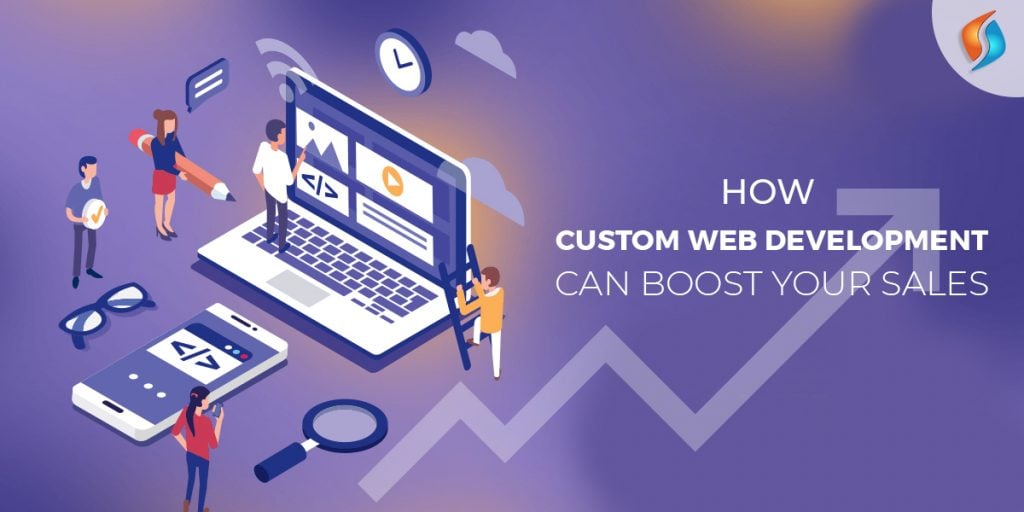 What's better than surfing a website that is well optimized and offers a large variety of usage? This is the perspective that users have in their mind for web surfing. If you run a company, you will know the importance of a website. It is that part of your business that is available 24*7 throughout the year.
The website plays a significant role in the success and failure of a business. A well-optimized website will help you to cover a more prominent and larger customer base. But how can you get better optimization and reach?
It is the question that every business owner has in their mind. A straightforward answer to this question is to get the help of custom web development services.
Yes! Custom Web development solutions are the need of the hour. A custom-designed website can help you to grow your business and increases the sales manifold. One might wonder how web design will affect the sales of their business.
Well, you can check out websites like Flipkart and Amazon that solely run because of their well-designed web pages. There are various facts and tricks as to how you can boost your sales by custom web development services.
So, before jumping into these tips and strategies, let's learn the basics of custom website development.
What is Custom Web Development?
Website development is the heart of any organization's communication sector. The term 'web development' primarily refers to the work which is related to developing websites. Websites are hosted on the internet to make them accessible by people all around the globe. Custom Web development is a process that comprises of many aspects. When all these aspects are utilized in the right proportion only then it works correctly. Some of these aspects are:
Web design
Web content development
Client and server-side scripting
Network security configuration
The term Custom web development means that the webpage goes for development according to customer needs. You can get a customized webpage however you like.
Why get a custom website development?
You might feel that your website is up to the mark and will entertain the customers. It is excellent if you think this way, but the harsh truth is even a website that is 3-6 months old will fade away in the search results. So, here are some of the on-point reasons as for why you should get custom website development:
Customized web development will help you with that much needed great new look of your website
It will help your website to rank higher in the search engine results because it will offer a better SEO.
Custom Web application development services can assist you to fix those navigation issues which will offer a better interface.
With all the new things into play, the optimization will help your website to offer a better user engagement system.
How to boost your sales with Custom web development services?
Custom web development is the latest trend when it comes to digital marketing services. Companies are getting their websites upgraded and updated according to the latest trends. It is essential to be up to date otherwise your business will take a significant hit. This is because most of the masses like to interact via the internet. These are some of the things that you should consider while getting your website customized.
1. Attract your Customer base
When you get a custom website, you have the power of choice in your hands. Do a well-researched analysis of the subject and the market you are dealing in. Use this data by sharing it with your offshore software developer; this will help him to develop your webpage according to your needs. For example, if you are a company that deals in baby products, your website should have an adorable vibe. If you know your customer base, the developer will offer you ideas that can make your website more persuasive. This will boost your sales manifold and increase your revenue in no time.
2. Build Brand Identity
With a custom website development, you can build a website keeping your customers' needs in mind. It helps you establish your brand as per your customer expectations. A custom-built website gives you impressive consistency across your other digital channels and physical entities. It provides fluid continuity in the customer journey—whether it's from your website to your storefront, your website to the client meeting room, or your website to the package that arrives at the customer's door.
Remember, the website is the first and last impression of your brand, which helps customers to decide to buy your product/services or not. And here, a customized website enables you to build a distinctive first impression in your customers' mind, which later translates into a product sale, a reservation, a non-profit donation, or any other business goal set by you.
3. Place anything anywhere you want it to be
Getting a custom website development is an excellent opportunity for you to use that hidden artist. Choose any pattern or theme that you like and feel good with. This will help you later on when you choose to manage your webpage by yourself. As, you will know everything and their placement, updating the information will become quicker. Choose the details and ask your developer for your requirements. Custom website development companies in India are good at these kinds of things and will assist in a significant way.
4. Get a CMS for your website
Custom web development opens various paths for a person to get the best out of it. CMS or customer management solution is software and feature that you can get with a custom web development service. It will help your customers to reach out to you in a much easier way. This will kill their hassle of wandering on the website. With custom CMS frameworks, comes into the play, you will get the best output from the customers. This will result in better customer relationship development and will affect your business in the best possible manner.
5. Get a flexible website
Flexibility in a website is an essential trait to have, and it can work wonders. Having a flexible website will allow you to add or replace any product or thing from it without any problem. You can change any product that you want or don't want in your website with ease. This is the thing that helps those people who do not wield technical knowledge but want to work by themselves. This will help you update your website whenever you like, and thus, it will save both your time and money. It is a better way to interact with your consumers too as you will be changing with the advancing world. Getting a flexible website development services from the best company will surely bring a charm to your sales.
6. Get a fast-paced website
As per recent statistics, for websites that are attractive and well-designed but still not getting the best responses, the reason behind is the high page load time. A high page load speed website makes users tedious, and they switch to another site because they don't want to wait for anything. If you want to boost your business sales, you need to optimize your website for images, jquery or CSS, etc. So make sure you have contacted the right custom website development company for your website that offers you the best web development services with website speed optimization.
7. Get Responsive Design
Today, customers spent an average of 3-5 hours per day on mobile phones and tablets. So you can't afford to miss the responsive web design services that are the best way to improve user experience. A website that has responsive design automatically adapts your page to whichever device is being used to access it. With responsive web development services at your disposal, you get a responsive website which enhances user experiences that can boost your sales figure.
With customized web solutions, you will be able to build your brand name in the market, which in turn will boost sales for your business. Signity Solutions, a leading web, and mobile app development company can offer you the best custom website development services. Get a free quote from them today!!