Defining ERP Implementation Road Map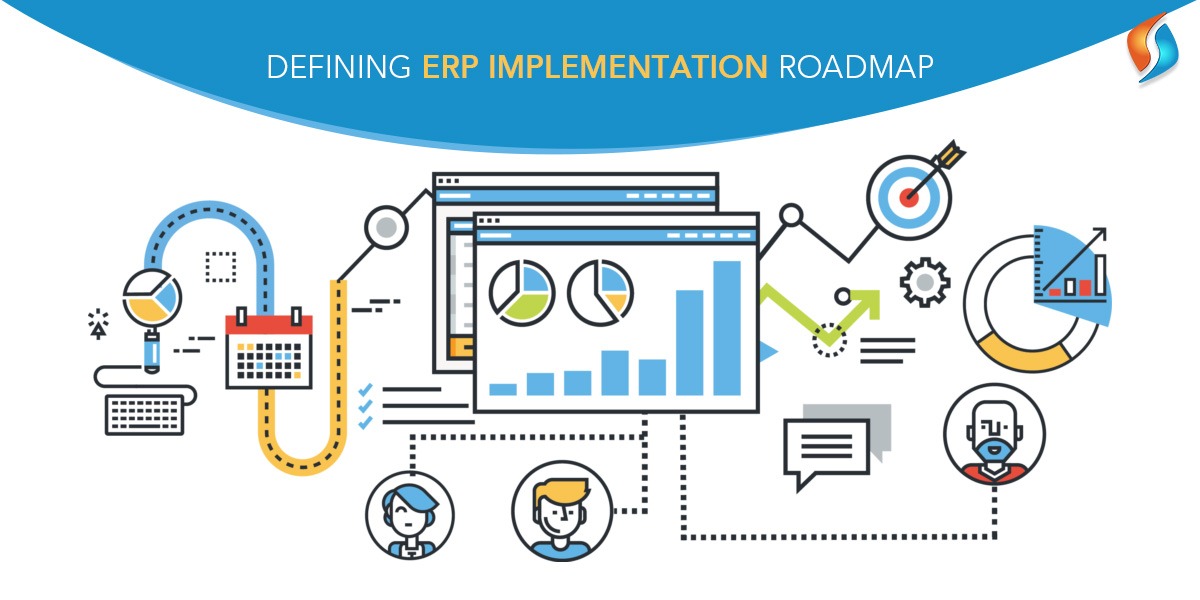 At Signity Solutions, we comprehend the importance of choosing the right ERP system software. It, indeed, is a time-consuming process – also when it is implemented, it can be pretty intimidating.
ERP aka Enterprise Resource Planning solutions transfigures companies by streamlining core business processes. Still, businesses endeavor to implement ERP systems and understand how it works.
As per Manufacturing Business Technology, "Because 74 percent of ERP projects experienced cost overruns in 2016, accurate planning and evaluation are key."
So, that ratio clearly states that most of businesses don't understand how ERP is implemented.
What is ERP Implementation?
A process that examines the current business practices, calculated planning, restructure operating processes, software installation, installation testing, change management, support maintenance, and even user testing along with many other business processes. However, ERP implementation is not a one-time event; it is an on-going procedure that businesses need to invest time in.
Steps for an Effective ERP Implementation
So, what are the steps to successful ERP implementation? Since businesses are still skeptical about ERP implementation, there is a need to understand the steps that will end up in expected outcomes.
1. Step in with RESEARCH
Well, just like any other business process, ERP implementation begins with research too. What's the need to implement ERP? Do you have any scope and vision in mind for ERP implementation? And, whether ERP implementation will serve you with some benefits or not? In short, there are multiple questions to be answered to ensure the ERP implementation is accurate as needed.
Besides, an ERP implementation team must be formed with the purpose to communicate effectively, impart accurate knowledge, and commit to training everyone involved in the project, right from the start to finish.
What does ERP Implementation Need to Do?
Firstly, current business processes should be prepared and scrutinized. After that, check how these processes are rolling from one department to another. While figuring out these processes, you will even identify all potential shortages, errors, or problems that might be creating trouble for the teams besides finding out the missed opportunities with the customers.
The foremost requirement is to comprehend existing business procedures, which will further set objectives and aims for ERP implementation. The success of ERP implementation even relies on how specific are you about setting goals for this implementation. What are the performance indicators? What are the expected outcomes that you wish to achieve? You will have to be precise about the requirements of ERP implementation.
Your research part even includes figuring out a reasonable budget and time. Don't develop false hopes with the ERP implementation, rather set a sensible timeline and budget for completing the implementation process.
Pro Tip: Pick employees that are highly influenced by the ERP software implementation. You will have to put in some time and effort to figure out such employees, however, that's not impossible. Once you have figured out which employees are powerfully impacted by this system, it is now required to brainstorm them, before finally making a decision.
2. Next Comes in INSTALLATION
The next step once you have undergone thorough research is proper installation. Why is ERP implementation given such preference in businesses nowadays? Well, it allows you to estimate the current business operations besides re-structuring them over and over again as per the standard processes.
During this process, you will even have to keep an eye on automating the business processes. A blueprint has to be structured to impart knowledge on how new business practices will flow or run in the system.
Generally, the app development company will be accountable for the ERP implementation and even developing the infrastructure for the same. It includes other processes like data collection, networking facilities, etc.
Hence, the next step would be to install the ERP software and let it run through different departments of the organizations.
3. MIGRATION
Data migration is the third step in ERP implementation. It includes relocating every record and data information into the new system. Almost every organization accumulates records of their suppliers, customers, and assets. The records are generally in different formats and databases, which enhances the chances of incorporating unwanted information and errors. Data should be analyzed and edited for attaining uniformity and precision. ERP implementation should be removed before the migration process starts.
Once the data has been removed, updated, and verified, the migrant migrates it to the new system. During this step, mapping database fields, fresh databases, and data transfer is also included.
4. TESTING ERP Implementation
Test engineers are responsible for assuring the quality of ERP implemented. While testing the systems, they are responsible for testing UI interfaces, functionality, and details. The same has to be checked, whether it is applicable in real life or not.
Only if it is applicable in real-life, it will be implemented further. Otherwise, the process will be scrutinized again to make it worth the users. The test engineers will even validate the processes that flow between the different departments. The only need before making this system live is to test it thoroughly so that there is no scope of any error in the ERP system.
5. Apt Time for TRAINING
The next step is to impart training to use the ERP software precisely. Sufficient time and efforts are needed to inform employees about this software. Since some staff members will work on ERP almost every day, they must get a complete hold of the business processes in the future.
How much time will it take to complete the training depends on different factors, including the size, complexity, and features of the ERP? Besides, the users need to adapt to the ERP software, which needs some time. Hence, apt time should be given to the users to understand the ERP software.
6. DEPLOYMENT of the Software
ERP project's size decides the method via which the software will be deployed in a particular firm. The first method is 'phased,' where users switch business functions. The process takes time; however, the team can improve transitions. But when integrating ERP modules individually, it can be a time-consuming process. Another is the parallel operation, where both the systems are used concurrently.
The major reason why both systems are used is that the organizations have a backup to rely upon. Since this is the least risky method, it is highly relied upon by most organizations. However, it can be an expensive deal. The last method is the big bang, where all users are changed from existing to the new system in a day. The method is quick but may lead to operational issues.
Develop a communication strategy before ERP implementation to make it a simpler and quicker process for your firm. Make sure to impart proper training to both the users and the employees, so the ERP implementation is successful.
7. Constant SUPPORT
The go-live date is not where the ERP implementation process ends. Ongoing support and maintenance are required to make it an easy deal for the end-users. Budget and time are also required to deliver a constant support to the end-users. The main motive is to deploy constant support to the users, even after the ERP implementation is done.
Hence the users don't have to worry about using the ERP, as there is constant support from those who have implemented and tested it.
So, these were some steps for effective ERP implementation. Relying on this guide can help you in implementing the ERP in the right way. However, some newbies in the business or even novices to the ERP can make some mistakes. That's pretty natural, however, knowing a few of these mistakes in advance can save you.
Mistakes While Building Your Company's ERP
ERP is the ideal solution for people running businesses in modern times. ERP manages every department, right from sales, HR, finance, and almost every other department. It saves a lot of money and time since ERP makes everything accessible in one place. But avoid these mistakes to ensure that everything you do is on track.
1. Forgetting to Incorporate Data Analytics
A reliable ERP is the need of the hour – it should be automated, self-driven, and must use intelligent data analytics. Not incorporating automation of data analytics into the ERP implementation process can be impacting the business negatively. An automated ERP that uses intelligent data analytics is easy to maintain, is flexible enough, and can be modified anytime. Since
2. Misalignment of Business Objectives
It is pretty easy to overlook the importance of finding apt alignment with business goals. One needs to understand that it is vital to gather requirements across different departments to understand ERP implementation needs. In case, you are also building an ERP for your business without aligning it with the business objectives, it would not be easy to attain expected outcomes. Hence, align ERP development with the business objectives for better results.
3. Over-Reliance on ERP
Some organizations overly depend on the ERP system. That is the case of being in an 'ERP paralysis' situation. That is bound to happen, as completely relying on a system will only put you in the situation of being helpless, either when the system is down or the network is lost. Hence, overly relying on ERP is not recommended.
4. Unable to Define Workflow to All
There could even be a case where not all departments of the company understand how to use the ERP system. They might not even comprehend the benefits of ERP implementation. That can be a big failure for a business, as being unable to define a workflow to everyone in the department hurts the business. How would the employees perform, when they don't even know how to operate the ERP? Unless the process is aptly defined by everyone within all the departments, ERP development and implementation will not bring the best outcomes.
5. Underestimating Apt Resources & Time
It is essential to be precise about the time and resources required for building an ERP. Undervaluing the fact that both resources and time should be planned is a big mistake to commit when developing an ERP and implementing it. Invest time, efforts, and cost required to develop an ERP for the business. if exact estimation seems challenging for you, do seek help from the experts, or someone who has already worked on ERP development and implementation. Hence, undervaluing the importance of resources and time can halt your ERP's success.
6. Not Focusing on the Employees
What's the point in building and implementing an ERP, when you are not understanding the needs of the end-users, i.e., the employees? Organizations mostly focus on getting buy-in from the management team. However, the focus should be on the employees. After all, they will be using it the most, right? So, shouldn't businesses focus on imparting training to the employees about the same? Of course, they should. And, in case they are not, they are committing one of those common mistakes that many organizations do when building the ERP and implementing it. You will have to incorporate everyone from various departments, including logistics, finance, HR, sales, IT, and every other department to make ERP implementation work for you.
7. Zero Support from Senior Leadership
Well, that sounds scary, as having no support from the seniors or experts in ERP is a great loss. This is one of the biggest mistakes that organizations commit when developing and implementing ERP. The upper management should be highly active in the process of ERP development and implementation. If not, the ERP is not likely to behave the way it should. Be sure to attain sponsorship and handle expectations throughout the process of ERP development and implementation.
8. Avoiding Re-Engineering opportunities
One of the most common mistakes is to avoid the opportunities to re-engineer business processes as you develop them, or even implement them. The ERP implementation phase is just the right time to re-engineer business processes within the organization. Inefficient business processes should be figured out, utilize ERP modules, and make these business processes more efficient to deploy expected outcomes. Since ERP implementation is a big step for any organization, make sure to make the most of it
The Takeaway Message
A successful ERP implementation can do wonders for your business. You can make your company do the talking and make a mark in the competitive market. So, do you wish to implement ERP and get ahead of your competition? Want to go a notch higher by incorporating the ERP solutions into your business? Well, look nowhere when Signity Solutions is here. We give our best in understanding and fulfilling your goals. Feel free to contact our IT outsourcing services, and we will revert at the earliest.