How Can Developers Earn Money with Mobile App Development?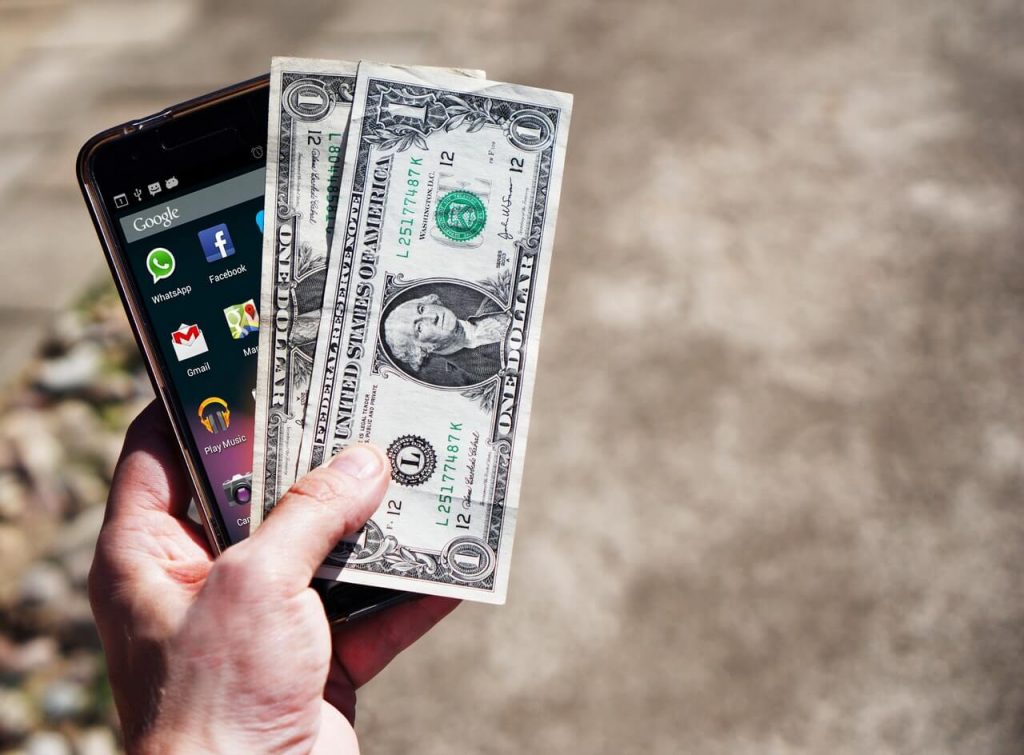 Everyone wants to earn money and to be more precise, quickly. Nobody wants to wait for a month for that glorified paycheck. Entrepreneurs of today lookout for the easiest moneymaking channels that are available online. In this way, the leader stumbles upon a credible idea.
App development is one of the most sought-after careers at present. App development has a lot of scope for earning money if a person has enough technical know-how. The app developers must be able to develop an application that can become profitable in the long run.
Various mobility service providers offer a powerful platform for this. This platform consists of all web tools that can help developers earn money in a much more comfortable way.
According to an independent survey, an average human spends about 5 hrs a day on the smartphone.
It is a cumulative screen time of scrolling social media or surfing the internet. Harnessing this enormous screen time is what app developers aspire to.
The global mobile app development revenue will touch $100 billion marks by 2020. The current market share of $75 billion is also not discouraging.
There is stiff competition between iOS developers and Android developers. Though Android app development has an extra edge given its open-source software and scope for modifications. But as per the industry insiders, the Apple App Store earns the double Google play store. It is because the Apple App Store has more paid apps than the Google play store.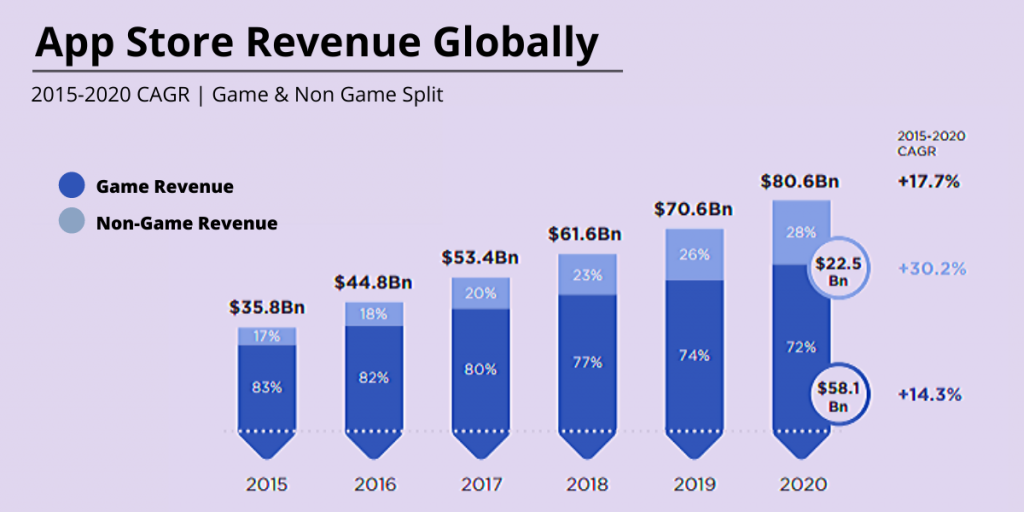 Thus, no matter demand is higher for Android app development, the revenue generated by Apple is greater as the users prefer paying money and using the application.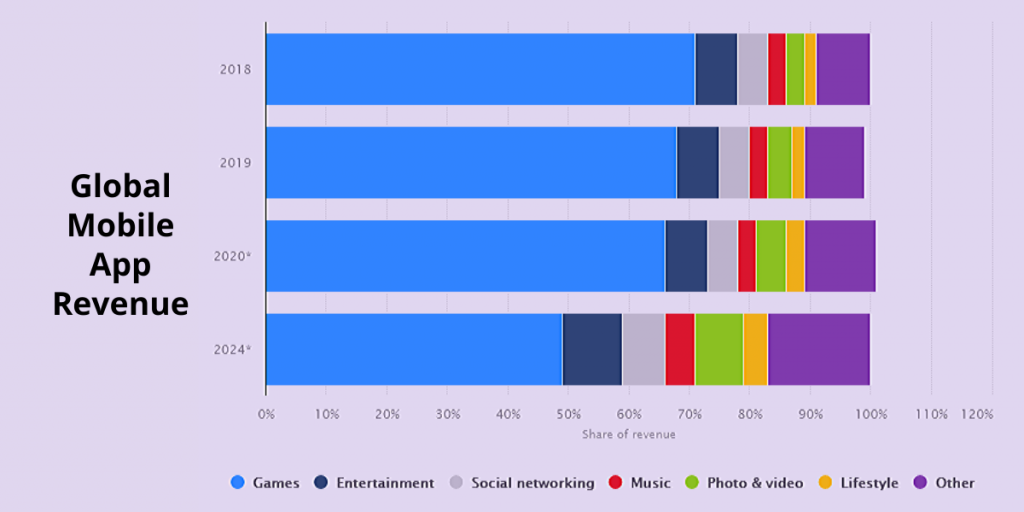 It is a common concern in mobile app development, whether the app is paid or free. If paid, whether people will be willing to buy it? If free, how will the company benefit from the application? Whether people will prefer in-app purchases or the paid app cost should be kept low for a long time returns?
These questions are definitely going to arise, and entrepreneurs need to do thorough market research to decide the course of their actions.
Let's face it; free mobile apps guarantee more downloads than paid apps will ever achieve. But paid apps guarantee long-term results. Let's see various points that might help to decide for the entrepreneur.
Mobile App Development: Key Points to Consider
1. In-app Advertisements and Endorsements
We are often irritated by in-app advertisements while we play games or listen to music. However, if the application is free, advertisements are the primary source of income for the app developers. This income depends on the traffic and customer type specifically.
More is the number of downloads; more will be the income we can generate from the app. In this way, a free application can earn a fortune easily.
2. Decide on whether to be a Free or Paid App
There might be some companies who are skeptical about launching a paid app. They fear its failure as there is an immaculate number of Android users who prefer a free app of the same kind to a paid app. The company can provide a premium version of the free app.
After the customer gets used to the features of the free version, it is his discretion whether he wants to switch to the premium version where a one-time payment gets rid of irritating ads and functions, or continuing with the unpaid variant.
We can provide the link to activate the premium version within the app itself, which redirects to the payment checkout page. To give a paid app, the mobile app developer needs to provide a demo of his services in the form of a free app.
Suspense is key in business, and we must keep the user wondering about the possible features in the paid variant of the app. It will force him to upgrade to it.
This is one of the most innovative marketing strategies applied by the mobility service provider, where a paid app is available with the free app as its upgrade. It helps in luring the same customers to buy the paid app as they have an idea about what they are going to buy.
3. Realize the Value of purchases within the app and low-priced Apps
An app provided at a lesser price is a loss-making investment. At the same time, free apps with in-app purchases can be more beneficial than a budget-paid app. Moreover, customers prefer using the free app with in-app purchases as people have an association with them by then.
4. Keeping CPI in mind
CPI means cost per install. It refers to the amount one has to pay a third party each time the application is downloaded or installed. It lies somewhere in the range of $0.80 to $3.00 which is quite nominal considering a large number of downloads.
A paid app, as in iOS app development, assures guaranteed money, but the cost of maintenance and timely updates are expensive for mobile app development agencies. With the use of the CPI network, and advertisements the profitability of the app goes substantially higher.
5. App development future
The mobile market is ever-growing. Mobile application development companies in India are using the Indian population for maximum conversion of their resources. Today, one of the top Android app developers can earn a rough amount of $5000 monthly, and the same amount by 25% of iOS app developers.
Nowadays, as we augment everything with software and operating systems, i.e. TVs, refrigerators, and stereo systems; the mobile app development agencies are playing it hard to be on top.
The future of mobile app development is bright, and each day brings a new morning of an update. And we can expect the market to expand further with a huge possibility of integrating blockchain technology and AI development services with it. Some companies have already started using AI in mobile cameras and text recognition.
Now the revenue provision for each application is different. Let us understand it:
1. Free Apps
Free apps are highly popular among mobile user groups as the greater market share of Android devices. Such apps don't charge any fees from users; however, their functions are limited. The primary method of monetizing such apps is through advertisements and in-app purchases. Companies like Unity, and AdMob are leaders in mobile app endorsements.
2. Freemium Apps
We can place these apps between the free and paid apps in the market for mobile app development. They are free to download, and we can access the various premium features only for a nominal fee. Examples are Spotify, which provides day-to-day access for people who don't like the commitment of buying the premium version.
3. App with in-house purchase options
Mobile phone games belong to this category where the download may/may not be free, but various levels-ups, powerful features, and exclusive game skins are available only by paying a certain amount of money.
Many games due to their fan following often excel in this trade; however, there are plenty of examples which succumbed to failure. In a likewise manner, the mobile app development companies often fail to cater to the prospective market and hence they fail in attracting their customers.
4. Upfront Paid Apps
These are the apps which we develop with the sole motivation of earning huge profits. We cannot download these apps without paying a specific amount of money. Moreover, they have a direct approach to providing quality software to those who are willing to pay. Various apps have in-app purchase options to access even better features that could make it stand out of the free app.
Conclusion
To summarize, the app developers need to study the market and realize the importance of the app. Proper collaboration with mobility service providers is needed to study the market growth and the possibility of launching another application within due course of time. We at Signity Solutions, have been helping businesses all around the world to develop the most amazing mobile apps.
Signity has an in-house team of expert coders, programmers and developers to handle app development requirements. So, get in touch with our team for IT outsourcing services today.