How can I Find the Best Custom Web Development Services When it Comes to Outsourcing?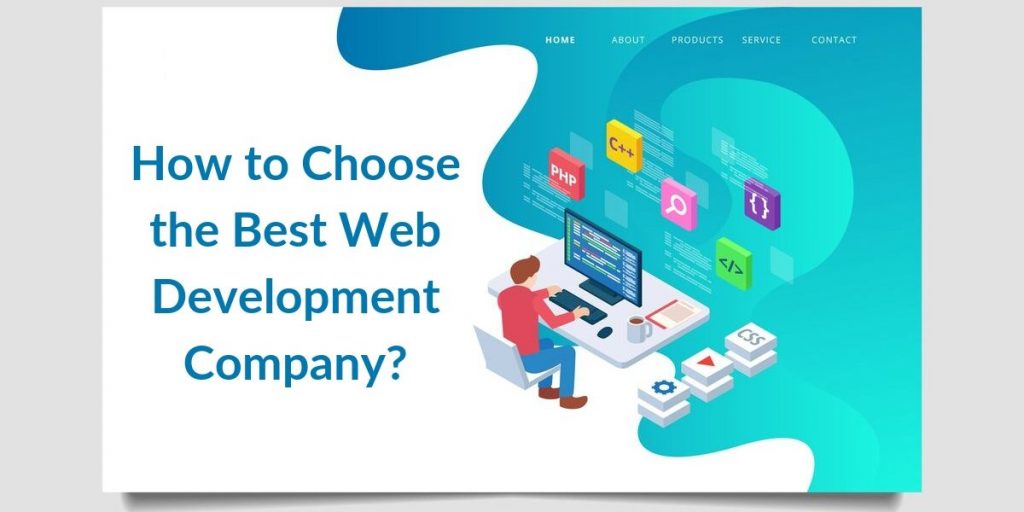 Whether your business website will prove to be a success or a failure; it all depends upon which web development company you are associated with. You have just started your dream business – congratulations! From researching the demographics of your potential customer base to understanding customers' buying habits, figuring out the money, applying for a business license and renting office space, you may be doing all the important things to make your business go smoothly. Besides that, one thing you're probably thinking about as a business owner is "where I can find the best custom web development services to create a professional website for my business."
Your website is the face and backbone of your business. If you want your company to be successful in the modern marketplace. Then, you must have a website with engaging content and latest back-end technology.
If you are planning to outsource your web development, many sources can help you search for an agency that will fit with your business goals and identity. You can find through ads, via a social network such as LinkedIn, or lots through direct referrals. Moreover, there are several great websites for finding web developers and companies. Such as Toptal, Hired, Upwork, Codeable, Fiverr, Freelancer, Gigster, and a lot more.
Selecting a custom web development agency for your business has numerous benefits. It helps you improve business credibility, share your brand story, enhance your online presence, build a strong relationship with your customers, promote your products & services, boost business reputation, and generate greater ROI. But, these benefits will only be reaped when you're able to choose the right outsourcing companion for your business.
Exceptional web developers and companies are high in demand. Unfortunately, choosing an ideal custom website development services provider for your business is not a piece of cake. There are many important factors you need to consider, not all of them obvious.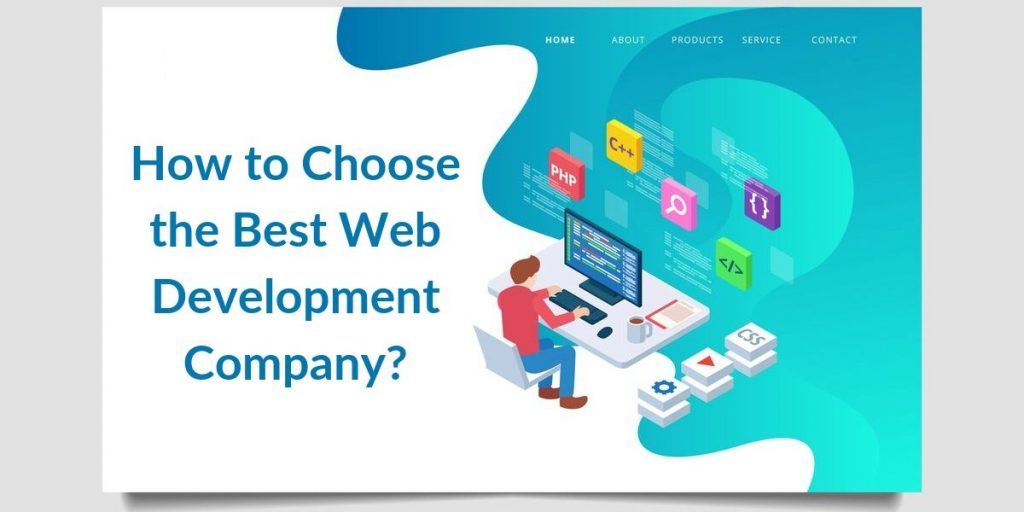 How to Choose the Best Web Development Company?
As there are a plethora of web development agencies, choosing the right one is always a challenging and time-consuming endeavor. If you hire the wrong company for building the foundation, your project will surely fail. Keep reading while we're sharing top expert-recommended tips that you need to follow when searching for the best web development company.
1. Check out the Company's Work Portfolio
Have a look at the portfolio to check the quality of their work. This offers a complete picture of the types of projects handled in the past, the development & design skills and the type of clients they work with. If possible, try to choose a company that has a good experience working with your business types' clients. That way, you can be sure that they will understand the needs and challenges of your project and help you develop a great website.
2. Read the Clients' Reviews
The best way to check out the trustworthiness and integrity of a custom development services company is from reviews from their previous clients. Many clients leave their reviews on the website, social media channels, Google, Yelp that gives you the complete picture on whether your developer partner is preferred for projects similar to yours. The reviews may be biased, so it's advised to read more than once before making your final decision.
3. Evaluate the Reputation of the Company
Checking a company's overall digital presence gives you an idea about its reputation and quality standard. You can explore their website, social media channels, and look for design, features, and the quality of content they publish. If a company has great credibility and is following the best practices, you can invest your money on it.
4.

Ask For Client References
A professional website development agency must have thousands of previous clients. It is a great idea to contact a few of them and ask about their experiences. If you find that most of the clients are satisfied with the services provided, you can trust this company. If past clients are not satisfied, it's better to keep your search continues.
5. Cost and Quality
Although you will want to work with a company that charges you less. But, it's important not to compromise with the quality. You'll find many companies that promise to deliver your website at an affordable price. But you should focus on quality rather than cost. A professional agency can charge a bit higher. But they have the talent and techniques to design a website that will meet your unique requirements successfully.
Check out the infographic: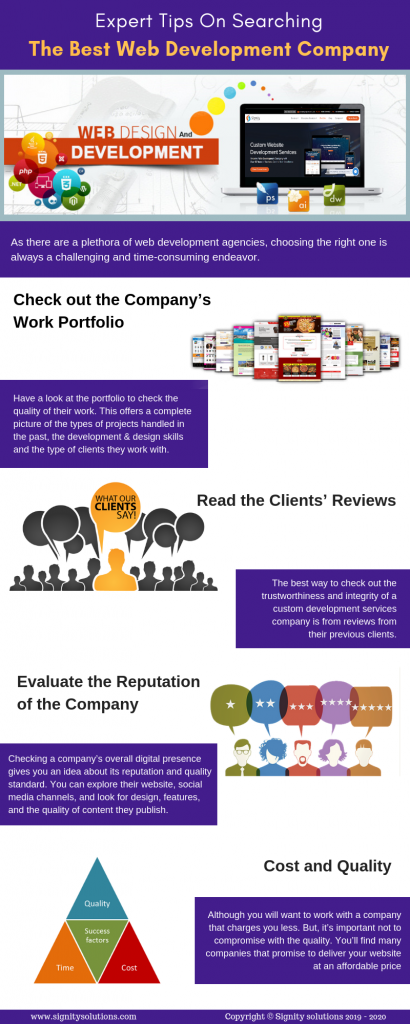 Other Important Factors:
Other important factors you should consider before hiring a web development agency are:
Maintenance and support

Analyze how they communicate

Professionalism and industrial knowledge

Size and team

Working process
By now, it seems you've learned a lot of important tips to find a good company for your website development project. But if you want to outsource to India, then we can make your task even easier.
India is home to worlds' many top IT companies. It offer most advanced custom web design services to their varied clients across the globe. As per the NASSCOM report, "almost half of all fortune 500 companies choose to outsource IT development to Indian outsourcing agencies." Favorable government policies, pricing flexibility, fast-developing infrastructure, and immensely talented professionals are some of the many reasons why outsourcing web development to India is the best option for your business.
Reasons to Outsource to India
If you're looking to build a technically advanced website, Undoubtedly, Signity Solutions deserves to be ranked on the top. It is the leading company that offers the best website development services in India. Here are the top reasons why you should hire them if you're outsourcing to India.
Having multiple offices in India, New Zealand, and the Netherlands, this top website development company delivers the best in class solutions.

It has successfully acquired the attention of utmost brands like Samsung, Grupio, Scared Rides, and many more. Moreover, it is recognized as the top web design & development company by world's most aspiring research agencies Clutch and Good Firms.

They have the talented and experienced web developer's team. Their developers are committed to providing customers one-of-a-kind design that attracts customer's attention and makes their business stand out of the crowd. They have been providing scalable solutions for startups and enterprises for more than 10 years and have thousands of satisfied clients across the globe.

It is one of the robust and reliable web development companies. They implement the best business techniques and offer end-to-end solutions to their client's website dream.

Signity Solutions has been mentioned in various reputed website[clients]s such as Data Box, Business.com, The Manifest, Business2Community, CMSWire, and more.
Moreover, if you're looking to work directly with dedicated offshore developers' team in India, you can count on Your Team in India. Trusted by some of the biggest global brands for cutting-edge technology skills, immense experience, and reliability, this company can be the best companion in your web development journey. The company's open-source technology, off-shores web development services using Java, Python, Magento, Drupal, Joomla, React Native, and more.
They have the perfect blend of innovative technology and talented programmers for building a website with proper optimization and coding standards. This is one of the top offshore web advancement agencies in India. They offer financially savvy services that are all around coded with quality, versatility, and security.
Conclusion:
With the information included in this article, you should be able to find and select the best custom website developers and companies for your project. But you need to remember one thing – the final decision is yours as at the end of the day it's your business. Moreover, your business website' success or failure depends on the people you decide to work with. Hence, create a great strategy, take time to research, and don't hesitate to ask as many questions as possible. Good Luck!