Signity Solutions Featured by Top Industry Leaders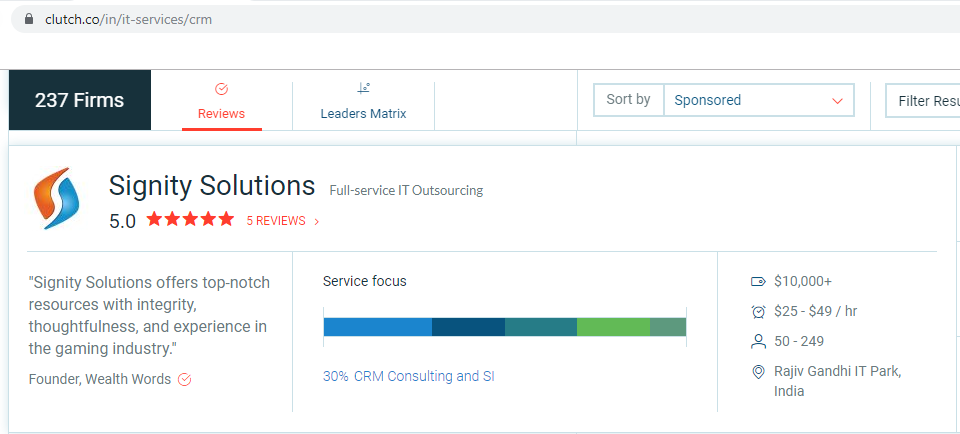 In 2009, Signity Solutions was started with a simple idea to spearhead our clients' new ideas towards innovation and offer them comprehensive customized IT solutions. Since then, we have grown exponentially. Our customer base exceeded 700,000 users in over 120 countries, with over 1,000+ enterprise clients and 80% repeated clients.
Our Main Services Include:
Our Latest Mentions:
We are honored to be recognized by these top companies for our work. These recognitions are an explicit endorsement of our commitment to solve our customers' most prominent challenges through innovative technologies and services.
Let's have a look at our top mentions:
1. Clutch:
It is a platform that provides enterprise clients with the market insights and guides them in deciding which business service or solution to choose for their projects. From its data-driven approach to case studies, and client testimonials, Clutch provides all these resources all in one place. In addition to this, they have been recognized by Forbes, Entrepreneur Magazine, The Huffington Post and Inc. for their effortlessly amazing work!
Clutch mentioned Signity Solutions as one of "Top CRM Consultants in India"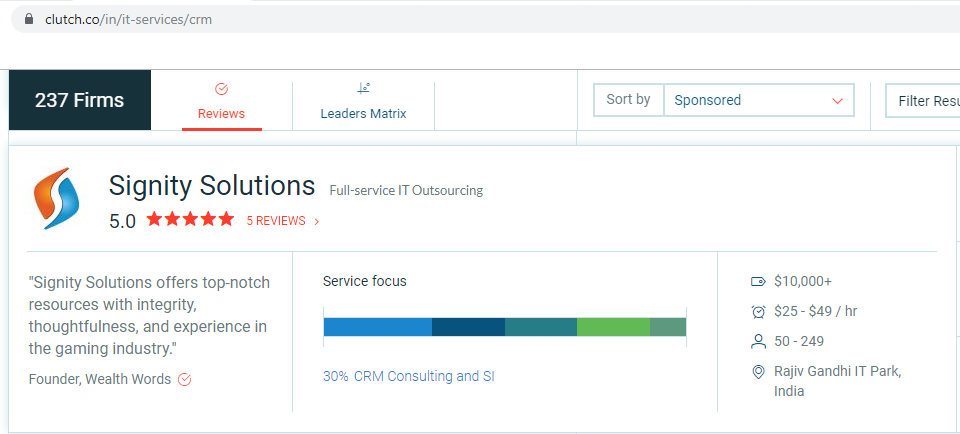 2. Manifest:
Manifest is the sister website of Clutch. They stay updated with the latest data by conducting surveys via survey apps on the consumer as well as business priorities, challenges, and preferences.
Manifest mentioned Signity Solutions among the best "Top 50 Chatbot Development Companies"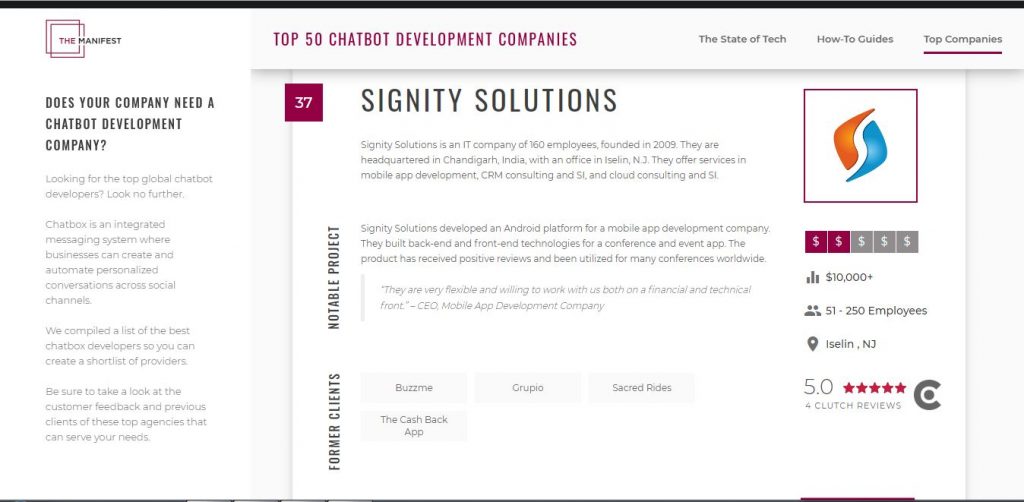 3. Hackernoon:
It is a tech media site for technologists, software developers, bitcoin and blockchain enthusiasts. To begin with, the website allows the technology industry to find unfettered stories and opinions written by real tech professionals. Besides this, they pledge to have no paywall, no pop-up ads, and evergreen content for their readers.
Hackernoon mentioned Signity Solutions as one of "Top 20 AI & Machine Learning Companies In USA & India 2019 Edition"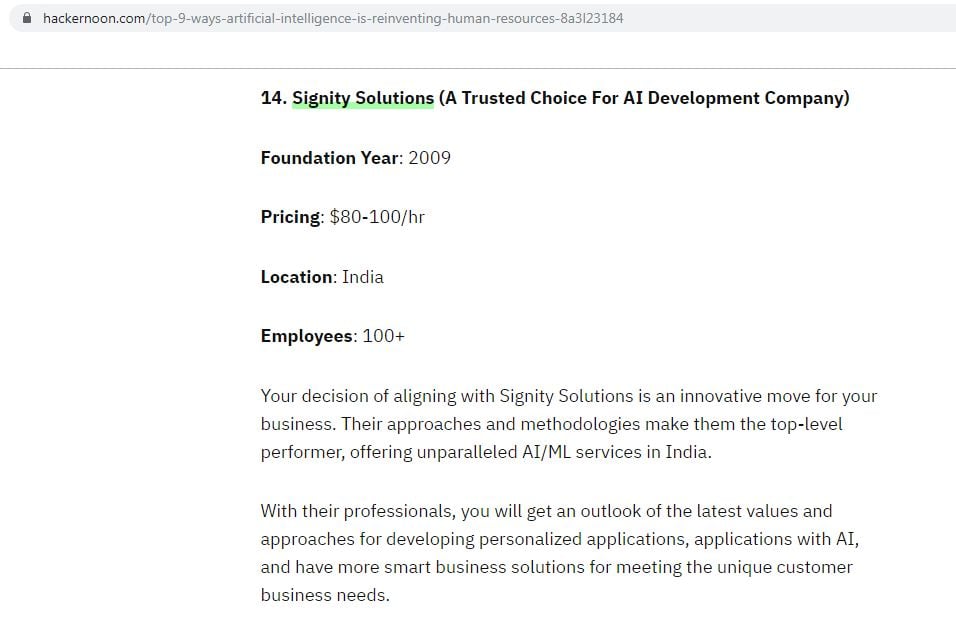 Signity Solutions mentioned as one of "The Top Big Data Consulting Firms" by Hackernoon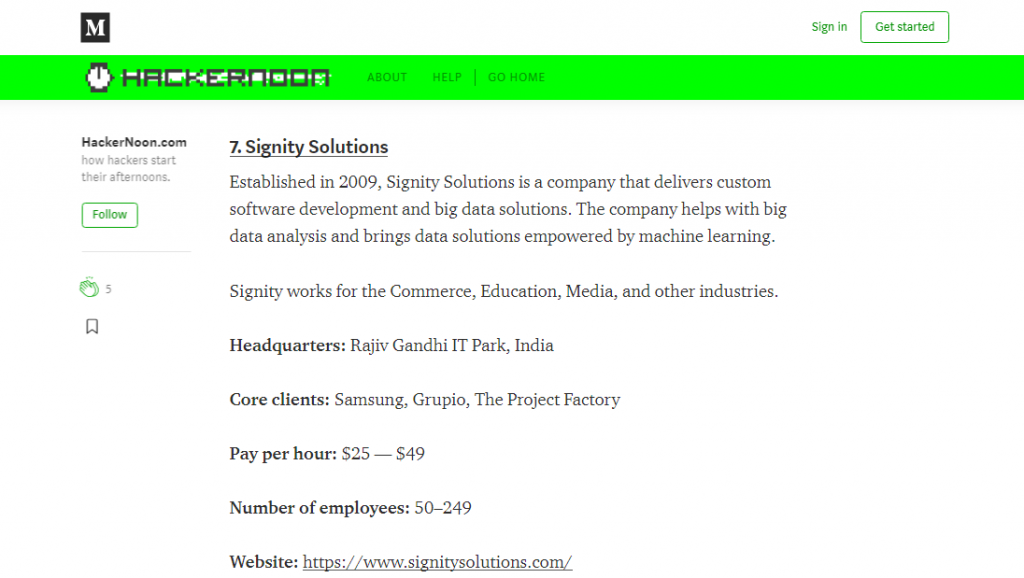 3. Good Firms:
Good Firms has helped many businesses research the best software service companies and products. They provide authenticated reviews and research conducted on the latest business trends to various business owners.
Good Firms mentioned Signity Solutions as "Top Mobile App Design Companies in San Francisco"
4. Tech Reviewer:
TechReviewer is one of the best analytics hubs for listing the best software development companies in various business domains. They conduct proper market research and analysis before publishing the list. Furthermore, their audience includes business leaders, CTOs and entrepreneurs who are looking to hire software developers for their projects.
Tech Reviewer mentioned Signity Solutions as one of the "Top 30 Node.js Development Companies"

4. Business Insider:
Business Insider is a fast-growing business website with deep financial, media, tech, and other industry verticals. The website covers everything from business, politics, strategy to science, and life. In addition to this, they provide valuable content for their readers.
Business Insider mentioned Signity Solutions among the "Top B2B Agencies in India Named for 2018 Based on the Quality of Their Customer Feedback"

5. Software World:
SoftwareWorld is one of the best software review websites to find the best-reviewed and top-rated software products for your business. Also, it provides the latest news on software development, new software, software sciences, and computer science.
Software World mentioned Signity Solutions among the "World's Top 20+ Custom Software Development Companies."

6. Top App Development Companies:
With an aim to help their audience in finding the right mobile app development company and saving their time, the company strives to look out for the top mobile app development companies in every country. Therefore, they do complete analysis of the companies to find out the skills that a particular company posses.
Top App Development Companies mentioned Signity Solutions among the "Top 10+ PhoneGap App Development Companies in Texas".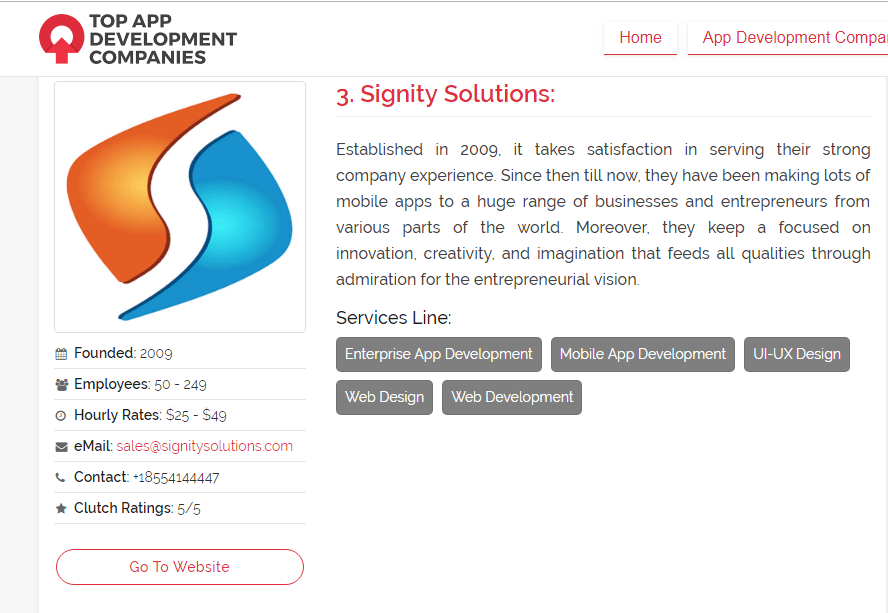 Thank you for recognizing our work. We appreciate your confidence in us. We wish to serve our clients with the same sincerity, transparency, and honesty.