How is Zoho Getting Bigger in The CRM World?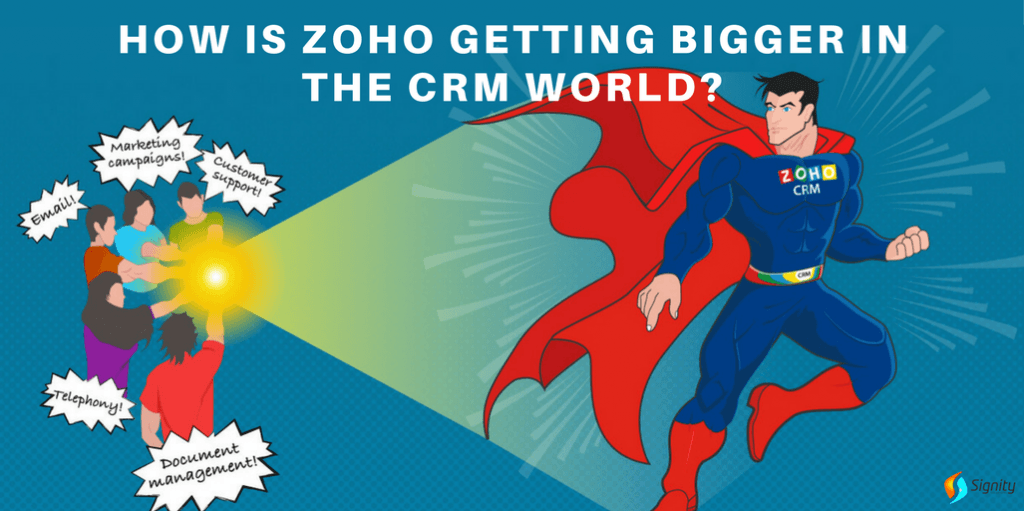 Zoho isn't an unfamiliar term in the business world. About 60 to 75 percent of the business world is aware of its role as a CRM software but sadly, many of them aren't aware of some special features that make it a little more different from the rest of its likes. To include this feature loaded software in your business, it is necessary to have a clear understanding of Zoho and analyze if it can really help you in business.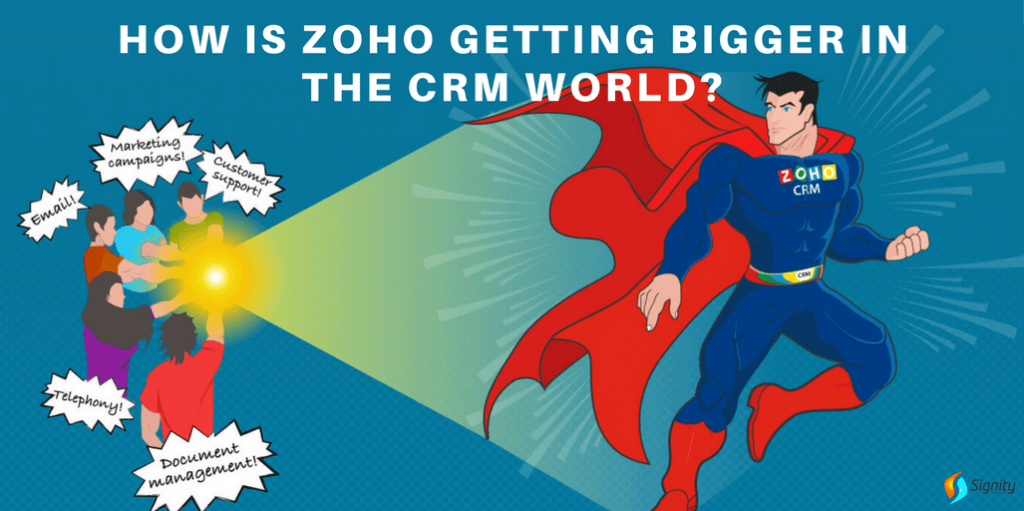 So what is Zoho?
Zoho is an On-demand customer relationship software for managing the customer-business relationship in a professional manner, giving it a polished look as compared to the conventional methods of maintaining long-term relations. The software helps you to streamline your sales, marketing, and support operations towards a single goal and that is to make a profit while becoming important in the eyes of the customers. Zoho is a free CRM software. So, it doesn't matter if you are a top-notch MNC or a startup that is yet to strike it big, cost-effectiveness ranks on the higher ladders no matter which level you operate at! A cost-effective software with premium features, let's take a look at what makes Zoho the penultimate CRM choice:
1. Channel Options:
Zoho lets you connect with your customers via any device. This means you need not really have a certain specified medium to connect with your customers. From phone calls, live-chats and emails, you can use any social media and channel to connect with your end customers. Tracking visitors, finding out what exactly are they searching for, etc. will help you manage your business activities accordingly.
2. Measure, Manage and Get Going:
The words measure and manage aren't alienated terms for Zoho users. As a business is necessary for you to monitor your performances and Zoho lets its users set a customized interface wherein the software lets you find spots where your team has excelled and where is it that you need to focus on.
3. Relationship management on the go:
Zoho can be integrated with any device and this has made it possible to literally exploit the mobile edition of Zoho CRM that gives you a chance to keep proper records of your business even when you are traveling! Simply connect to Zoho from your mobile devices and tablets and give the CRM process a facelift!
4. Automation:
It is difficult at times to manage the workflow when business operations grow and automation is the only way to solve this issue for your working force. Zoho's automation features let you operate and manage the business well without a lot many issues that you may have to incur otherwise. You can make sure that your company does not suffer due to the lack of a smooth working system.
5. Customization:
Zoho lets you customize and expand, just what you are looking for in a perfect CRM software. It lets you build your database with the help of data apps and modules. The third party integrations involved are simply a bonus that Zoho provides.The process becomes simple with your salesforce only having to collect the right data and using it the right way.
6. Productivity:
Time is precious and your salesforce totally knows how important it is to capture the right information at the right time. Zoho understands that too! Business operations are totally dependent on the right set of data. The CRM software makes sure that important information with regard to the industry in which you operate is presented in a manner that will help your personnel understand the dynamics and maximize productivity.
To summarize it all, Zoho is the perfect CRM software that understands your budget, works well with your marketing and sales force and does not lock up data. You just have to pay the bare minimum as you work and believe it or not, Zoho can simply amaze you! Need something like Zoho but unsure of how to go about it? Don't think twice! Drop us a line at info@signitysolutions.com. At Signity Solutions, get the right solution from the right team.