Zoho CRM Features to Look Out for this Year!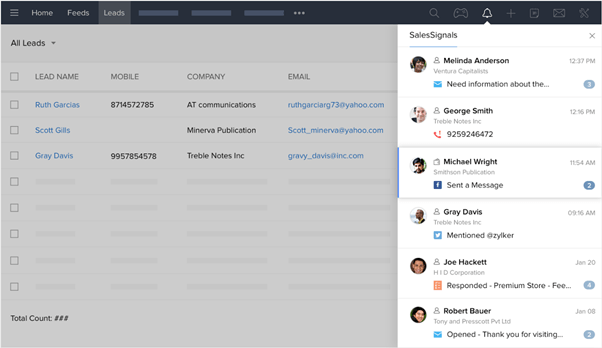 Zoho is a leading Customer Relationship Management Software that helps businesses to streamline and automates their sales and marketing tasks. Compared to other CRM softwares, Zoho is an ideal pick for a variety of business sizes. There is no shortage of Zoho CRM features, which we will be discussing next in detail;
Zoho CRM is a private company, headquartered in Chennai, India and its US headquarters are in Pleasanton, California. ZOHO is covering 6.95% of the total CRM market.
If you want to know more about Zoho CRM and what are its uses, you can check our blog What is Zoho CRM & how it can a Lucrative Choice for your Business?
"With this deep understanding of business requirements, we have crafted dashboards that decision-makers and executives can use out-of-the-box from within Zoho Analytics, a unique analytics solution in the self-service BI market.
Now, organizations can leverage AI-powered technologies via Zoho Analytics, to correlate data that traditionally resided in departmental silos, into meaningful metrics that span across business functions. For example, being able to determine the impact of marketing spend on new sales."
– Raju Vegesna, Zoho's Chief Evangelist.
What are Zoho CRM's key features?
Every company needs CRM software and here we are discussing the detailed features of these applications to let you know how Zoho helps to boost the efficiency of your business;
Multichannel Engagement
Zia - Zoho Conversational AI for Sales Teams
Analytics
Real-time Reports
Make Customization
Easy process management
Sales automation
Manage your Sales Pipeline
3rd-Party Integration
Gamification
Zoho WorkDrive
Customer Engagement with SalesSignals
Let discuss these Zoho CRM features in detail;
1. Multichannel Engagement
With Zoho CRM you can easily connect with your customers via multiple communication channels including email, telephone, social media platforms, live chat, etc.
Zoho SalesInbox offers integration with all the email service providers including Gmail, Outlook, Yahoo, etc. and synchronizes with the email campaigns. It also organizes your emails according to the sales pipeline.
The live chat feature of Zoho CRM transforms your customers into interesting prospects. In addition, it manages the partners' lead in smart visibility and that helps to strengthen your ties with the partners.
Zoho Social helps you to manage all your social media campaigns using a single platform. When you get multiple social media feeds on a single platform, it helps to make easy decisions on the key focus areas. Furthermore, Zoho Social also automatically assigns the hot leads to the concerned people.
2. Zia - Zoho Conversational AI for Sales Teams
With Zoho conversational AI, Zia, the utility of this CRM has enhanced manifolds. She is the Miss Know-it-all of Zoho. You can ask anything, and everything to Zia and she will get back to you in seconds with records, stats, and details. You don't believe me, right? Well, see it yourself here! All you Need to Know About Zoho Conversational AI for Sales Teams.
3. Analytics & Forecast
This feature includes;
Analytics: The Zoho CRM includes intricate analytics that allows you to observe the sales matrix with pie heat maps and pie charts. Powered with AI, the anomaly detector widget analyzes the predicated trends with the real sales performances to offer true insights. The analytics also examines the leads in every stage in the sales pipeline.
Forecast: It forecasts revenues and allocates the target for the teams accordingly. You can view the forecasts as per the salesperson, territory, and team. In addition, the forecasting helps to track the performance of the sales department and identify the achievers.
4. Real-time Reports
Zoho CRM offers the following real-time reports that allow you to know the performance of sales, marketing, and activities:
Marketing Reports: Sales cycle duration across lead source Campaigns revenue Leads who visited your website Leads by keyword Deals closed from Google AdWords campaign leads
Sales Reports: includes sales person's performance report Deals closing this month Pipeline by stage & probability Revenue this month
Activity Tracker: Live chats answered this month Check-ins by salesperson Lead conversion across owners.
5. Customization
Zoho CRM features do include customization. This feature, allows you to create standard modules and add extra functionalities as per requirements. It also offers multi-language translation support to localize sales and marketing.
You can customize the following components with Zoho CRM:
Layouts
Sub-forms
Custom Components
Functions
Views
Filters
6. Easy process management
Zoho CRM follows a balance between data security and access given to the employees. You can assign roles and set permission to the activities and modules. It uses the Advanced Encryption Standard (AES) to encrypt and decrypt the sensitive data.
7. Sales automation
Sales automation is the most essential feature of Zoho CRM that automates the entire sales process. There are 3 elements in sales automation;
Workflow: You can easily define a set of rules to align the tasks.
Macros: It helps to expand instructions automatically from a pre-defined single instruction. It automates the repetitive and mundane tasks with a single click.
Assignment Rules: Helps you to define leads according to various sources like web forms, imports, trade shows, etc. The assignment rules in Zoho CRM helps to auto-assign the hot leads to the right person at the right time.
Related Read: How to Boost your Company's Sales with Zoho CRM Integration
8. Manage your Sales Pipeline
Zoho pipeline management is a crucial feature that manages the lifeline of a lead. Here we have segregated the sales pipeline management into the following sections:
Lead Management: This pre-defined Zoho CRM feature automatically distributes the leads among the team members. It also prioritizes the leads with the help of scoring rules. The positive and negative scoring rules. Both positive, as well as negative scoring, enables a faster conversation by segregating the leads as per industries. It also converts the eligible leads into deals with follow-up tasks.
Contact Management: The Zoho CRM contact management gives you real-time insight of the customer data. You can reach to customers and website visitors through Twitter, live chat, calls, and emails. Furthermore, contact management also helps to engage customers through various social media channels like Facebook, Twitter, etc.
Deal and account management: Zoho CRM allows you to keep an eye on the major deals. The users can also view the real-time status of the deals and concentrate on the required ones.
It permits you to view all customer-related information on a single platform. With account management, Zoho CRM users can view customer activities, pending deals, associated contacts, ongoing projects, etc. Identify important accounts and set your priorities accordingly. The built-in reports give you insights to concentrate on the valuable accounts.
9. Third-Party Integration
Zoho CRM provides you easy functionality of third-party integration. You can connect to Google Drive, DocuSign, LinkedIn Sales Navigator, Google Ads, MailChimp, HubThunder, Adobe Sign, PandaDoc, and many more with REST services.
Zoho CRM now enables you to integrate efficiently with third-party tools and apps in order to improve the productivity and performance of your sales teams. You can now synchronize a range of third party apps to increase efficiency and streamline the flow of information from different sources.
Zoho supports multiple other features that improve the functionality of the entire CRM and the connected systems. These features include the use of advanced search filters to search for specific data, customized dashboards for easily access vital information, flexible report formats that enable stronger decision making and deep insights, and a lot more.
10. Ensure your sales teams have fun while working using GameScope
GameScope is one of the most thrilling features introduced by Zoho that helps setup gamification in the form of sales contest games for individual sales reps or between different sales teams. You can outline the game rules, targets, and rewards applicable for scoring and winning game points. This is an effective means to ensure that your sales teams are engaged and motivated enough to perform well.
11. Zoho WorkDrive
Zoho WorkDriveis online file management & content collaboration tool for modern teams. It will allow you to work collectively as a team and offer a secure place to share your ideas. You and your team can create and collaborate without any fear that your ideas might be compromised. Also, no matter if you are a team of 3 people or 3000, you can effectively manage your work on Zoho WorkDrive, all thanks to its simple and interactive interface.
Read More: Zoho Reinvents Its Cloud Storage With Workdrive
12. Increase customer engagement with SalesSignals
Your business can now benefit from real-time notifications generated whenever your customer interacts with you or engages with your product. So, whenever your customer makes any reference to your products or services on social media or whenever they fill out a survey form uploaded by you, the app notifies you immediately.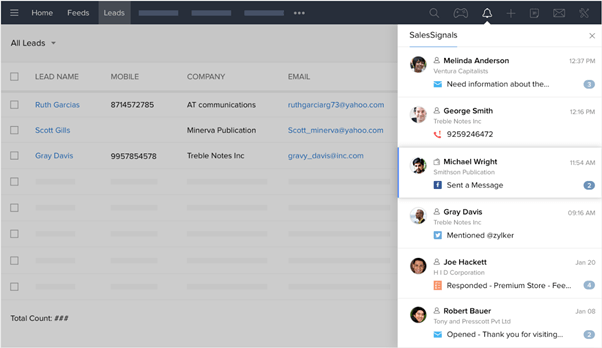 The app covers all points of contact with the customer – making you smarter in responding to your customer needs. That's even more to it – you can receive these alerts on your smartphones as well.
Final thoughts,
All in all, you can say Zoho CRM strengthens your customer management department by streamlining all the activities. It helps you to avoid time-consuming tasks. Especially, with sales automation and intelligent insights, it boosts your revenue, increases customer satisfaction, and enhances the brand.