Why Zoho CRM can be a Lucrative Business Choice?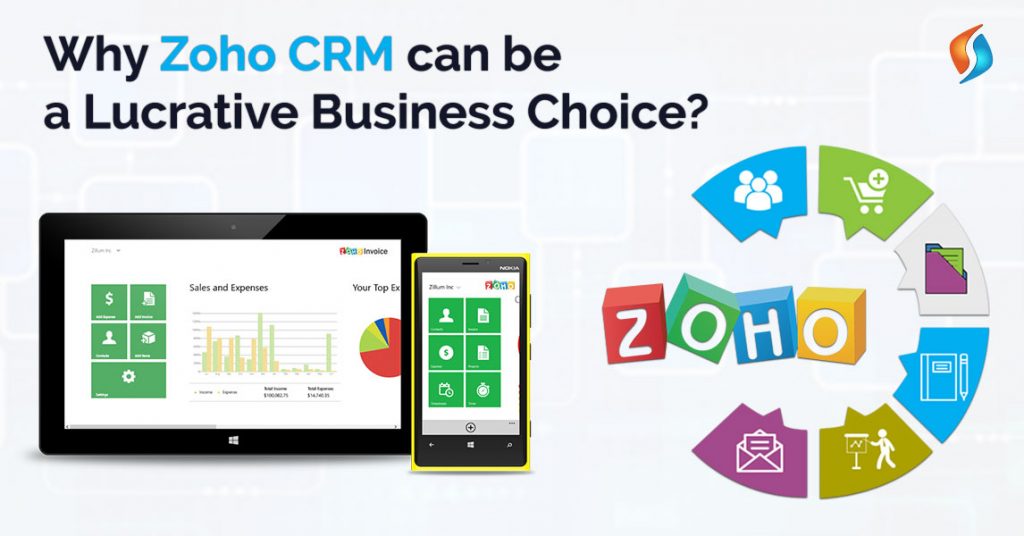 Zoho is a brand of web-based CRM (customer relationship management) system that enables an organization through sales force automation, lead management, account handling, purchase and workflow management etc. This award-winning Zoho CRM tool allows a company to track and sift through business leads, forecast sales and efficiently manage contacts so that organizations can focus on delivering value to customers and propel their satisfaction quotient higher.
There are many CRM software system integrations available in the market such as Microsoft Dynamics 365, HubSpot, Oracle CRM, Pipedrive, Salesforce integration etc. However, Zoho CRM Integration is available in both web and mobile formats. It is a popular choice for many organizations owing to the bundled features it offers.
Several organizations prefer Zoho CRM due to some certain advantages that it provides to enterprise customers and their clients. In doing so, it makes for a convenient tool for business operations. Here are some of the reasons why Zoho CRM can be a lucrative business choice:
Zoho CRM is the Complete Package
Zoho CRM integration service can offer you almost everything that a business needs to run its daily operations in current times. It is replete with more than thirty-five apps. In fact, Zoho users can extend Zoho CRM by integrating it with some of the apps like Zoho Mobile Edition, Zoho Email, Zoho Projects, Google Apps, MailChimp, Twitter, Facebook and many more. The company continues to add even more such apps. This allows the employees who use this tool to seamlessly use and transfer the data from one app to another. It leads to time-saving, improves the efficiency of the organization and makes decision making far more reliable.
Zoho CRM is a Price Competitive Proposition
One of the key advantages of utilizing the Zoho is the pricing it offers to its customers. Compared to other similar software systems in the market, Zoho CRM integration is on the lower side of pricing. It has recently released a new software suite in the market. Known as the Zoho One, it costs just $30 per user per month. What is even better is that it is billed annually and is not on a monthly cycle. Additionally, it also offers a free trial edition. With its wide range of applications and such competitive pricing, it becomes a better choice for many small and medium businesses when they go out to purchase CRM software.
Zoho CRM APIs are Open
Zoho CRM integration allows for an open API which means external end users can integrate the application into it. In this way, it gives far more freedom and ability to the customers to help themselves and use the system much more efficiently. Giving the interface in customer's hands so that they can tweak it according to their business-specific needs helps them in fulfilling their daily requirements accurately.
Zoho CRM automates the sales operations
The biggest advantage of Zoho development service is that it automates the daily sales tasks. It converts web visitors into leads and imports the prospective customer's contacts collected from external sources during trade shows, emails etc. It then matches the leads with the appropriate sales agents. This provides an automated way of swiftly converting hot leads into customers. Most of the sales operations on Zoho are single-click enabled and can be customized as well. It also assists the organization in managing customer accounts with a shared database. The organization can check their customers' purchase history to know if they can up-sell or cross-sell a product. It also allows them to forecast revenue, establish sales quotas for the sales representatives, monitor individual or team performance as well as create reports and dashboards.
Zoho Utilises the Power of Social Media
The most unique feature of a CRM is its ability to delve into heaps of information from social media portals. A lot of significant sales leads may come from social media. Zoho CRM developers can integrate product and services directly to the social media portals such as Facebook and Twitter. It follows customer behavior and categorizes potential customers to find out leads and contacts for the sales reps.
Zoho CRM integration services are versatile that can provide organizations with the necessary edge in their sales management and operations. As organizations move towards automation of several processes and verticals within businesses, it is imperative for them to look into their most critical sales function in order to harness it optimally towards organizational success. The right CRM tool can bring a significant advantage to business by helping it improve customer relationships. It has the ability to transform the way a company approaches its customer's lifecycle management.
Are you thinking to learn more about Zoho and choose it as your CRM? We have got the best solution for you! At Signity, you can hire our outsourcing team and talk with our Zoho consultants for any query related to your CRM.