Introduction to HubSpot CRM: Features, Benefits and Plans
For good reasons, HubSpot is among the most popular customer relationship management platforms. With its marketing tools, scalable sales and excellent customer support, it's right for your business to grow. Discover how to use a CRM and take your team to the next level.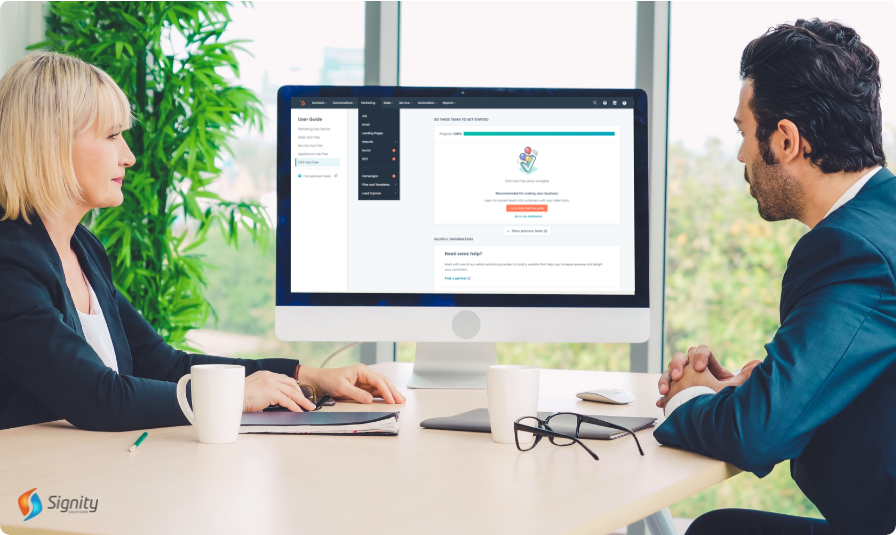 As your business scales, manually keeping track of your customers and prospects with notes and spreadsheets in different places becomes nearly impossible.
Not just is this type of system time-and-energy consuming to manage, but things also start slipping through the cracks at a concerning rate. This only results in an exhausted team and disheartened customers.
You don't want this to happen to you, do you? No, that's why you need a CRM!
We know it can be bothersome to choose to invest in a CRM when you're apprehensive about its benefits for business.
So, let's start by understanding what actually defines a CRM!
Key Takeaways:
An in-depth understanding of CRM and why HubSpot CRM is a top pick for your business.
The benefits of choosing a leading CRM platform - HubSpot for your business.
Answer to the most pressing question - "Should you invest in HubSpot".
What Does CRM Stand for?
Customer Relationship Management, popularly known as CRM, is a tool that manages your contacts and takes care of your sales, pipeline, leads nurturing and digital marketing.
A company's CRM keeps track of all the interactions with existing as well as potential customers - primarily, everything from the first visit to the website and actions on your website to the exact time they opened your sales proposal and for how much time they looked at it. In a nutshell, CRM is an inbound marketing software that helps businesses to attract visitors, convert leads, and close customers.
For example, HubSpot CRM is a well-known inbound marketing software that enhances the inbound marketing process and helps in building strategies to gain a competitive edge over competitors. Moreover, it brings high-quality leads, maintains long-term customer relationships, and helps prospects at every touchpoint.
All in all, it leads to an improved customer-centric approach and increased productivity.
What is HubSpot CRM?
HubSpot CRM is a cloud-based platform that eclipses tools and integrations that perform several business growth tasks. Also, it assists marketing, content management, sales, and customer service at every touchpoint by offering them better strategy and resources.
But, if somehow you are not getting desired results, it's time to optimize your HubSpot CRM.
Optimize Your HubSpot CRM
It offers numerous tools -
Marketing Hub,
Sales Hub,
Services Hub,
Operations Hub, and
CMS Hub.
You can either choose to work with individual hubs or integrate their hubs. So, following this, the business flow turns seamless with the help of its tools, integrations and some really cool features.
Did You Know!

"HubSpot CRM has been adopted by 30,000+ companies across 90 countries".
HubSpot doesn't get truly amazing unless you add in one or more of the paid versions of the tools, also known as "Hubs", according to your need.
Let's start with looking at the newest member - CMS (Content Management System )
CMS (Content Management System) Hub
The latest add-on in the HubSpot team is the CMS hub that lets you create and manage your website amid making the most of the inbound marketing tools that HubSpot offer. While you don't need to host your website with HubSpot to ensure using CRM and other hubs, it does make optimizing your campaigns, tracking and lead capturing a lot easier from one place.

Not to forget, the HubSpot CMS hub brings some amazing marketing tools like Smart Content which allows you to dynamically alter the front end of your site based on segments of your audience.
Marketing Hub
The marketing hub welcomes more advanced tools (solely depending on which package you purchase) consisting of logic-based automated workflows and chatbots. These tools let you automate the processes of segmenting, nurturing and qualifying leads within the CRM.
Undoubtedly, Workflow is one of the key tools in HubSpot and allows everything from complicated content-driven nurture programs to automating internal tasks like audience segmentation and lead assignment.
Key HubSpot Marketing Tools are:
Lead capture forms
Email automation
Audience segmentation
Attribution reporting
Lead nurture
Data Enrichment
Lead Scoring and qualification
Live chat and chatbots
Sales Hub
Like the marketing hub, the sales hub also introduces more advanced tools, circumscribing the capability to automate processes around your sales pipeline. So, rather than working directly with contacts, a sales hub is based around deals at different stages, which are further associated with both contacts and companies within your CRM.
This is actually where HubSpot really comes on its own. Imagine having a single source of truth that can help you build intelligent automated programs that bridge the efforts of sales and marketing teams, enabling complete transparency throughout your organization.
Key HubSpot sales tools are:
Sales performance dashboards
Manage numerous sales pipelines
Automated task management
Integrated calendars and emails
Automated 1 to 1 email sequences
Account based marketing tools
Centralized prospects view
Service Hub
By considering the service hub in your package, you can be assured that your sales reps can oversee a complete picture of contact when looking to reach out and trying to make contact. Besides, service hubs also allow you to integrate automation into elements consisting of customer satisfaction surveys and ticket assignments.
It's notable to remember the single customer view here. Each customer will have related service hub interactions as part of their view, along with every other interaction they have with your brand that you prefer to record, including logged calls, sign-ups, etc.
Key HubSpot Service Tools are:
Automated ticketing
Knowledge base
Service performance dashboards
Centralized inbox and customers view
Automated feedback surveys
HubSpot CRM - Your Road to Success
It's a well-known fact business services are primarily praised and criticized because of customer expectations.
Financial concerns and short-term business goals often face challenges because they don't meet customer expectations. And as a consequence, they fail to deliver an unparalleled customer experience. So, if customer experience is your alarming concern and you intend to offer them the best solution, HubSpot CRM is your safe bet.
After all, CRM is the heart of the business. It represents customer relationship management, and it is crucial that you must have the best CRM. This is because CRM helps make wise decisions, organize the details of prospects and customers, and much more. Furthermore, it helps to scrutinize your business process and boost its growth.
Get a seamless experience with HubSpot CRM features and Benefits.
To your surprise, CRM is among the fastest-growing software. The CRM software market is predicted to reach $49.6 billion U.S. dollars by 2025. This is a ballpark estimation of almost four billion U.S. dollars compared to 2020, at a CAGR of 1.7%.
Source - Statista
These amazing numbers clearly portray the fad of HubSpot CRM in the business world. Nonetheless, its customer-centric approach is all that cements its footsteps. It consists of their personal information, link social media profiles, complete purchase history, behavior patterns, past interactions, and much more.
Business Benefits of Using HubSpot
Now that you better understand what HubSpot offers, it's time to pay attention to the specific benefits of choosing a leading CRM platform.
Help Business Grow Better
The biggest misconception we hear about HubSpot is that - "it's merely an email platform". While the Marketing hub does sheath an interactive drag-and-drop email builder, HubSpot is a comprehensive array of enterprise-grade marketing and sales applications built to scale your business.
Simply said, their real power is the integration across functions.
Marketing Automation
One of the vital aspects of your business growth is certainly marketing automation.
After all, with HubSpot tools consisting of Workflows and Sequences, you are able to send personalized communications to your prospects and customers varying from one to untold contacts.
In layman's terms, you can classify your audience using captured and stored data in the CRM to trigger automated processes and send personalized messaging to your contacts. There are really some good reasons to use this functionality, not just in your lead nurturing but also in administrative processes, to save time and free up your team to focus on scaling business.
In-Depth Analysis and Reporting
One of the significant benefits of integrating HubSpot Hubs is in-depth analysis and reporting tools that you get hands-on. HubSpot provides dynamic analytics and reporting features, allowing businesses to keep track of their progress and make data-driven decisions. For instance, it offers website performance metrics, pipeline reporting, revenue marketing, and a full picture of its customer journey.
Website Performance Metrics
These metrics offer businesses insights into how their website is performing, consisting of metrics like traffic, bounce rate and also the conversion rate.
Pipeline reporting offers businesses a clear view of their sales pipeline, allowing them to find areas for improvement and optimize their sales process.
As the name suggests, this tool helps businesses forecast their future revenue based on current trends and performance.
All in all, HubSpot eclipses a big pool of benefits for businesses looking for ways to improve their customer relationship management, uphold team collaboration and communication, optimize their sales, and make data-driven decisions. By picking HubSpot, businesses can gain a competitive advantage and achieve their goals efficiently and effectively.
Should You Invest in HubSpot?
Yes, if you want to maximize revenue and sales today!
HubSpot pricing models vary from the free CRM version that includes a million contacts, landing pages, live chat and some basic email marketing tools to the Enterprise level Growth suite that consists of all of HubSpot's core tools and all four hubs.
So, if you are still on the fence about deciding, you are perplexed about which package is right for your business. HubSpot offers such an extensive array of tools that it becomes daunting to decide which hub you'll get the most value and which package you'll need.
Free! Free! Free - CRM Plan
HubSpot's free CRM plan is an excellent choice for small businesses and startups looking to get started with CRM. As aforementioned, this plan offers basic contact and deal management and an untold number of integrations and add-ons. Plus, businesses can manage up to 1,00,000 contacts and companies, making it an easy-to-scale solution for growing businesses.
Paid Plans - Their Features
HubSpot's paid plans provide a wide range of features developed to help businesses optimize their sales, marketing, and customer service processes. These plans are:
The starter plan starts from $50/month, which includes features like email marketing, ad management, and basic automation.
This plan costs $1,781/month, including advanced automation, custom reporting, and A/B testing capabilities.
The Enterprise plan starts from $5,000/month that adds advanced reporting, predictive lead scoring, and custom event triggers.
Ready to take the leap?
Integrate HubSpot with Your Existing Tech Stack
HubSpot will certainly replace the functionality of some of your already existing SaaS products, systems and processes. Although it can also integrate with a wide range of apps and platforms, you can keep systems important to your business and easily integrate them with HubSpot.
This is where HubSpot connoisseurs come into the picture. They help you audit your present tech stack, identify gaps in your system and processes and then recommend to you which plan and the product is right for your organization.
Remember, adding HubSpot to the blend can actually help you get more out of your current systems. By introducing a single-truth approach for all your domains, HubSpot can centralize data for your organization and simplify processes throughout your business.
Finally…
HubSpot's marketing automation tools have proved to be a game changer for businesses. And, to make the most of these powerful tools with your existing tools, all you require is experience.
To achieve this, you need a partner you can trust, a partner who is a HubSpot-certified partner and training company. This means we can help you with all the skills needed to get up and running with HubSpot ASAP!

Ready to unleash the power of HubSpot to work for you? Just spin your flywheel with us and see how HubSpot magic works to help you achieve undefeatable success.
Frequently Asked Questions
Have a question in mind? We are here to answer.
What is HubSpot CRM?

HubSpot CRM is a cloud-based customer relationship management (CRM) software that helps businesses keep track of customers and prospects along with managing customer interactions. It offers numerous features, including lead tracking, contact management, sales pipeline management, and email marketing.
What are the benefits of using HubSpot CRM?

HubSpot CRM can help businesses streamline their sales and marketing processes by providing a centralized repository for customer data. Besides, it can also help businesses track customer journey from lead progress and sales opportunities, to automating tasks such as email marketing and customer follow-up.
What are some of the integrations that HubSpot CRM offers?

HubSpot CRM integrates with several other popular business applications, including Salesforce, Google Analytics, and Mailchimp. These integrations can help businesses streamline their workflows and improve their overall efficiency.