HubSpot Email Marketing Automation Best Practices
Your guide to the most effective ways to use HubSpot's email marketing automation features to improve your result and business bottom line. Curated by HubSpot experts, this guide includes the best practices proven to work for businesses of all sizes.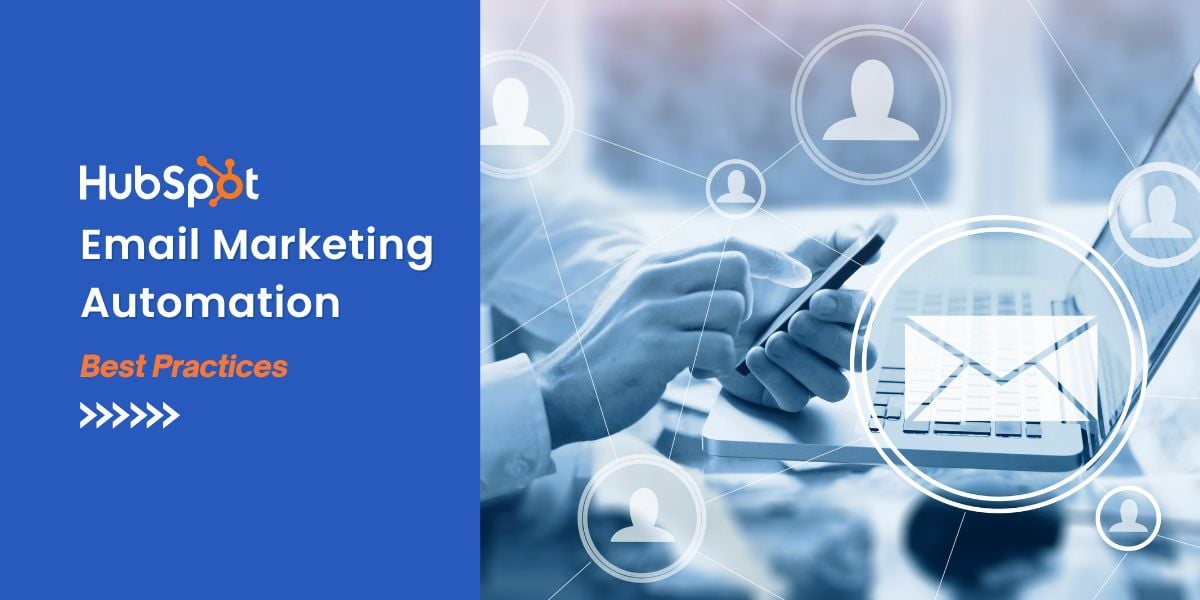 Using inbound marketing means building relationships with people who are interested in what you have for them. Possibly you've Googled "best email marketing tips" so your email doesn't go unnoticed in the customer's inbox - or worse their spam folder.
But, when done correctly, email marketing is as powerful as any other tactic today.
Email marketing continues to be unparalleled when it comes to Return On Investment (ROI) it brings. A mind-boggling $36 for every dollar spent. Keeping that in mind, let's understand the best possible ways to leverage email marketing. Here, we will also cover advantages and statistics that mirror the importance of email, just in case you need weighty words for convincing.
Let's dig in!
What is Email Marketing?
Email marketing is a kind of digital marketing that includes sending promotional messages or newsletters to a list of existing customers and subscribers via email.
The core objective is nurturing customer relationships, promoting products or services, growing brand awareness and finally driving sales. All in all, email marketing offers you an accelerated approach to reach your target audience directly with customized and relevant content. Plus, it's cost-effective, easily tracked, and offers valuable data for evaluating campaign success.
Email isn't as gleaming as newer channels, like messaging and social platforms.
Yet, email is a proven way to build an audience that gets results.
When to Practice Email Marketing?
No qualms, email marketing is a dynamic tactic to:
Nurture Relationships - Create relationships through personalized engagement.
Uphold Brand Awareness - Hold your company and services top-of-mind for the moment when your prospects are all set to interact.
Glorify Your Content - Use email to share valuable assets and relevant blogs with your potential clients.
Create Leads - Attract subscribers to provide their credentials in exchange for an asset or service they find valuable.
Nurture Leads - Cherish your customers with content that helps them succeed towards their objectives.
Advertise Your Service - Market your services and products.
Let me tell you why email marketing is inescapable and walk you through its benefits:
Email Marketing Benefits You Must Know
There are 4 billion daily email users, so if you are on the lookout to reach your customers, email is just the right place to kickstart.
73% of millennials prefer communications from businesses to come through email.
33% of marketers send weekly emails while 26% send emails multiple times on a monthly basis.
Email marketing revenue is predicted to reach approximately $11 Billion by the end of 2023.
50% of people make a purchase from marketing emails at least once per month.
Far beyond these amazing stats, the best reason to use email marketing is that you will have complete access to the channel. Outside of compliance guidelines, no external entity can affect why, when, and how you reach your subscribers.
Email Marketing = The Unsung Hero of Marketing
Keeping all this in mind, here are handpicked HubSpot email marketing best practices you can use to generate more leads for your business.
Email Formatting
Email Marketing Automation
Email Marketing Metrics and Testing
Email Formatting Practices You Should Remember
While formatting emails, make sure to:
Skip 'No-Reply' in the Sender's Email Address
Heard of CAN-SPAM? This deep-rooted legislation piece is a popular and crucial guideline for every marketer in the U.S.
One crucial rule in CAN-SPAM is never (yes, NEVER) to use the words "No-Reply" or similar words and phrases as the sender's name for your email (for example, "noreply@company.com").
"No-Reply" in emails puts an end to recipients from replying and sometimes opting out from further emails, which CAN-SPAM safeguards their right to do so at any moment. Rather, ensure your automated emails come from a first name (for example, chris@yourcompanyname.com). Your customers are much more likely to open emails if they know a human created them and also adhere to email regulations.
Hold to Just Three Typefaces
The lesser the chaos in your email, the more conversions happen. So, don't junk up your email with more than two fonts or typefaces; that can distract readers and spill on your email's visual appearance.
Furthermore, it would be best to use web-safe fonts between 10-point and 12-point sizes. This makes sure your email will comply with all readers and devices.
What We Love: Each font and typeface is different enough to guide your eye but alike enough that it's jarring to users.
Remember to Optimize the Email's Preview Text
Chances are, if you subscribe to a newsletter, you've probably seen a message like this at the top of your mail - "Email not displaying properly? Click here."
Though it's a helpful warning, keeping it in the preview of your mail can exceptionally impact your Email's open rate.
Your preview text should aid in your Email's subject line by adding details to hold your audience's attention and compel them to open. Often, preview text extracts the first several words of the email body and presents them next to the subject line before the person opens it.
The challenge is that custom email templates often hold conditional statements like "Not Displaying Correctly" or "Can't See Images?" at the top banner, enabling it to slide straight into the preview when it goes out.
As a thumb rule, always line a custom preheader that shows what your Email will offer.
Expert's Tip: HubSpot users address this challenge by personalizing the preview text in their email newsletter's backend.
Envelop an Email Signature
Technically, your newsletter is being sent to your contacts representing your company rather than an individual. However, the email should circumscribe the specific person's signature.
No doubts, email signatures add a touch of personalization. People are more inclined to go through an email if they know it came from a human being, not just a team.
Your email signature is the boarding pass to get their attention.
Healthy Reminder: The email signature should include a person's first name, role within the organization, and sometimes a photo for a more personalized approach.
Keep Main Message and CTA in the First Fold
Above the fold is the crucial information that's visible to the reader before they scroll down.
Though recent research put that users scroll more than they used to - credit goes to social media and vertical timelines - above-the-fold content still grabs the most attention.
So, place your message and Call-To-Action above the fold.
It's the first thing your readers will see when they open your email, increasing your conversion rate. Also, you can run an A/B test to check the hypothesis and see if it's helpful for your emails.
Make Sure to Personalize Email Greeting
How many times have you opened emails that addressed "Dear Member"?
A pretty slim chance, right?
To manifold the probability of opening your email, you should segment your email audience according to the customer type, like whether they are subscribers, members, users, etc., but simultaneously ensure that it shouldn't be the first thing your recipients see in your message.
Personalization is the significant key to email marketing. Indeed, in a recent survey, 47.2% of marketers curated personalization among the most effective email marketing strategies to achieve their goals.
Expert's Tip: Personalize the greetings of your email with your contact's name to grab the reader's attention at the moment. For HubSpot users, this is termed a "Personalization Token".
Craft Your Email Around 500 to 600 Pixel Wide
If your email is over and above 650 pixels, your email won't show up correctly and will need users to scroll horizontally to read the complete email.
This is a demur, to say the least, and will have repercussions on your conversion. Having your template fit within the standard format will make for a lot easier readability, better conversions, and as a whole, improved user experience.
Logos are unskippable when it's all about emails.
They are known to establish legitimacy and trust, meaning the user will know the email is from a real brand and is not a scam. Also, like email signatures, they uphold brand recognition.
This is because logos are among the first things the audience sees when they open their email.
What not to forget: Add your logo to your email design to make sure that it's always included.
Outline the Offer in Your Subject Line
You can significantly increase your open rates when you put an incentive in your subject line.
"Free Shipping on Spend of $20 or More" or "Get a Free Gift with a Demo" are good, incentive-related subject lines.
A Healthy Tip: Keep subject lines short and clear to avoid them getting distracted when first viewed in the inbox. Plus, keep subject lines between 9 and 60 characters.
Write Attractive yet Concise Subject Lines
A good yet attractive subject line should be between 30 and 50 characters, consisting of spaces. It would be best if you opted for this practice because email providers usually cut off subject lines beyond the prescribed length.
The Trick is: Ensure your email subject line creates a sense of urgency while offering readers insight into what to expect once they open the mail.
Bind Emails to Landing Pages
Don't skip the queue!
Ensure the landing page matches the email in the context of headlines, copy, and content. The look and feel of the landing page should match the email, as consistency goes a long way to earning customers' trust.
So, ensure you use tracking tools to see which emails and landing pages are performing the best so you can constantly send what's working.
To make the most of email marketing, you need to consider HubSpot marketing automation and the best practices to get the best results. Here's how to do it!
Email Automation Best Practices You Must Consider
Be Mindful!
Be ready for your readers to forget they called in, so put an auto-reminder that makes people remember they opted into your email database. So, ensure the auto-responder is scheduled on intervals like day one, five days, and ten days after the person registers.
Plus, make sure each auto-responder includes added bonus material or content to reward the reader for opting for the newsletter - or in some cases, your reader might feel they don't have enough incentive to opt in.
Email Marketing Automation Best Practices
Don't hard sell to your customers.
Let customers decide how they want to receive email.
Segment your email list
Use email triggers
Personalize your emails
Keep in mind to experiment with email marketing automation to a certain degree.
Email Marketing Metrics and Testing
If you are still sitting on the fence and thinking of increasing your email's open and click-through rates, there are a couple of things that might have gone wrong:
You are not targeting the right people
The content needs to get better
To begin, conduct an A/B test.
Often, A/B tests are used to improve marketing content by identifying and addressing the lack. Especially in an email, the A/B test will classify your recipients into two groups:
| | |
| --- | --- |
| Group A | Group B |
| It receives a regular newsletter | It receives the newsletter with a specific variation. |
Variation in A/B testing is done to see if the audience would be more likely to take an action depending on that element.
Tip: Use HubSpot Marketing Hub to conduct email A/B testing on the subject line to CTA on anything!
Finally… Here it is!
Email, the old, trusted, yet beneficial tool, is a tried and tested approach to get the most out of your marketing efforts. Now that you handhold the best email marketing practices, you are ready to craft your next successful email marketing campaign.
I know there's a lot to learn, which can be daunting. Don't worry if you are not confident about running your email marketing campaign or are thinking about how you'll manage time by yourself to do everything. We are here to help you.
Take your email marketing game up a notch with our solution experts!