HubSpot to Zoho integration - Connect HubSpot with Zoho CRM in 2 minutes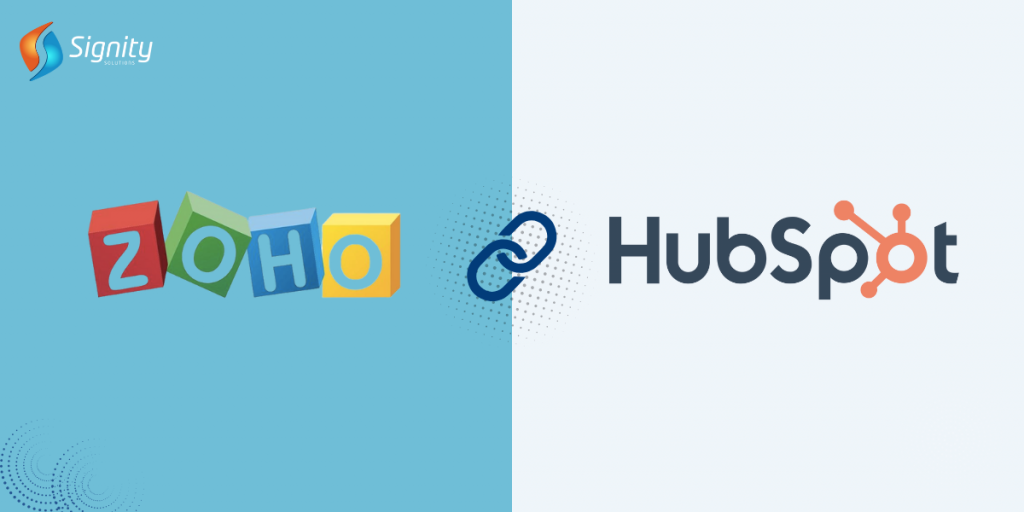 Zoho and HubSpot are two prominent Customer Relationship Management platforms that help organizations maximize their Sales and Marketing capabilities by integrating technology in every stage of customer interaction.
The CRM platform your business uses lays the firm foundation of your sales process. Precisely, it can mark the subtle difference between success and failure in your Customer Acquisition and Retention Journey.
So, an ideal CRM should focus on helping your team stay organized, operate efficiently, and offer decision-makers a clear direction to increase revenue and boost overall growth.
While Hubspot Marketing and Zoho CRM are quite popular CRM & marketing automation platforms for sales & marketing teams. While each of these platforms has its own paid versions for marketing automation, and CRM, many companies use Hubspot only for marketing automation and connect it with Zoho CRM for their sales team.
Hubspot and Zoho CRM have an out-of-the-box integration via the Hubspot marketplace and Zoho App Gallery. If you are planning to connect Hubspot with Zoho CRM, here are some considerations before setting up the integration.
5 Things to Know How HubSpot & Zoho CRM Integrations Work
HubSpot + Zoho = Automated Tasks that Help You Do Your Be
Let's Connect HubSpot and Zoho.
Step 1: Find The Data To Sync
Identify which data you want to sync from Zoho to Hubspot or from Hubspot to Zoho. When you connect the systems, you have the option to add custom filters that can control the records which should sync from either system. If there are some specific sources or business units or segments that you want to include/exclude, you should define that before connecting the two systems.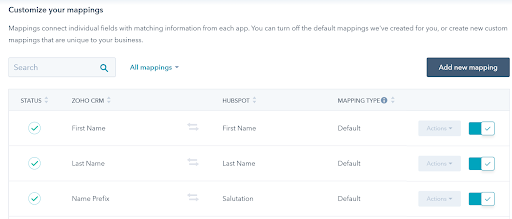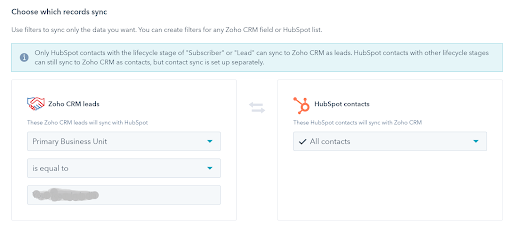 Step 2: Default Field Mapping
Identify the fields which you want to sync between the two systems. The number of fields syncing between your Hubspot and Zoho instance impacts the overall system performance, and also the number of API calls that will be used on each field update. As a best practice, you do not need to sync every field between the two systems. You should sync only those fields which are typical for marketing & sales processes. Everything else can be synced later on a need basis.
In the same step, you may have to create new fields in Hubspot or in Zoho to ensure marketing gets updates regarding sales activity, and similarly, sales teams are able to get intelligence from Hubspot fields.
Step 3: Sync Zoho CRM and HubSpot Data
Align your Hubspot lifecycle stages with Zoho lead/contact status before setting up the sync. In the ont of the box integration, HubSpot contacts with the lifecycle stage of 'Subscriber' or 'Lead' can sync to Zoho CRM as leads, and HubSpot contacts with other lifecycle stages can still sync to Zoho CRM as contacts, but contact sync is set up separately.
If your sales team is using Leads in Zoho as the initial object for prospecting and qualifying, you may want to consider keeping the lifecycle stage in Hubspot as a Subscriber or 'Lead'. When the sales team qualifies a record, they can mark it as an MQL and eventually convert it to a contact in Zoho.


Aligning your Hubspot lifecycle stages and Zoho Status values will help you build accurate reports and dashboards in either system, without running into any data discrepancies. You can also set up custom reports & dashboard that shows the progress of records across the funnel stages, lead velocity, touchpoints driving engagement across stages, and related data points.
Step 4: Identify When to Create a New Record
Identify when a new record should be synced from Hubspot to Zoho. When a new record is created in Hubspot from digital or offline channels, you should process it via all operational flows before syncing it to Zoho CRM. This can include normalizing data fields, setting up lead sources, completing lead scoring, and any additional data processing. This approach ensures that the Hubspot records are ready for the sales team to start working before they enter Zoho CRM.
Step 5: Identify The Platform to Address Any Data Conflicts
Identify the platform for resolving any data conflicts. With marketing working on contacts in Hubspot, and the sales team working on the same contacts in Zoho, very often there will be a data mismatch between the two systems. When setting up Hubspot and Zoho CRM, you will have to decide and select which platform should get the power to overwrite the data in the other forum. In most cases, sales & marketing teams rely on Zoho data. The out-of-the-box integration does not allow controlling this at a field level, unlike Hubspot Salesforce CRM integration. If you want to control the sync rules at a field level, you can consider a custom Hubspot Zoho CRM integration.


Beyond Any Doubt…
Consider syncing Hubspot Campaigns with Zoho Campaigns to provide the Sales team with complete marketing intelligence. With Zoho's sync services, you can ensure that leads and contacts in Zoho are added to Zoho Campaigns and that these campaigns match the corresponding Hubspot Campaign fields.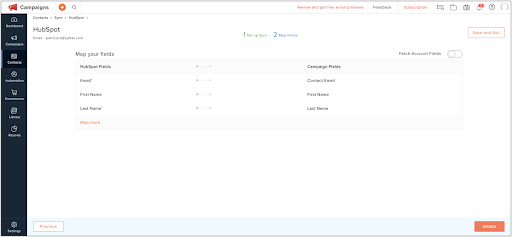 While out-of-the-box Zoho CRM and Hubspot integration can help companies achieve 70% use cases, there are many restrictions as well. If you are looking for a fully integrated, scalable integration between Hubspot & Zoho CRM, reach out to our team of Hubspot & Zoho experts or check out all the marketing automation services.