IT System Up-Gradation Challenges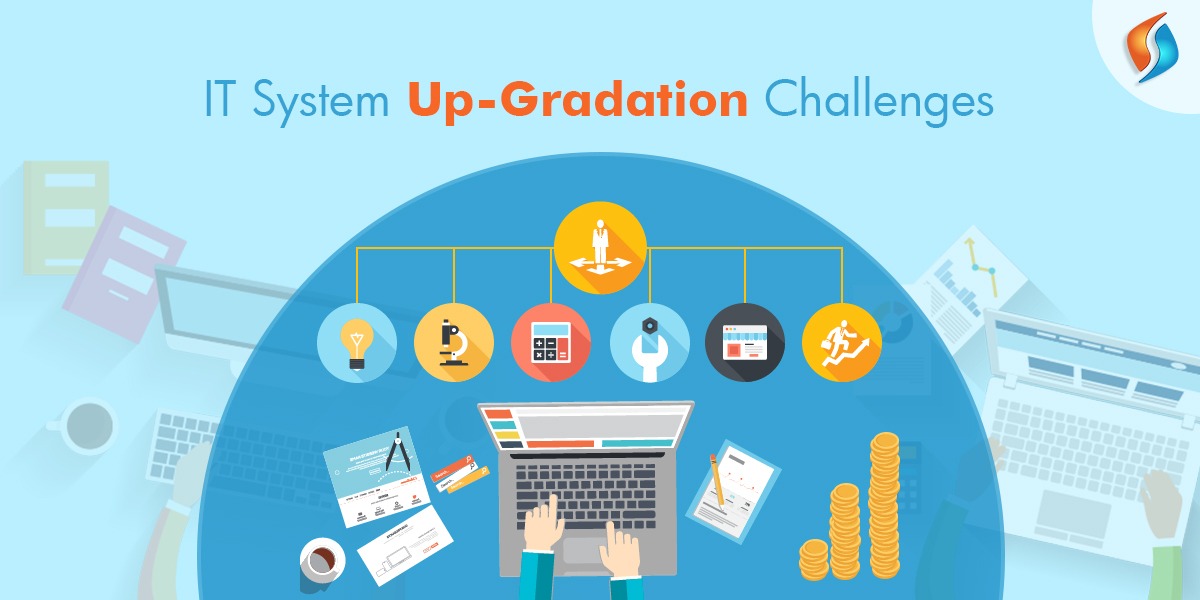 IT system up-gradation is essential; you cannot avoid it come what may. It is about technology getting outdated and need arising for the inclusion of new technology into the existing IT system. Time demands that you keep modernizing and updating your IT system. Other than that, the need for up-gradation in India is necessary because of the rollout of the GST. Now businesses need to upgrade their IT system to make it compatible enough to track goods, new taxation, and costs. And this up-gradation requires a good deal of business automation services.
Need for Business Automation Services
To make the ERP of your IT system calculate GST of your company, it needs up-gradation. The ERP is also responsible for the organizational management, monitoring human resource related functions, tracking the goods and finance of the company. That makes IT system up-gradation extremely crucial for existing systems to perform such functionalities. Now the thing with such an up-gradation is that each IT system needs to receive well-customized up-gradation, which in itself poses a serious challenge. Getting the right set of ERP solutions for your company is indeed a crucial task.
After upgrading the IT system, the game does not end here. It begins here. After the update, the IT system would not function as it used to perform. There onward it demands extra training of the users of that system to make them familiar with its functionality. Not only users but system admin as well get affected by the upgrade, which is another challenge associated with IT system up-gradation.
Business Automation Solutions: Understanding the Scenario
It demands proper planning done well in advance as it causes suspension in the business operations of your company. That should serve as an alarm for you to make sure everything is in place so that impact on the business process management can be minimized. One of the best ways to mitigate the effect is by following best practices for up-gradation.
Some of these practices are as follows.
Upgrade taking into consideration your company`s needs.
Take stock of possible consequences the upgrade would have on users before and after the update.
Employ ways that minimize the impact on your business operations.
Make sure the upgraded system would function as anticipated.
When a need arises for the system upgrade, take into consideration not just what it can do for you today, but also what it can deliver you tomorrow, how it will perform while envisaging the future developments in the business. It should at least last for a couple of years. During the process, there come various challenges, but with the right kind of attitude, those challenges can be overcome.
Challenges: Business Automation Services
Let`s now take the IT system up-gradation challenges one by one.
Integration
Important of them all, a combination of the new system into the old is often a challenge you need to take head-on. It is not that you replace one system with another. Instead what you do is, incorporating new tools into your old IT system. That is quite hectic a process than a complete replacement for the consulting firms.

Data Loss
Another great challenge posed by the IT system up-gradation is fear of data loss. The proficient consulting firms help you to pre-plan your upgrade, making your team analyze the process thoroughly, and executing the up-gradation process accordingly. It will keep you focused, knowing exactly what is happening.
Millennial Workforce
They find it hard to cope with the up-gradation process and its aftermath. It happens because we are used to viewing technology as something which solves problems. When the same system undergoes up-gradation, it becomes hard for them not to get the assistance of technology to resolve an issue.
Regular Updates
When a system receives an update, it changes the coding of the system, brings in protocols that were not there before. When that much part of the process is done what is still the challenge is ensuring the consistency of the upgraded system. That is to confirm its availability to undertake new business operations. By opting for regular updates can relieve you of that challenge as it would not all of a sudden bring a massive change in the IT system of your company but only a minor one, yet can reach the same upgraded level after a couple of these short, regular updates. It saves you from undergoing more massive system upgrades. Especially if the company is a startup, business automation solutions can serve a great deal of purpose.
Cost-effectiveness
You will have to choose between whether to go for complete system replacement or up-gradation based on the cost each process would need. While there are already many challenges associated with IT system up-gradation still, figuring out the cost efficiency between the two methods can help you make the right decision.
User Experience
When you upgrade to the latest technology, what your users have to deal with is no longer an old-style technology competent in accomplishing a task or two. The modern technology is way more complex, perceptive and entirely imitative of the user experience. Its functions are no doubt complex, and that is a challenge, but once you master it, client satisfaction is a sure success.
Implementing: Business Automation Services
Apart from these few challenges, there are plenty more. Over the years you may have developed a kind of attachment with that old technology, but business automation services want you to give up that attachment and pave the way for new technology to undertake the business process management. The most important thing that we often neglect regarding the up-gradation process is documenting every bit of it beforehand.
In short, the critical point about IT system up-gradation is that it is full of challenges. To overcome those challenges what you need is a proper strategy, well trained and motivated staff to embrace the upgraded system and a great deal of automation consulting services for your company. Consider outsourcing to India and join hands with Signity Solutions. We take care of such things effectively. The upgraded IT System will work your way, exactly the way you wanted it to work.
We have years of experience in providing business automation solutions besides being a reputed name as a mobility solutions provider. Feel free to reach us here and we will revert at the earliest.