Mobile Apps: The Powerhouse of Customer Interactions via Personalized Devices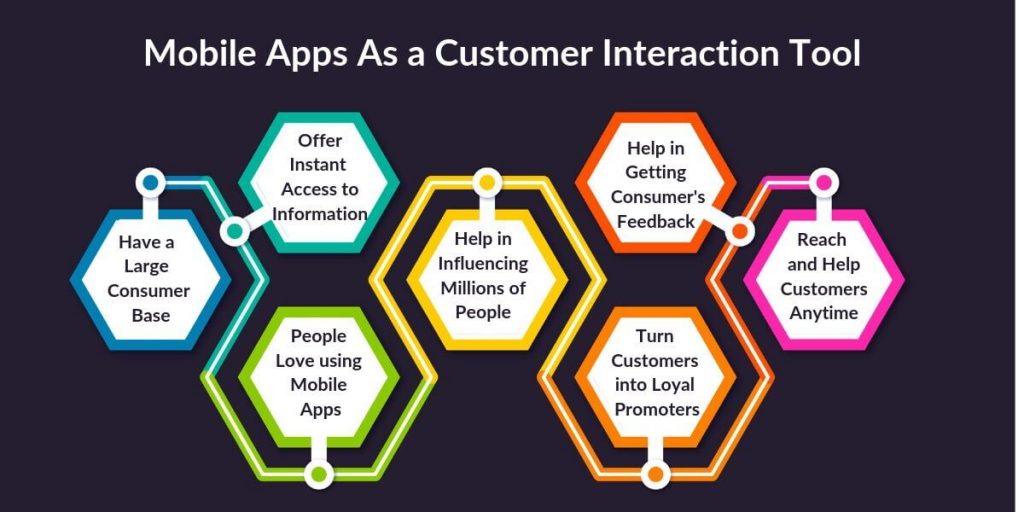 How would you book a movie ticket - via mobile app or buy it offline at the cinema hall?
Ask anyone this question, and most probably he will choose the second option, i.e., booking a ticket through the mobile app. Even I asked many people this question at Signity Solutions, the mobile app development agency I work in, and their response was the same.
And why would it not be? It's far more convenient than standing in a long queue for hours and realizing that all tickets have been sold.
That's an amazing thing about mobile apps. They have made our life easier. Things like online shopping, booking movie tickets, booking cabs, and ordering food is now a matter of seconds. Earlier the same process used to take hours or sometimes the whole day.
Now, from the user point of view, mobile apps are the greatest comfort that has made our lives easier. However, from a business perspective, they are the powerhouse of consumer interaction. Mobile apps provide countless opportunities for companies to turn people into loyal customers and earn a profit, which is one of the major reasons businesses are ready to invest millions in contacting app development companies and having a mobile app for their business.
In this blog, we will discuss how mobile apps can help businesses in consumer interaction - so that you can understand how mobile application development services prove helpful for your business.
Now, stop doing whatever you were doing for a while and pay attention, as we mention:
7 Reasons Mobile Apps can be a Powerful Customer Interaction Tool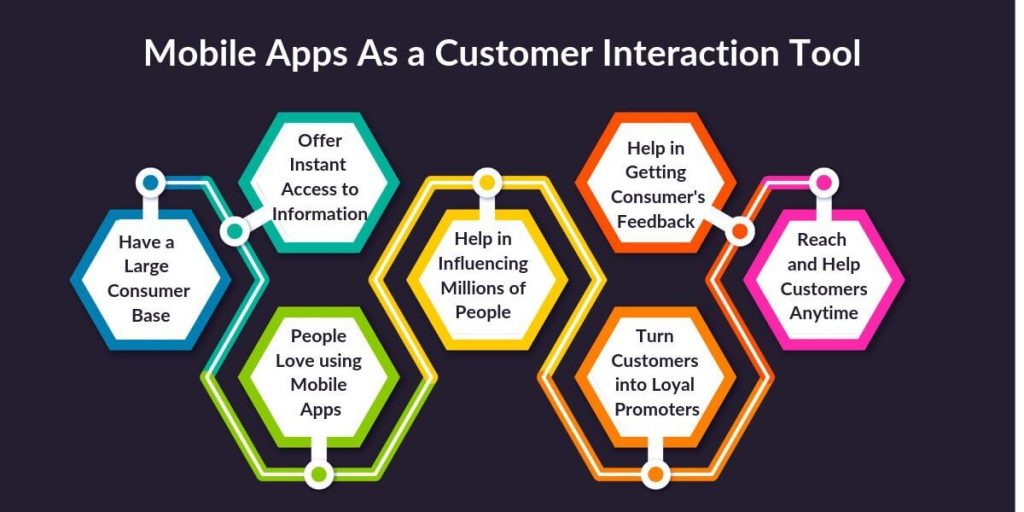 1. Large Consumer Base
According to statista.com, there are over 3.3 billion smartphone users worldwide.
This means each business has an opportunity to convert 3.3 billion people into loyal customers, which is not a small number.
Mobile apps can be a great way to target this user base. Using them, you can even reach people that you could never reach using traditional methods. You could let millions of people about your business that otherwise could never know about it.
2. Instant Access to Information
We live in a world that's busy, fast-forward, and where customers want everything quickly. Now, if you want to get things done, apps can efficiently help.
Using apps like Google Maps and Truecaller – consumers can instantly gain access to the location and contact details of your business. There is no longer the need to roam around and ask people. They can even verify the credibility of your company from online platforms like Glassdoor.
So, it's no longer a big deal for consumers to reach and interact with you. Smart mobile apps developed by the best mobility service providers, have made everything simple.
3. People love using mobile apps
Since apps make our life easy, we just love using them - especially the ones that we use daily.
Instead of cooking food or going outside and eat, most of us prefer ordering it online and have it delivered at the doorstep.
Instead of wasting time bargaining with the taxi driver, most of us book a cab with Uber and enjoy a comfortable ride.
Transferring money or booking tickets from the phone is a much better option than standing in a long queue for hours.
This means people will always choose easy alternatives over hard work and time-consumption. So, as long as mobile apps are making the lives of people easy, they will be hooked to enterprise mobility solutions.
4. Influence Millions of People at the Same Time
The best thing about mobile apps is that they have brought millions of people from different communities, cultures, and religions together on a common platform.
Take Facebook, for example. The social networking site has 2.41 billion active users.
2.41 billion!
Do you know what it means? Over 31% of the world population is sharing information on a single platform, and as a business, you have a chance to reach billions of people using mobile apps and build a loyal customer base by becoming socially active and contributing information that actually helps. The best way is to target the audience for both iOS and android platforms. To achieve this, you can consider opting for android and iPhone app development services.
5. Direct Feedback from Consumers
Mobile apps can help you get faster customer feedback, which can significantly grow your business.
Let's understand how.
These days, whenever people use products, they post reviews either on social media or on the platform from which they purchased or downloaded the product.
You can even get direct customer feedback from surveys.
Now, getting this feedback and reviews is a win-win situation for businesses. If it's a positive review, your brand gets highlighted in good image and more people know about it. On the other hand, a negative review lets you know where you can improve and make your product better. After all, as they say, criticism always opens new doors for improvement.
So, in simple words, mobile apps can be a great way to grow from customer feedback.
6. Turn Customers into Loyal Promoters
The increasing popularity of social media platforms like Facebook and Instagram has also helped companies use customers as a promotion medium.
Do you know how?
By using word of mouth marketing. The term refers to the marketing tactic in which we use rewards and discounts as a medium to get people to say good things about your brand.
For example, you might have noticed that there are times when online shopping sites like Amazon and Flipkart offer big discounts on online shopping. As a result, many people become so excited that they tell everyone about it.
Moreover, platforms like Facebook, Instagram, and Twitter have made word of mouth marketing very easy. The only thing they need is to put a praising post on social media. The moment it's live, all their friends will know about the brand they're talking about. So, simple and efficient – isn't it?
7. Reach and Help Customers Anytime
Offering 24x7 customer support is something that all businesses struggle in. Taking care of customer issues when you are in the office in front of your PC is simple. The reach challenge lies when you are enjoying a peaceful vacation with friends, and a customer support issue occurs. How would you deal with this issue?
The solution to this problem is Mobile apps.
Like we discussed earlier, we can access them from just about anywhere. All we need is an internet connection and a mobile app which you can easily download from the Play-store and App-store.
This means you can easily help customers with any ongoing support issue. Ever thought customer support can be so easy?

In a nutshell
Mobile apps can be a powerful medium for effective customer interaction. There are millions of ways your business can use apps to interact with customers and convert them into valuable business assets. No wonder, your business should have its own mobile app.
However, just having an app is not enough. It should also meet the needs of your customers and reflect the values of your brand. You have to make sure that while the app shows what your business is really about, it shouldn't look like a plain advertisement. You have to look for an app that shows the balance of everything.
Signity Solutions can help you in designing such an app. We are a leading custom mobile app development company in India and have enough experience in creating mobile apps that truly add value to your business. This means you can completely trust us.
So, hurry up and get in touch with one of the best companies in the industry to outsource app development. We will create an app that people will love using again and again. Don't believe our words, contact us, and see the magic.