Top Open-Source RPA Frameworks
Can open-source RPA frameworks transform your business? Yes! These powerful automation tools offer solutions to streamline work processes, improve accuracy and cut costs to increase productivity. So, waiting for what? Step into the future with Robotic Process Automation (RPA) and soar toward business success today!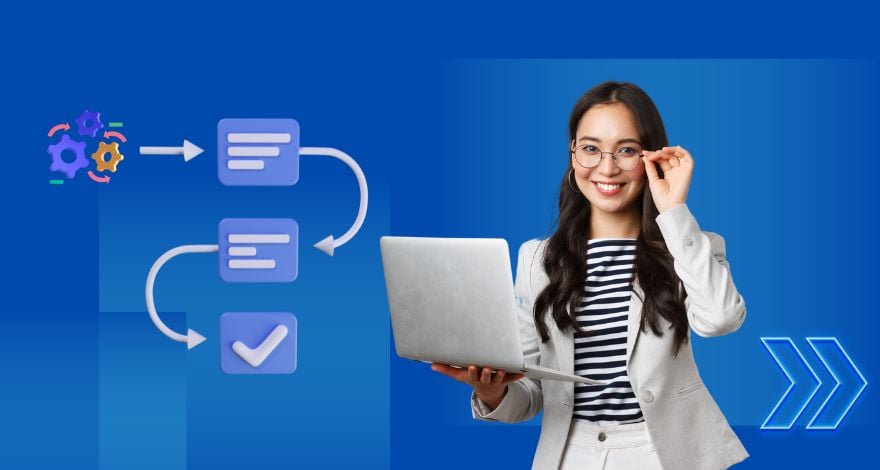 1 in 10 startups will have a higher digital workforce with RPA by 2023. (UiPath)
Automation is a new technological wave that has influenced many businesses worldwide. Moving the entire workforce operations to automation, making errors free production, and bringing out cost-effectiveness makes RPA tools the most required technology for business growth.
Among a list of automation tools, open-source RPA frameworks have emerged as popular solutions for small-sized to large-scale business industries. These tools allow businesses to customize and modify automation workflows for their needs. The idea behind customizable RPA frameworks is to publicize the source code for further redistribution and modification per the business models.
Benefits of Open Source RPA Frameworks
Let's explore the top Benefits of open-source RPA tools for business automation:
Cost-effectiveness and Flexibility
By 2024, organizations will lower operational costs by 30% by combining hyper-automation technologies with redesigned operational processes. (Gartner)
Every business that depends on human resources or workforce is more inclined to bring out flexibility and execute the production process within a specific budget. With open-source RPA tools, anyone can master bot creation and customize the framework within a defined cost structure. In industries like healthcare and finance, RPA tools have been amplifying the framework for streamlining billing automation and flexible process execution for better outcomes.
Read this case study to know about billing automation in the Telecommunication industry.
Active Community Support and Collaboration
68% of global workers believe automation will make them more productive.
Open-source RPA frameworks foster engaging community support for the developers and contributors. With this, users can easily collaborate to access repositories, forums, and documentation for help and shared knowledge. With community support for RPA frameworks, organizations can identify, advise and determine technical attributes to improve overall work efficiency. It also enables faster adaptation to emerging advanced technologies and best practices to create a responsive and agile RPA ecosystem for your organization.
Customization and Extensibility
Open-source RPA frameworks offer a high level of customization capabilities. Developers can easily modify the source code, create custom libraries and integrate with other tools per specific business requirements. This feature empowers business organizations to quickly extend their operations by combining different tools and technologies.
By customizing the frameworks, industries can accommodate defined business processes to work on the development process. Furthermore, the extensibility feature facilitates a dynamic and cohesive automation environment to discover unrivaled possibilities in the technical landscape.
Key Factors to Consider When Choosing an Open-source RPA Framework
Open source RPA framework offers different features and functionalities. The selection criteria for RPA frameworks are challenging for those who need to be made aware of automation functionalities. While scrolling through a list of many open-source RPA frameworks, you should consider different key factors in mind:
Compatibility with Existing Systems and Technologies
Before putting hands on the RPA framework, ensuring its compatibility with the company's current technology stack and infrastructure is essential. You can access the framework's ability to integrate easily with various applications, APIs, protocols, and databases widely used within the ecosystem. It will help to ensure smooth automation and data exchange processes.
Documentation and Ease-of-Use
What is your business requirement? Which processes need automation? These queries will give you a clear scope of the provision of RPA frameworks.
You should thoroughly examine the framework documentation, including guides, API references, and tutorials. A well-drafted document will help you prioritize the frameworks with extensive community support; intuitive user interfaces to foster efficient adoption and development. Opening an information window to the developers will also ease the implementation process.
Top Open Source RPA Frameworks
Here, we have come up with a list of top open-source RPA tools that can help you revolutionize your business with the power of automation:
Framework 1: Robot Framework
It is an open-source automation tool supported by the Robot Framework Foundation. It is one of the most advanced and professional open-source RPA tools. Many top industries worldwide use Robot Framework for robotic processes and test automation.
Robot Framework uses the modernized SAS (Simple Application Service) model, a Microsoft Azure platform innovation widely adopted across the leading cloud services. It facilitates seamless RPA implementation and business process automation. At the same time, organizations can easily configure this service to introduce virtual employees or integrate with existing systems for enhanced efficiency.
Overview of its Features and Functionalities
Provides Python-native API to create a custom test library
Includes a rich set of built-in libraries for testing SSH, HTTP, FTP, and XML and testing user interfaces and databases.
Easy integration with the other tools to create flexible automation solutions
Build high-level reusable keywords from the current data
Provides setup and teardown for test suites and cases
Gives support for data-driven tests and sets
Free to use without paying license fees
Community Support and Resources
This open-source RPA Framework offers a user-friendly syntax and supports various programming languages like Python and Java. With its cost-free accessibility, this tool has garnered the trust of notable companies, including Cisco, Nokia, Kone, and more.
Its keyword-driven approach allows the developers to write tests using reusable keywords and natural language syntax. Both technical and non-technical professionals can quickly write and maintain test parameters. Robot Framework offers a modern architecture that can be extended for additional tools and libraries to automate tasks like web application testing, database interaction, and mobile application automation.
Robot Framework streamlines various business operations, optimizing IT infrastructure, alleviating workload, and cutting costs, while granting enterprises greater adaptability. The application aligns perfectly with automation, comprising routine and high-value tasks with minor intervention from technical professionals.
Framework 2: Robocorp
It is one of the top open-source RPA frameworks to offer actively maintained and well-documented libraries for software developers. It is designed to enable developers to build local frameworks which can be operated from the cloud.
Overview of Its Features and Functionalities
Offers a dashboard to monitor, manage and visualize your automation
Highly compatible with different languages and tools like GitHub, VSC, and Python
Provides a fast bot deployment with a dedicated control room
Offers cloud-based deployment for an easy access
Community Support and Resources
Designed to be used with Python and robot framework, Robocorp helps with fast deployment, compatibility, and maintenance of complex automation. With its cost-effectiveness and high compatibility, you can save up to 80% of costs compared to other RPA tools.
It helps to build your team's competence with data analytics and automation skills. With this, you can empower your team with comprehensive training and learning resources to develop your community's collaborative strength.
Framework 3: TagUI
TagUI is a command-line, visual automation, and cross-platform RPA solution for desktop keyboard, web, and mouse action. It is one of the best open-source platforms with multilayered functionality and a rich scripting language that allows complete RPA instructions. Developers can quickly develop every set of instructions with TagUI language and save it with extensions.
This RPA tool stores no official data while working on the local user device. With no need for industry certifications- PCI-SS, SOX, or HIPAA, you can easily integrate business process automation.
TagUI is the best open-source RPA framework to create a perfect environment to execute remote workflows. With an easy add-on feature for Excel and Microsoft and Microsoft Power Automate, it offers fast integration to streamline your business workflow.
It offers R and Python integration for machine learning, big data, and artificial intelligence. TagUI also supports writing scripts in syntax and helps to extend the no-code experience.
Overview of its Features and Functionalities
Integrates different business functions such as quoting, analysis, purchasing, and asset
Offers script writing capability in 20 languages
Easy Python and R integration for AI or machine learning
Provides complete support for desktop and web automation
No need for advanced coding language
Builds script with a natural language syntax
Community Support and Resources
TagUI is the best cloud application that can be easily managed worldwide. Providing support to up to 15 users, TagUI helps the developers to manage different sessions within the same device.
With its easy-to-use functionality and a broad range of user support, you can easily plan developer training programs. They do not have to go through the technical aspects of the platform. With the user-friendly interface, businesses can easily customize the application to their needs.
Use Cases and Applications
Examples of Industries and Processes Where Open-source RPA Frameworks are Used
The versatility and cost-effectiveness of open-source test RPA frameworks engaged various industries to integrate powerful and flexible automation solutions to streamline business operations and increase productivity.
Here is the list of top businesses and industries that have integrated different open-source RPA frameworks:
Manufacturing Industries: Inventory management, quality control, supply chain operations, order processes, and production optimization.
Healthcare Sectors: Patient data management, claims processing, appointment scheduling administration management, and billing process.
Human Resources: Automation of interview scheduling, employee onboarding, leave management, payroll processing, and performance reviews.
Education: Student enrollment, grading system, administration tasks, and course scheduling.
Insurance: Policy management, fraud detection, and claim processing.
Customer Support: A ticketing system, live chat support, email responses, and consistent customer interactions.
Finance and Banking: Data entry, customer onboarding, invoice processing, risk assessment, and streamlining compliance.
E-commerce and Retail Industries: Inventory tracking, order fulfillment, and pricing updates.
Telecommunications: Billing processes, customer support, service delivery, and provisioning.
Supply Chain and Logistics: Order tracking, warehouse management, and shipment updates.
Case Studies Covering Successful Implementations of RPA Frameworks
RPA frameworks have been accelerating business growth all over the globe. Here, we have described the open-source RPA use cases of the top renowned global industry:
Case Study
Emerson
Emerson Electric Co. is an American multinational corporation situated in Ferguson, Missouri. This manufacturing company deals with products and engineering services for commercial, industrial, and consumer markets.
Challenges:
Large workloads and mission-critical processes, including financial operations, supply chain, and complex order management
Slow processing and high-cost operations
Missed SLAs, and high downtime
Solutions:
The Robocorp framework successfully empowered major operations with automation and all application stack levels, including UI, locators, UI elements, API, and data.
The technical team attained an outstanding level of proficiency with Robocorp's versatile automation capabilities.
With support from Robocorp's onboarding team and 24/7 support tools, they built dynamic digital workers, migrating high-consuming Gen1 bots and creating new automation using reusable objects.
The team efficiently scaled their workloads and achieved self-sufficiency through the Python ecosystem and human-readable syntax.
Result:
Working with Robocorp, Emerson can run 16+ sessions on one server and has achieved 100% adherence to the SLA.
Feature Comparison between Different Open-source RPA Frameworks
Have a look at the open-source RPA framework comparison table:
Strengths and Limitations of Open-source RPA Frameworks
Moving towards the final execution of the open-source RPA framework, you can go through the pros and cons of each to determine an overall view of their functionalities and features.
Robot Framework
Pros
A large user community for keyword-driven, behavior-driven, and data-driven styles of writing test cases
Easy user interface, supports all major browsers, and customer support
Third-party integration and secure data storage
Customization and Predictive Analysis
Easy workflow management for both technical and non-technical users
Cons
Complicated and expensive control room
Advanced customization constraints for nonprogrammers
Lack of built-in support, complex debugging process
Slow execution speed
TagUI
Pros
Easy-to-use, simplified syntax for non-technical users to create automation scripts
Cross-browser compatibility
OCR support to extract text from PDF files and images
Open-source software and customization features
Flow control features for the users to create complex scripts that can handle different scenarios
Cons
Limited community support
Limited integration
Lack of advanced features like machine learning tools
Security concerns to identify and fix security vulnerabilities
Robocorp
Pros
Cloud-based architecture to facilitate easy collaboration among team members
Fast integration with Python libraries and control room management
library customization with Python and complete web automation
Fast development and execution system
Easy error handling throughout the process
Cons
Data storage issues
Limited support for commonly used operating systems or platforms
Steeper learning option for users who are unfamiliar with cloud-based automation or Python
Implementation Considerations
From selecting the best open-source RPA framework to providing proper training, important factors must be considered to implement the automation system successfully.
Specific measures that you should consider for an open-source RPA framework implementation are listed below:
Assessment and Planning: Determine all important processes for automation, considering factors like potential ROI, complexity, and volume.
Infrastructure Setup: Check out the hardware, network requirements, and software for smooth implementation.
Framework Selection: Explore various open-source RPA frameworks based on community support, compatibility, features, and extensibility.
Integration and Testing: Look for easy integration of the RPA framework with existing systems to perform the thorough testing process.
Team Training: Conduct training for the developers and stakeholders to thoroughly understand the chosen RPA framework.
Deployment and Monitoring: Examine automation gradually and continuously to locate the performance.
Skills and Expertise Required for Development and Maintenance
As far as technical support is concerned, involving professionals who have a complete understanding of how RPA framework integration works will be helpful for the best implementation of automation systems.
Programming Languages: Proficiency in Python, Java, or others supported by the selected RPA framework.
Technical Knowledge: Sound practical knowledge of web technologies, APIs, and application integration for seamless automation.
Process Automation: Complete understanding of automation concepts and business processes to design efficient workflows.
Quality Assurance: Implement the best practices for proper testing, debugging, and ensuring the reliability of automation workflows.
Collaboration: Effective communication and easy collaboration with team members and stakeholders for successful implementation.
Problem-Solving Skills: Ability to address challenges during development and maintenance.
Continuous Learning: Session for the latest developments in RPA and related technologies for ongoing framework improvements.
Community and Resources
Engaging the community and resources in vibrant discussion forums and knowledge platforms through open-source RPA frameworks empowers the users to enhance their proficiency to a great extent. It fosters collaboration and knowledge-sharing support to leverage the full potential of these automation tools.
Discussion Forums and Online Communities for Open-source RPA Frameworks
Let's explore the discussion forums and online communities of open-source RPA frameworks:
Robot Framework
Stack Overflow: This active Q&A platform enables developers to ask and answer questions related to Robot Framework.
Robot Framework Users Google Group: It is a vibrant community for discussions, sharing knowledge, and seeking support for automation queries.
TagUI
GitHub Discussions: It is an interactive space for collaboration and community support.
TagUI Community Forum: There is a dedicated platform for users and developers to engage in discussions, troubleshoot, and share insights.
Robocorp
Robocorp Slack Workspace: It is a real-time communication channel for developers and users to interact, communicate and get support.
Robocorp Community Forum: This community-driven platform fosters various discussions, solution implementations, and feedback.
Documentation, Tutorials, and Learning Resources
Robot Framework
Robot Framework Tutorials: There is a collection of tutorials to educate users in learning and mastering the Robot Framework.
Official Robot Framework User Guide: Users can go through comprehensive documentation to understand the Robot Framework effectively.
TagUI
TagUI YouTube Channel: Developers can go through video tutorials offering visual learning programs for TagUI implementation.
TagUI Documentation: Users can also get knowledge through detailed guides and references to assist users in harnessing TagUI's automation capabilities.
Robocorp
Robocorp Documentation: Developers and stakeholders can have detailed knowledge through Robocorp's documentation of features, libraries, and workflows.
Robocorp Academy is an interactive learning platform with courses covering RPA concepts and Robocorp's tools.
Conclusion
The top open-source RPA framework presents numerous opportunities, capabilities, features, and benefits to grow your business. When added to manual operations, automation frameworks can bring a transformative change to drive an efficient increase in business growth. With the early adoption of open-source RPA solutions and technological advancement, many mid-sized and large-sized enterprises have filled the gap between technology and workforce efficiency, increasing productivity and cutting costs and time.
There is a fast development scope in this digital world with open-source robotic process automation. As a part of advanced technology, if you want to add automation to your business or industry, exploring and evaluating open-source automated tools, their features, customization, functionalities, pricing, and integration is recommended. You can also create a match list to acknowledge what suits your business model and type best.
Are you in the queue to automate your business, looking for the best open-source RPA development services, contact Signity Software for a reliable automation solution today!
Frequently Asked Questions
Have a question in mind? We are here to answer.
What is Open source RPA Framework?

It refers to robotic process automation software, freely available for the users to access, modify and distribute the source code.
How long does it take to learn Open Source RPA Framework?

The time required to learn and practice the open-source RPA framework depends on prior knowledge and experience. Developers or technical experts in Python or Java can take a few weeks to months to understand concepts and advanced tools.
What are the benefits of Open source RPA tools?

Cost-effectiveness, customization, community support, and automated system.
How secure is Open Source RPA Framework implementation?

It depends on the measures considered during deployment, like access control, audit trails, data encryption, and regular updates.