How to Outsource Mobile App Development in 2021?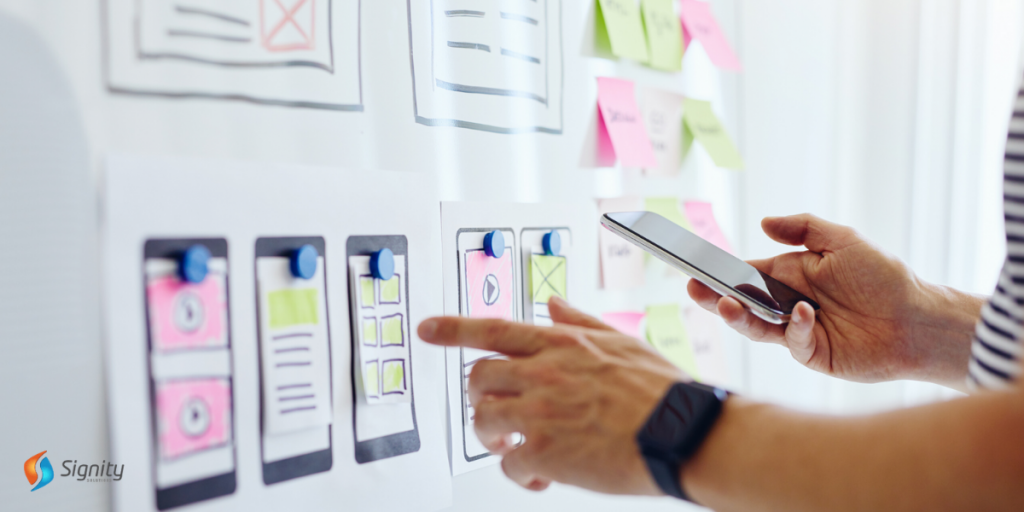 8.93 million – That's the total number of mobile apps in the entire world. Isn't that pretty massive? The mobile development market is on the rise, it seems. Just look at the trends alone for apps available in the App Store between 2008 to 2020.
Number of available apps in the Apple App Store from 2008 to 2020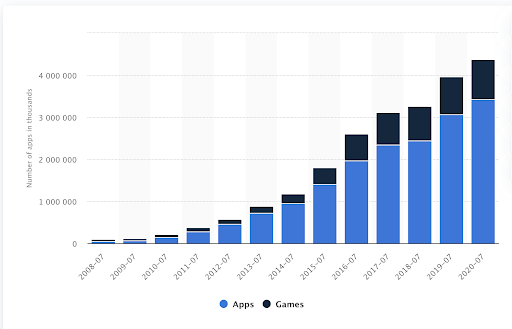 There are tons of apps available on the App Store and Google Play Store. But are all of them successful? Umm, NO, they are not. The success or failure in the mobile app industry relies heavily on the chosen 'outsourcing company.' But how to outsource mobile app development in 2021?
Finding the Best' Outsourcing Company' for Mobile App Development
The mobile industry is alive and kicking. The world is flourishing with mobile software development companies. And, most of them are highly inclined towards outsourced projects.
Generally, if we witness the trend, most of these companies rely on outsourced teams from developed countries.
The motive behind doing that is the availability of such programmers is vast comparatively. Developing countries are still to grow and learn much more about mobile app development – That's the first thing. The other thing is the more inclination towards saving costs.
The basic rule of business – the more the supply, the lower the prices will be, and the higher the competition.
Hence, these companies rely on outsourced teams from developed countries to better deal at a lower price – which is undoubtedly an intelligent move for any business.
Why Outsourcing is an Imperative Chunk of Mobile App Development?
Outsourcing of various projects in mobile app development is done based on these two factors:
Decent and reliable clientele

Enormous experience in development
However, it is not just these two factors that decide the success of any mobile app development project. Sometimes, the need for re-development may arise because of these two main factors flopping. Such situations demand a bigger budget and efforts to turn a flop project into a successful one.
Strategies that Might Save your Development Cost, Transform the Flop Mobile App Development Projects into Successful Ones, and End up Developing a Successful App.
64% of IT leaders outsource mobile app development, 37% of companies expect an acceleration in mobile app outsourcing in the coming years.
Why business people, leaders, and entrepreneurs pick outsourcing services for mobile app development?
It cuts down the development cost, delivers enhanced efficiencies, and gives your business a competitive edge over your competitors.
All of this relies on how well you have hired your 'outsourcing company' to deploy highly reliable and scalable apps for your business.
Strategies that Works, and You Must Follow to Outsource Mobile App Development
To outsource mobile app development in 2021, here are some strategies to follow:
Clear & Concise Outline for the App
That's a must-have – and pretty much obvious. How are you expecting the outsourced team to understand the entire concept when you don't understand it clearly?
A reliable and experienced outsourcing company might assist you with additional knowledge, ideas, and strategies to complete the project.
But the basics have to be precise.
To outsource mobile app development in 2021, all you need to build is a straightforward app outline that is easy to grasp. And, not just the outline – there has to be complete documentation done on the app's objective, purpose to make it, clear vision, expectations, potential drawbacks, and such factors to make it a successful app for your business.
Next, would you be outsourcing a freelance developer or a full-fledged team to develop your mobile app? Decide that. How will communication be done? What are the problems faced in app creation and development that need to be fixed?
It would help if you were ready to get answers from the outsourced team for attaining a successful mobile app.
Here are some questions that need to be answered:
What is the primary purpose/objective of developing the app?

What user's issue/pain point are you targeting?

What is the list of features you need in your mobile app?

Is it going to be an Android app or iOS or both?
Prepare your list of such questions, which you need to present to the hired team.
Assessment of the Budget
The budget might be the same, but the cost incurred by the development team will differ. That depends on the project complexity, the experience with the development team, and the time required to develop the mobile app.
Of course, you will get numerous developers in the market – right from the cheapest to the most expensive ones. Usually, to save the cost, most companies go for the cheapest one – resulting in the most non-unique, average, and apps that barely have something to stand out amongst the competitors.
That shouldn't be your case – in case you wish to develop a better and successful business.
Next, the most expensive ones – need thorough scrutiny to decide whether they possess the necessary development skills or just creating the hype about it.
The differences in the prices are generally not much – until and unless it is a difference between the extremes (the cheapest and the most expensive ones).
So, how do you select the best one based on the budget? Well, carefully plan the budget, including all costs (primary & secondary), to successfully outsource mobile app development in 2021 successful.
Don't go by the misconception – that the full-fledged team and freelance developers – differ too much. There is always a chance that you can get a good team of developers anywhere.
Remember, it is always possible to outsource a highly reliable mobile app development team in 2021 without really breaking the bank.
Interview Multiple Mobile App Developers
You want someone who accurately matches the needs of your app development requirements. Therefore, you will have to interview a few development teams.
Schedule meetings with all the teams, interview them, understand their experience/skills/demands – so that a perfect team that matches your app development needs is hired.
Generally, there are three main types of development providers:
O

ffshore Developers – Locate in a different country than yours.

Onshore Developers –

Locates in a similar country as you.

Nearshore Development Firms-

Locate in the countries bordering yours.
Mostly, the companies choose the onshore ones – for apparent reasons – for better and more accessible communication. Besides, it is even easy to conduct meetings with them – reach them effortlessly. It wouldn't be a time-consuming task and hence a better deal for you.
However, some even opt for offshore developers due to the low hiring cost. Once you have decided on the app's needs, it would be easy to determine what type of developers you need.
Hence, interview a few developers before you finalize your decision.
Pro Tip: Don't lose contact with the rest of the developers who are not hired. Yes, you might have chosen your final one, but you would have a lot more to reach out in the future when the data of the interviewed developers is maintained.
Samples + Test Development
Who doesn't wish to see 'what they speak backed up by the facts and samples?' Perhaps, it is one of the best ways to understand how the chosen development team works and how well they can match your mobile app development requirements.
Ask the chosen developers (even all those interviewed) to submit a sample copy of their past work and developed apps. If they are experienced and have worked in the app development industry, it would be easy for them to submit the same.
You, on the other hand, definitely need to see their work. So, samples should be the first thing that you must demand from the development team/developers.
Outsource mobile app development in 2021 is easy – but then you have to understand what you need to probe into when interviewing the potential developers. Next, your likely team should be ready to deliver a demo or a test app development. Why so? That's advantageous to both the parties – you and the developers.
It would be a chance to prove their expertise and skills, and for you, it is the demo that will help you decide the right developers for your business. You can quickly identify the quality and work ethics followed by the team.
Just keep in mind – it should be a no-cost sample that they need to deliver before getting hired.
Are they Flexible Enough?
Development is not a single-step task – it needs alterations at every step, during development, and event after.
So, your motive should be to invest in a team that can adjust to the changing needs of the entire development process. Most of the time, changes will be needed in the development stages of mobile app development.
How well they can comprehend such changing needs, and how flexible are they to abide by such rules set by your company – Together, these factors will decide how to fit that development team is for your business.
Of course, your firm is all about deploying timely apps. You need to fulfill your targets and satisfy the clients by delivering quality services in the least possible time.
Be very clear about the same with your development team. Your clientele might come up with sudden changes in the app – based on how their audience responds to it. Since 'saying no' is not a choice when running a business, no matter what the case is – it would be a smart move to find a flexible team that responds well to sudden alterations and changes.
Besides, keep in mind that these are just the petite amendments, and the significant development is covered primarily.
How is it – Post Development?
Is your chosen development team keeping up with your business processes? How well are they communicating things? Is there any hindrance to their development criteria? If not, congrats. You have invested in a pretty good team.
Your efforts to outsource mobile app development in 2021 are successful. If not, then work on the team – understand the hindrances in the success of the app. No business has ever started ideally – there are flaws, and there will always be, no matter what business you are running.
So, fix the issues and work on developing more successful mobile apps for your clientele. Just keep a check on how well they are communicating the problems and how quickly they take the initiative to solve them.
Well, that's all you need from your outsourced mobile app development team. Since you have invested in a good development team now, it is essential to build a better relationship with them to build a better business that is profitable and appreciated by your clientele.
It is essential to understand their point of view too – don't be harsh on the team. Understand them and work together as a team for developing the mobile app hassle-free.
The Takeaway Message
Outsourcing mobile app development is easy – only if such important points are kept in mind while hiring the mobile app development team.
Of course, there are multiple companies available in the market, and the need is to choose the right one without bearing any loss for your business. The critical point is to identify the competent development team by scrutinizing their expertise, skills, history, and communication skills to make the right decision.
Are you planning to outsource mobile app development? Book a free consultation and speak with our IT professionals to understand the rewards and risks of outsourcing IT.
At Signity, we don't rush through things. We work for your business' success and growth and take time to explain the benefits and challenges of outsourcing for your business. Rest assured, we'd tend to all your queries regarding the mobile app development outsourcing process and deliver the best possible solution tailored to your requirements.
Further, it is suggested to be clear and concise about the app requirements so that your outsourced team knows your expectations with the app. Outsource mobile app development in 2021 is simple and easy – the only need is to abide by these vital points for developing a successful app.