What Business Processes you Should be Outsourcing to India in 2020?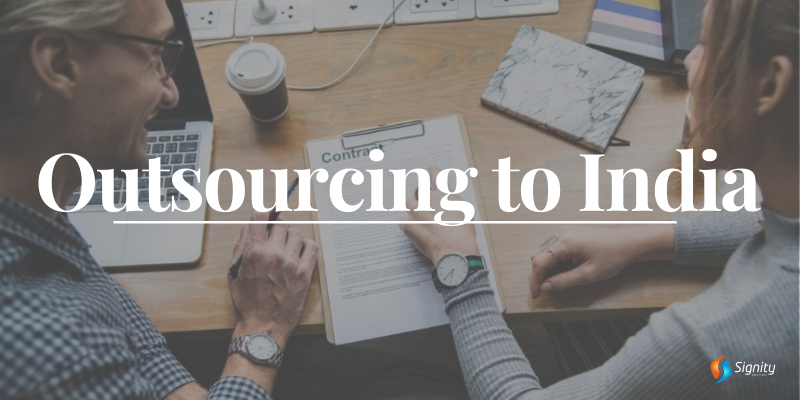 Doing every aspect of your business and watching it grow is indeed good. But it will soon cease to matter once deadlines kick in and success after deployment of the product is taking a lot of time than expected.
"The important thing about outsourcing or global sourcing is that it becomes a very powerful tool to leverage talent, improve productivity, and reduce work cycles." – Azim Premji, Chairman of Wipro Limited
So, to reach the destination as fast as possible and to emerge successfully you need expert help. Maintaining an in-house team might not be a good idea owing to the expenses and other factors. So, what you can do is, outsource your business processes.
With globalization leveling the world, it has become increasingly important for companies to utilize outsourcing firms in India to stay competitive.
Moreover, India has become the premiere IT outsourcing destination worldwide for technical jobs. When compared to other outsourcing locations in Eastern Europe, the Pacific Rim, and Latin America, India tops the list.
Now, you must be thinking why do I need to outsource my business processes? Let's check it out here!
Why do Companies Choose Outsourcing to India?
India is a land of opportunities and has always got attention from entrepreneurs around the globe. Providing cost-effective yet quality services, India has now become a support system for most of the software companies in the western world.
"If you are saving money, that doesn't mean you are making money."
Here, I am trying to say is if you are doing all the activities with the help of your in-house team, that doesn't mean you are saving money. All you are doing is overburdening your workforce though you know you can outsource these business processes.
By outsourcing these tasks to an outsourcing partner in India, your in-house team can focus on major tasks.
Here Are Some Statistics on Outsourcing to India
According to Tholons 2016 Top 100 Outsourcing Destinations, Bangalore has the highest share of outsourcing business in India. Mumbai, Pune, Hyderabad, and Delhi are not far behind either. They are on the list of top 10 outsourcing destinations as well.
Hexagon consulting suggests, India's outsourcing business today stands at approximately $US 118 billion, clearly proving India's dominance in the outsourcing landscape.
List of Few Companies that Outsource their Back Office Services to India
There are many companies that sends their back-office work to India. Below are a few of them.
IBM
Vodafone
BestBuy
American Express
CISCO
Ford
Oracle
General Electric (GE)
Dell
Telstra, and many more.
Advantages of Outsourcing To India

There are so Many Perks of Outsourcing to India. Let's have a look;
1. Lower Costs & Higher Benefits
Saving money & time are the major reasons for outsourcing to India. And, India has proven to be the most cost-effective.
Labor costs in countries like the US, UK, Australia, Canada, and Dubai are enormous as compared to India. Lower costs directly have an impact and increase the ROI.
Instead of hiring in house teams, spending money on infrastructure agencies prefer to outsource their business to Indian companies which provide them a dedicated workforce that would work exactly like in house resources.
Outsourcing to India offers not only flexibility but also a reduction in capital expenditure, infrastructure and maintenance costs by a considerable margin.
2. Access to a Large Talent Pool
Outsourcing to India facilitates access to a large talent pool with plenty of experience. With the highest number of skilled resources in sectors such as IT, BPO and Finance, etc.
The availability of skilled workforce at reasonable pricing is the icing on the cake for the agencies based in the US, UK, Australia, Canada, and Dubai among others.
3. Long-term Support
When your project gets completed, your connection with the outsourcing partner doesn't end there. Your IT outsourcing partner will provide you the required support & maintenance.
4. India offers Outsourcing Friendly Policies
Outsourcing business is one of the main sources of foreign income for the Indian economy. And hence India's outsourcing policies are flexible encouraging overseas companies and businesses to outsource their business to India in a hassle-free manner.
From $US 50 billion in 2010 to $ US 118 billion in 2016, India's growth in outsourcing is immensely great. The statistics clearly suggest that while India's policies are considered great for outsourcing, the availability of skilled resources at minimal and lower costs on the other hand makes India the best choice for outsourcing.
5. Better Disaster Planning:
In the case of a digital disaster, you could get up and running in no time provided you've outsourced your company's IT infrastructure to a reliable managed outsourcing services provider.
6. Latest Technology & Advanced Infrastructure
Indian companies heavily focus on the deployment of the latest infrastructure and technologies. Besides, training the workforce on the latest technologies is at the core of their strategy.
They conduct training programs on a regular basis to ensure their employees are at the top of their game all the time. This helps Indian firms cater to the demanding needs of overseas clients and execute critical projects in a seamless manner.
Well, I hope the above-mentioned benefits gives you clear insight into choosing India for outsourcing business processes.
Now, if you have decided to outsource the business process to India, here are some points that you can consider;
How often will the task be conducted?
Availability of outsourcing resources for the task
Cost of outsourcing vs. insourcing
Risk of pivoting away from the particular skill
Degree of specialization required
After discussing IT outsourcing to India, its advantages, industry stats, now is the time to discuss the processes. What kind of business processes you should be outsourcing to India?
Most Popular Outsourcing Services

Let's take a look at 9 such business processes you can easily outsource to India and make more time for yourself to focus on growing your business.
Content Marketing
IT Services
Mobile App Development
Payroll
Accounting
Inventory Management
Data Analysis
Customer Support
Lead Generation
Let's discuss these most popular IT outsourcing services in detail;
1. Content Marketing
Content has always been the king when it comes to marketing. Creating and publishing content has nowadays become one of the most important tactics for marketing your product.
Reason?
It can attract traffic
It can answer customer queries
Can help in conversion
Helps in maintaining a connection with the public
Adds value to the sales process
Will help to stay in the radar of the potential buyers
To provide credibility
Maintaining an entire team for this can be a daunting task for your company since you have a lot to handle when it comes to managing many aspects of your custom app development services.
Considering the importance of content marketing, it's always safe and essential to depend on a remote team as they may have custom made options for any type of company.
2. IT Services Outsourcing
The key to being successful in any business is to reach the market as early as possible. Since technologies are evolving at a rapid pace, keeping up can be a problem since the cost and skill required to do so can be hefty.
So, in order to keep up with time, outsourcing to India is the only way in front of you. If your in-house team and resources are smaller or inadequate for your requirement; an outsourcing team can help you to a great extent. They have the resources and expertise to make things possible within the deadline with less cost compared to that of the money required in purchasing up-to-date resources and skilled workforce.
And above all, they will be able to give you a clear picture of what will work and what won't.
3. Mobile App Development
According to a recent survey, 72% of businesses worldwide outsourced their IT-related requirements. Outsourcing mobile app development to India can be cheaper and more efficient for many businesses. It can significantly reduce the amount of risk involved, cut down your development costs, and produce exceptional results.
The top mobile app development agency suggests keeping the following points in mind while outsourcing mobile app development services:
Know Your Requirements
Pick the Right Development Option
Look for Relevant Experience
Remember: Communication is Key
Ask Questions
Set Clear Expectations
Request a Project Plan
Collaborate with Your Partner
The above-mentioned points will make the most out of outsourcing your mobile app development.
4. Payroll
Payroll errors can prove to be hefty for any organization. It does not simply mean the calculation of the salary for your employees. It is much more complex and requires a deeper solution.
In fact, many small businesses have been paying millions of dollars in the US as the price for payroll errors.
Outsourcing payroll related activities such as:
Employee record management
Calculating employee salary and wages
Computation
payroll distribution
Reports etc.
This will make sure that everything related to payment has been set on the right course.
5. Accounting
Accounting comes with a set of rules and regulations. Owing to the same it can be a complex thing to handle. If you are a young entrepreneur or someone who has a lot to handle, these complex division of your business might be too much to handle.
By outsourcing the account related processes of your business to India, you can get hold of plenty of benefits such as:
Save time
Get hold of expert handling
You will always be updated with the latest policies
Access advanced technology
Flexibility and scalability
Economic safeguard in a hard situation
6. Inventory Management
You have a small inventory that is easily manageable. What if circumstances are forcing you to expand it?
You need to outsource your inventory management. In this type of situation, association with a company that has flexible contract terms would be the right choice. The company must be able to carry out your regional, national as well as international shipments with ease. They should also have systems that can integrate with yours so that you can constantly track what's happening.
Outsourcing your Salesforce and Zoho consulting services can help you in managing and scaling your team. The professional CRM consultants can look into your requirements and will suggest you with the best.
7. Data Analysis
Collecting and evaluating data for better decisions and meaningful information is one of the essential trends in businesses. Big data analysis is the key for any business to make a better decision. Since the cruciality of the task is immense and the attention this process requires is huge, it's always better to outsource it to a private company who is good at what they do.
By outsourcing the data analysis processes you will be able to;
Internal resources can be freed
Cutting edge tools will be at your disposal
Predictions will be accurate
Save a lot of money and time
Manage data efficiently
Secure data
8. Customer Support
Imagine that you have spent years and a huge fortune on a product. But once it's deployed in the market you lost at being trustworthy to customers. All that effort and time went in vain!
Often outsourcing customer support to India might give you a picture of a large room with numerous people talking to the customers. Which is not true!
There are virtual assistants at present that you can hire to carry out customer service with impeccable efficiency. You can use medium such Linkedin to search for someone who can align with your needs while outsourcing your customer support needs.
9. Lead Generation
Lead generation is not a piece of cake. Statistics state that 8 out of 10 businesses turn out to be a failure owing to their incapability to generate leads.
Similar to conversion optimization, lead generation is also a difficult task and has a colossal impact on your business. It's always safe to outsource lead generation in order to build a highly scalable business.
If you have the money to maintain a team that can generate leads through various tasks it's fine. But why bother if there are companies out there who can do the same thing with assurance and in a cost-effective way?
Conclusion
The possibility of outsourcing to India is indeed immense. However, make sure that you are not sourcing segments of your business just to ease the load.
Evaluate the processes in your company and have a thorough understanding of your weakness and the struggling point and then think about outsourcing to India.
Hire an outsourcing team that fulfills all your requirements and make sure that they provide you with their best services.