The Power Of Property Portals In Transforming The Real Estate Business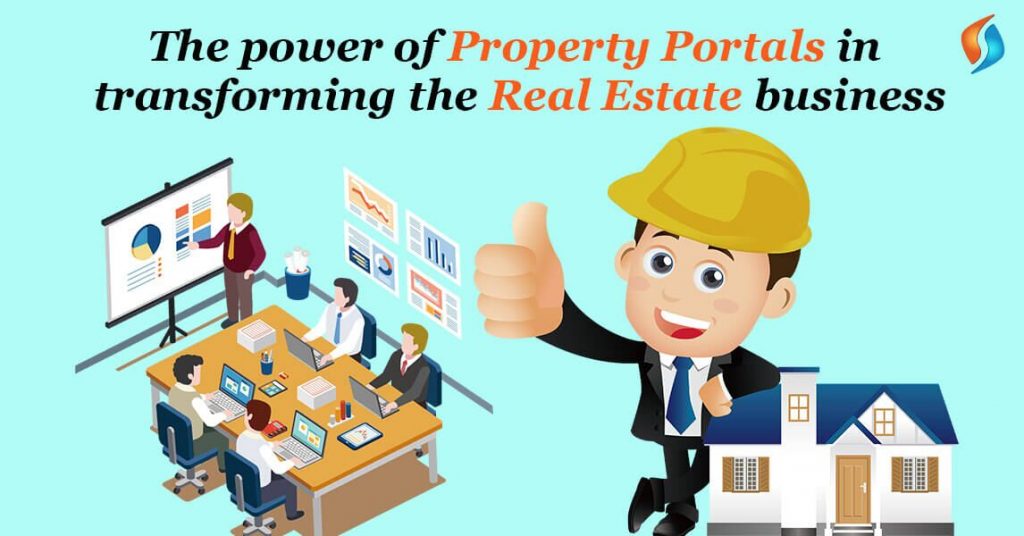 With a global capital flow of $5.7 billion, the Indian real estate is booming at an unprecedented rate. And if that's not enough, do you know Indian real estate has private equity of a whopping $32 billion? Now, that's huge. Wondering how did it happen? Well, it's all because of real estate portal development. Yes, you heard that right. The real estate portal development companies have transformed the way this business used to function for good.
Moreover, with 33% of millennial preferring to buy homes, the real estate businesses have got all the more reasons to go online. After all, millennials prefer everything that's convenient and easily accessible. Be it food, clothing or critical decisions such as property deals; they love to do everything through a click. So, it wouldn't be wrong to say that real estate website developers are just doing the right thing by providing the real estate portal development services.
However, whether a millennial or not, anyone and everyone can extract the benefits of these real estate web development companies, so, are you searching for properties too? Want to get the best deals with minute details? Well, say hello to the world of property management solutions presented by real estate website developers. It wouldn't only give you everything on a single platter but, also save you from the unnecessary chaos of brokers. Willing to know more about it? Here's how it can benefit you and help you acquire your dream home instantly. Take a look.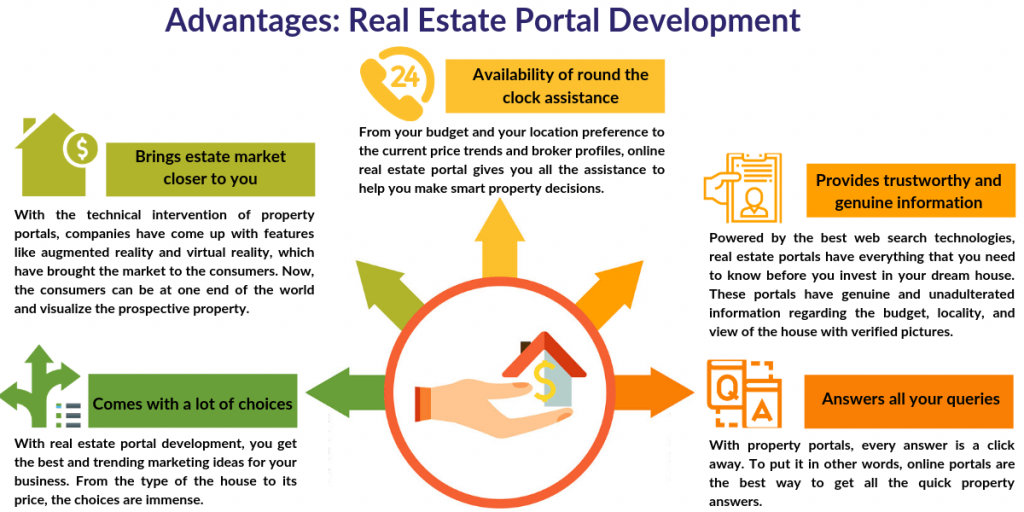 Advantages: Real Estate Portal Development
Comes with a lot of choices:

The difference between traditional property deals and property portals lies in choices. Earlier, your options were limited solely to what brokers showed you. But, custom web development services providers have changed the whole scenario. They provide you with the best and trending marketing ideas for your business. From the type of the house to its price, the choices are immense. All you need to do is browse through the property portal and find the deal that best suits your needs. Well, this is the reason two-thirds of property customers in both rental and capital markets opt for real estate portal development for their property purchases.

Answers all your queries:

As mentioned earlier, the property portals have everything in a platter. It has all the means to give you the right information at the right time. Want to have a sea-view apartment or are you looking for a budget-friendly home? With property portals, every answer is a click away. Well, can you imagine getting any such answers through traditional real estate market? No way. And even if it does, it would take ages. To put it in other words, online portals are the best way to get all the quick property answers.

Provides trustworthy and genuine information:

Buying a property is a life-changing decision. Therefore, everyone wants to be sure before they take this huge property plunge. You want the same too, don't you? This is where property portals come handy. Powered by the best web search technologies, it has everything that you need to know before you invest in your dream house. These portals have genuine and unadulterated information regarding the budget, locality, and view of the house with verified pictures. And, if that's not enough, it also has reviews from verified consumers. This, in turn, will help the prospective property buyers to get an end to end information and take accurate decisions.

Availability of round the clock assistance:

A piece of good advice goes a long way in taking a great decision. And, when it comes to property purchases, critical opinion is all you need to make a valuable decision. Property portals have a variety of experts and professionals who will assist you at every step of the property deal. All you need to do is reach them through call centers or chats. From your budget and your location preference to the current price trends and broker profiles, they give you all the assistance to help you make smart property decisions.

Brings estate market closer to you:

The traditional property market wanted the consumers to come to it. But, things have changed with the technical intervention of property portals. Today, top machine learning companies have come up with such features like augmented reality and virtual reality, which have brought the market to the consumers. Now, the consumers can be at one end of the world and visualize the prospective property. It doesn't only enhance the accountability of the property but also reduces the time and effort in finding the right kind of property.
Conclusion:
All in all, property portals have everything to make your life easier. Gone are those days when buying a property was a tedious task. Now, it is as easy as eating a piece of cake. Just a click and you are all sorted. Do you know 44% of buyers have already found their dream home through these portals? So, if you are looking for your perfect home too, real estate website developers like Signity Solutions can be your gateway to finding one such home. Go for it. Don't waste a second. Join the property portal bandwagon now and make your dreams come true.