How to Generate Seller Leads on Property Portals?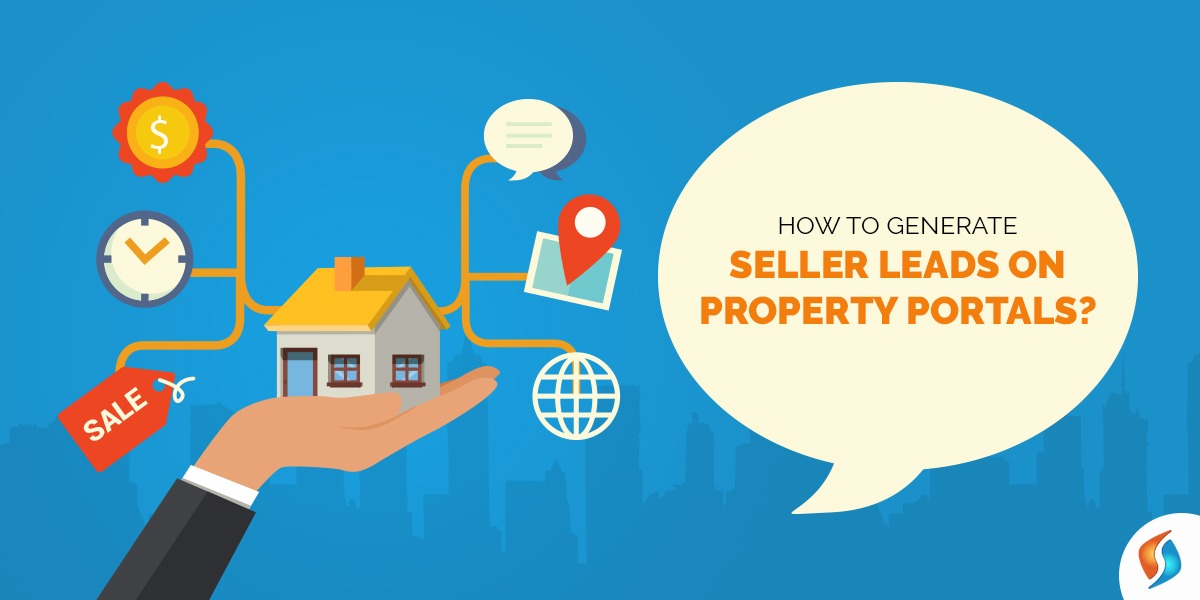 The real estate businesses have undergone a complete revolution in the last decade. Earlier the real estate industry saw the domination of estate agents and brokers. These brokers were either working independently or with a property company. For buying or selling a property, there were very few options. With the rising popularity of the internet, the property business is evolving.
Now, most successful property businesses have gone online. They have their elaborate portals and mobile apps for the convenience of their customers. There have been significant changes in the way people look for new property. More and more prospective homeowners have now started looking at property portals for their requirements. As per a recent report in the UK, 47% of people have been using property portals since the last 12 months. This lays a lot of emphasis on property management software development.
Potential of Property Portals
A large number of potential customers are online. The primary target customers for property businesses are first-time home buyers. In most cases, these first-time home buyers are young professionals in their mid-30s. According to a report published by the NAR, Millennials constitute 35% of total home buyers in 2017. Customers in this age group are tech-savvy and like to conduct their search for a property online. This necessitates the need for a real estate portal development company.
Technology is playing a crucial role in removing barriers to information. This has been enabling users to look for their property requirements easily. New innovations are modifying the traditional role of an estate agent. So, every real estate business needs to be more responsive to potential customers. With real estate ERP solutions, these concerns can be addressed.
How to generate seller leads on property portal
Real estate businesses are always looking to get more listings. But do not know how to generate seller leads on property portals? This process can be made simpler with the help of certain processes that help with the generation of leads.
Following are some tips on how to generate leads on property portals: -
1. Advertise-
Advertising is one of the easiest ways to generate leads. The expense might seem high initially, but the returns will justify the cost. There are websites like Zillow that offer advertising options for realtors. Spending on digital marketing services is a smart move. As more than 44% of buyers conduct property search online before availing services of a realtor. Social media platforms like Facebook also help with the creation, targeting, and tracking of paid ads for real estate business.
2. Generate Leads Using LinkedIn-
Make an account on LinkedIn as it's an excellent tool for B2B networking. It can also be an incredible place to generate new seller leads. There are various groups on LinkedIn that are specifically for the real estate industry. You can join those groups and build your network of like-minded people. You can market your portal on these groups and recommend your services to those users who might require them. This will help you generate seller leads for your property portal without any difficulties. If you are not well-versed with LinkedIn, then a digital marketing agency can help you with generating leads using LinkedIn.
3. Build an effective website-
Having a fully-functional website is the pre-requisite to generating seller leads online. You need to make sure that your website is user-friendly and offers all the information that is required by the users. This will help you in engaging the sellers and encouraging them to list their properties on your platform. The website should be easy to browse, offer accurate information, have multiple Click-To-Action options. You can enlist the services of a custom website development company. It can help you in developing a comprehensive portal with all the necessary elements in place.
4. Cold Calling-
As a professional salesperson, cold calling should be a part of your everyday routine. There is a reason that cold-calling is still used by many marketers and that being the fact that it is amazingly effective. With a planned approach and persistent efforts, you shall be able to generate leads for your property portal. Cold calling should be accompanied by assistance to sellers willing to list their property on your portal.
5. Automate your lead process to develop repeat customers and referrals-
Automation of lead generation and follow up process is very important. Once you start getting more than 15 leads every month, it is not possible to manage them through emails and calendar. In such a situation you can avail chatbot development. Chatbots can not only interact with your customers but also turn them into leads. They ensure timely response to any queries made by potential customers.
You can also automate lead management process by using ERP integrated solutions for your real estate business and hire an outsourcing team for the same.
6. High-Quality Backlinks-
Backlinking is another way to organically improve the SEO ranking of your portal. For driving more traffic and generating more leads on your website, consider partnering with similar websites. By contributing resources or exchanging links you can generate working backlinks to your portal. Search engines give considerable weight to quality backlinks. If you devote some time to this task, you shall be able to generate some high-quality backlinks that will improve your SEO results. This will improve your website ranking on SERP and drive more users to your website, which further will help with your lead creation task.
7. Strategic Social Media Schedule-
Social Media is one of the most effective mediums of generating seller leads for your property portal. Instagram, Facebook, WhatsApp are some of the platforms where millions of target customers spend considerable time every day. There are various pages and groups on these platforms related to real estate business that you can join. You need to send the right message, on the right platform at the right time — no easy feat when you're juggling calls, open houses, and showings. This is where the services of a digital marketing agency will help you out. With a planned SMM strategy, you can generate excellent leads for your property portal.
Conclusion
Are you also looking to generate more seller leads on property portals? Then your quest ends with us. We are one of the leading property management solutions providers. We provide world-class real estate website development services in India. Our team has many years of experience in travel portal development as well. We can handle most complex requirements with ease. Get in touch with our IT outsourcing services today and avail the benefits of our expertise. Contact us now.