Report: Robotic Process Automation Market To Reach USD 20.7 Billion By 2026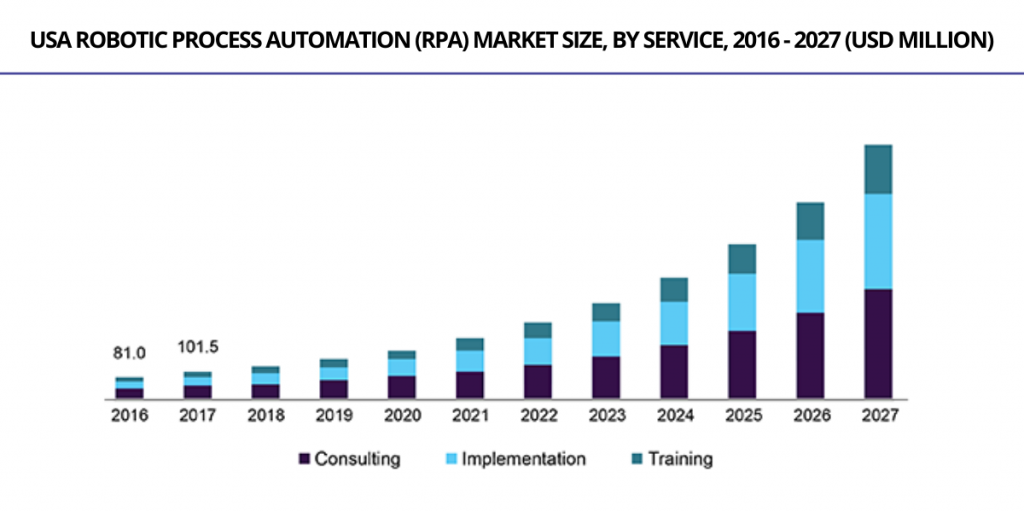 The Robotic Process Automation market has grown since our last forecast, driven by digital business demands as organizations look for 'straight-through' processing," said Fabrizio Biscotti, research vice president at Gartner.
Technological advancements have shown that businesses have overcome new challenges amid new customer requirements and demands.
In the past, RPA has been seen to be adopted by small and medium-sized businesses and even large enterprises to automate and make their tasks productive. They have found out RPA to be a major player in making their operations seamless when coupled with other significant valued processes.
Robotic Process Automation Market Segment Wise: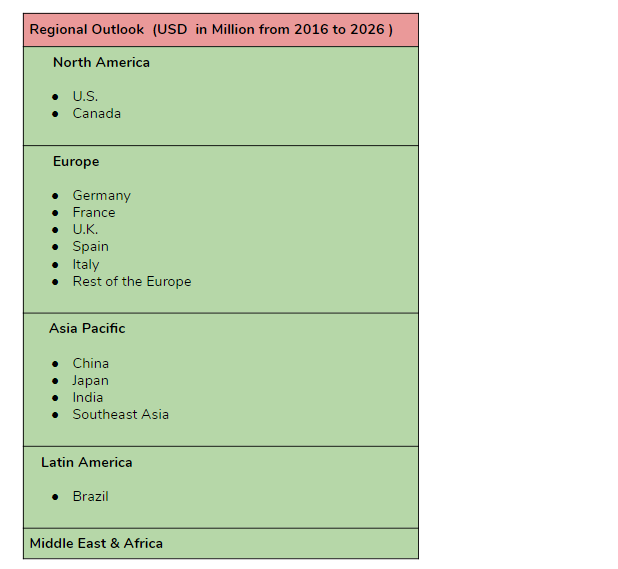 RPA can be segregated into consulting, implementation, and training. And the consulting segment is counting to be the largest sector in 2019 because of the growing awareness in the market and even among the organizations.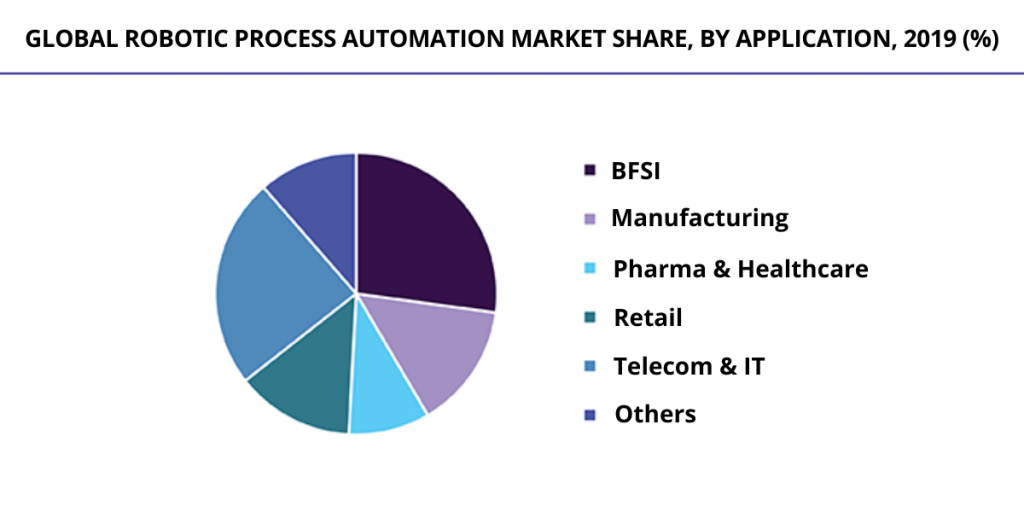 Companies are now more focused on adopting robotic process automation solutions to offer enhanced services to their clients and customers. Thus, the demand for consulting services in RPA is surveyed to grow significantly over the upcoming years.
RPA services ensure every infrastructure management with the continuous development of application management services and related consulting. These development and application management services are important for the integration and building of a robust automation environment.
Increased adoption of these solutions is significantly powering the growth of consulting and implementation services in the industry market.
And the RPA consulting service providers are offering customer-centric solutions. Thus, the implementation service sector is also playing an important role in market growth and is anticipated to witness the highest CAGR over 2020 and 2026
The Robotic Process Automation Market Segregation Insights
The Robotic Process Automation market can be divided into SMEs and large enterprises, and according to reports, large enterprises are the biggest accommodator in terms of market share.
The adoption of Robotic Process Automation among large enterprises is because of improved efficiency, reduced human errors, reduced costs, and enhanced regulatory compliance.
While the SMEs have noticed the highest CAGR over the forecast period. With the implementation of RPA, SMEs have improved their productivity and also have gained a competitive edge.
Recently there is an increase in awareness regarding the benefits of using RPA automation among SMEs. And hence the higher adoption of RPA, especially in the telecom sector is expected to provide growth avenues in the emerging economies.
But there are certain limitations to the adoption of RPA in SEMs, such as budget and human resource, therefore they have focused on keeping their operations as lean and agile as possible. This has resulted in leveraging RPA among small enterprises for transitioning from human workers to automation.
Stating the Deployment Insights
The Robotic Process Automation market in terms of deployment can be divided into on-premise and cloud. The cloud deployment has the highest CAGR and will also be the highest in the coming years. This is because of the growing demand for cloud-based solutions.
RPA cloud solutions carry a lot of advantages from the ease of deployment, requirements of less upgradation and maintenance, and also fewer infrastructure costs.
Also, the customers are also liking the cloud-based solutions as it is capable of dealing with any type of cybersecurity issues. It additionally has the flexibility in scaling the process and helps in real-time access to data regardless of the location of the employees.
While the on-premise segment has the highest take in 2019. Traditionally, large scale enterprises were the ones who opted for the implication and deployment of robotic process automation, and this enabled the RPA service providers in building use cases.
Since there were a lot of cybersecurity issues in the earlier days, organizations doubted the exposure of their data and information. And therefore, led to large-scale deployment of on-premise based offerings. But the problem was the costing, on-premise costs a lot in order to provide a robust technical environment for RPA on-premise deployment.
This is the reason why organizations are moving towards cloud-based deployment, which also enables them to improve the speed of execution and lowers the cost.
"
The top-five RPA vendors controlled 47% of the market in 2018. The vendors ranked sixth and seventh achieved triple-digit revenue growth. "This makes the top-five ranking appear largely unsettled," said Fabrizio Biscotti, research vice president at Gartner.
Corona Pandemic and RPA a Boon to it
With the alarming concern over the Coronavirus that is threatening the fragility of our economy, social, and the survival of our species there is a need for our industries to still function and provide basic needs such as food and medicine supplies is an absolute necessity.
And this is where RPA is an absolute.
Because in a situation where everyone is sick or at a risk of getting sick supplying food and medicine has become a difficulty.
RPA is not only being the solution of the future but also the only solution as of now.
RPA can not only provide fully functional robots to help the patients but can also provide solutions in the industry that are labor centric and require to work on humongous patient data compliance and processing.
Healthcare organizations are making use of smart tools to implement fast automation processes, such as;
Patient admissions and discharge

Clinical data interoperability

Tracking health plans
Therefore deploying RPA to assist the hospital management will cover complicated and time-consuming processes, including paperwork transforming to digitization, laboratory work data flow between departments, and human resources.
The additional impact of RPA in the Market shows that;
Robotics Process Automation Market is the fastest growing in the Asia Pacific because of digital transformation, economic development, globalization, and the increased adoption of cloud technologies in countries like China and India.

RPA tools are accounted to be the leading sector in the growing market, which is valued at USD 6.54 Billion in 2018.

North America is the largest area with a share of 32.84 percent due to the higher adoption of Artificial Intelligence and RPA in different industries.

Managed services area is the fastest growing at a CAGR of 20.4 percent due to the need for focusing on core business activities.

Europe is expected to account for 27. 17 percent of the global market due to the increasing demand for automation and Robotic Process Automation in European countries such as the U.K., France, Japan, and Germany.

Banking, Financial Services, and Insurance are the end-user to account for the largest market size by 2026. Banking companies are gradually implementing automation and some more technology-driven approaches for customer experience and cost savings.
Some of the key players in the Robotics Process Automation Market are Dell EMC Corporation, UiPath, Capgemini, Inc., SAP SE, Genpact Blue Prism Group, IBM Corporation, Salesforce.Com, Inc., Pegasystems, and Cognizant, Happiest Minds.
Even though RPA solutions cannot completely eliminate the requirements of business management or enterprise application integration. But it can offer a channel to automate complex and costly operations and expedite back office and middle office tasks.
It also has the capability to ease the process in a complex system and allows them to interact together seamlessly. Furthermore, RPA enables a quick digital transformation of centralized management processes that can leverage agility and growth in business services.