A Go-to Guide to Business Process Automation (BPA) in 2023
Are you fed up with mundane tasks, huge errors and time taking processes holding your business back? Opt for business process automation to streamline work operations, and integrate time saving processes to unlock your potential for continuous business growth today.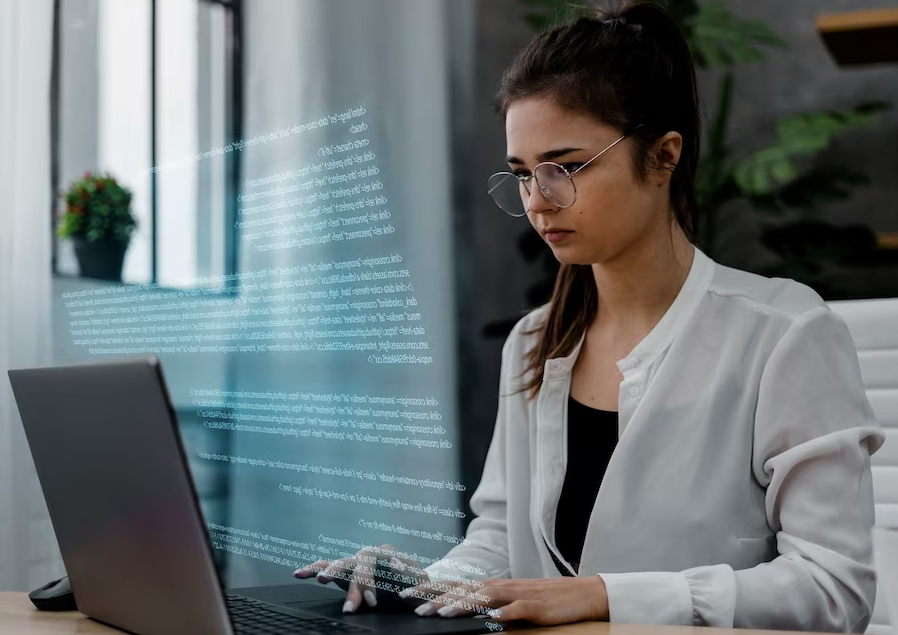 Automation is the key driving force of different industries worldwide in this digital era. From the IT businesses to healthcare sectors, finance to production, business process automation has come up as a transformative solution to streamline and optimize workflows for continuous growth and productivity.
"The business process automation market research report delivers a complete perspective of everything you need, with an in-depth analysis of the current and future scenario of the industry. The global business process automation market size grew from $12.4 billion in 2022 to $14.02 billion in 2023 at a compound annual growth rate (CAGR) of 13.1%."
By leveraging advanced technology, business automation tools, and workflow automation software, businesses have revolutionized how they streamline, operate, and manage enterprise processes.
This article will delve into business process automation benefits, exploring software, tools, types, benefits, and applicabilities in different sectors.
What is Business Process Automation (BPA)?
Business process automation can be referred to as using technology or software to automate repetitive and manual processes, workflows, and tasks, minimizing human intervention and saving time and cost-effectively. It is a set of activities to accomplish business goals while bringing on new customers and assimilating new employees.
BPA uses several advanced technologies, including cloud platforms, process intelligence capabilities, and enterprise automation tools. You can easily stress off from repetitive tasks within a few clicks and processes.
With BPA, organizations can significantly enhance operational efficiency by reducing errors and empowering resources to focus on growth-oriented sectors. Emerging as a digital transformation solution, this process automation also helps to analyze business processes to discover the best scope of change or improvement in the workflows. In simple terms, BPA is the key to unlocking the full potential of your business organization.
Types of Business Process Automation (BPA)
Depending upon the business types or sizes, business process automation can be of different types:
Robotic Process Automation:
It uses software robots to automate repetitive and rule-based tasks. These bots can easily respond to human actions by interacting with systems and applications to complete tasks or processes like data extraction, data entry, and report generation. Nowadays, Robotic Process Automation (RPA) is highly effective in streamlining business processes that involve standardized workflows and structured data.
Integrating RPA in finance, you will get round-the-clock assistance to increase your business productivity and efficiency to a great extent.
Check out how Telecloud saves 750+ man-hours monthly in accounting with RPA bots.
Workflow Automation:
It is the process to automate the flow of tasks, processes, or information defined within a business process. Ensuring the proper execution of a predefined sequence with all inputs and outputs, the workflow automation process enables seamless information flow within the organization. It adheres to a preset series, reducing delays, improving collaboration, reducing delays, and improving efficiency simultaneously.
With workflow automation, businesses can easily accelerate the decision-making and plan business expansion and growth of various divisions.
Intelligent Automation:
Intelligent Automation is a combination of Robotic Process Automation and Artificial Intelligence. Businesses based on structured data can opt for intelligent automation to fill out unstructured data and reduce the complexity of tasks and processes. It involves integrating natural language processing and machine learning to bring out automation solutions for business growth.
Leveraging AI techniques, businesses can easily interpret and analyze large volumes of data, get insight, and make informed decisions or choices without human intervention.
Business automation tools
In this competitive world, various business automation tools empower organizations to integrate BPA effectively. These tools have developed different functionalities to streamline business workflows and processes. Check out the list of business automation tools:
Process automation software: This software empowers businesses to automate, model, and manage different workflows and processes at the same time. Its user-friendly interface allows businesses to easily set predefined instructions to design and integrate workflows with existing systems.
The popular process automation software is UiPath, Blue Prism, and Automation Anywhere.


Workflow automation platforms: Centralizing all business processes, disparate systems, and applications is one of the key features of workflow automation platforms like Microsoft Power Automate, Zapier, and Nintex. These platforms offer powerful integration capabilities, intuitive interfaces, and insightful analytics to analyze the entire business workflow in one place.
What are the benefits of automating business processes?
Business process automation offers many benefits to small-sized to large-scale businesses:
Increase productivity: By integrating BPA solutions, businesses can easily automate manual processes and repetitive tasks, reducing inefficiencies, delays, and errors to increase overall productivity. The aligned focus on value-added activities will also help accelerate your business's turnaround times.


Cost-saving: Business process automation cuts costs by process optimization, resource allocation and labor costs based on manual tasks. With BPA, you can effectively allocate resources, reduce the scope of errors or repetition, and streamline operations to achieve substantial cost savings in the long run.


Continuous growth: Business automation tools and workflow automation software enable businesses to increase efficiency. Automating business processes has a predefined set of instructions for a particular period, leveraging the production cycle to meet deadlines.


Accuracy: Process automation software integration leaves no room for error, ensuring accurate and consistent results. Adding automation brings precision to the finance and accounting departments involving financial reporting, risk management and compliance and provides error-free outcomes, thus establishing trust with regulators and stakeholders.
Read more about how One-Stop Telecom achieves 100% accuracy in SkyFax services billing using RPA bots.
BPA in Finance Sector
Business process automation in finance sectors unlocks a multitude of benefits:
Accelebrate financial close:

Accuracy is the key for all finance and accounting businesses. BPA enables the automation of manual calculations, operations, and repetitive tasks involved in financial processes like journal entries, data consolidation, and reconciliation, enabling fast and accurate financial reporting.

Reducing the scope of errors and bringing out a high level of accuracy, robotic process automation in economic accounting sectors results in fast processing of information, thus helping the stakeholders to take informed decisions.


Improve compliance and risk management: BPA helps to ensure compliance with regulations with the automation of audit trails, compliance checks and risk assessments. Enhancing data security and finance automation in different sectors provides regulatory reports and strengthens risk management practices.


Enhanced customer experience: Automating the entire workflow of finance sectors like customer onboarding, account management, loan processes, and business process automation leads to improved retention rates to a great extent. It also helps increase customer satisfaction and gives a competitive edge in the market.
Undoubtedly, the benefits of automation business processes are far-reaching. As a catalyst, business process automation has been adding innovation, increasing efficiency and growth in today's competitive business world. By embracing business automation management, enterprises can enhance scalability, agility, and customer satisfaction and foster seamless integration between applications and systems.
Frequently Asked Questions
Have a question in mind? We are here to answer.
What is business process automation?

BPA refers to using automation tools and technology to optimize manual and repetitive tasks, processes, and workflows. With BPA integration, businesses can increase efficiency and productivity by reducing errors.
What are the top benefits of automating business processes?

In today's fast-growing world, business process automation offers different benefits, including increased productivity, efficiency, cost savings, faster turnaround times, accuracy, enhanced compliance, customer experience, and a better decision-making process.
Which industries or businesses can benefit from business process automation?

Business process automation can benefit small-sized to large-scale organizations across different industries, including healthcare, finance, human resources, retail, manufacturing, logistics, customer service, and more.
What are the types of business process automation?

There are different types of business process automation, including workflow automation, Robotic Process Automation (RPA), document management automation, artificial intelligence (AI) integration, business process management (BPM), and integration and data exchange automation.
How can I opt for implementing business process automation in my industry?

Implementing BPA (Business Process Automation) requires proper planning and evaluation. Discover the business processes suitable for automation and potential benefits. Check out different automation tools, software and technologies available in the market. Consult with the experts or consultants who specialize in this domain.