What is Intelligent Automation? Why is it Important?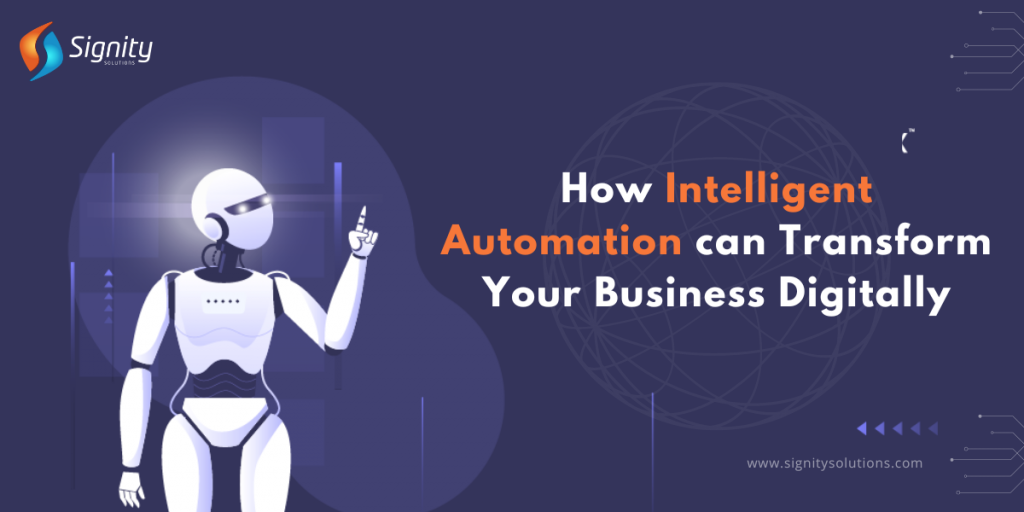 It's encouraging that 56% of CEOs have already witnessed improved profits by inculcating cognitive technologies and moving ahead in their automation journey.
Also, a whopping percentage of companies have prioritized digital transformation compared to cybersecurity, cloud migration, and customer experience.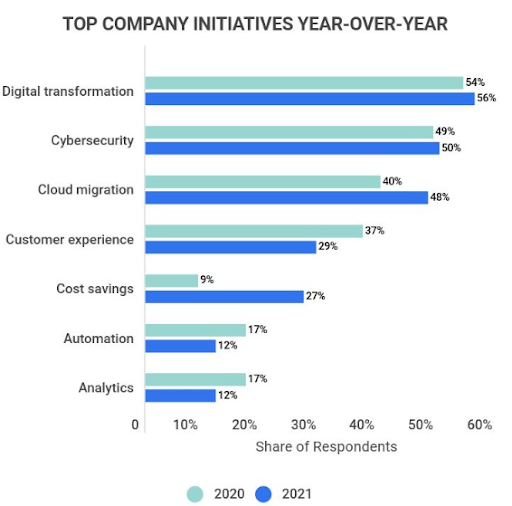 Source - Zippia
Similarly, Avanade's press release suggests that approximately 86% of global business leaders are optimistic about integrating Intelligent Automation into their business operations if they wish to thrive in the coming years.
So, it's understood that Intelligent Automation has cemented its footstep in the competitive marketplace. IPA (Intelligent Process Automation) steps out from the back office to assist enterprises in creating buoyant and adaptive operating models and helps deliver an unparalleled customer and employee experience.
Some industry watchers, CEOs, and C-suite executives across the globe have accelerated their strategies to integrate intelligent automation solutions. After all,
Intelligent Automation is a Crucial Lever in the Digital Transformation.
Simply put, it's an opportunity that can't be overlooked to modernize your digital workforce.
But what actually is intelligent automation, how are businesses using it, and how can you integrate it to your business are a handful of questions going in the back of your mind, right?
Don't worry; we got you covered.
What is Intelligent Automation?
These days, enterprises are quite familiar with the term "automation", as behemoth of them automate voluminous repetitive processes to enhance efficiency. Though, the intelligent facet of automation is brought in by AI, Robotics, ML and other technologies that have the potential to make decisions without human intervention.
In layman's language, it's the unification of two technological ideas that have been the buzz of the town for a long time - Artificial Intelligence and Automation.
Also, Business Process Management (often termed business workflow automation) is an integral part of intelligent automation, as it automates workflows to increase business process agility and consistency.
Let's dive a little deeper into the three cognitive technologies of intelligent automation: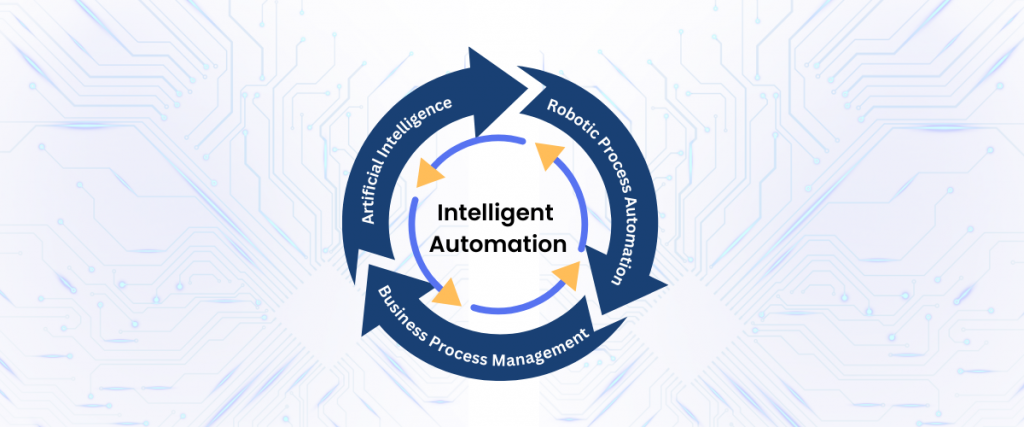 1. Artificial Intelligence
It is one of the unskippable elements of intelligent automation. This is the decision engine of IA.
Therefore, by using complex algorithms and machine learning to analyze data (structured and unstructured), businesses can create a knowledge base and formulate predictions based on the data.
2. Business Process Management
Business Process Management, popularly known as BPM automated workflows, offers agility and consistency in the business process. BPM is used across industries to improve interactions and engagement and streamline operations.
3. Robotic Process Automation
The third crucial element of intelligent automation is Robotic Process Automation.
RPA uses bots or software robots to complete back-office tasks. These bots complement AI to manage more complex tasks and use cases.
To simply put, automation technologies help business leaders in improving business processes.
Intelligent automation can be a crucial element of your business, but recognizing where it can make the most impact is the right beginning.
Where can Intelligent Automation Make an Impact?
Let's take a quick look at IA solutions and how you can put it to use to transform your organization.
1. Intelligent Capture
Intelligent capture is a significant keystone of IPA.

To be precise, it not just captures data - even unstructured data like handwriting - but also understands the data and analyzes it. So, a competent, intelligent capture quick fix will help your business in numerous ways:
Pace up process completion

Categorize, extract and authenticate incoming information

Provide paperless workplace

Eliminate costs

Minimizes the risk of human error
Automated Destruction and Retention of Documents and Records
Banking, insurance, healthcare and HR are a handful of industries rapidly leveraging benefits from automated retention and destruction of documents because of the enormous record management needed for compliance.
So, if your organization stores confidential, subject to regulations or personal information, all you need is a high-performing record management automation tool. Here, Intelligent Automation comes in the big picture, offering the ability to:
Automate document destruction according to regulatory guidelines.

Imply aggregated, updated retention and excerpt to the relevant documents.

All retention tasks are automated, including legal holds, approvals, storage transfer, archival and deletion.

Assure the data in the stored documents in the system complies.

Offer defensible audit trials for the complete lifecycle of the records.
2. Robotic Process Automation
RPA is an inescapable aspect of a complete IA strategy, as with RPA, "bots" become your digital workforce. With automation technologies, repetitive and voluminous data processes, free your workforce for higher-value tasks. An efficient RPA solution will:
Orchestrate the bots with a real-time dashboard for live monitoring and intuitive management.

Analyze processes precisely and quickly to the click level.

Ensure maximum bot utilization and scalability

Easily leverage low-code and drag-and-drop tools to develop new automation.
3. Intelligent Process Automation
Companies have structured processes they can imitate on a flowchart, meaning they have defined steps and outcomes. Intelligent automation can easily optimize these processes to offer meaningful value to the right people.
When done with the correct solution, IPA will:
Smartly balance workloads

Send notifications and updates

Automate rule-based tasks

Automatically retrieve relevant contextual information

Send documents for approval
4. Customer Communication Management
Customer Communication Management is a fast and dynamic way to improve employee and customer experience. A high-powered CCM system will:
Automatically develop and distribute customized documentation.

Classify, tag, and summarize content for easy consumption.

Intelligently communicate to the right people at the right time, in the correct interface.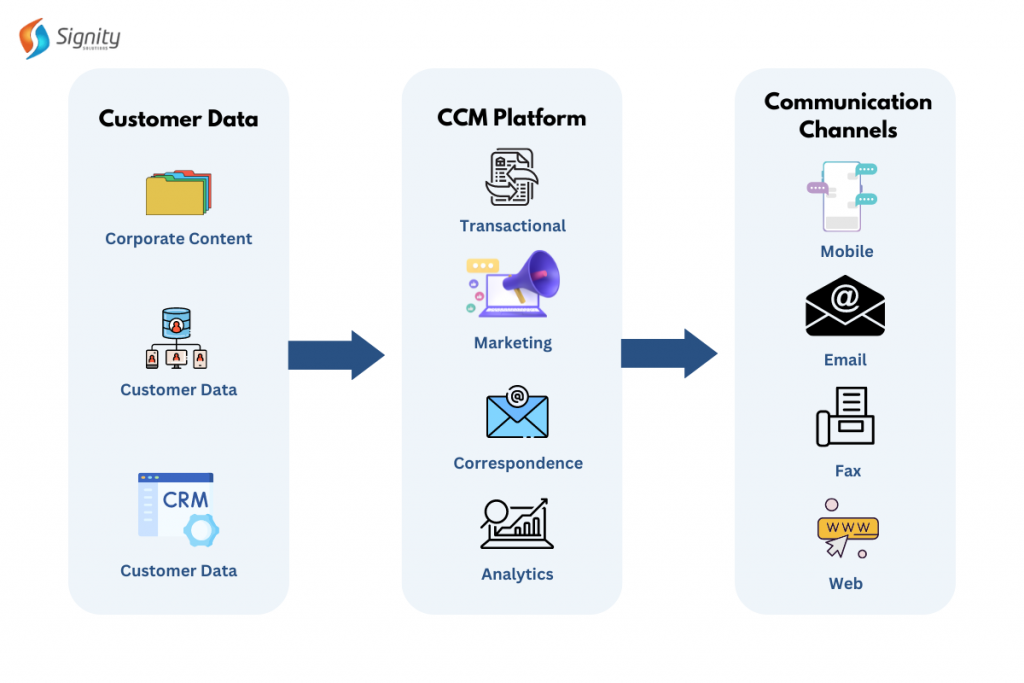 Now, industry forerunners or C-suite executives have an understanding of where IA makes an impact in businesses.
"Organizations Will Require More IT and Business Process Automation as They are Forced to Accelerate Transformation Plans in a Post COVID-19, Digital First World"
Though, with increased automation adoption, different technologies like RPA, Intelligent Automation, and Hyper-automation are used interchangeably.
But they are different!
So, it's prudent to understand the difference and how industry analysts use these terms and address confusion and miscommunication concerns.
What is the Difference Between RPA and Intelligent Automation, Hyper-automation?
Let's create our own "decoder-ring" to make sense of all the terminologies used.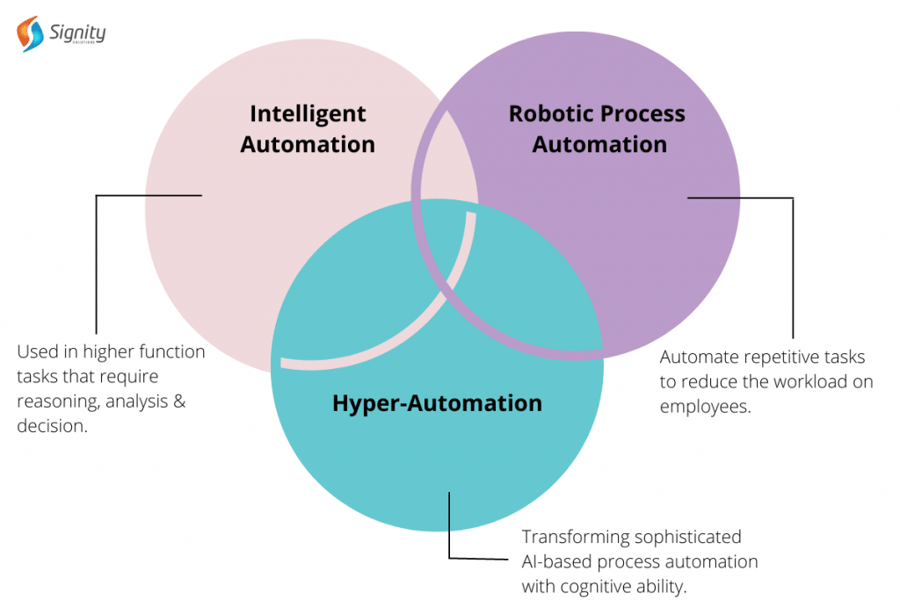 Intelligent Automation
It is a step ahead of rule-based RPA software. It works by integrating cognitive technologies with RPA. Powered by Artificial Intelligence (AI) and Machine Learning, IA can manage an extensive array of tasks, needing baseline analytics and logic.
Though IA solutions rely on baseline automation, they have an extra "intelligence" provided by machine learning and deep learning. Thus, they have the potential to manage more complicated cognitive tasks and even, in some scenarios, end-to-end workflow execution.
The productivity and efficiency gains of integrating IA solutions are inclined towards the higher side. For example, the bank that used smart automation to optimize credit assessments improved productivity by 80%.
Robotic Process Automation
RPA is the basic level of business process automation. Significantly powered by pre-programmed scripts and APIS, the RPA tools can perform repetitive manipulations or structured data inputs, like RPA can extract data from forms, validate inputs, copy files, etc.
Even the most basic RPA solutions can save a team's exponential amount of time and effort. For example, in a bank, reducing manual data entry and automating three business processes with RPA led to a 63% reduction in working hours.

Hyper-Automation
Hyper-automation is the epitome of intelligent automation, which forerunners are looking at. Although RPA remains the focal point of such solutions, it's compiled by a broader range of AI abilities, like:
Optical Character Recognition

Natural Language Processing

Low-Code/No-Code Platform

Intelligent Document Processing

Intelligent Business Process Management Suite
Therefore, considering the wide range of technical capabilities, hyper-automation tools can be deployed in autonomous end-to-end process execution across systems.
You might be perplexed as to which technology is ideal for you?
Which Technology Should I Use?
If you have a process with defined guidelines and do not have many off-the-script scenarios, RPA makes a considerable choice. On the contrary, intelligent automation may prove to be a better choice if you have unstructured data and require more complex assessments.
Moreover, unlike RPA and AI, intelligent automation does not require rule-based training or large data samples, making it a perfect choice where answers are required immediately.
So, let's briefly discuss a handful of key benefits intelligent automation brings to the table, irrespective of the industry.
Unskippable Benefits of Intelligent Automation
There's no doubt that intelligent automation has the potential to reimagine how businesses operate by seamlessly integrating technology, resources, and work processes.
According to McKinsey recent study, integrating intelligent processes, organizations have:
Automated more than 50% of manual processes

Minimized process time by half

Achieved ROIs of over 100%
Let's have a look!
A Step-Ahead In Innovation Power
Intelligent Process Automation is a combination of RPA + AI with the potential to offer enterprises a step ahead in innovation power.
Research suggests that by 2025, 80% of data globally will be unstructured data. RPA's inability to process such voluminous unstructured data turns problematic for businesses in almost every domain. Here, implementing IA to orchestrate business processes comes as a rescue to outrun your industry peers.
After all, one of the crucial aspects of thriving in the digital age is continuously innovating and keeping up with technological advancements. According to Avanade reports, 43% of business leaders believe intelligent automation will allow employees to focus on innovative and complex tasks.
Reduced Operational Cost
Automating systems and processes and using data and analysis to ensure accuracy can accelerate production. IA also provides the ability to scale quickly without increasing risk, compromising quality, or putting a strain on the existing workforce. Business leaders are reaping the benefits of this capability through higher production yields and improved ROI.
Ensure Compliance
Many industries are needed to adhere to specific regulatory policies.
Therefore, integrating IPA provides a more consistent approach to adherence to requirements established by regulatory statutes, industry standards, and best practices.
Removes Error and Exceptions
Using intelligent automation authorizes your organization to keep track of your processes. In totality, this led to better quality control and greater efficiency.
Moreover, IA decision engines integrate RPA to work processes that provide cost-effective business results. So, there's less room for errors when employing IA in your everyday business operations.
Intelligent automation decision engines use ML and Deep Learning to analyze data and patterns before guiding RPA bots to automate relevant tasks. They are primarily built to provide precision learning and data analysis in process automation, eventually eliminating chances of error and exceptions.
Improves Cybersecurity
Implementing intelligent automation checks and balances to analyze networks and data structures, access threats, and address potential security threats and loopholes before they get exploited.
Heighted Accuracy
Integrating automation improves accuracy through continuous work operations and approaches, which upholds quality.
The strength behind intelligent automation comes from using AI for decision-making and bringing a persistent approach to repetitive tasks.
Enhance Customer Experience
Offering an unforgettable customer experience is unmissable for thriving in this digital era. And intelligent automation can help you accomplish this by automating tasks that require human interactions, like replying to customer queries or concerns.
Plus, your employees have more time for other crucial tasks like interacting and bonding with customers, eventually improving your customer satisfaction (CSAT). According to a Capgemini study, 63% of organizations have increased their CSAT scores because of IA.
Besides, IA optimizes the operational efficiency of primary jobs. This way, you reach your financial and non-financial goals while improving your entire customer experience.
How about the motivation to make your business turn to IA?
Here are a few examples to help you make a wise decision ASAP!
Applications of Intelligent Automation in Real-Life
Let's have a look.
Analyzing and Answering Complex Financial Concerns in Finance & Banking
Intelligent automation-powered systems can efficiently address complex financial questions in real-time, allowing speed, time, and automation of human-intensive knowledge labour.

Example: Kensho
Kensho, a real-time computing and analytics platform, received a $15 million investment from Goldman Sachs.
In simple words, it's a next-generation analytics tool for investment for professionals. It quickly and simply answers numerous complex financial queries, automating intensive knowledge work.
Predicting and Better Anticipating in Automotive Industry
With the inception of intelligent process automation, manufacturers now anticipate better and adapt to changes in supply and demand.
Moreover, they improve efficiency and minimize errors in manufacturing, procurement, support and many other areas. Like, they get a better quality product for clients at a low price by using robots to reduce human labour and augment fault detection.
Example: Volkswagen
"Volkswagen", the automotive mammoth, has decided to invest in collaborative robots to address the challenge of dropping employee numbers. The decision came into the picture when the baby boomer employees of Volkswagen started retiring without any prospective workers to replace them.
At Volkswagen, robots work in potentially hazardous activities, aided with manufacturing and procurement, minimizing the likelihood of human errors.
Predictive Analytics and Disease Risk Assessment in Life Sciences
Unquestionably, drug production is highly regulated and needs accurate calibration of equipment and product measurements. Also, it requires a mammoth amount of data collection, comparison, processing and analysis.
Example: COVID-19 Vaccines
The production of COVID-19 vaccines in a limited time is an excerpt of how intelligent automation provides automated processes that improve production speed and quality. As earlier (before using AI), "it used to take several scientists with decades of experience or more to develop a single marketable drug".
Motivated by these real-life examples, let's see what makes intelligent automation unmistakable in the present world?
How Does Intelligent Automation Work?
IA Makes Automating Exceptionally Complicated Business Tasks a Reality
Below is a comprehensive explanation of some of the key functionalities that support the mechanics of how intelligent automation works:
As you already know that intelligent automation eclipses RPA software. RPA helps automate conventional labour-intensive, rule-based activities that don't need human judgment with intelligent systems, like:
AI is a technology that mimics human intellect. Actually, it's the core of intelligent technology, consisting of everything from Intelligent Automation to machine and robot intelligence. AI marketing agencies leverage artificial intelligence to optimize marketing strategies, enhance customer experiences, and drive targeted campaigns, revolutionizing the way businesses connect with their audience in the digital age.
AI processes data faster in comparison to humans and learns from its mistakes. Though, whatever AI "learns" is provided through training data sets.
Intelligent automation uses AI, but often it's used to develop robust processes or anticipate users and client requirements. So, although it has in-built logic, it learns from past experiences.
Process mining is an analytical approach to evaluating business processes as they exist and then documenting and enhancing them based on data analysis.
Intelligent process mining facilitates data-driven choices that have long-term effects on service delivery. Therefore, using intelligent process mining, processes will run quickly and efficiently in less time.
Moreover, with process mining, IA technology is planned and integrated efficiently and monitored and enhanced constantly based on collected data.
Natural Language Processing
Natural Language Processing is a computer's ability to comprehend, analyze and alter spoken or written language.
Text analytics tools break down sentences into different elements; as a result, NLP deciphers the message, evaluates the sentiment, and classifies it accordingly. Then, IPA leverages benefits from the automated data extraction of unstructured or structured data using NLP.
In a nutshell, NLP can enhance the user experience by adding a humanistic approach to automated end-to-end operations.
Machine Learning is another technology like AI that uses algorithms to identify patterns in structured data and produce accurate predictions using previous data as input to predict outcomes.
Businesses can easily create a knowledge base and predict based on structured and unstructured data with machine learning and algorithms. In simple terms, machine learning lay's the firm foundation of IA's decision-making engine.
How Do I Put Automation Into Action?
The road to IA adoption for businesses finally narrows down to the clarity, complexity and standardization of their current processes.
Considering the basic level, simple automation for typical RPA scenarios like records consolidation, input authorization, or data entry takes minimum time to develop and deploy. However, positive business results are also bound to gritty yet minor efficiency, speed and precision improvements.
For complicated business process automation scenarios, consider the following frameworks:
Plan In-Depth Business Processes Analysis
Entirely or partially manual, rule-oriented and repetitive processes are the forerunners' contenders for RPA.
However, they often underpin more complicated processes. So, strategize which other process elements can be considered for automatic execution or performed semi-manually. Simultaneously, access the gaps in workflows, which need switching from one system to another for collecting data or input. These discrepancies can be addressed through RPA.
Discover Automation Options
After initializing the list of requirements for process automation, the next thing is to assess which type of technology fits your needs -
Simple rule-based automation

AI-enhanced execution.
The best recommended RPA and IA platforms are:
UiPath

Blue Prism

Microsoft Power Automate
What Businesses Use Intelligent Automation Today?
Overnight, enterprises discovered their level of "digital fitness" and evaluated the only way forward is through automating existing processes.
Below, we have pocketed major use cases of intelligent automation across the business verticals, like:
Manufacturing
Intelligent automation has triggered the industrial revolution bringing drastic changes in processes and environments that depend on cognitive systems and cyber-physical systems.
Real Estate
Undoubtedly, the real estate industry is not conceivable without mammoth data of properties and their tenants, which needs the proper handling and the best match. Here, RPA and AI revolutionize the industry by automating time- and resource-consuming repetitive tasks.
Banking and Finance
Integrating IA, finance and banking reaps profits, allows regulatory compliance and offers frictionless customer experience by automating the processes that make the core of their business.
Supply Chain Management
Operational obstacles can be reduced by integrating RPA + AI. It helps in navigating legacy systems and other functional barriers in order to connect front-office and back-office operations. By starting their automation journey, businesses can improve supply chain resiliency, increase agility, and optimize operations.
Commerce
Intelligent automation is an efficient approach to enhance sales, grow customer engagement and minimize cost; that is why businesses are investing in it - AI annual expense is predicated on reaching $7.3 billion in 2022.
Telecom
The telecommunication industry is making the most of intelligent automation by improving the efficiency of processes.
Insurance
Whether it's claim and appraisal processing, regulatory compliance, payment calculation and policy management, effectiveness in the insurance industry solely relies on well-orchestrated processes.
Healthcare
Healthcare providers are one of the most significant users of IA solutions that exclusively uses both AI and Robotic Process Automation.
Logistics and Transportation
More than ever, IA is bringing tremendous changes to the logistics and transportation industry.
Finally, a Roadmap Towards the Future
With untold benefits like low cost of operations, better quality, and unparalleled customer service, it's no more a surprise why businesses are turning to intelligent automation.
Furthermore, companies that establish IA in their workflows are better equipped to become innovative and competitive and witness the digital transformation. Also, it's expected that more and more businesses will turn to automation in the coming years - especially for small-to-medium companies, it's easily attainable.
Suppose you are stepping towards discovering your underlying processes and evaluating where it's best to integrate task automation tools or are interested in optimizing your existing automation. In that case, Signity Solutions can help you accelerate and scale automation across your business driving digital transformation.
FAQ's
What is intelligent automation?
Intelligent Automation, popularly known as IA, combines Robotic Process Automation (RPA) and artificial intelligence (AI) technologies that empower rapid end-to-end business process automation and accelerate digital transformation.
What is automation in digital transformation?
Automation involves applying technology to make processes run, making them more efficient and increasing transparency and reporting capabilities. In short, automation is a means to an end, and the desired end is digital transformation.
What is business intelligence automation?
Business intelligence (BI) automation combines business automation strategies and technologies to deliver, reconfigure, or redesign information technology processes for more significant business outcomes.
What is intelligent digital transformation?
Intelligent transformation is the process of generating better business and societal outcomes by leveraging smart devices, and emerging technologies like big data, AI, and cloud technologies.
Why is intelligent automation important?
Intelligent automation core objective is automating end-to-end business processes on computers. It delivers business outcomes on behalf of the human resources, working hand-in-hand with them to deliver faster, better, cheaper services. This improves not only the employee experience but simultaneously the customer experience (CX).