Role of Chatbots in Automating Customer Service in Financial Industry
RPA Chatbots are transforming customer service in the financial industry by providing 24/7 support, automating tasks, and personalizing the customer experience. If you are still confused, what better way to gauge the state of the chatbot than to read everything about it? Here's everything pocketed that you should know.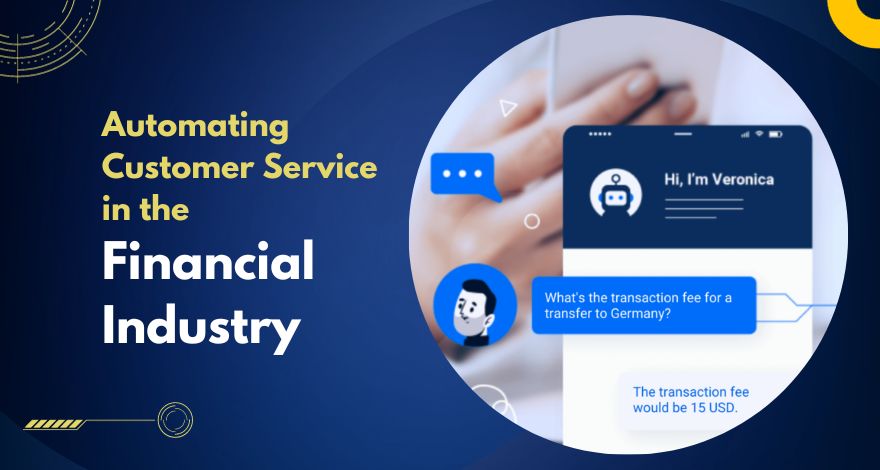 Imagine a world where you can do all your banking tasks from the comfort of your own home with just a few clicks or taps on your smartphone. A world where you no longer have to wait in long queues or deal with complex legacy systems.
This is the world that conversational chatbots are creating in the banking industry.
Conversational chatbots are programmed and trained on Natural Language Programming (NLP), which enables them to facilitate a 2-way communication between the customers and the bank using technologies like Artificial Intelligence and Machine Learning.
RPA in banking offers round-the-clock digital services to solve the eternal problems of customer interactions with banks. Without any doubt, conversational chatbots are the key to making these services truly seamless and user-friendly.
Here's a detailed list of how banking chatbots help in embracing customer engagement in the banking domain. But, before leveraging the benefits of chatbots, it's crucial to understand the "what" and "why" of chatbots for upholding customer experience in the financial domain.
Key Takeaways
Debunking all the what, why, and when of RPA chatbots in the finance industry.
See how RPA chatbot's benefits address the challenges of financial processes.
Uncover the myth - "RPA is the next big thing in the finance industry."
Real-world use cases in the finance world that helped drive greater efficiency and enhanced customer experience.
Why Use Chatbots?
Customer expectations are never-ending.
As of now, they are continuously evolving, and tech-savvy individuals are looking to address queries on their own. Moreover, there are constantly growing expectations for round-the-clock customer service. These consumer preferences act as upthrust for the growing tech solutions like chatbots.
When established efficiently, they effectively minimize operational costs while offering 24*7 interactions with the customer. In fact, myriad financial services institutions worldwide have marked the subtle difference in their customer services by integrating chatbots and simultaneously minimizing the service gap.
Here are a few stats that clearly present the importance of chatbots for businesses when included:
A top fintech company addresses more than 50% of customer concerns and inquiries without any live frontline resource.
Approximately 76% of consumers trust a chatbot for an insurance estimation.
An insurance firm in the Netherlands helped ~85% of visitors resolve their queries through a bot only.
A leading telecommunication firm achieved

100% accuracy

with zero human intervention, improving its billing process efficiency.
A reliable Australian bank manages ~200 banking tasks through a chatbot
A U.S. bank manages more than 100 million questions through chatbot every quarter, with nearly ~19.5 million clients using the chatbot.
What is ChatBot?
A chatbot is a computer program that can simulate conversations with humans. Chatbots are often used in customer service applications, where they can answer questions and provide support. They can also be used in marketing and sales to generate leads and close deals.
Chatbots are powered by a variety of technologies, including artificial intelligence (AI), machine learning (ML), and natural language processing (NLP). AI allows chatbots to learn from their interactions with users and improve their performance over time. ML allows chatbots to identify patterns in data and make predictions. NLP allows chatbots to understand and respond to human language.
A chatbot is a software program with specific instructions and responses to communicate with real people and back-end systems at the same time. Its set of responses is a constantly evolving library based on the inputs and queries by the user. The chatbot uses inputs like phrases, keywords, text, and interactions given by the user, compares them with the configured instructions, and uses the response library to revert to the user.
Furthermore, it can unveil a wide array of responses - from basic text to images, map location, website links, options, and forms. Primarily, there are two types of chatbots available -
Types of chatbots
Without any doubt, Rule-based chatbots are the easiest to use. They work on a defined set of rules to communicate with users. Plus, rule-based chatbots are often used for simple tasks like answering frequently asked questions or offering customer assistance, and this is the reason for their huge adoption in the market.
These types of chatbots don't evolve with time. Indeed, they have to be upgraded manually.
AI-powered chatbots are sophisticated compared to rule-based chatbots. Initially, they use Artificial Intelligence and Natural Language Processing to comprehend and address user queries in a more natural and human-like manner. Besides, AI-powered chatbots are used for more complicated tasks, like creating marketing copies or creative content or providing financial advice.
But, in cases where things didn't go as planned, it gets daunting to identify the root cause because of its technological nature.
With these impressive stats, it's clear that banking chatbot technology is reinventing the wheel of conventionally doing business - making financial services more seamless than ever.
How Can Chatbot Help In The Banking Industry?
Chatbots have revolutionized every industry in one way or the other, and the finance industry is no exception. So, to understand the pain points that chatbot solves in banking, let's get into the nitty gritty by putting ourselves into the shoes.
Banking Chatbots Save the Day
Never Ending Waiting Time - The chatbots shorten the waiting time significantly by offering 24*7 customer support to resolve queries in real time.
Skipped and Inconsistent Information - 31% of the time, users are actually not able to find answers on the website. But chatbots provide valuable insight and feedback to fine-tune the models and stay ahead of the competition.
Unanswered Questions - Estimated ~34% of customer service executives are not able to solve concerns because of lack of information or loss of words. Here, the chatbot helps in improving and coordinating within the organization, delivering all the information in one place.
Increase in Number of Applications - Chatbots easily manage the significant increase in the newly added applications in the banking system.
Benefits of Chatbots You Should Consider
So, now that we have penned down how chatbots rewrite the banking domain, it's high time to talk about how chatbots for the financial industry resolve them.
Protection Against Fraudulent Activities
In banking, being vigilant is inevitable to deliver seamless services to clients.
After all, customers have faith in banks, which is why they invest their money. In case of any discrepancies, customers raise concerns regarding poor security practices. Here, chatbots come to the rescue as they effectively monitor fraudulent activities and simultaneously notify customers.
Understanding Customer Thoughts and feelings
Sentiment analysis is a popular technique that allows businesses to gain valuable insights into their customers' thoughts and feelings. It consists of analyzing social media posts, reading customer reviews, and chatbot interactions.
Plus, you can keep an eye on customer opinions, improve your products, or prioritize customer service concerns by analyzing customer sentiment. To achieve this, NLP (natural language processing) chatbots can help you detect customers' emotions and attitudes toward your banking experiences. They help you determine what your customers expect from you and respond to these needs adequately.
Streamlining Banking Operations
"Chatbots are nothing less than personal financial assistants"
Chatbots provide financial advice by tracking the financial market and customers' expenditures, notifying them about pending reminders, and automating scheduled payments. The banking chatbots have the potential to streamline banking processes that often take several hours and tedious paperwork to complete.
From opening a bank account, offering the right balance information, assisting in simple financial transactions, giving debit and credit card reports, and the list goes on. All these tasks, when automated, make banking more efficient and appealing to customers rather than a nightmare.
No More Language Barrier Challenge
Presently, a multilinguistic approach is highly needed due to globalization. Luckily, an AI chatbot has the potential to converse in myriad languages, breaking down language barriers and offering a bespoke customer experience.
Give Personalized Customer Service
Among numerous advantages, one of the significant benefits is personalized customer service. Banking chatbots are programmed in a manner that understands customer preferences and behavior and offers customized recommendations depending on the customer's spending habits and transaction history.
Furthermore, you can put an AI bot to use to offer real-time customer assistance and resolve customer queries.
Big Saving Achieved
According to Juniper research, Chatbots are expected to save banks a whopping 7.3 billion by 2023. Furthermore, statistics show that banking representatives save 4 minutes of their time for every chatbot's concern, saving 0.70 USD for every query.
This is because chatbots are self-updating, and once they are installed, they use the provided data to resolve customer queries simultaneously while gathering more data from customers to update information and improve the quality of service. This eventually makes them cost-effective.
Curtailing Employee Turnover
Professionals constantly answering repetitive queries experience decreased productivity and job satisfaction. Considering this, the professionals quit their jobs more often than those carrying value-related tasks - this is why call center employee turnover varies between 30% and 45%.
Fortunately, banking chatbots resolve this challenge. Besides, the AI-powered chatbots can easily manage answering queries, freeing up resources to focus on crucial and challenging tasks that boost efficiency and motivation. In addition, when the support agents successfully manage to address complex financial concerns, there is a greater sense of achievement.
After all, contented agents are not just more productive; they are less likely to quit their jobs.
Interacting and Retaining Customers Made Easy
Did You Know!
"The Bank of America reported that their AI-powered chatbot, ERICA surpassed 10 million users within a year after it's roll-out".
Conversational chatbots work on Natural Language Processing technology to interact with customers. Plus, they also use the conversational format to gather more data and use them to customize engagement. Especially in banking, chatbots help to answer customer's concerns faster, streamlining legacy processes, sending updates and notifications, creating customer profiles, and offering recommendations based on these profiles.
This improves the complete customer experience, resulting in increased customer retention.
Overall Improved Efficiency
Chatbots can assist in educating and simplifying banking for customers by offering crucial information and being available 24/7 to answer frequently asked questions by customers.
During this process, chatbots collect and update customer data that gets assorted and stored to customize interactions, optimize processes, sell and recommend products, provide financial advice, and build a customer profile for further reference. This helps save finances and time, maximize company data, improve employee efficiency, and increase customer retention.
Is The Next Big Thing "ChatBot" Here To Stay?
Till a few years back, Artificial Intelligence seemed to be a pie in the sky, but today, it's the future for financial services in developing dynamic digital capabilities and delivering an excellent customer experience.
Financial institutions should leverage popular technologies like Machine Learning, Artificial Intelligence, and Natural Language Programming to strengthen their operations and enhance customer interactions.
Future Trends for Chatbots in Financial Services
Using financial services, chatbots help save 4 minutes on every inquiry, which directly adds value to customer satisfaction.
More companies and organizations in the financial industry rely on bots to heighten security in operations and assure customers their data is protected.
43% of customers prefer using chatbots instead of going to the physical office to complete their tasks, and undoubtedly, this number is certain to swell further in the coming years.
Bots will be a top pick when it comes to integration with numerous systems in the financial domain to bolster facial recognition, validation processes, and security, delivering an exceptional customer experience.
Deploy Chatbots and Make Robust Financial Services
Automation is definitely the most crucial necessity for financial services as it helps save exceptionally on operational costs and improve the digital experience of customers. Adhering to this, financial and insurance segment organizations like you seek ways to integrate chatbots into their processes and deliver nothing less than the best to their customers.
Besides, with a dynamic chatbot strategy, redefining customer engagement and opening gates for customers to leverage most of the facilities right from their comfort zone would be easily possible.
This is how everyone, here customers as well as you (businesses), will benefit and keep pace with changing times.
Unlock the potential of chatbots for your business!
Partner with us, your Chatbot Development Company, to develop smart, customer-focused solutions. Elevate your customer experience and boost efficiency today
Here are Some Use Cases of Chatbots in the Financial Industry
In today's time of conversational banking, customers don't feel the need to get in touch with support agents to resolve their queries. Financial chatbots are here to shed the onus of manual work that once was done by human representatives.
In fact, banks rely on AI bots to answer queries around the clock and address their clients easily.
And, with bots swapping agents, financial organizations along with a reputed name in the telecommunication industry achieve a great deal of efficiency with their operations and save exceptionally on cost.
Chatbot utility goes far beyond just dealing with all customer requests. Indeed, they are dynamic enough to assist people in their financial health and help them with every step taken towards making an investment or saving plan.
Besides, AI-powered chatbots offer concrete recommendations rooted in the analysis of customers' expenditure behavior and account tracking.
For the financial industry, data privacy has been the biggest challenge. Any mere anomaly in transactions could have significant repercussions on them.
In fact, banks frequently witness fraud cases in disguise of human error. Similarly, customers, on the other side, face the heat in the form of online scams and cheating cases. Here, financial chatbots come to your rescue by preventing all this by effectively monitoring and identifying the potential red flags of any fraudulent activity.
And in challenges, a bot can quickly send notifications to the bank and also to the customers.
Conclusion
It's time to make strides in the future of chatbots with Signity's RPA solutions. Our team effortlessly and seamlessly combines RPA consulting with emerging technologies like Artificial Intelligence for unprecedented productivity, efficiency, and agility.
Ready to transform your business with RPA?
Consult our experts today and unlock the full potential of automation. Let's elevate your efficiency and productivity together!
With our integrated people-process-technology framework, reengineer your business processes and leap into the future of banking with smart chatbots. If you are at square one of the digital transformation, agility is the key to responding to an unprecedented evolving technology landscape.
More than ever, delivering and exceeding organizational expectations with a robust mindset braced by innovation is important. After all, enabling businesses to learn, respond, sense, and evolve like a human is unskippable for business excellence going ahead.
A comprehensive yet modular array of services is precisely doing that. So, if you are all set to ride the bandwagon of hyper-productivity, talk to experts who are always innovating for the future.