5 Reasons to Consider the New Salesforce Einstein Service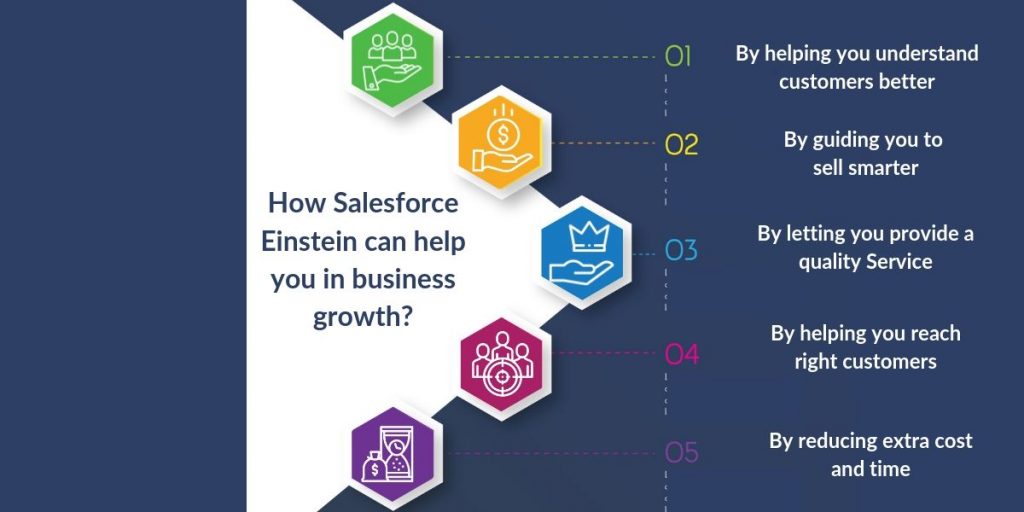 When the Salesforce Einstein service was introduced, everyone wanted to ask these questions:
Why do we need it?
How is it going to help in our business?
You might also have asked these questions from yourself for sure. You might have even consulted Salesforce Consulting services to find out if the new technology is worth your investment or not.
And why would not you?
Introducing and adopting a new product in your company is not a small task.
First, you will have to buy the software. Then, you will have to train your staff in using it. After that, you will have to run A/B testing to make sure the software actually works for your company. You will even have to contact crm companies to see whether or not Salesforce costs you less than other CRM providers after you purchase Einstein.
And this whole thing might cost you millions of dollars.
Now, why would you make an investment unless you can see any returns?
In simple words, you or any other business needs to know:
What is Salesforce Einstein and how it can benefit your business?
That's exactly the motive of this blog. We want to offer you the best knowledge regarding what the Salesforce Einstein service has to offer. Also, why you should contact a Salesforce development company in India or anywhere.
So, let's begin from the basics.
What is Salesforce Einstein?
Salesforce Einstein is one of the latest offerings provided by the leading crm firm- Salesforce.
Consider Einstein as your smart CRM bot or assistant that helps you with important insights, predictions, and suggestions so that you can understand customers better and take wise decisions.
If you want to understand this more technically, this is what the Salesforce Einstein service is:
An integrated set of AI technologies and advanced algorithms for machine learning, deep learning, predictive analytics, natural language processing, and smart data discovery within Salesforce.
The idea behind this AI-based service is to provide your business with the much-needed intelligence so that you can discover relevant insights, predict market insights, and choose steps that are best suited for your business.
How can Salesforce Einstein help you in business growth?
1. By helping you understand customers better
According to the stats, we humans generate 2.5 exabytes of new data every day, which is equal to 250,000 Libraries of Congress.
This means there is enough data for businesses to understand customers behavior and their purchasing habits. Despite this, most of them struggle to make enough sales.
Do you know why?
These businesses lack a platform where they can analyze this data, prepare a plan, and take steps that can lead them towards successful sales.
That's where Salesforce Einstein service proves helpful. It uses advanced artificial intelligence algorithms to closely analyze data, predict results, and create strategies that guarantee success.
Of course, there are other analytics tools in the market. However, is any of them as powerful as the Einstein service?
2. By guiding you to sell smarter
Nothing else wastes your time more than the sales efforts where you are not sure whether the customer will buy your product or not.
Doing so is exactly like walking on a road that leads to nowhere. You will work hard and put your best efforts. Yet you would not see any results.
Salesforce Einstein helps you avoid such situations. Using salesforce consulting services, you can automatically capture data and analyze what would be the best steps to convert a prospect into a loyal customer successfully.
Also, the Einstein service lets you know the customers who are most likely to purchase, so that you can focus your time and energy only on them. You can even prioritize your leads to respond faster to the high-value opportunities and maintain a cordial relationship with clients by scheduling calls and setting up reminders.
This way, using the Salesforce Einstein Service, you can sell in a way that's smart and guarantees the best results.
3. By letting you provide a quality Service
These days, only those businesses are successful who can anticipate customers' needs rather than just reacting to them.
The makers of Salesforce Einstein know this very well. That's why the service has been made in such a way that the interactions start even before the customer gets on a call with you.
Let's understand how:
Before you even consider reaching out to your customers - Salesforce Einstein gathers all necessary details about them like their names, addresses, their purchasing habits, etc.
Now, you already know what your customers like and what they don't. This means you can offer them the quality service they desire and ensure that they always remain loyal to you.
4. By helping you reach Right Customers
"There is no use of selling your product to a person who has no interest in buying it."
This is one of the most basic things taught in sales and marketing. Despite this, over 71% of businesses fail to reach the right audience.
However, Salesforce Einstein ensures that your business doesn't make the same mistake.
Using the service, you can know who are the right customers for you, what's the right time to reach the right customers, and then deliver products to them accordingly. You can even predict a customer's chances to convert. There are options to segment & build audiences based on likely future actions and send messages at the right engagement time as well.
5. By reducing extra cost and time
Cutting costs is important if you want to run a successful business. You can't just spend a couple of thousand dollars extra now and then - because this way, you can never grow.
Salesforce Einstein can help you reduce these unnecessary costs.
This is how:
Everything is planned in Salesforce Einstein. You meet customers that are most likely to convert, follow steps that guarantee success, and gain insights that actually prove helpful.
This way, you always stick to the plan and ensure that you achieve your goal in minimum time and by using the minimum amount of resources.
As a result,
You can effectively cut down cost and time.
While earlier you had to work for months and invest thousands of dollars in converting a lead - you can now easily convert it in just a couple of weeks. Also, you only have to invest a couple of hundred dollars. You can use the remaining amount in your business growth.
Wrapping it up
As we have discussed in our previous blog, CRMs like Salesforce are already helping businesses increase their productivity and expand.
Now with the help of AI-powered service like Salesforce Einstein, this productivity will definitely uplift. Given this, why would you not want to include such an efficient tool in your business endeavors?
So, it's time you realize the importance of the new Salesforce Einstein service and include it in your business.
But first, we would suggest you contact someone who has brief experience and knowledge of the Salesforce CRM. So, if you are considering outsourcing to India, contact Signity Solutions. Being one of the leading Salesforce Consultants in India, we can help your business.
Get in touch with us today for a free consultation!