What is Salesforce Marketing Cloud? Exploring the #1 CRM Platform

Cloud computing is the future for digital enterprises. Salesforce Marketing Cloud enables your remote digital marketers to manage the marketing strategies.
In this article, we talk you through the benefits and everything else that's there to Salesforce Marketing Cloud. A small but insightful read assured.
You've heard the terms CRM, cloud computing, and Salesforce float around the Internet, but you're still left with your handful of questions, unanswered. Are they synonyms? A new marketing genre perhaps? Or both?
Fret not! Being a certified Salesforce consulting partner, we decided to unravel the mystery of cloud computing, the growing demand for CRM, and present definitive answers to the most frequently asked Salesforce Marketing Cloud questions.
Stick long enough and you'd be an expert yourself.
Let's start by answering the fundamental question:
What is Salesforce?
Salesforce, in its basic sense, is the most trusted customer relationship management (CRM) platform.
But wait. What's a customer relationship management software? Can't get wrong with that.
According to Salesforce,
Customer relationship management is any tool, strategy, or process that helps businesses better organize and access customer data.
Salesforce, established and operating out of San Francisco, offers CRM tools and software via a SaaS (Software as a service) model. Through the years, the company has adopted Cloud Computing, enabling anyone and everyone to benefit from rich CRM tools via a nominal subscription fee.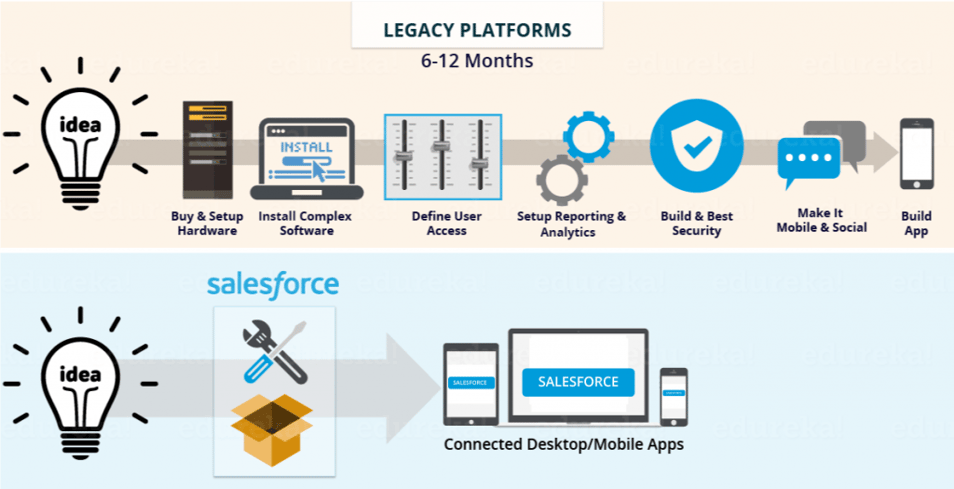 In other words,
Salesforce enables marketers to create better buyer personas, identify demographics, select the best mode of communication, establish better touchpoints to boost sales, and a lot more!
Get the best of Salesforce CRM for your business. Schedule a free Salesforce Consultation today!
What is Salesforce Marketing Cloud?
That being said, let's move on and build-up on the Salesforce Marketing Cloud.
Salesforce Marketing Cloud, formerly known as Exact Target, assists digital marketers to deliver the right message to the potential audience at optimal timings.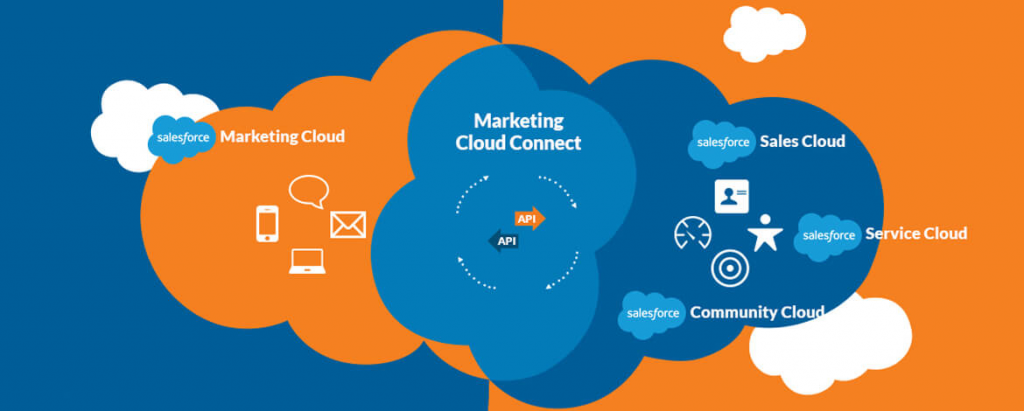 Search Customer Experiences defines Salesforce Marketing Cloud as 'a customer relationship management (CRM) platform for marketers that allows them to create and manage marketing relationships and campaigns with customers.'
Breaking Down the Salesforce Cloud
Salesforce CRM can be segregated into different clouds and modules that aid and assist with different business areas including but not limited to sales, marketing, customer acquisition, service, and more.
*However, for this article, we'd be exclusively talking about Salesforce Marketing Cloud.
Salesforce Marketing Cloud is a platform that offers marketers a rich set of tools that are specifically designed and curated to effectively interact and manage your brands' interaction with the current and potential customers.
Key Highlights of Salesforce Marketing Cloud
Digital marketers can achieve a myriad of objectives with SF Marketing Cloud, because of the cloud-centric features, including:
Create and engage in a two-way conversation with the customers (current and potential)
Collect, connect, and analyze known and unknown customer profiles for a birdseye, consolidated view of your target market
Measure, optimize, and report the market performance of your product and services across various channels
Extended support for Salesforce Einstein AI.
Let's take a moment and highlight Salesforce Einstein AI. Why? For it's a leap in artificial intelligence concerning the CRM industry.
Don't miss out on the dynamic shift in the CRM industry. Save hundreds and thousands of dollars with Salesforce cloud services. Contact us today!
What is Salesforce Einstein AI?
Salesforce Einstein AI is a smart artificial intelligence suite comprising best-in-class, modern analytics, and tools, to visualize, arrange, and present the information regarding all your sales activities within the Salesforce environment.

Just like all other modules of the Salesforce cloud CRM interface, Salesforce Einstein offers several modules targeting different areas of your business.
Marketing Cloud Einstein
Here's a piece of common knowledge:
'Marketers heavily rely on analytics and data to determine the right content for different demographics and campaigns.'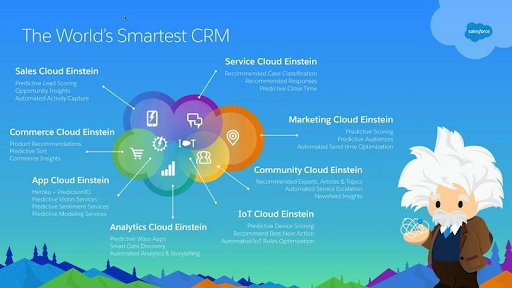 Salesforce Marketing Cloud Einstein enables the marketers to assess and analyze customer data in real-time through advanced technologies including:
1. Predictive Scoring
Predictive scoring helps digital marketers to predict the likeliness of a customer to open an email, engage with the CTAs, and make a purchase.
2. Predictive Audiences
Using predictive scoring, marketers can segment the audience according to the common patterns, and behavior within the Salesforce environment.
Salesforce Einstein AI is a vast topic that sprawls across different sectors. Even attempting to comprehensively outline different applications of Salesforce Einstein AI would regard naivete.
If you're keen to understand more about Einstein AI, check out this blog titled 'How Is Salesforce Einstein Revolutionizing The B2B Market'. It's comprehensive and covers all the major sections.
What are the Products in the Salesforce Marketing Cloud?
Now, let's get back to the Salesforce Marketing Cloud.
So far, it's loud and clear that Salesforce Marketing Cloud enables you to engage and personalize every customer touchpoint to boost sales, and how it can be radically enhanced when compared with Salesforce Einstein AI.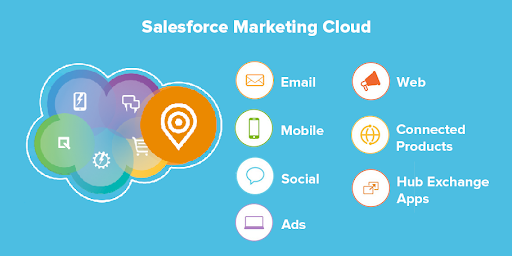 But we haven't discussed the products/tools included in the Salesforce Marketing Cloud. Let's briefly outline each one of them.
Audience studio captures data from all the sources, including the data stored in our ERP, PMS, and Salesforce CRM. Post collection, the tool segments, and creates relevant audience groups for better targeting.
Email Studio sources customer data from every department and assists marketers in creating personalized email templates to turn your prospective customers, followers, and prospects into reliable leads.
Customers prefer to be updated for new offers, product deliveries, and every crucial bit of information regarding their interests. Employing the Mobile Studio, marketers can create a personalized experience by sending SMSs and push notifications in real-time.
Data studio, leveraging the Salesforce DMP platform, expands the range of data-sharing platforms: allowing marketers to segment, share, and benefit from second-party data in a trusted and transparent manner.
Analytics are critical to any campaign success, but they refer to and represent historical data. Interaction Studio is the new-age analytics platform of Salesforce Marketing Cloud that can track, capture, and visualize your customers' data in real-time.
What are the Platforms included in Salesforce Marketing Cloud?
Similar to the CRM tools, SF Marketing Cloud incorporates and offers 6 different platforms that digital marketers can use to build effective marketing strategies across various channels. These are stated as under:
1. Journey Builder
Journey Builder helps you to remodel your campaign(s) by enabling the digital marketers to deliver a personalized experience at every step of the customers' journey, throughout multiple marketing channels.
Is there an added benefit of Journey Builder?
Yes, there indeed is an added benefit of Journey Builder in SF Marketing Cloud. It enables your team to deliver simple to complex journeys for each customer, irrespective of the size of your customer base.
2. Personalization Builder
Personalization Builder comprises of tools including predictive analytics and predictive modeling, enabling marketers to personalize and understand different consumer preferences.
Using a personalization builder, your marketing team can build different (and correct) customer profiles and group them for commonalities. Different marketing strategies can be subsequently applied to different groups, ensuring an end-to-end personalized experience.
3. Analytics Builder
Analytics form the basis of Online Marketing.
Analytics Builder employs smart AI technologies and a myriad of visual tools to assist marketers to uncover new and better insights regarding your current and potential customers.
This particular builder offers your business intuitive data visualization tools, including everything from bar graphs to pie charts, scatter plots, and more.
4. Content Builder
Content builder offers you unabridged access to a smart dashboard that allows your marketing team to create, share, manage, and track content across all your marketing channels from a centralized location.
Salesforce, being amongst the early adopters of changing technologies, incorporates sophisticated algorithms determining the best experience across all its platform- and content builder is no different.
Powered by AI, SF Content Builder smartly arranges and delivers your content for maximum ROI.
6. Audience Builder
Audience Builder gives you a birds-eye view of all the customer-related activities by collecting and compiling data from all the integrated Salesforce platforms in your CRM environment. This includes the Sales Cloud, Service cloud, marketing cloud, and other data sources.
Centrally accessing your data allows you to validate, target, and engage with the right audience through the right channels at the right time.
7. Marketing Cloud Connect
Data is the new currency!
Marketing Cloud Content enables your digital marketers to access all the data stored and sorted across in different Salesforce products (within your CRM environment). This allows you to pinpoint pain areas, and consequently trigger several actions across your Salesforce CRM ecosystem.
What are the Benefits of the Salesforce Marketing Cloud?
SF Marketing Cloud unlocks diverse benefits for your business.
Let's highlight the prominent ones, one at a time:
1. Connected Ecosystem
Salesforce, being a cloud-based CRM provider, features a rich offering of tools that can be easily integrated for enhanced performance.
Using a unified CRM platform that's powered by data, digital marketers can create and offer a seamless customer experience; personalizing individual touch with each customer.
2. Extended Personalization
Backed by AI and data, Salesforce Marketing Cloud enables you to tailor the customer experience, irrespective of whether it's B2B or B2C. Either way, Salesforce equips you with the intelligence and tools to cater to different customers accordingly.
3. Cohesive Customer Experience
Salesforce Marketing Cloud equips your business with the tools to design and implement a cohesive and personalized 360º customer experience across all the marketing channels.
4. Loyal Customer Relationships
Using SF Marketing Cloud, you can effectively and efficiently interact with customers across various channels without disrupting your brand's voice. This promotes customer loyalty and helps you build closer and healthier interpersonal relationships with your clients.
Why Should you Choose Salesforce Marketing Cloud?
Salesforce Marketing Cloud enables your digital organization to unravel the mystery to Digital success through better customer service and acquisition.
Don't take our word for it, though. Here's a data-point reflecting the demand for Salesforce in 2020: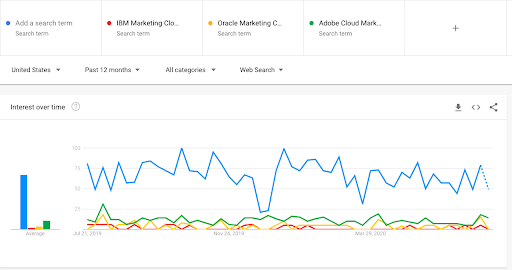 The aforementioned graph represents varied demand for all the major marketing cloud and CRM services in 2020; comparing the Salesforce CRM with the likes of Adobe, IBM, and Oracle Marketing Cloud platforms.
*The blue line representing the demand for the Salesforce Marketing Cloud platform and data, never leads to deception.
Infrastructure Requirements for Salesforce CRM
Salesforce is widely popular across startups, enterprises, and even individuals for one primary reason: Cloud-based Infrastructure.
What does that mean?
Since Salesforce is a cloud-based platform, there are no hidden or additional infrastructure costs associated with its installation and working.
That is, unlike on-premise CRM solutions, your business needn't invest millions of dollars.
Instead, you could subscribe for a package as per your requirements and benefit of better, fast, and reliable CRM services. There's one requirement though: a fast and reliable Internet connection.
The Salesforce platform is compatible with all the major browsers, including:
Apple Safari
Google Chrome
Microsoft Edge
Mozilla Firefox
Closing Thoughts
So far, we've shared insights on what is Salesforce, Salesforce Marketing Cloud, Salesforce Einstein AI, Marketing Cloud Products, Marketing Cloud Platforms, and Salesforce CRM benefits for your business.
SF Marketing Cloud is a unique cloud-based tool for crafting marketing automation strategies and creating an end-to-end personalized customer experience.
Being cloud-based, the possibilities are endless, provided you are well versed with the Salesforce environment. But that requires specialization and deep subject-matter expertise.
Signity, being a certified Salesforce consultant, has successfully delivered hundreds of Salesforce solutions to Global enterprises. Share your CRM requirements and let our Salesforce experts do the hard work for you.